Hybrid mattresses are the best of both worlds. They give you the soft, contouring sleep surface of a memory foam mattress with the unrivaled support of innerspring coils. If you're used to your innerspring mattress but are curious about all the good things you've heard about memory foam, a hybrid is a great choice. For a hybrid mattress that's cool, comfortable, and elegant, take a look at our Dream Cloud mattress review.
Dream Cloud mattresses aren't your typical hybrid. With gel-infused memory foam, a hand-tufted cashmere topper, and five different comfort zones, these mattresses provide the perfect blend of support, comfort, and elegance. To learn more about this unique mattress, take a look at our Dream Cloud mattress review.
SPECIFICATIONS
| | |
| --- | --- |
| Thickness | 15'' |
| Sizes available | Twin XL, Full, Queen, King, California King |
| Layers and filling | 0.5'' gel infused memory foam, 1.75'' quilted memory foam, 0.5'' natural latex, 0.25'' 'Dream Plush' memory foam, 0.5'' high-density memory foam, 8'' steel pocketed innerspring coils, 1.5'' high-density memory foam |
| Warranty | 365-night trial, lifetime limited warranty |
| Firmness | 6.5 of 10 – medium firm |
| Cover material | Hand-tufted cashmere blend |
Review
DreamCloud mattresses are the perfect blend of memory foam and innerspring coils. Their one-of-a-kind, eight layer construction features a variety of high-quality materials that are perfect for back, side, stomach, and combination sleepers. Let's take a look at all of the features that make this mattress such a good choice.
Overall performance
The DreamCloud mattress really is the best of both worlds. It has all the contouring comfort you'd expect from memory foam with a base of pocket innerspring coils for the support you need to wake up rested and pain-free. Most foam mattresses absorb heat and can get uncomfortably warm throughout the night but not the DreamCloud mattress. Special gel-infused and aerated foam prevent heat build-up and allow air to flow.
One thing that really makes this mattress stand out is the eight-layer construction, each made of high-quality materials including a mix of memory foam, latex, and innerspring coils. This isn't a soft mattress and doesn't have a lot of sinking or contouring but if you're looking for something supportive with a medium-firm feel, DreamCloud is a great choice.
Motion transfer

Motion transfer is very important for anyone sleeping with a partner, particularly if you're a light sleeper who is woken up by your partner getting into or out of bed or tossing and turning throughout the night. No matter how comfortable your mattress is, too much movement will undoubtedly disturb your sleep.
The DreamCloud mattress has pretty effective motion transfer, in part because of the individually wrapped coils that keep movement somewhat isolated. You might still feel large movements but your partner's tossing and turning shouldn't bother you too much.
Edge support
Good edge support is the sign of a mattress that's made of high-quality materials. It means can make use of the whole bed, from edge to edge, without worrying about losing support at the side or rolling off.
To provide the highest level of support possible, DreamCloud incorporated an extra layer of foam around the edges. Plus, because of the unique combination of layers, this mattress holds up well over time and won't lose edge support with prolonged use.
Layers and filling
As we mentioned, this mattress had eight different layers, each made of different material to provide comfort and support.
The top cover is made of a cashmere polyester blend that's breathable and exceptionally soft which makes it wonderful surface to sleep on. It feels smooth and luxurious, giving this mattress a really lush feel.
Below that is a layer of gel-infused memory foam that's designed to keep you cool throughout the night. The gel absorbs body heat and allows it to disperse through the rest of the mattress, preventing heat buildup. It also adds gentle contouring support for superior comfort.
Next is a layer of super soft quilted memory foam, something that's unique to DreamCloud mattresses. It manages to be really soft without sacrificing the support you need for your head, neck, and shoulders.
The fourth layer is made of natural latex, a hypoallergenic material the provides additional contouring and a cushioning bounce. It provides additional flexibility and added contouring.
Under that is a layer DreamPlush supporting memory foam, a high-density material for deeper stability and support.
Below that is a super dense super soft memory foam which is designed to support your body no matter what sleeping position you prefer.
The BestRest coils are next. This layer consists of a five-zoned pocket micro coil compression system that's encased with foam and gives you the support you need from head to toe.
Finally, the bottom layer is made of high-density super soft memory foam that supports the base of the coils to help reduce motion transfer and increase support.
This combination of these materials was carefully chosen to not only provide comfort and support but to facilitate airflow for a cool, refreshing night's sleep.
Firmness
You won't sink into this mattress like a pillow top but it does have a little bit of give. The top layers of foam and latex contour to your body without being squishy or soft while the base layers provide the firm support you need to support your back and joints.
This mattress works well for any sleeping position. It recovers its shape quickly and has an average bounce which makes it great for combination sleepers who change position a lot throughout the night or a couple that has different sleeping habits.
Stomach sleepers need a mattress that's soft enough to conform to their torso while also providing enough support for their hips and spine. They benefit from both the cradling top layers and the supportive bottom layers of the DreamCloud design.
Side sleepers can also take advantage of contouring top layers to remove pressure from their shoulders, hips, and knees while the supportive layers and innersprings provide the necessary support to avoid hip, knee, and back pain.
This is a great mattress for people who sleep on their backs, too. The latex and innersprings keep the spine in alignment while the soft top layers cushion the head, neck, shoulders, and lower back.
Temperature regulation
One of the biggest issues people have with memory foam mattresses is that they absorb body heat which can make for a hot, uncomfortable, sweaty night's sleep. That's one reason why DreamCloud uses carefully designed technologies to make sure this mattress has sufficient airflow and temperature regulation.
In addition to being soft and luxurious, the top quilted cover is also breathable to promote air circulation. The top foam layer is infused with cooling gel which absorbs heat and dissipates it throughout the mattress without holding it at the surface. As the heat moves down through the mattress, it reaches another material that's essential to temperature regulation, the latex layer, which is aerated and allows heat to move throughout the mattress without being trapped between the different layers.
Because this is a hybrid mattress, any heat that makes its way to the bottom quickly escapes from the coil springs.
When it comes to temperature regulation, the DreamCloud mattress is exceptionally effective. It's a great choice for hot sleepers.
Cover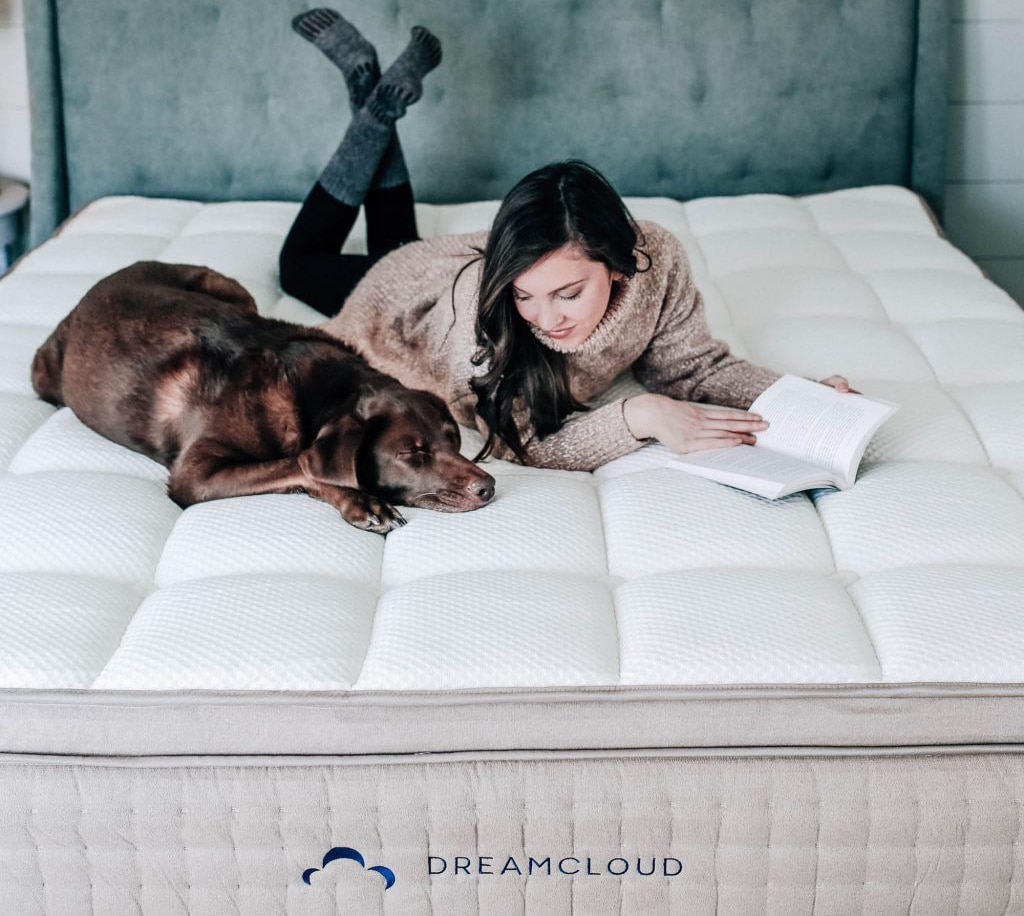 The cover of the DreamCloud mattress is one of the best things about it. Because it's made of a cashmere and polyester, it's super soft, comfortable, durable, and allows the mattress to breathe effectively. It's really comfortable to sleep and looks really lush and inviting.
Inflation time and smell
Even though this mattress has innerspring coils, it still ships right to your home in a vacuum-sealed package so it's much easier to move than a traditional inner-spring. While you do have to use the appropriate frame or support, you shouldn't use a box spring with this mattress, which saves you the trouble of having to move one.
It's next to impossible to avoid odor when it comes to a memory foam mattress but there is a difference between a slight odor and a strong, overwhelming chemical smell that lasts for days. The smell associated with a memory foam mattress isn't dangerous. In fact, some of the worst culprits are mattresses that use only organic, chemical-free materials. In reality, the scent is just a side-effect of new foam being compressed for so long in an air-tight container. Once the mattress is expanded and allowed to air out, the smell should dissipate in a few days. Still, it's not pleasant so the less odor, the better.
You can expect some odor when your DreamCloud is first removed from the box but it's generally much less than most memory foam mattresses. Because it's made of so many different layers and is designed to allow air to flow through, the scent airs out quickly and doesn't produce an overpowering smell.
While the mattress expands pretty fast and can be slept on within a few hours, it won't regain its original shape for about 24 to 36 hours. In particular, the areas around the edges may need more time to fully expand.
Certification
DreamCloud mattresses are CertiPUR-US certified. This certification comes from an independent third party and indicates that the foam is free from ozone depleters, PBDE flame retardants, mercury, lead and other heavy metals, formaldehyde, and phthalates. All foam that receives this certification is verified and analyzed twice in the first year and then again every year after to make sure that the manufacturer is maintaining the certification properly. They even do random onsite visits to assure quality year after year.
Warranty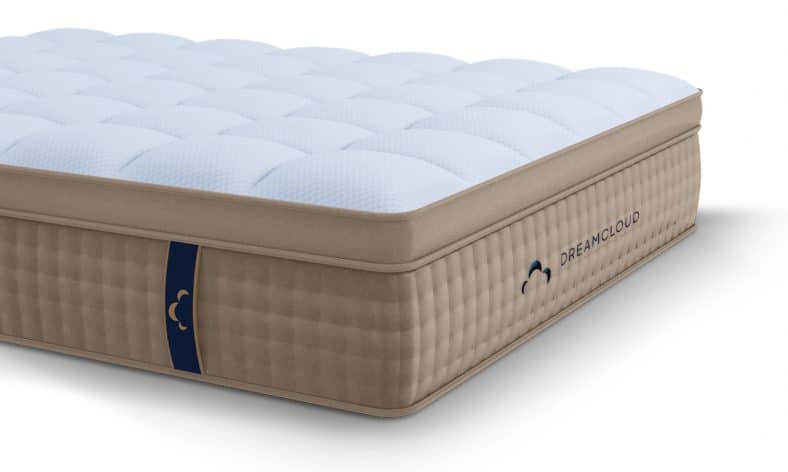 This mattress includes a very generous 365-night sleep trial, one of the best in the industry. You really get a long time to decide if it's right for you. If you decide to keep it after the trial, you'll be happy to know that it's also covered by an impressive limited lifetime warranty.
If you discover any defects in the material or workmanship in the first 10 years of owning the mattress, DreamCloud will replace it, free of charge. After 10 years, they'll completely repair and recover your mattress or replace it if necessary. In either case, transportation charges are waived if there's a confirmed defect with the product.
The warranty does not cover general wear and tear as the mattress will change shape over time as it adapts to your body. Normal body impressions up to 1.5-inches deep are not considered defects but anything greater than 1.5 inches is covered along with most cracks or splits.
Keep in mind that there certain situations that can void the warranty. Your DreamCloud mattress must be used on an appropriate platform bed, bed frame, or support to be covered.
Price tag
Another reason to love DreamCloud mattresses is that they're reasonably priced compared to some of their competitors. Pricing is as follows: Twin XL, $899; Full, $1,099; Queen, $1,299; King, $1,399; and California King, $1,399.
PROS:
Reinforced edge support
8 layer construction that includes innerspring coils, gel-infused memory foam, and a cashmere polyester blend cover
Effective cooling
Decent motion transfer
Medium-firm support
Minimal odor
CertiPUR-US certified
365-day in-home sleep trial
Limited lifetime warranty with free replacement for defects for the first 10 years
CONS:
May be too firm for some sleepers
Motion transfer not effective enough to buffer large movements
A DreamCloud mattress is a comfortable, supportive hybrid mattress that has eight different layers to provide you with the right balance of comfort and support. With their 365-night in-home sleep trial and impressive limited lifetime warranty, you can rest easy with this mattress for years and years to come.
9.5
User's score (votes: 8)
Add your review  |  If you have already used this model, please, leave your review