There's nothing quite like a memory foam mattress but a lot of them absorb too much body heat. If you're someone who wakes up in the middle of the night hot, sweaty, and uncomfortable, you might think that a foam mattress just isn't for you. If this sounds familiar, check out our Molecule Mattress review.
The Molecule Mattress provides the comfort and support of a memory foam mattress but it's made of ultra-breathable materials that promote airflow and don't absorb heat like traditional memory foam. Currently, this mattress is only available on their website. When you order, your Molecule Mattress will be delivered to your door in about five business days and you can get started on a 100-night sleep trial to make sure it's the right fit for you. Let's take a look at our Molecule Mattress review to see what makes this mattress so unique.
SPECIFICATIONS
| | |
| --- | --- |
| Thickness | 12.25'' |
| Sizes available | Twin, Twin ХL, Full, Queen, King, California King |
| Layers and filling | 3'' MolecularFlo™; 2'' RecoveryFlo™, 7''ContourFlo™ |
| Warranty and trial | 100-night sleep trial, lifetime limited warranty |
| Firmness | 6.5 of 10 – medium firm |
| Cover material | Microban® treated fabrics |
Review
Raved about by everyone from world-class athletes to people who just want a good night's sleep before facing the work week, the Molecule Mattress is designed to keep you cool and dry throughout the night while providing comfortable support to the head, neck, and spine. This versatile mattress is a great choice for all types of sleepers and is safe, low odor, and chemical free. Let's take a look at the key things that make this mattress so appealing to so many types of people.
Overall performance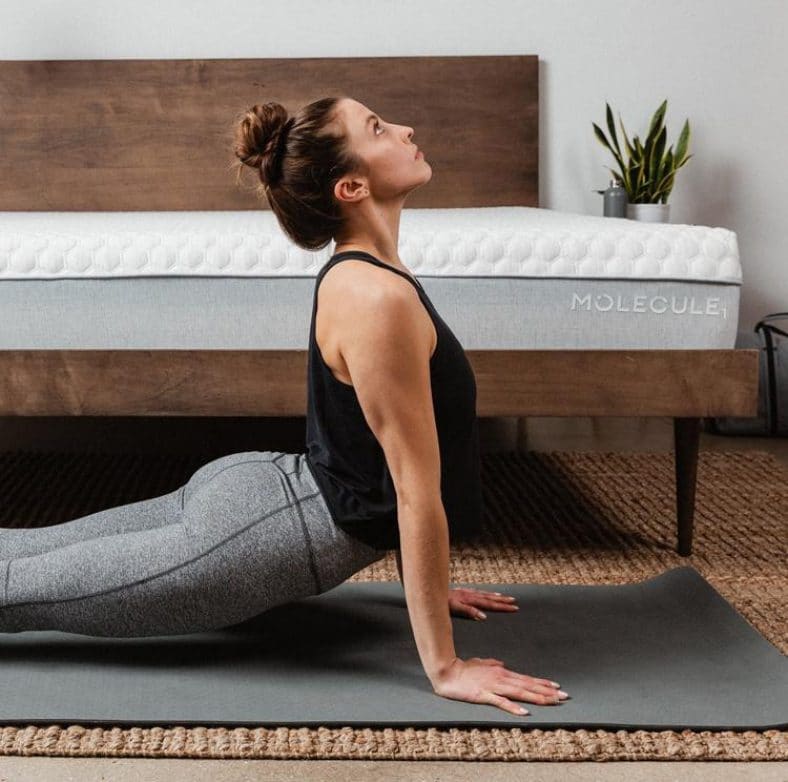 Standard memory foam mattress are great but they tend to absorb a lot of body heat which can get uncomfortable throughout the night. Molecule Mattresses are different. They're designed to keep you cool and dry as you sleep using open-cell technology that allows air to flow, lessening the amount of heat retention. Plus, the materials are completely safe with no chemicals or heavy metals.
This mattress is praised by athletes like New England Patriot's quarterback Tom Brady, National Women's League Soccer star Alex Morgan, and five-time Olympic Medalist gymnast Nastia Liukin who say that it helps them get a good night's sleep to prepare for their next action-packed day.
You may not be a professional athlete but that doesn't mean real life doesn't require a good night's sleep. Molecule Mattresses are specifically designed to accommodate any type of sleeper.
Motion transfer
Motion transfer is very important, especially if you're a light sleeper and your partner moves around throughout the night or if you don't go to bed and wake up at the same time.
No matter how comfortable you are, you won't get a good night's sleep if the person lying next to you wakes you up every time they move. That's why the Molecule Mattress has a zoned reflex layer that's designed for adaptive support and comfort. Although it does trap and absorb movements, it's performance is about average for motion transfer when compared to other foam mattresses. You may still feel your partner getting in and out of bed but small movements aren't as disruptive to your sleep.
Layers and filling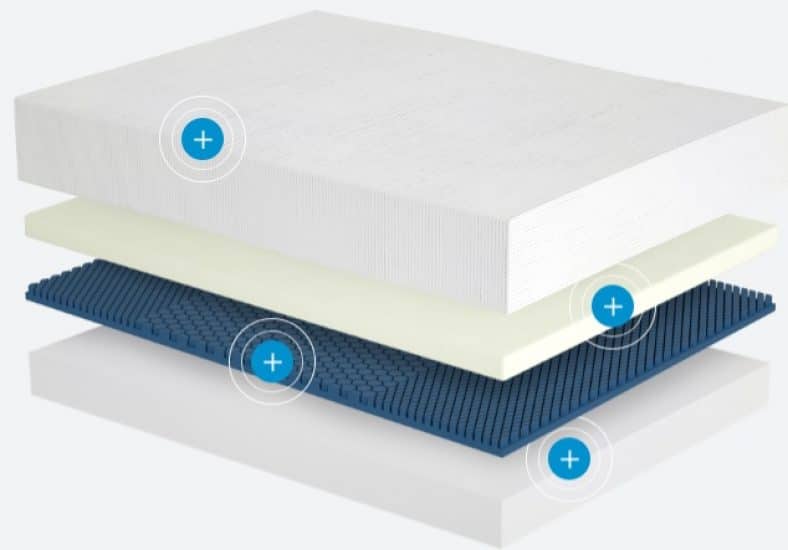 The three layers of the Molecule Mattress work together to provide cooling comfort and the support you need to wake up feeling refreshed without a lot of aches and pains.
The MolecularFlo top layer is three inches thick and features open-cell technology that keeps you cool and comfortable throughout the night. Heat escapes more easily than with a traditional mattress so the temperature doesn't get as hot as with some other designs.
In the middle is the RecoveryFlo layer, two inches of hexagonal and diamond-shaped channels that provide maximum support and airflow. It conforms to your body without being too firm and also helps keep the heat moving instead of capturing it.
Finally, the bottom ContourFlo layer provides seven-inches of firm support to keep your spine in alignment. A supportive base layer is so important because it's what provides longterm support and durability. If you've ever had a mattress that felt comfortable when you went to sleep but you still work up during the night with aches and pains, it's likely the base layer wasn't supportive enough. This shouldn't be a problem with the Molecule Mattress.
Molecule Mattresses are manufactured in the USA using a variable pressure foaming process that's the most environmentally-friendly in the industry. Each of the three layers is made of 100% polyurethane. That's not all, the material is CertiPUR-US certified, low-VOC, and made without any chemicals or heavy metals. Plus, they're antimicrobial and phthalate-free.
Thickness and firmness
The three-inch thick top layer is soft and gentle while the bottom two layers are made of firmer foam and provide mid-level bounce, cradling the weight that pushes through the top layer of foam while providing a strong base layer for support.
One of the best things about this mattress is it was designed to work for every sleeper. Back, side, and stomach sleepers all need different support for their pressure points and the way their body conforms to the mattress.
The contouring top and supportive bottom layers are great for back sleepers because they support the neck, shoulders, and lumbar areas while helping provide spinal alignment. Side sleepers will love the pressure relieving properties of the top layer that allow them to sink into the mattress just to get both comfort and contouring support. It's a good choice for stomach sleepers, too. They need a soft surface with enough hip support to keep them from sinking into the bed throughout the night to keep their spine in alignment.
Noise
Like all foam mattresses, the Molecule Mattress is virtually silent. Because there are no springs like a standard mattress, there's nothing to creak and make any noise.
Temperature regulation
This is one of the best things about the Molecule Mattress. Regular memory foam mattresses are very dense and trap a lot of body heat, which gets worse and worse throughout the night. Because the top and middle layers of the Molecule Mattress both have an open-cell design, the mattress traps less heat overall and it's easier for air to flow through. The cover material was designed to keep you cool, too.
Cover
As your body temperature changes throughout the night, the Molecule Mattress's cover was designed to wick away moisture and diffuse heat to keep your skin cool and comfortable. The advanced cover material responds dynamically, meaning as your body temperature changes throughout the night, it changes with you.
By adjusting to the necessary level of cooling and evaporation, the cover keeps you from getting too hot and wicks away and sweat from your skin. Plus, the Microban antimicrobial treatment keeps the mattress smelling clean and fresh by inhibiting the growth of bacteria that can cause foul odors.
Inflation time and smell
Most foam mattresses have a pretty strong chemical smell when they're first expanded but the Molecule Mattress is a little better than comparable all-foam beds. This common smell isn't harmful, but it is unpleasant and can linger for days. The Molecule Mattress may have some odor but it's not as invasive as the smell from some other products.
Setup is easy. Simply remove the mattress from the box in the room where you plan to use it and place it on the foundation. Cut along the seam in the plastic, remove the outer cover, and allow the mattress to unroll and unfold. Then, remove the inner plastic bag. That's it! The mattress will start to expand immediately.
You can sleep on your Molecule Mattress after only a few minutes but you should allow 24 to 72 hours for it to expand completely and fully regain its shape.
Edge support
The Molecule Mattress performs as well as most bed-in-a-box mattresses when it comes to edge support. The edges aren't as sturdy as traditional mattresses because foam mattresses can be easily compressed and shipped in a box. That said, the edges of the Molecule Mattress feel fairly secure, although there is some compression throughout the top layers when sitting on the edge.
Safety
Molecule Mattresses are completely encased in fire-retardant material made of a special blend of fibers to balance comfort and flammability. There are no additional chemicals added, the barrier works by stopping the combustion process in the event of a fire.
This mattress is also non-toxic and no chemicals are used in the eco-friendly manufacturing process. It's also antimicrobial so it prevents bacterial buildup.
Durability
When it comes to durability, the Molecule Mattress performs pretty well. The transitional foam layers help extend the lifespan of the mattress at a level on par with other foam mattresses with a similar design.
Certification
Molecule Mattresses are CertiPUR-US certified which is not an easy certification to get. The process of this independent, third-party certification was developed with input from academics, scientists, environmentalists, and consumer groups. All foam that receives the certification is verified and analyzed twice in the first year and again every year in order to maintain certification. Random on-site visits to foam plants are also done to assure quality.
When a mattress is  CertiPUR-US, that means it's verified to be free from ozone depleters, flame retardants, heavy metals, formaldehyde and phthalates and has a low VOC for indoor air quality.
Warranty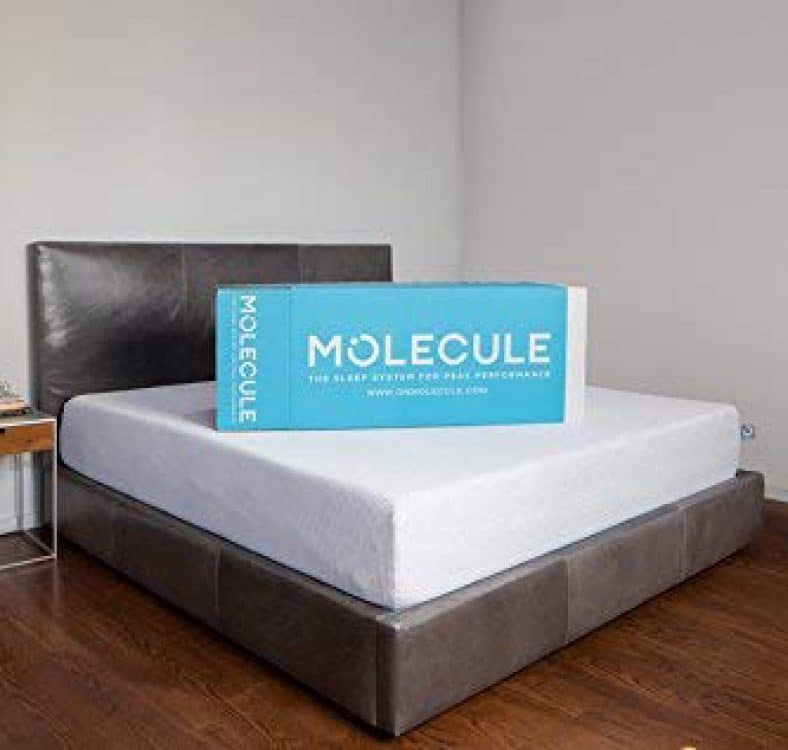 One of the best things about Molecule Mattress is they offer a 100-night sleep trial. You really get enough time to test the mattress before you decide whether or not to keep it. That said, there's a 30-night break-in period which means that customers cannot return the mattress until at least 30 nights have gone by. Only one return is permitted per household.
These mattresses come with a limited lifetime warranty but there are a lot of terms and conditions. One of the big things to keep in mind is that you have to use the proper foundational support for your mattress. These mattresses do not require a traditional box spring. In fact, box springs aren't recommended. Instead, use a firm, solid, non-spring base.
The warranty covers sagging or indentations that are at least one-inch deep, manufacturing or physical flaws in the cover, and broken zippers resulting from normal use. It's only applicable for the original owner who purchased the mattress from Molecule or an authorized retailer.
The warranty lists specific things it does not cover, too, including indentations less than one-inch deep, foam softening due to normal wear and tear. Any damage due to an inadequate foundation or misuse is not covered.
Price tag
These mattresses are available in a wide range of size, from a twin all the way to to a California King. Prices are as follows: Twin, $1,099; Twin XL, $1,149; Full, $1,399; Queen, $1,499; King, $1,899; California King $1,949.
PROS:
It is highly adjustable to help with comfort and sleeping positions to avoid neck and back pain
Throughout time, it still keeps it shape
Perfect for various sleeping positions and body types
CONS:
When layers are removed from the pillow, there seems to be extra fabric.
Might be too soft for some users
Video Review
If you're looking for a memory foam mattress that's suited for all types of sleepers and helps keep you cool and comfortable throughout the night, the Molecule Mattress is a great choice. Choose from one of six sizes and start your 100-night in-home sleep trail to see how it works for you.
9.6
User's score (votes: 9)
Add your review  |  If you have already used this model, please, leave your review