With our ever-moving day to day lives, time to sleep is sacred and sometimes with such a short amount of sleep possible, the best mattress can help you get quality sleep—and the best Olee Sleep Mattress Review can help get you there. Designed to not only meet your sleeping needs but also contour to the support your back and body need, the Olee Sleep box mattress has the memory foam to adapt to your body shape, temperature, and budget.
In this article, we've reviewed the features of this mattress and how they can best adapt to your body and help with your sleep. Whether you're on a budget or are looking for a mattress to last you for the next decade, the Ole Sleep Mattress can be for you. To help you out, our Ole Sleep Mattress review goes through the background of the brand, the specifications of the product, and the details of each feature to help you decide on if this product fits—from budget to features—your sleeping bill.
Review
The Olee Sleep Mattress, designed with five layers including a pocket spring, this build is made for those who love sleep—and let's be honest—who doesn't?
Topped with a memory foam layer that contours to the shape of your body and helps keep your body temperature where it's supposed to be for a comfortable night's sleep, the Olee Sleep Mattress is a great choice.
One of the layers is a gel-infused memory foam that eases pressure points, with its tempered steel, independently-encased coils. For those who have a bad back, this mattress specializes in weight distribution through the pressure points and for those who sleep with a partner— eliminate motion transferal. Rolled, compressed and vacuum-sealed, it ships as easily and as quickly as it takes you to fall asleep.
For this review, we're going to go feature by feature of the Olee Sleep Mattress:
Overall performance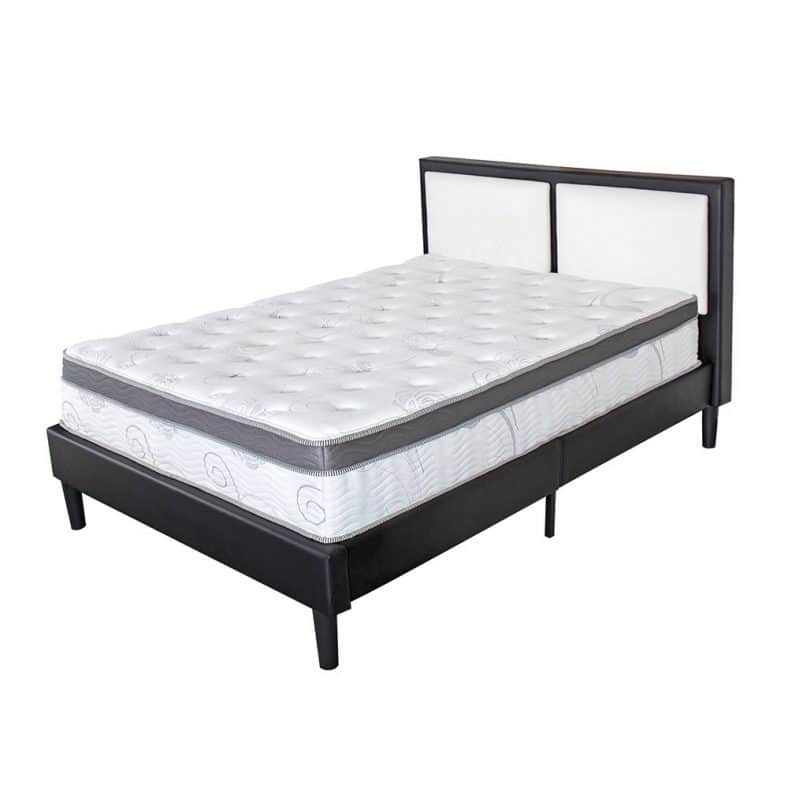 Stemming from a small brand only a few years ago, Olee Sleep offers quality mattresses at highly competitive prices. If you are looking to save a little bit of money but still invest in high-quality, these cheaper options—although still including memory foam—can be imported right into your bedroom.
The only thing negative about these features is the fact that they have not had an opportunity to be certified by Certipur-US.
Although they still haven't had the Certipur-US seal and there is not much info backed up on the internet, these features might be just the something that are going to win you over.
Motion transfer
Choosing foam over innerspring can be the life-changing decision you make regarding a high-quality night's sleep. Especially if you sleep with a partner in bed, the motion isolation of the foam alone will help eliminate motion transfer and keep you sleeping soundly, regardless of how much the other one moves.
The Olee Sleep mattress has a bit of both worlds, as an innerspring mattress stacked with foam layers, you'll get the bounce of the innerspring and motion isolation of the foam—all in one.
Layers and filling
With five different layers of filling, you'll truly be getting high-quality performance that doesn't come with just any mattress.
All five layers are made with your comfort in mind. Not only are five layers hard to come by—most mattresses with high-density foam only come with around three—but the quality of the layers are what truly make a difference.
The Olee Sleep Mattress comes stuffed to its 13" brim with five layers—a Dura soft foam, a Dura I-Gel foam, a Duraflex foam with high-density, a Dura spring, and then topped with a Dura high-density base foam.
Thickness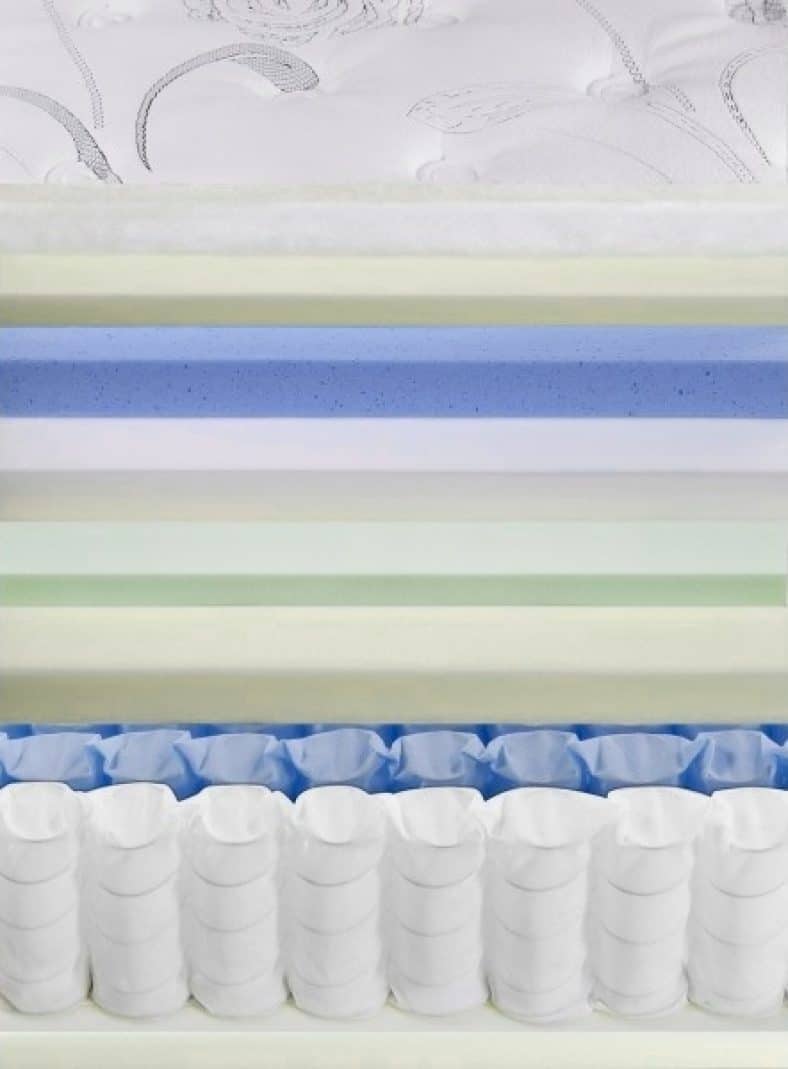 As we just mentioned, the 13-inch thickness is truly built for a king or queen—with a full, queen, and king size bed all available.
The thickness can be the feature that sets this mattress apart from others on the market since it is packed with a high number of inches that puts it larger than the rest.
Whether you are setting the mattress directly down on the floor or you're a little bit heavier set than the average person, a minimum of 10 to 12 inches of thickness is needed (priority with 12) for a comfortable night's sleep.
Measuring at 13 inches, you can definitely rest assured (quite literally) that the Olee Mattress will be a comfortable lie.
Noise
If you're worried about the spring mattresses that make a whole ton of noise—especially if you're sleeping in a smaller home or with a partner right on the bed with you, the noise that a mattress emits can really make a difference. At least to your sleeping partner, as well as other people in the home with you, motion transfer and noise while moving around can be disturbing.
The five layers of filling—especially the high-density base foam—make the mattress an extremely quiet choice. If you're looking to buy a quiet mattress, the Olee Mattress might be a great fit.
Temperature regulation
With most high-quality beds, you're looking at temperature regulation as one of the sought-out features that can make or break your sleep experience. Whether you need the bed to be cooler for the summer nights or you want a warm experience, the type of foam can really make a difference.
The Dura memory foam in the Olee Sleep Mattress is what is responsible for regulating body temperature while you snooze. This means that this product has got you covered for giving you a comfortable night's sleep—no matter what the temperature is on the inside or outside of your home.
Cover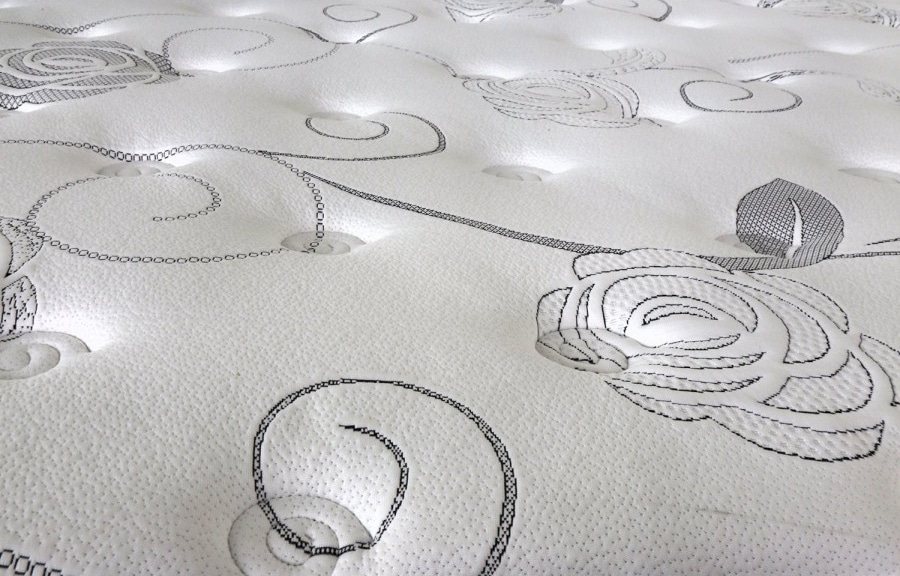 The Olee Mattress is topped with an irremovable polyester jacquard of about a quarter of an inch thick. This type of material is designed with synthetic fiber polyester.
Normally, this material is dyed in two different ones. Fortunately, what makes it great for a bed cover is that it is highly moisture absorbent and can be dried rather quickly, making it perfect to take away damp sweat or dries fast after washing. Once washed and ready to make your bed, this type of cover can go from dryer right to the bed in no time.
The material is also highly elegant, normally used for elegant blouses and dresses as well as other special, unique garments. Maintenance of this cover is also minimal. Especially since it is irremovable, you don't even have to take it off, but all you need is a cold water wash and possibly ironing—but this can be easily replaced with hanging them to dry.
Inflation Time
Especially since it comes deflated, wrapped up, and uniquely packaged, right to your door, the inflation time to get it up to its maximum, optimal height might normally take a little longer than usual.
With most other gel mattresses on the market, what sets them apart from the rest is that you don't need to separate the mattress for two or three days so that it can reach and inflate to its maximum height—it does so in a matter of hours.
For the Olee Mattress, it isn't much different than other gel mattresses. It inflates in just a few hours after opening the package. If you do so early enough, you can even use the bed o the same day that you've received your package!
Although it won't reach its full size of 13 inches for a few hours, it gets up to 9 inches in a matter of minutes. It is suggested to order it at least one day before you intend to use it, however, just to be safe.
Smell
Every heard about that "new car smell", well, with mattresses—it's much different. Although it's still labeled as a "new mattress smell", it might not be all that pleasant. But of course, with all sorts of sensory details, this might be different from user to user.
Most other gel mattresses come with an odor, that might not be so pleasant. However, comparing most reviews and feedback from actual customers of the Olee Mattress, most of the users had mentioned that it does NOT come with the unique and unpleasant odor of the typical gel mattress. It just has that "brand new mattress" smell.
Even this new mattress smell will fade away as soon as you inflate it to its full height and begin using it, so it really isn't a feature to worry about.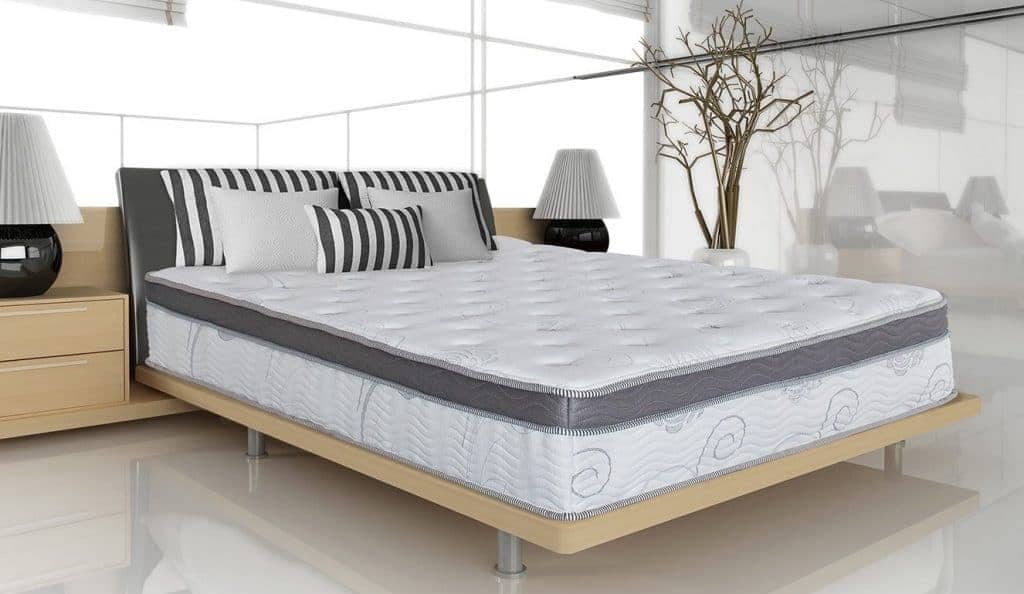 Warranty
Who says budgeting has to mean low quality?
Olee backs its products by offering a 10-year long warranty on its mattress. Although most expensive mattresses offer a 20-year warranty, 10 is well in range of a high-quality mattress guarantee and shows that you definitely can get quality, even on a budget.
Along with the warrantied offer, there is also a trial period that comes along with the Olee Mattress, which is actually considered to be much longer than other ones in its class.
The above-average trial period runs at about 100 days (or nights). You can test the mattress out in a period of a little over three months to see if its a right fit for you or for you and your partner. This amount of time gives you enough to see if you acquire any pains and to be able to average what it does for a night's sleep. After the end of the 100-day trial run, you can return the mattress to Olee with a full refund if you choose that it's not right for you.
They also not only believe in their product so much but value you as a customer, offering free shipping on that return, which normally never happens.
All these offers, along with the 10-year warranty can back up the quality and confidence in the product.
Price tag
As we mentioned before, this is a great budget choice for you and your family, loved one or sleeping partner. Especially if you are just getting a mattress for an extra room in the home or if you're working on a budget to furnish your house, you'll need a great budget option like the Olee mattress.
Provided that all the features in this guide have helped you out when choosing which details were most important to you, the price tag is also a major bonus when it comes to additional advantages to the Olee Mattress Review.
Whether you've decided to skim and right to the end to see our verdict or if you're running low on time, here are some last minute bullet points of the pros and cons of the Olee Sleep Mattress:
PROS:
There is an extremely friendly return policy, not only do you get full refund but Olee will pay for return shipping
The trial period is also much longer than other mattresses on the market
Backed with a 10-year warranty
CONS:
Complaints about possible sagging and indentations
The cover is irremovable, which might make it difficult to wash and maintain
Conclusion
If you're looking for a high-quality mattress, with five layers of foam comfort that doesn't break your budget, the Olee Sleep Mattress might be your best bet. From its 13" density thickness to its 10-year limited warranty, you're this mattress has everything you need to get a good night's sleep—guaranteed.
We hope that this review of the Olee Sleep Mattress has helped highlight some of the most important features of the product and has helped you make the buying decision on your next mattress.
Add your review  |  If you have already used this model, please, leave your review