Tuft and Needle Mattress Topper Review
The Tuft and Needle mattress topper is compatible with the majority of mattresses out there, so you don't actually need to have a Tuft and Needle mattress to use it. This is the perfect choice for people who want to relieve pressure points on their shoulders and hips while making their bed softer.
The Tuft and Needle mattress topper is ideal for back and side sleepers, but stomach slippers may find it too soft. However, it's important to keep in mind that the overall experience may depend on your height and weight.
Topper Material
The Tuft and Needles mattress topper is made from multiple layers, with a cover made from polyester blend material and a bottom constructed from a non-skid material.
The topper itself is made from Tuft and Needle's proprietary adaptive form and its main purpose is to help dissipate heat. The material of the topper is visibly more breathable than traditional memory foam, which makes it an excellent solution for those who tend to sleep hot.
Cover Material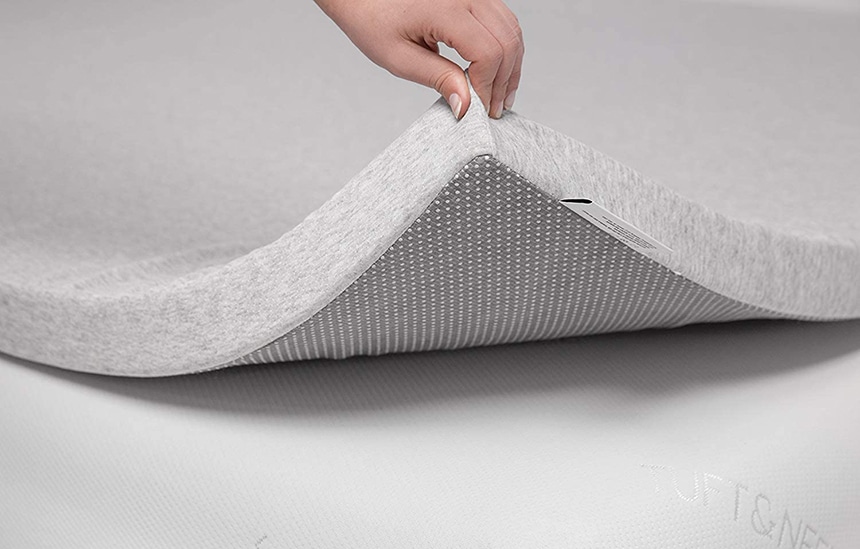 The cover of the Tuft and Needle mattress topper is made with a polyester blend material and has a design that makes sure your sheets remain in place.
Thickness
The Tuft and Needles mattress topper has a thickness of 2″, which is the same for all size options. This thickness would be enough in most cases, but if you have a very hard mattress that you need to give a softer touch to, you should probably go for a thicker mattress topper.
Firmness
The mattress topper is fairly plush, and it will definitely make your bed fee softer, If you like your mattress to be firm, however, it's not the best choice for you. The mattress is made from Tuft and Needles' proprietary open-cell foam that is designed to offer pressure relief while being breathable at the same time. Unlike traditional memory foam, the firmness will remain the same at different room temperatures.
Off-gassing
Tuft and Needle mattress toppers passed the safety test regulated by CertiPUR-US, which measures the amount of gas a mattress or topper emits over 72 hours. The topper is shipped in a box, which means that you need to allow it to air out before using it on the bed.
Once your topper is fully extended, leave it in a room with open windows to ensure air separation and reduce the unpleasant smell while also allowing VOC to be emitted.
Certifications
The Tuft and Needle mattress topper has the UL GREENGUARD Gold Certification, which aids in the creation of healthier indoor environments. This is because the mattresses and toppers with this certification release fewer pollutants that can contribute to numerous respiratory issues including asthma.
The foam in the topper mattress is also CertiPUR-US® certified, so you can rest assured it's free from harmful gasses and chemicals as well as PBDE flame retardants and low VOC emissions.
Sizes Available
The Tuft and Needle is available in six sizes: Twin, Twin XL, Full, Queen, King, and Cal King. The larger the mattress topper is, the heavier it is, too, so you can expect the toppers to weigh anything between 12 pounds and 21 pounds.
Price Tag
The mattress topper from. Tuft and Needle is quite affordable at $150 for a queen-size topper (price from the Tuft and Needle website). This is an averagely priced mattress topper from a well-known brand, so even though there are numerous more expensive options available out there, the Tuft and Needle topper offers excellent quality for the price.
Moreover, don't forget that getting a topper for your mattress is always going to be cheaper than getting an entirely new mattress.
Durability and Warranty
This mattress topper is quite thin, but it's still made with high-quality materials, which makes it highly durable. As such, you should expect your mattress topper to last for approximately three years.
Tuft and Needle offers a three-year limited warranty for this mattress topper, which covers both manufacturing and workmanship defects.
Key Features
The mattress topper features silicone beading on the bottom to prevent it from moving around. All you need to do is place it on top of your mattress, and it will not slide.
The mattress is made using Tuft and Needle's proprietary responsive open-cell foam that is not only supportive and breathable, but also very comfortable.
The cover of the mattress topper is made from a smooth polyester blend that feels great to the touch and prevents your sheets from bunching.
Who Should Get This Mattress Topper?
This mattress topper is best for people who are looking to make their mattress feels softer and for those who are trying to protect their current mattress. It's not the best choice for those who want the benefits of a memory foam topper or for people who are looking for a solution to make their mattress thicker.
Your Weight
Average-weight sleepers should feel comfortable on the Tuft & Needle mattress topper. The responsive foam material allows your hips to sink in slightly, which creates some body contouring.
Heavyweight sleepers who are over 230 pounds will also find the mattress topper comfortable, especially if they are back sleepers. The foam of the topper adds just the right amount of contouring without having any effect on the support of the mattress on which it sits.
Moreover, heavyweight slippers should also experience some decent pressure point relief, but since the top bar is not the thickest on the market, some heavier people may feel like they push right through it.
Your Sleeping Position
Your sleeping position also has a significant impact on the level of comfort you can experience on this mattress topper. Side sleepers of average weight will be able to feel good pressure relief on this topper. They should be able to feel their hips and shoulders deep into the foam layers, which does an excellent job at alleviating pain on pressure points. Back sleepers should feel comfortable on this mattress topper regardless of their weight.
On the other hand, stomach sleepers might not find this product ideal, especially if they are heavyweight. This is because they may feel their hips sinking deeply into the foam layer in this sleeping position. Over time, this may cause discomfort because the lower back will sink out of alignment and will eventually result in pain. Lightweight stomach sleepers may find that this mattress topper works for them.
PROS

CONS

Excellent pressure point relief
Breathable foam does a great job at preventing sleeping hot
Silicone beading designed to keep the mattress topper in place

The 2″ thickness may not be suitable for some people
There is only one firmness option available