The key to a good night's sleep is a comfortable pillow. Out of all the pillows out there, the pancake pillow fits the bill-ow on being one of the most comfortable bedding pieces on the market. The pancake pillow is highly adjustable, with six thinner inside layers inside a large pillow case—all of which are removable.
With the pancake pillow, you choose how lofty, how comfortable, and how big you want your pillow to be. All you have to do is unzip, remove, and store based on your comfort level. Made of 100 percent polyester, with a 330 thread count and 100 percent cotton on the outer case, the Pancake Pillow is the most comfortable soft one out on the market of its kind.
With all the customized products out there, the Pancake Pillow is perfect for side sleepers, stomach sleepers, and back sleepers. The six soft stackable—talk about a tongue twister—inner pillow layers are customizable, allowing you to adjust to what you feel most comfortable with to help you avoid neck pain, discomfort, and sleepless nights. The Pancake Pillow is also extremely soft, designed with a microfiber, hypo-allergenic fill.
Just like a fluffy stack of pancakes, we think this pillow is the perfect Saturday morning in for the entire family. To help you make the decision if this product is right for you, we hope this Pancake Pillow review can help you defining the features and helping you make the purchase.
SPECIFICATIONS
| | |
| --- | --- |
| Cover material | cotton |
| Pillows capacity | 6 |
| Sizes available | Queen, King |
| Filling | gel microfiber |
| Warranty | 30-day money back guarantee |
| Height | 1.5'' to 9'' |
Review
In this review, we're going to take you through each individual feature of the Pancake Pillow to help you decide if this particular product is right for you while you sleep.
The adjustable layer pillow is the perfect fit—no matter who you are and how you sleep. Perfectly designed to fit for sleepers of all kind—from stomach to back to side sleepers—every kind can get a good night's sleep.
With its 300 thread count build and 100 percent cotton outer case, this pillow is not all about height and outside looks—it is also designed with six super soft inner pillow layers with star luxury premium materials.
To get a bit more detailed in each extensive feature, keep reading as we break each of them down:
Overall performance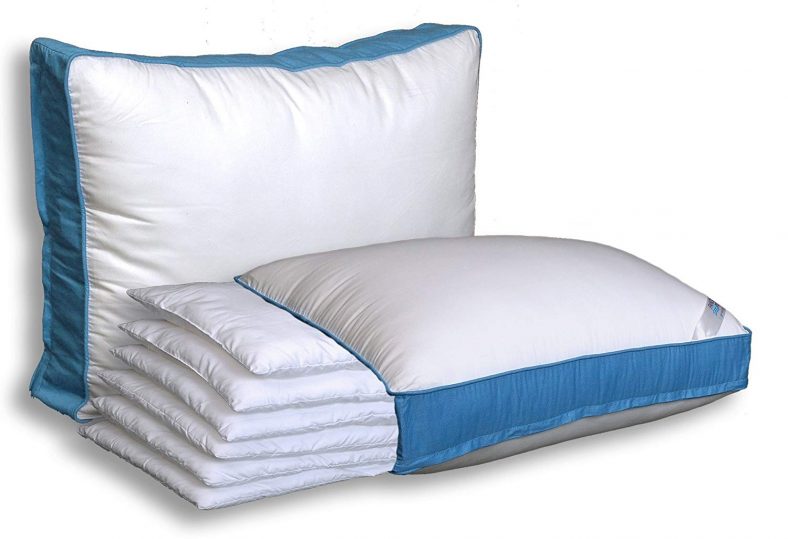 At the end of the day—literally—all you want to know is if the pillow can perform like you need it to, giving you the best sleep of your life.
When we mean "overall", we're talking about a comfortable feel for all kinds of sleepers. If you're sleeping on your back or on your stomach, you'll need a much thinner pillow so that your spine remains aligned the way its supposed to. For you flat sleepers, the Pancake Pillow can be reduced to a single or double pancake to help keep the alignment low. Finding the perfect, thin pillow is difficult—so don't find it, create it.
For you slide sleepers up there who like the extra cushion, the Pancake Pillow can be stacked to the brim. Whether you want to stuff it to the max with all five layers or want to switch it up one night to the next, the Pancake Pillow is great for adjustments. Just like pancakes are there for you on your worst days—the Pancake Pillow can be, too.
You can go from one of the thinnest, polyfill layers available on the pillow market to the loftiest, most stacked pillow out there in a matter of seconds!
Of course, performance and satisfaction are relative to every unique sleeper—however, with options and adjustability that the Pancake Pillow offers, how can someone NOT like it?
Sleeping positions
As we just mentioned, the Pancake Pillow is perfect for all kinds of sleeping positions. Especially if the purpose behind your pillow purchase is for a posture support system, you'll need a product that mimics that.
You can help alleviate any back or neck pain you've been having in the mornings through the use of a pillow under your hips for stomach sleepers or your knees for back sleepers.
To help you find the perfect position for your sleeping position, here is a little guide to help you out:
Back sleepers: For all of you who can easily fall asleep on your back, you'll need the perfect size thin pillow that keeps your head and neck in alignment with your spine. This means that the pillow not only has to be thin and sturdy enough but also has to offer the support that it needs to hold the natural curve of your neck.
With back sleepers, it's suggested for you to use three layers in your pillow. However, you can incorporate or take out as many layers as you need.
Side sleepers: Especially since this pillow is so versatile, you will be able to sleep in almost any position—even on your slide. If you're going to be sleeping in the fetal position or simply on your side, it's suggested that you choose to use three or four layers for the right amount of firmness underneath your neck. However, this also may be different based on your personal preference.
Stomach sleepers: Going to be sleeping on your stomach? You'll need a firm but low pillow to not mess with the alignment in your neck and in your spine. If you are going to be using the Pancake Pillow, it's suggested that you use two layers to rest your head while you sleep so the feel isn't too lofty.
Adjustable thickness
With every product out there getting more and more customizable, being able to even customize your sleep comfort is actually more possible than you think.
To adjust the thickness of the pillow, you should first check out what the loft capabilities are. The term loft in pillow talk is measuring how high it will be when placed on a flat mattress or surface. When we take a look at Pancake Pillow, the loft of this pillow is very adjustable—since you can take the layers out and in.
With each layer, the Pancake Pillow can be as thin as 2 inches in height and as tall as 9 inches.
Depending on the size of the pillow can make a huge difference in your sleep quality. This can change based on your sleep position. If you want to sleep on your back, you'll want a lower set pillow and sleeping in a different position may make you want a higher set pillow and case. The higher the loft, the more firm the surface due to the type and formation of the material—which can make a huge difference when talking about comfort.
There are definitely other "adjustable" pillows on the market, however, these other pillows use more memory foam. This means that you need a place to store the memory foam after removal—especially if you are possibly going to be adding some of it back after a little while.
With the Pancake Pillow, however, you can remove and add layers as you please. Once you remove the material, they can be placed and zipped up, just like how it looks with a sleeping bag.
Sizes available
Because of its adjustability, the Pancake Pillow is great—no matter what size you're seeking.
Not only is it highly adjustable, but it also comes in two different sizes that you can choose from—standard/queen or king.
The standard/queen pillow measures out at 18 by 26 inches and the king size measures out at 18 by 34 inches. The king pillow is actually a little bit smaller than the standard king size of 20 inches by 36 inches.
Having all of these sizes available make it much easier for you to choose what you need and what your body works best with.
Softness levels
Not only can you choose the level of height and how many levels are in your Pancake Pillow stack, but you can also choose the level of softness of your pillow. Depending on what works best for you for your level of comfort, the softness levels can change.
When going layer by layer, the measurements of softness are relative but are as follows:
1 layer, 2" in height: Soft
2 layers, 3.5" in height: Soft
3 layers, 4.5" in height: Medium soft
4 layers, 6" in height: Medium plush soft
5 layers, 7.5" in height: Medium firm
6 layers, 8.5" in height: Firm
These varying softness levels are not the only plus with the Pancake Pillow—it also is highly easy to maintain and wash. Each of the layers of the pillow can be washed in cool water and tumble dried in the dryer. Having an easy to maintain pillow is a great feature that should not be overlooked.
Materials
When talking about the material of the pillow, you'll be pleased to know the Pancake Pillow uses some of the best material on the market. With the most breathable of all fibers within its fabrics—cotton, the Pancake Pillow is completely moisture wicking and encourages high amounts of airflow, which is extremely important.
You definitely do not want the heat sinking down in the pillow since your body and your head will be on it. Fortunately, the heat retention that is within the cotton material avoids these problems.
The number thread count—300—also makes a difference in the long run, making sure that the pillow is extremely breathable. The thread count of 300 notes for how closely the threads are woven together, which, since 300 is actually a lower number, means that there is much more space for air to flow.
Filling
Just like a fresh plate of pancakes coming hot out off the stove, layered perfectly (and probably doused in maple syrup or honey), there truly is nothing better than that.
The Pancake Pillow knows how great a fresh stack can be—and it shows in their product. In each layer of the Pancake Pillow, there is a filling of soft-down alternative microfiber polyester.
The filling is strong, meaning that it can withstand the every night pressure that it gets put through on a nightly basis. However, not only is it strong, but it is also soft—making it perfect for comfort and direct contact with your skin.
You'll want your skin also to feel safe. The naturally hypoallergenic and microbial resistance of the pillow material helps release any allergy issues you may have and keeps you asleep for longer throughout the night.
The microfiber is also gel-infused, which helps with keeping it cool as you sleep. For the best night sleep, you'll want the coolest layers of pillow you can get.
Cover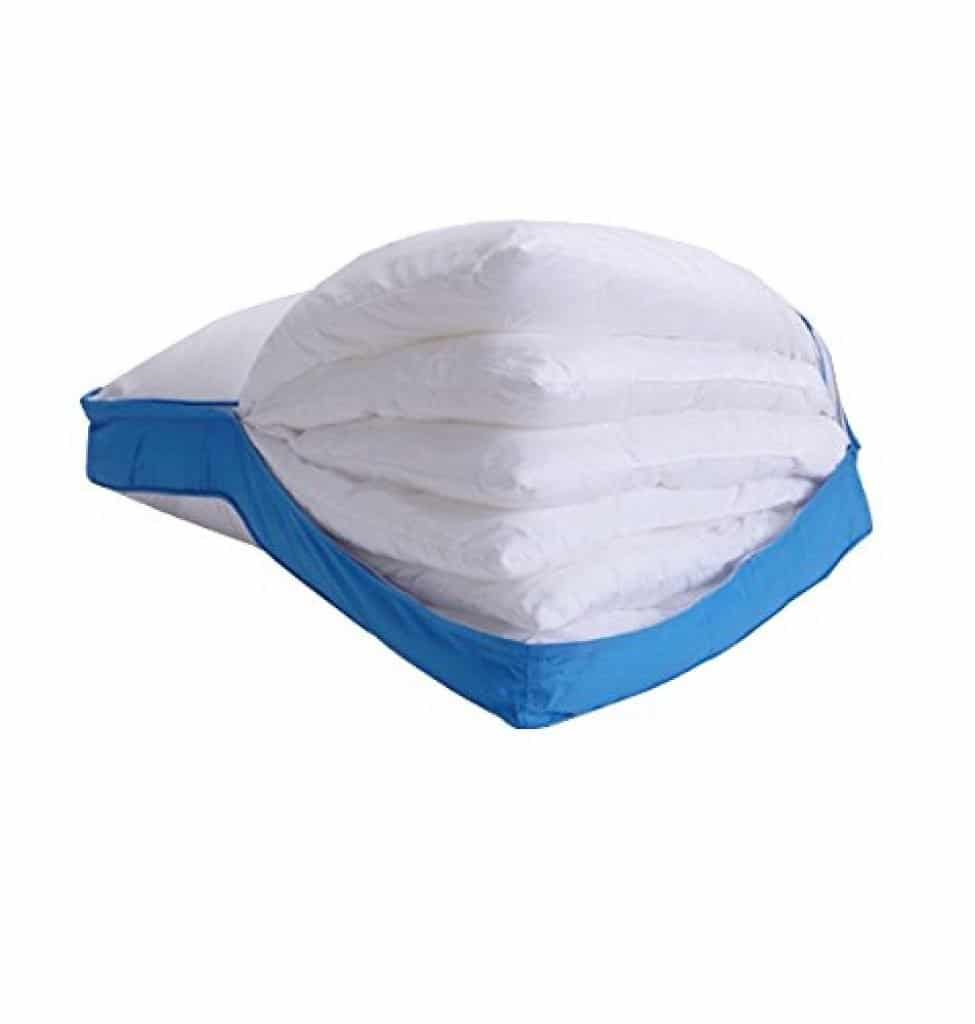 The cover of the pillowcase contains a zipper with three sides, which is best for the various layers of the pillow. The cover makes it extremely user-friendly when trying to add and remove layers of the pillow. The zipper even folds into a pocket of fabric so that it cannot snag on anything and is protected.
The cover also has seams that are double stitched—which increases the durability of the pillow, even through usage.
You can throw the cover into the washing and drying machine with ease, making it extremely simple to maintain. This makes it easy to protect your pillow, wash it when needed, and even hold the layers in place the way they are supposed to be.
Temperature regulation
As we already mentioned, the pillow has gel-infused filling within the layers, making it easily temperature regulated and cool to the touch. There was no heat retention in the pillow, which makes it comfortable to sleep with and doesn't allow you to get hot during the night.
You may think that the more layers that are added into the pillow, the hotter it might become because of the insulation. However, the low thread count pillow cover also helped to maintain that gelling coolness.
Heavier users
At the end of the day, you really need to be comfortable while you sleep. However, that could mean something unique for each of us. Not only are we all different in size, shape, and sleeping positions, we are also different in our meaning of the word "comfort".
Fortunately, the Pancake Pillow takes that into account with its adjustability and able to conform to every unique user that purchases it.
If you are on the heavier side—no matter what the case may be—you'll want to know that the product you place your trust in is going to give you the comfort you'll be looking for. Especially if you are always shopping according to your unique weight, etc., this can be a bit difficult. However, Pancake Pillow makes it easy.
Because of the variety of options and adjustability, the different layers and the possibility that you can get what you want is experienced to profit with this pillow. Most heavier users preferred sleeping on their back or on their side.
Of course, the norm isn't always what's right and you can shape your pillow to your personal comfort level.
If you're going to be sleeping on your stomach, you can try with the recommended two layers and add one more layer if needed. This will provide you with ultimate comfort. If you're going to be turning on your back or going from stomach sleeping to back sleeping, you'll want an average of three layers—especially if you are on the heavier side.
Tips for health improvement
We all want to find ways to be healthier. Fortunately, sleeping is a direct way in which the quality and quantity of it can have a direct effect on your health system—physically, emotionally, and mentally.
If you're worrying about your sleeping position and posture support, pillows are great problem solvers for just that purpose alone. Especially if you're going to be sleeping on your back or on your stomach, you'll be automatically placing some sort of additional strain on your lower back—if you have a normal firm mattress. It helps in these cases to have a fully adjustable pillow so you have all sorts of opportunity to do what you can to find the ultimate comfort.
You can also take the extra strain off your back through placing a pillow underneath your hips or in between or underneath your knees—depending on how you sleep.
Cleaning
The day you've been dreading all week: laundry day.
Tacking another thing on your to-do list on laundry or chore day of the week just seems absurd, especially if you have a whole house to take care of! So, the less you have to do to maintain and clean your items—the better.
Since you're on the market for a new pillow (and we know that you are, since you're reading this), we're going to let you know how easy it is to maintain and clean the Pancake Pillow.
Especially with other specialty pillows, you might notice extreme circumstances for rules pertaining to washing and drying. Normally, you'll have instructions telling you to avoid washing or drying machines altogether—increasing the already bulging burden of your household chores.
That's simply not the case with the Pancake Pillow. Easy to clean, you don't have to take this pillow to the dry-cleaners or take the time to wash it by hand. You also don't have to fumble around with it like you might with other specialty pillows that give you absolutely NO instructions, whatsoever.
All you really have to do to clean your pillow is throw it in the washer—even with other clothes (preferably of the same color). It's really as simple as that. Better yet? When it's finished with the last rinsing cycle, you can pop it in the dryer to quickly get it dry, warm, fluffy, and ready for the next upcoming night's sleep.
Not only are all the layers of pillows machine-washable, but the cover is, as well—all parts of the product are washer and dryer safe.
Of course, this helps lessen the burden on maintenance, gets you a clean sleep—which is not only hygienic but amazing for your health—but also helps you get chores done in a short matter of time.
To help you out, though, the Pancake Pillow manufacturers do suggest that you wash and dry it on the gentle cycle so you're not messing with the interior and exterior of your pillow. This will help you maintain its guarantee!
Guarantee
With other pillows, they normally come with a guarantee or a warranty. Especially if you want to try sleeping on it, the Pancake Pillow is also no different.
Its performance is backed by a money-back guarantee by the manufacturers of 30 days. This is much shorter than other pillow or bed products out there, but the quality of the pillow will stand safely throughout a normal amount of time.
Price tag
You don't want to be spending a pretty penny on a pillow—because let's face it, you probably have already spent quite a lot on the mattress. Fortunately, the price is actually quite good for the budgeted sleeper when compared to other high-end pillows on the market.
PROS:
It is highly adjustable to help with comfort and sleeping positions to avoid neck and back pain
Throughout time, it still keeps it shape
Perfect for various sleeping positions and body types
CONS:
When layers are removed from the pillow, there seems to be extra fabric.
Might be too soft for some users
Conclusion
We hope that our Pancake Pillow review has helped you decide whether or not this pillow was right for you, your sleeping position, and sleeping performance. Whether it was price that was in question or your specific comfort level, we hope that the features included in this review can help clarify if it is right for you.
9.6
User's score (votes: 12)
Add your review  |  If you have already used this model, please, leave your review