TalkAboutSleep is reader-supported. We may earn a commission through products purchased using links on this page. Learn more about our process
here
Looking for a mattress is a process and usually, one worth going through if you want what you end up sleeping on to be good for you. You have two primary options, and that is either a foam or a spring mattress. If you end up picking the former, you will have to compare different foam mattresses on offer by different manufacturers. One such comparison is GhostBed vs Leesa. Of course, there is the apparent one-inch height difference between the two beds.
Nevertheless, a mattress is a long term commitment, and therefore, you can't decide on size alone.
Once you get to the nitty-gritty parts of the comparison, you will find some similarities between the two mattresses. For one, they both use memory foam in the middle layer of their mattresses. They also have the same number of differing foam layers in their construction. Ultimately, while drawing the GhostBed vs Leesa comparison table, you will see there is a barely noticeable difference in pricing, and this may have a bearing on the decision you make. Whichever mattress you pick, you can only make the right decision after taking into consideration all the information about both beds.
Quick Comparison
Currently, both mattresses are made in the US, and you can get them either from the manufacturer's websites or from Amazon. Leesa is an online mattress company and the brainchild of David Wolfe and Jamie Diamonstein who both still run the company. Sales are also mainly in the US for the Leesa mattress that you can get delivered to your doorstep for free. All you have to do is wait the 3-7 business days.
On the other hand, we get the GhostBed mattress that also ships for free to mainland United States. There is, however, the catch that if you live in Alaska or Hawaii, you might have to pay an extra $600 to get delivery. Amazon offers delivery of the bed to other parts of the world. GhostBed manufacturers also have two other beds that they can give you if this one doesn't strike your fancy. The GhostBed Luxe and Flex all have their unique advantages and disadvantages that you should also look into. Marc L. Werner is responsible for the GhostBed brand after having decided to stray from the family business of making ladders.
Looking at how both mattresses are made, they all have a high-density base foam layer, and this is where some of the difference in size comes in. The bottom layer on the GhostBed is 7.5" while in contrast, the same layer on the Leesa is only 6". While both mattresses have a 2" memory foam layer, the one on the GhostBed is infused with cooling gel meant to give users cooler sleep and reduce sweating at night. Small holes on the top layer of the GhostBed also help to pull in the hot air emitted by your body into the Gel memory foam below.
Leesa tries to deal with sleeping hot by incorporating a microcell structure that should increase airflow allowing the warm air to dissipate on its own. In total, the Leesa bed has a 6" base foam layer, a 2" memory foam layer, and a 2" premium foam layer with a microcell structure and that forms the 10" mattress. The only other bed you can get from Leesa is the Leesa hybrid, and it does have an extra inch on it totaling 11" among other qualities. On the firmness scale, GhostBed performs slightly better with a 6.5 score with Leesa getting a 5.
GhostBed
Leesa

Synthetic Dunlop Latex top foam layer.
Gel memory foam in the middle layer.
High-density Polyfoam bottom layer.
6.5 firmness rating.
11" total height.
101-night sleep trial.
Motion isolation.
20-year warranty.

Polyfoam top layer.
Memory foam middle layer.
High-density polyfoam bottom layer.
5 firmness rating.
100-night sleep trial.
10-year warranty.
Free shipping to all US states.

VIEW ON AMAZON
VIEW ON AMAZON
Mattress specifications
GhostBed
Leesa
Type
Foam
Foam
Firmness
Medium Firm (6.5)
Medium firm (5)
Thickness
11″
10″
Weight
89 lbs
71 lbs
Sleep trial
101 nights
100 nights
Warranty
20 years
Ten years
Price
$895 (Queen)
$890 (Queen)
Certification
Certi-PUR-US
CertiPUR-USSustainable Furnishing Council Member
Mattress Recycling Council Member
Construction
| | | |
| --- | --- | --- |
| | GhostBed | Leesa |
| Support core | 7 1/2″ 2 PCF HD Polyfoam | 6″ PU foam |
| Comfort Layers | 1 1/2″ Synthetic Dunlop Latex2″ 4 PCF Gel Memory Foam | 2″ foam blend2″ gel-infused memory foam |
| Cover | Viscose/polyester blend | Polyester and Lycra® spandex Blend |
The $5 price difference is not something to write home about and thus doesn't hold much of a bearing on which mattress to pick. What could be a decider is the latex foam that is present in the GhostBed and absent on the Leesa. Also, another critical factor is the warranty. The GhostBed seems to have a way better offering as it offers ten additional years of cover as well as an extra night sleep trial. On the other hand, to Leesa's advantage, more and more certification bodies have given the mattress construction a thumbs up.
Comfort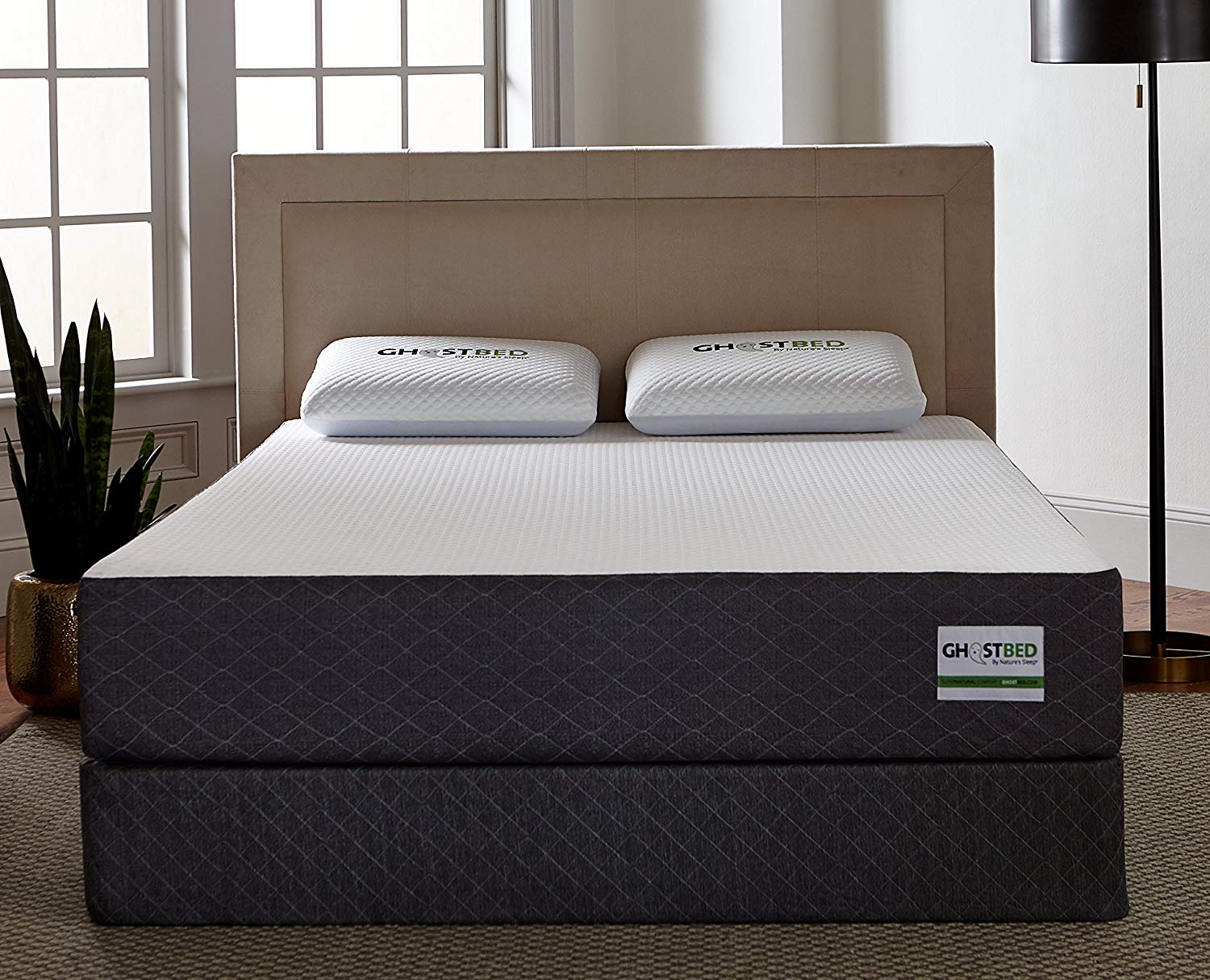 All the specifications mentioned above say nothing about how it feels to sleep on the mattress. Then again, the experience may not be the same for different individuals. Other factors come into play. E.g.
Weight of the sleeper.
The number of sleepers on the bed.
The preferred sleeping position.
Activities on the bed.
Side sleepers benefit the most when using either of these two mattresses. The comfort layers help align the spine perfectly, and when you wake up in the morning, there will be no backaches or long term spine damage. Both mattresses are not bouncy or springy, so if your preference is to have a highly responsive mattress, then these two might be ruled out. As a result, you will notice that both beds have a very high degree of motion isolation. That way, your partner sleeps better even if you move a lot at night.
Sleeping temperature may decide whether your sleep was comfortable or not. Of course, waking up in a cold sweat is not ideal. Both these mattresses, therefore, have countermeasures in place. Leesa does this by including an enhanced cooling top layer with lots of ventilation. That way, hot air can go out of the mattress and allow fresh air to come in. The result is cooler, better sleep. The GhostBed also has something in place. The top latex foam layer has pores that suck the hot air into the mattress. Down below the memory foam has an additional cooling gel element. The Hot air is cooled here, allowing the air in the bed to retain comfortable, low temperatures.
Firmness and support
Leesa is obviously on the losing end here with a lower firmness rating of 5. However, the sleep experience should almost be similar, primarily due to the memory foam underneath. It conforms to the body shape and weight of the sleeper. This could be therapeutic to people who suffer from various body aches after a night of sleep. At the bottom layer, the high-density polyfoam is almost similar in construction and should help prevent the mattress user from sinking too deep into the mattress.
Temperature control
Here the beds perform almost similar. The aeration on the Leesa is great, but there need to be extra components added in for adequate temperature control. As a result, most people who sleep on the bed will have no complaints about sleeping hot. However, not everybody is satisfied with the efforts put in as some still feel the heat. GhostBed seems to have taken up where the Leesa left of with cooling gel in the memory foam on the second layer of the bed. However, these efforts are almost nullified by having a top latex layer. If this layer could be switched out for something more breathable likely, all customers would be satisfied with the temperature. As it stands, there is still a bit left to be desired.
Motion transfer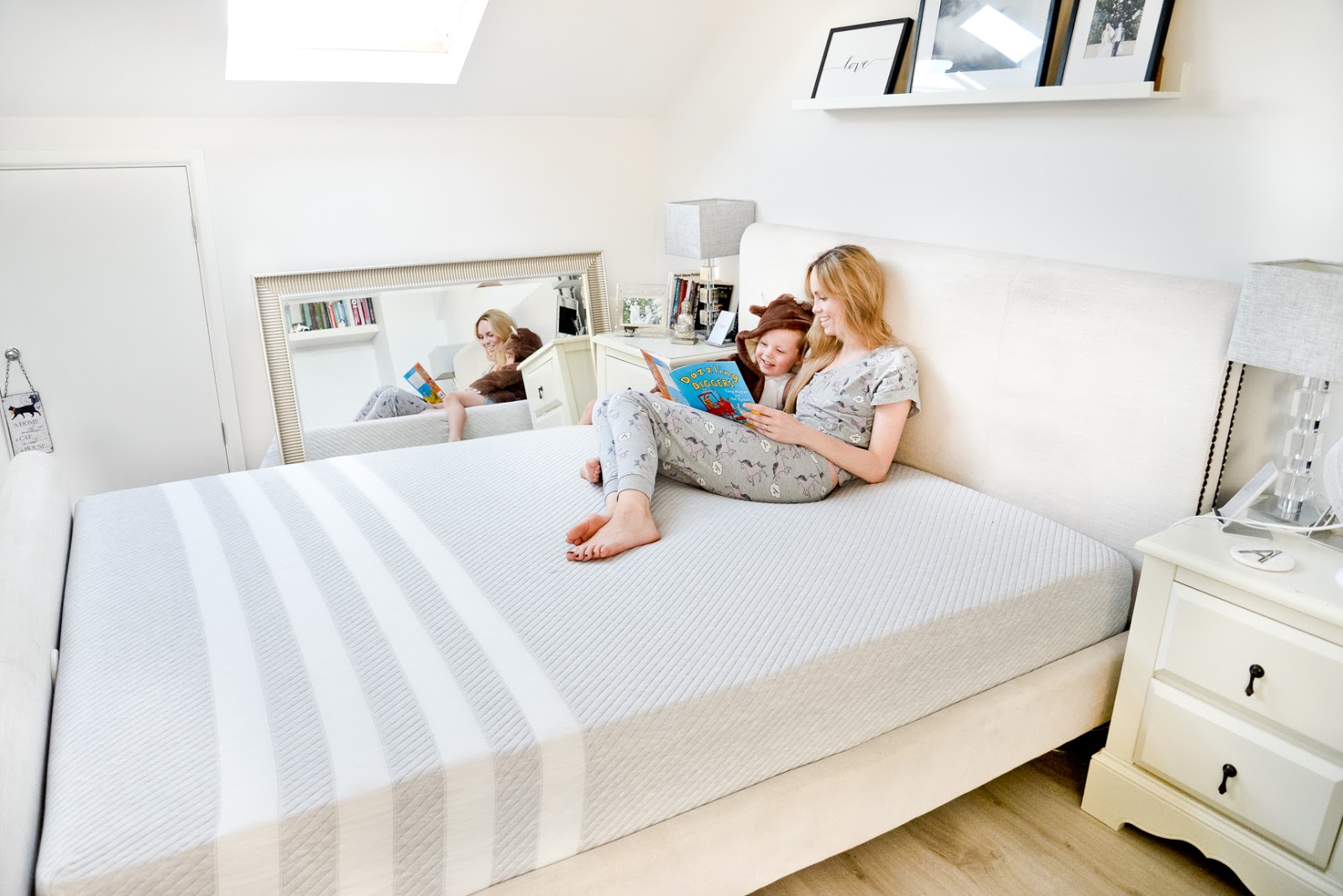 Leesa finally has a win with this category. Their bed's motion localization is superior to that of the GhostBed, although by a negligible difference. This must be due to the differences in the top layer, where the polyfoam is more localized. The latex foam on the GhostBed may be responsible for giving the edge to Leesa as it is the only significant difference. Seemingly it takes away from a lot of the positive attributes on the Bed. However, this only matters where sleeping partners are concerned and where one of the parties involved tends to move around a lot in their sleep.
Responsiveness
When you're sleeping, you want a bed that adjusts to your weight shift swiftly. That way, you won't feel the transitions when you turn. If this change is any less seamless, then you risk being woken by changes in texture when you find yourself on another part of the bed in your sleep. GhostBed doesn't perform all that well in this area and unfortunately neither does the Leesa.
If you're used to sleeping on unresponsive mattresses, then this may not matter much to you. However, if your last mattress had high responsiveness ratings, it might take a while before you are used to sleeping on either the GhostBed or the Leesa. Another area where this matters is where couples are having sex. Usually, this involves a lot of motion, and it would help if you didn't feel the transitions in the bed. Unfortunately, this is not something to expect when purchasing these mattresses.
Resilience and bounce
Both these beds are very resilient when in use. You can expect seven or more years if you sleep on the mattress daily. The GhostBed even has a warranty that extends much longer than that. While you may hear creaking where spring mattresses are involved, you don't have to worry about that especially with these two mattresses. They bear weight silently. Where it comes to bounce, the Leesa has more of it which would be great if it weren't for the lagging responsiveness. The overall rating is excellent for resilience and fair for bounce with both options.
Edge support
Foam mattresses are not known for their exceptional edge support. As such you can expect the Leesa not to perform well in this area. What you get is what you would get with most other mattresses of their kind which is minimal edge support if any. The GhostBed, on the other hand, doesn't play by the same rules. Edge support is way better for sleeping parties. Nevertheless, if you often sit on the edge of your bed, you might be taking that bit of edge support away.
Inflation time, off-gassing and smell
As is typical with foam mattresses. They are packed in small boxes to allow for easier shipping. This means they are vacuum compressed so they can fit in the box. Also, they may emit certain odors due to the chemical processes of producing the foam. These smells are not meant to be permanent as they can make sleeping on the mattress uncomfortable. When you get the shipment, you unpack the box in a well-ventilated room. The circulating air will help the mattress regain its fullness and size.
Sleep position ratings
SLEEP POSITION
Light sleepers(less than 130 lbs)
Average sleepers(130 lbs to 230 lbs)
Heavy sleepers(greater than 230 lbs)
GhostBed
Side
good
good
good
Back
good
very good
good
Stomach
fair
very good
good
Leesa
Side
good
good
fair
Back
good
very good
good
Stomach
good
very good
fair
If you're used to a particular sleeping position chances are you didn't choose it. You just felt more comfortable and fell asleep faster while you were in it. It is, therefore, one of those things that would be hard to change. As such, you want a mattress that conforms to your sleeping position needs. People who sleep on their backs have given high ratings to both these mattresses, and that cuts across all weight classes.
For heavy side sleepers who weigh more than 230 pounds, you are better off choosing the GhostBed. The same is the case for people in that weight category that prefer to sleep on their stomachs. On the other end, you are more comfortable picking a Leesa if you weigh less than 130 pounds and sleep on your stomach. However, on a typical night, you will probably cycle between the three sleeping positions mentioned above. It, therefore, makes sense to choose an all-rounder mattress for your weight class.
Sizes and pricing
| | | |
| --- | --- | --- |
| SIZE | GhostBed | Leesa |
| Twin | $445 | $425 |
| Twin XL | $645 | $590 |
| Full | $820 | $750 |
| Queen | $895 | $890 |
| King | $1,075 | $1,090 |
| California King | $1,095 | $1,070 |
| Split California King | $1,290 | N/A |
Customer service
| | | | | |
| --- | --- | --- | --- | --- |
| | Sleep trial | Warranty | Refund | Delivery |
| GhostBed | 101 days | 20 years | Full refund | Within the U.S. |
| Leesa | 100 days | Ten years | Full refund | Within the U.S. and Canada |
The warranty terms are pretty comprehensive for both beds. The Leesa offer what we have come to expect as the industry standard for mattresses, which is ten years full coverage. Also, you get 100 days to sleep on the bed and get a feel for it. Of course, there are fewer days for you to test this mattress since you need to let the smell dissipate. Nonetheless, this should be enough time for you to decide whether to keep it or not. GhostBed offers more or less the same trial period but what changes is the time for which you can get a full refund to double that of the Leesa.
In terms of delivery, Leesa does a better job. They give free delivery to both the US and Canada and all within seven days of the order. GhostBed only delivers to 48 states in the US for free. The remaining two off the mainland carry with them a delivery charge that could drive the cost of owning the mattress to almost twice the price.
So which should you buy?
GhostBed
VIEW ON AMAZON [wpsm_pros]
20-year warranty
Cooling gel included with the memory foam
No off-gassing and smell
Ships in a small box
Offers edge support
Relatively short inflation time
[/wpsm_pros][wpsm_cons]
Limited bounce and responsiveness
[/wpsm_cons]
Leesa
VIEW ON AMAZON [wpsm_pros]
Ships for free in all US states and Canada
Standard 10-year warranty
Good motion isolation properties
[/wpsm_pros][wpsm_cons]
[/wpsm_cons]
In conclusion
Looking at the price will probably not make the decision easier. After all, the cost is more or less the same. It, therefore, falls on to the features list to help break the tie. Seemingly the GhostBed pulls slightly ahead of the Leesa not just in features but also in warranty terms. Then again shipping to a few destinations may cost you more than you are willing to pay. Also, what is your weight class? Which mattress is more comfortable in your usual sleeping position? Once you answer these questions, you will know which one to pick.