Nectar and Leesa are two of the top names in the mattress world right now. Many people hesitate between these two mattresses, as they both offer exceptional levels of comfort and quality. Both of these mattresses are highly versatile too, being well-suited for people with many different sleeping styles. Nectar only makes one mattress, while Leesa produces two different models. For the purposes of this Nectar vs Leesa comparison, we'll be focusing on Leesa's most popular memory foam mattress model, as it offers a more direct comparison with the Nectar.
Quick Comparison
Both Nectar and Leesa are dedicated to producing some of the finest memory foam mattresses for you and your family to enjoy. Nectar is generally associated as the better value brand, with its mattresses usually being more affordable than the competition, while Leesa is known for its strong commitment to social and eco-friendly goals. These mattresses have some similarities in terms of the materials being used to make them, but they have some major differences as well, especially in terms of firmness, comfort, construction, and price.
Nectar
Leesa

6.5 firmness rating
11 inches thick
Lower price
Constructed in a four-layer design
6 inches of base foam, 3 inches of Hi Core memory foam, 1 inch of gel memory foam, and 1 inch of quilted gel memory foam
A cotton and Tencel® cover
Comes with a lifetime warranty and year-long sleep trial

5.0 firmness rating
10 inches thick
Slightly more expensive
Features a three-layer design
6 inches of support foam, 2 inches of memory foam, and 2 inches of Avena foam
A polyester and spandex cover
Comes with a 10-year warranty and 100-night trial
Mattress specifications
| | | |
| --- | --- | --- |
| | Nectar | Leesa |
| Type | Foam | Foam |
| Firmness | Medium firm (6.5) | Medium (5.0) |
| Thickness | 11″ | 10″ |
| Weight | 74 lbs. | 71 lbs. |
| Sleep trial | 365 nights | 100 nights |
| Warranty | Lifetime | 10 years |
| Price | $699 (Queen) | $845 (Queen) |
| Certification | CertiPUR-US | CertiPUR-US |
Construction
Nectar
Leesa
Support core
6″ HD Polyfoam
6″ 1.8 PCF HD Polyfoam
Comfort layers
1″ Quilted Gel Memory Foam
1″ 4 PCF Gel Memory Foam
3″ 3.5 PCF Memory Foam
2″ 3 PCF Polyfoam
2″ 3 PCF Memory Foam
Cover
Cotton and Tencel® Lyocell
Polyester and Lycra® Spandex
As we can see in the comparison table above, the construction of the Nectar and Leesa mattresses has some similarities, and this is partly why so many people hesitate when trying to choose between these two popular memory foam mattresses. Both are made with similar materials and seem almost identical at a glance, but when we look a little deeper, we can start to see some differences.
For instance, the Nectar mattress features a four-layer construction, boasting three separate memory foam layers and a support layer of polyfoam. The Leesa mattress, meanwhile, comes with a layer of polyfoam, a layer of memory foam, and then an outer layer of Avena foam, giving it more bounce and more of a latex feel overall.
Comfort
Comfort is the number one thing to think about when buying a mattress. Sleep is so important for our overall mental and physical well-being, so it's vital to invest in a comfortable mattress in order to sleep well each night, but comfort is quite a broad and vague term, so when comparing and analyzing mattresses like Leesa vs Nectar, we tend to break it down into many smaller factors.
These factors can include firmness, temperature control, responsiveness, edge support, off-gassing, and more. All of these individual aspects combine to give us the overall comfort rating for a mattress. Some mattresses, for instance, can offer good firmness levels and edge support, but sleep quite hot or off-gas, reducing their overall comfort ratings. Read on to learn all about the individual comfort aspects for Nectar and Leesa mattresses.
Firmness and support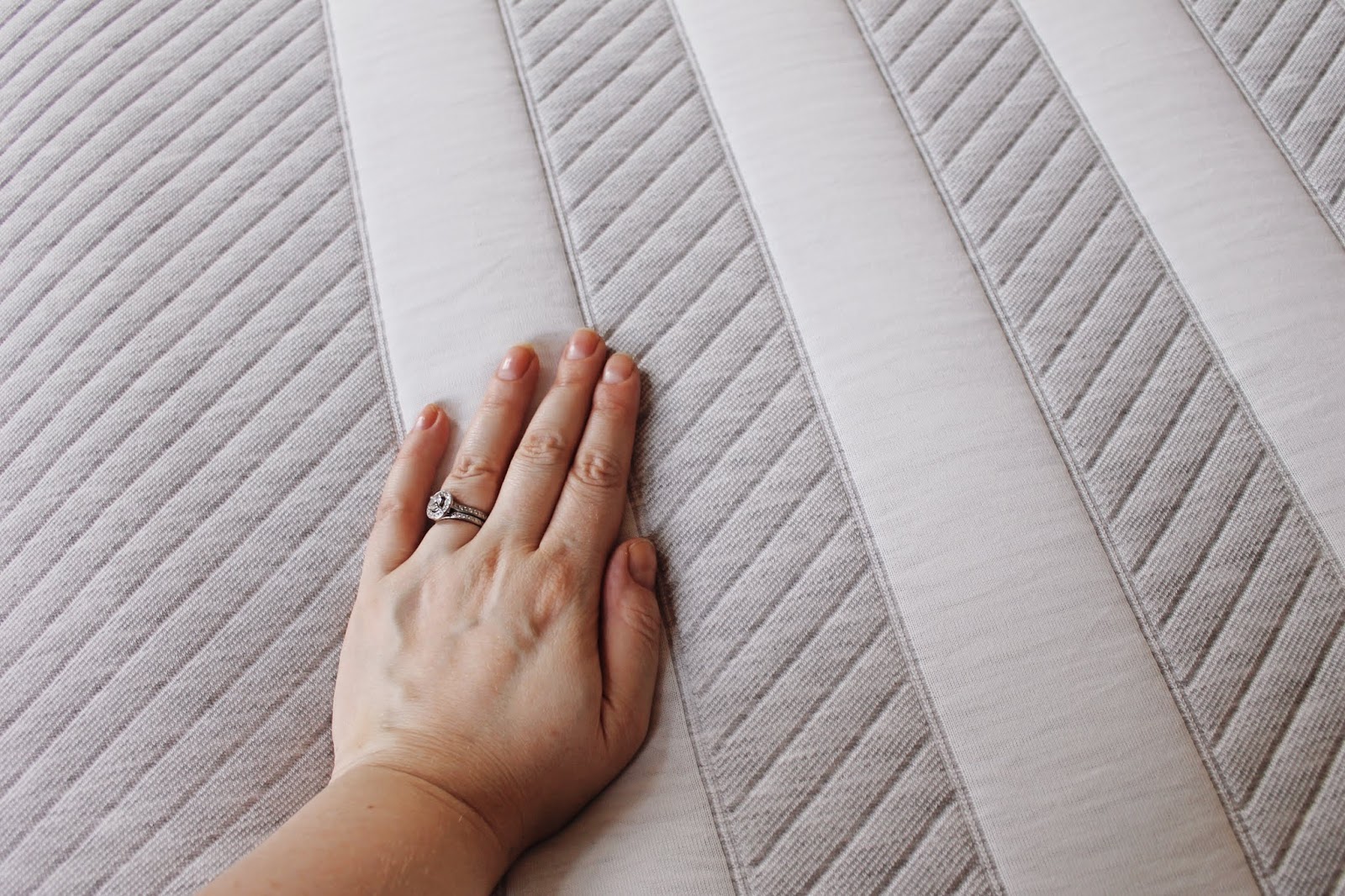 As we have seen in our comparison tables above, the Nectar mattress has a firmness rating of 6.5, which means it is classed as a medium firm mattress. The Leesa, meanwhile, has a firmness rating of just 5.0, which ranks it as a medium mattress. Due to its construction, the Nectar has a dense feel, typical of many memory foam mattresses.
Meanwhile, with its outer layer of Avena foam, the Leesa mattress feels lighter and softer overall. If you're used to memory foam and enjoy the way it hugs and shapes around your body, the Nectar is the better option, but those who prefer a little more softness and versatility may favor the Leesa.
Temperature control
Temperature control is a very important comfort factor for mattress buyers to think about. Some mattresses can seem comfortable and cozy at first, but sleep very hot and can make it very difficult to fall asleep each night, especially in summer. Fortunately, both the Leesa and Nectar mattresses offer strong cooling technology.
The Nectar makes use of its Tencel cover to provide strong wicking potential, while the Leesa features that top layer of Avena foam, so it won't hug you or get you as warm as many other foam mattresses. Overall, the cooling is a little stronger in the Nectar, but both mattresses perform well in this aspect.
Motion transfer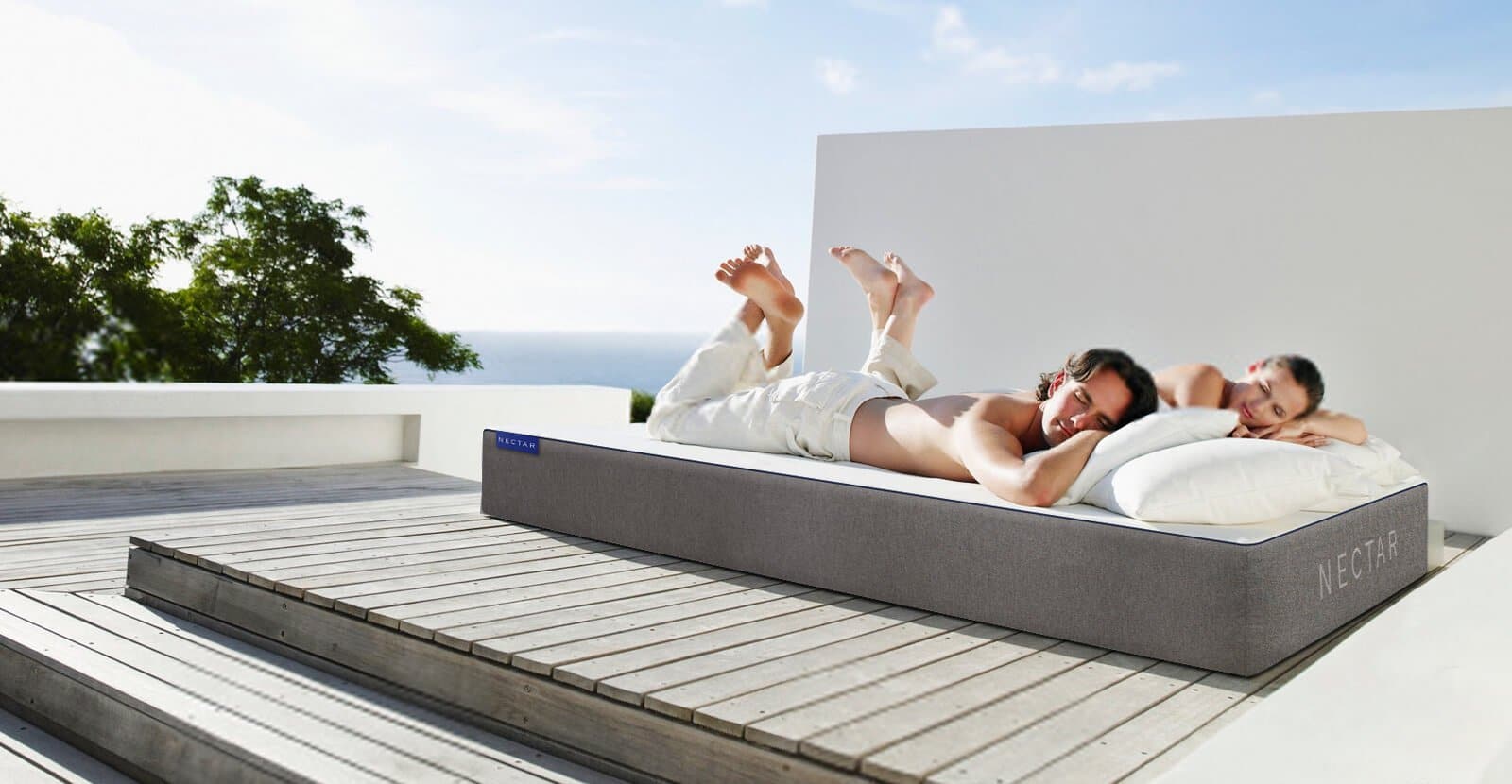 A very important factor for couples to think about, motion transfer tells us how well a mattress is able to absorb motion without transferring it to other sections. In essence, it tells us how strongly you can feel the movements of someone else rolling around or moving on the bed.
In the case of Leesa vs. Nectar, both of these mattresses offer minimal motion transfer, ensuring that both partners in a relationship can sleep soundly, even if one of them happens to be tossing or turning in the night. Again, the Nectar might have the slightest edge in this aspect, but the difference between the two mattresses is negligible at best.
Responsiveness
In terms of responsiveness, we can actually see quite a big difference between the Nectar and the Leesa mattresses. With its multiple layers of memory foam, the Nectar provides more of a slow-to-respond feel, typical of most foam mattresses.
The Leesa, meanwhile, is much more responsive overall. It's not too bouncy or resistant, but it does offer surprisingly fast levels of responsiveness, making it better-suited to people who like to move around and change sleeping position during the night.
Resilience and bounce
As seen above, the Leesa provides higher levels of bounce and resilience overall, when compared to the Nectar. Many users claim that the Leesa has just the right levels of bounce and resilience, providing a gentle hugging effect while still offering satisfying bounciness. This makes the Leesa the stronger option for individuals or couples who prefer a bit of bounce in their mattress.
Edge support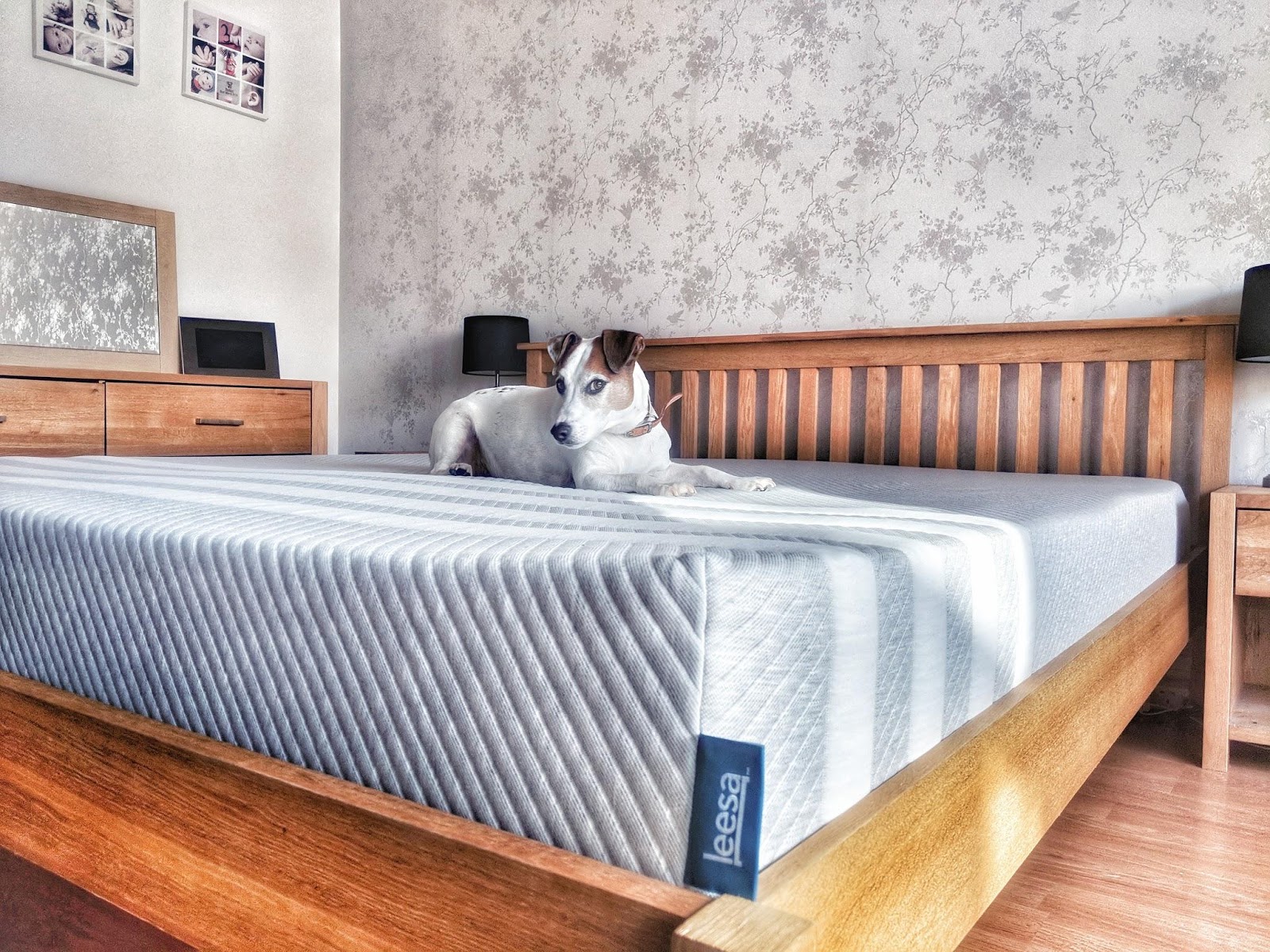 Edge support is quite a significant factor to think about if you tend to sit on the edge of your bed while getting ready in the mornings or if you or your partner sleep near the edge of the bed at night.
Most memory foam mattresses struggle to offer decent edge support, but both the Leesa and the Nectar perform quite admirably in this department. The Leesa's outer layer of Avena foam means it doesn't sink quite as much as a traditional memory foam mattress, but the Nectar is even better and really provides surprisingly decent support around the edges.
Inflation time, off-gassing and smell
As with most mattresses, you'll need to wait around 24 hours before actually sleeping on the Leesa or Nectar mattresses in order to give them time to inflate and air out. Both the Leesa and the Nectar mattresses are made with materials that are CertiPUR-US certified, so they're eco-friendly and should have minimal off-gassing in general.
In terms of odor, you can expect a little of that classic 'new mattress' smell with both the Leesa and the Nectar, but it will fade very quickly. Most users report that the Leesa odor was gone within a day or two, and won't last much longer than that with the Nectar either.
Sleep position ratings
SLEEP POSITION
Light sleepers

(less than 130 lbs)

Average sleepers

(130 lbs to 230 lbs)

Heavy sleepers

(greater than 230 lbs)

Nectar
Side
8
8
9
Back
9
9
10
Stomach
7
9
9
Leesa
Side
9
9
9
Back
9
10
10
Stomach
9
10
8
This table shows us how well each mattress performs for different sleeping styles and different body sizes. In general, we can see that the Leesa is the better-performing mattress in most categories. With its smart design and quick responsiveness, the Leesa responds well to combo sleepers and exhibits strong performance for every kind of sleep. The Nectar is mostly impressive in terms of comfort too, but it does lack a little in terms of support for heavier stomach sleepers and its lower responsiveness makes it less well-suited to combo sleepers.
Sizes and pricing
| | | |
| --- | --- | --- |
| SIZE | Nectar | Leesa |
| Twin | $500 | $425 |
| Twin XL | $550 | $545 |
| Full | $700 | $705 |
| Queen | $800 | $845 |
| King | $800 | $1,045 |
| California King | $900 | $1,500 |
Customer service
Sleep trial
Warranty and refund
Delivery
Trade-in
Nectar
365 days
Lifetime warranty

full refund

Within the U.S.
N/A
Leesa
100 nights
10-year warranty

full refund

Within the U.S., Canada, the U.K., and Germany
N/A
Sleep trial
When it comes to sleep trial, nobody offers more than Nectar. This brand has attracted a lot of customers over the years with its highly impressive year-long sleep trial, and the very fact that Nectar is willing to let users test out its mattress for a full year before deciding whether or not to keep it just shows how confident the brand is in its product.
If you like the idea of a very long sleep trial, the Nectar is the clear winner here. The Leesa does, however, come with a 100-night sleep trial, which is fairly standard for the modern mattress industry.
Warranty and refund
Again, Nectar really excels in the warranty department, and this brand's commitment to looking after its customers and offering amazing peace of mind with every purchase can't be overlooked or understated.
Nectar offers a full lifetime warranty on every purchase, meaning that your mattress will always be covered. Leesa, meanwhile, follows the industry norms once again by providing a standard 10-year warranty.
Delivery
Nectar may have won the battle against Leesa for warranties and trials, but it loses out in terms of delivery options and availability. Nectar mattresses, for now, can only be delivered around the United States. Leesa, meanwhile, offers its mattresses on a global scale, shipping them in countries like Canada and the United Kingdom, as well as the US.
Trade-in
Neither Leesa nor Nectar currently offer any kind of trade-in schemes or programs, so this factor doesn't have any influence in our overall Nectar vs. Leesa comparison.
PROS:
Better cooling
More affordable
Excellent sleep trial and warranty
Slightly stronger edge support
Good motion transfer rating
CONS:
Not as versatile
Lacking in comfort for stomach sleepers
PROS:
Bouncier
More versatile
Better for couples
Available in many locations worldwide
A better option for combo sleepers and restless sleepers
CONS:
More expensive
Shorter trial and warranty
Sleeps a little hotter than Nectar
In conclusion
Overall, our Leesa vs Nectar comparison has shown that there are advantages and drawbacks to both of these mattresses. And while they might seem quite similar on the outside, Nectar and Leesa mattresses actually have a lot of big differences in terms of their construction and comfort levels.
The way these mattresses are put together really changes how they feel to sleep on. The outer layer of Avena foam on the Leesa gives it that fast responsiveness and bounciness that helps to make it a more versatile mattress overall. Meanwhile, the multiple layers of memory foam seen inside the Nectar help it to hug and contour around the user, giving it that classic memory foam feel, while reducing its responsiveness.
If you're looking purely at comfort and support, the Leesa is arguably the better mattress of the two. It's a highly popular mattress and users only seem to have great things to say about it. Its design works well for every kind of sleeper, and it's also a good option for couples. The Nectar is a highly comfortable mattress too, but it doesn't have quite as much versatility.
The Nectar does, however, excel in terms of value. It's a more affordable mattress when compared to the Leesa, and it also comes with that incredible 365-night sleep trial, plus the lifetime warranty. So if you're shopping for a new mattress and have a budget to think about, or just want to get the best value for money, the Nectar is the safer and smarter choice.
Overall, when it comes to Leesa vs Nectar, the mattress you choose is going to depend on your own personal preferences and needs. Neither mattress is really 'better' than the other, as they both have pros and cons to take into account. If you want a versatile mattress with high comfort ratings around the board, choose the Leesa. If you're willing to sacrifice a little versatility for a better price and longer sleep trial, the Nectar will be the winner for you.