TalkAboutSleep is reader-supported. We may earn a commission through products purchased using links on this page. Learn more about our process
here
Choosing the right mattress is a very important decision that too many take lightly. Investing time and energy into researching the most suitable memory foam mattress for your sleeping needs is vital to ensuring that you have a great night's sleep. Having good sleep every night has so many health benefits including weight loss, reduced stress and improved mental health.
This article pits two well-reviewed mattress types against each other: Tempur-Pedic vs Nectar. Both mattresses are known for suiting a wide range of sleepers and sleep positions. Featuring a quick comparison table, specifications, comfort, sleeping positions and pros/cons, the article provides a detailed comparative guide to deciding the best mattress for you in the Nectar vs Tempur-Pedic competition.
Quick Comparison
A quick summary of the brands, mattress type, construction, firmness and price.
Tempur-Pedic
Nectar
Tempur-Pedic is a well-known mattress brand specializing in luxurious memory foam mattresses. They have different firmness levels available to cater to your needs. Both innerspring and foam versions of the mattress are available to purchase.

Premium price
Broad range of firmness
All foam and mixed construction

Nectar is renowned for selling affordable memory foam mattresses and is credited with increasing the number of memory foam purchases in recent years. Their memory foam is one of the most popular bed-in-a-box mattresses in the market.

Affordable price
Medium to medium-firm firmness
All Foam

VIEW ON AMAZON
VIEW ON AMAZON
Mattress specifications
| | | |
| --- | --- | --- |
| | Tempur-Pedic | Nectar |
| Type | Foam | Foam |
| Firmness | Medium (5) | Medium firm (6.5) |
| Thickness | 11″ | 11″ |
| Weight | 79 lbs | 74 lbs. |
| Sleep trial | 90 nights | 365 nights |
| Warranty | 10 years | Lifetime |
| Price | $2,099 | $899 |
| Certification | CertiPUR-US | CertiPUR-US |
Construction
Tempur-Pedic
Nectar
Support core
Polyfoam (Solid)
6″ HD polyfoam
Comfort Layers
TEMPUR® Memory foamComposed of millions of moving cells that enable the foam to spring back to its original shape every time.
1″ quilted gel memory foam1″ 4 pcf gel memory foam

3″ 3.5 pcf memory foam

Cover
SmartClimate dual-layer removable cover
Cotton and Tencel® lyocell
There are few subtle differences between Nectar and Tempur-Pedic mattress when it comes to comfort layers and a cover. Both brands use polyfoam as the support core which has become somewhat of an industry standard.
Highlighting its premium price range, Tempur uses their own trademarked material in the comfort layers. This foam is particularly strong and reforming after every sleep. Nectar, on the other hand, uses a mixture of quilted gel and pcf memory foam to form their comfort layers.
Tempur mattresses also come with a removable Smart Climate dual-layer cover which assists sleepers with regulating body temperature. The Nectar equivalent uses a Cotton and Tencel lyocell cover. Depending on preference, you may prefer to shop around for your own mattress cover if none of these meets the required standard.
Comfort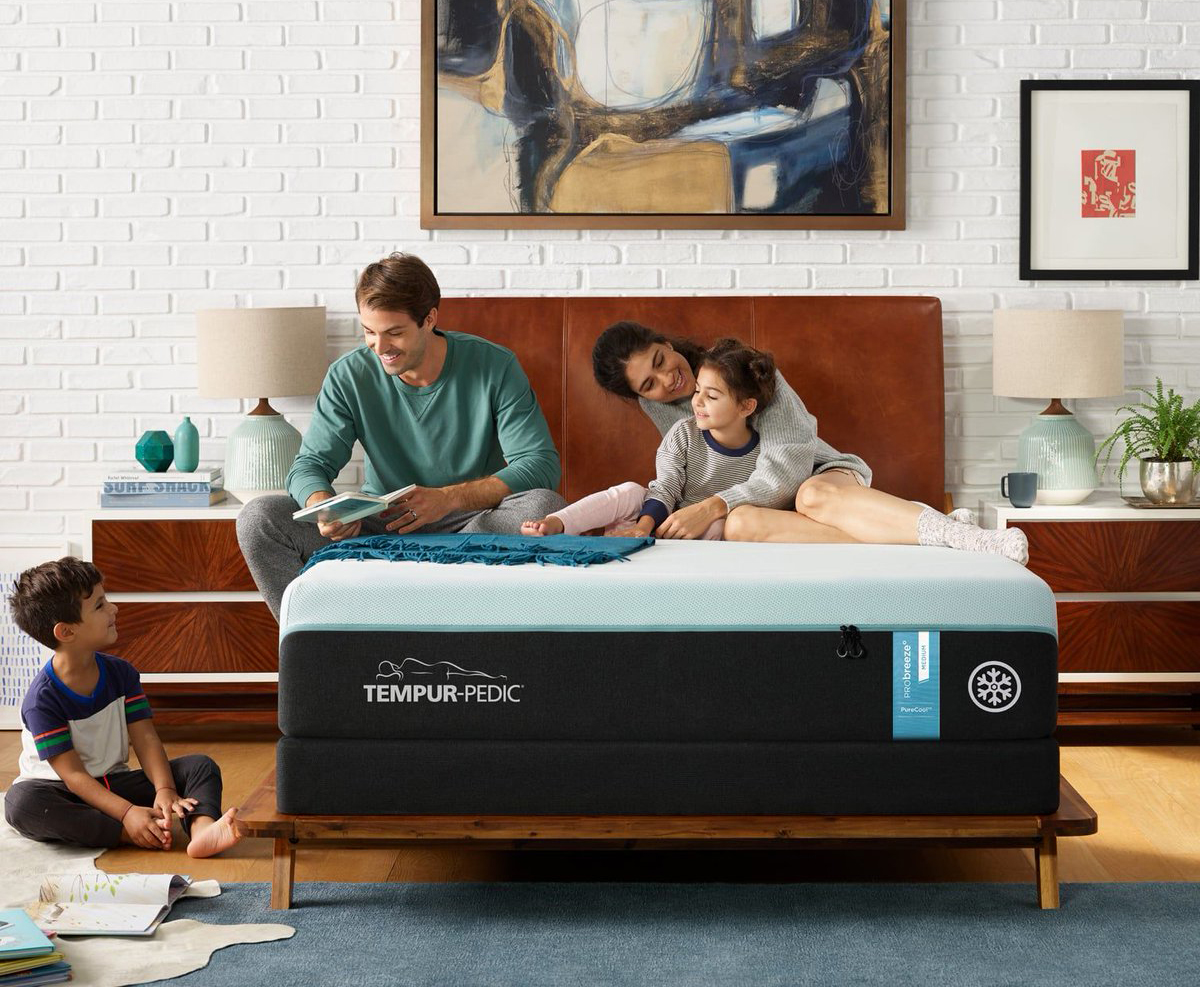 The comfort of the mattress is of paramount importance. There are a variety of factors that affect comfort which many may not appreciate.
Below are seven different aspects to consider before making the decision between Tempur-Pedic or Nectar as your memory foam mattress choice.
Firmness and support
Tempur-Pedic: The range provides a varied choice of memory foam mattress firmness. By choosing the premium brand, you have the privilege of choosing from a vast array of firmness options.
Nectar: The Nectar memory foam is only available as medium or medium-firm mattress firmness. It is down to personal preference as to whether you are comfortable and these firmness levels.
Temperature control
Tempur-Pedic: Not known for having great temperature control with some complaining the mattress makes the body temperature go too high. The solution is to add a breathable mattress pad to regulate body temperature.
Nectar: Through incorporating a Tencel cooling cover, Lush foam in addition to circulation ventilation methods, the Nectar mattresses have great temperature control, leaving the majority of sleepers satisfied.
Motion transfer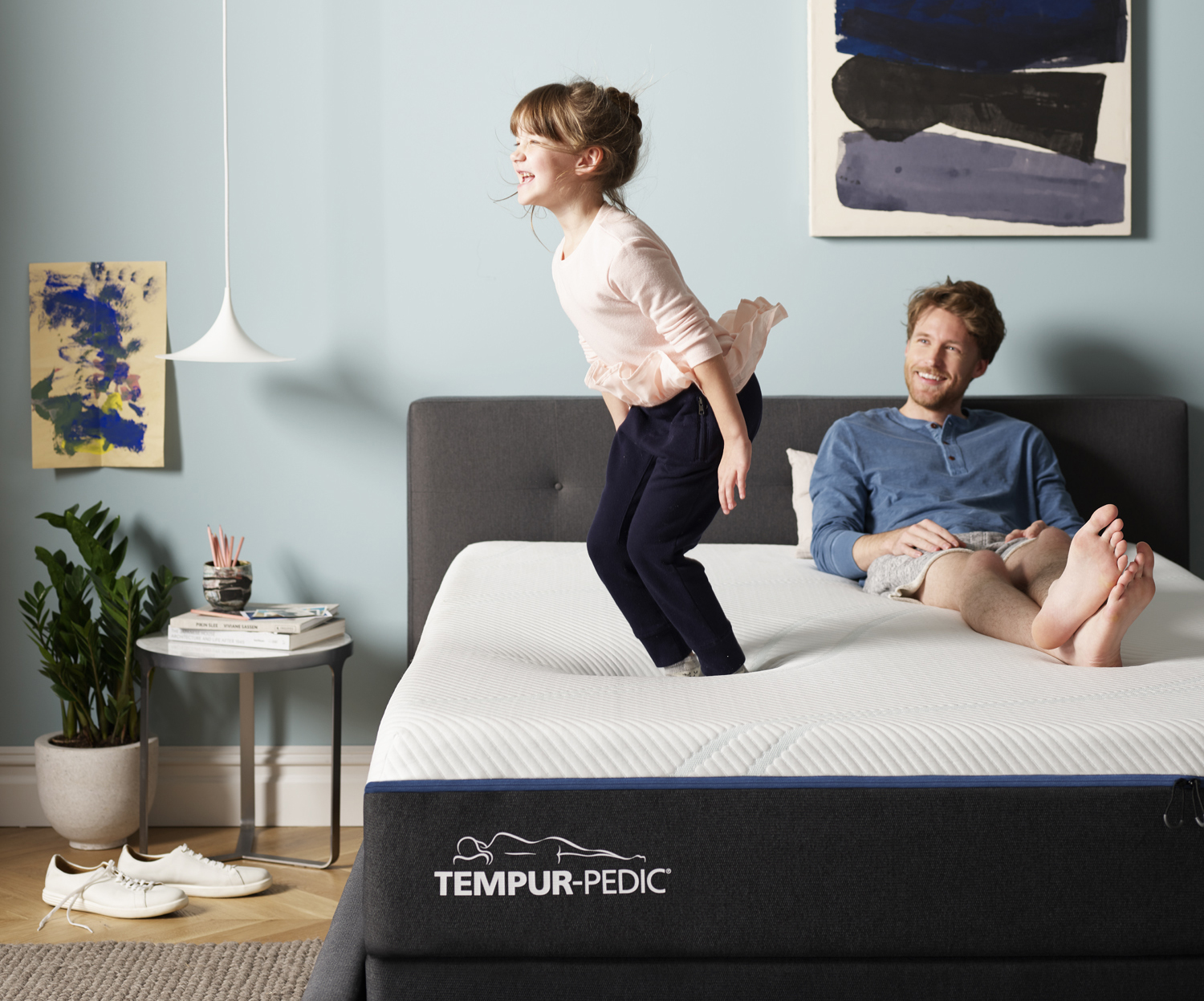 Nectar: Motion transfer is important if you have a sleeping partner who moves regularly in their sleep. Nectar memory foam has a proven ability to counteract the potentially disturbing motion transfer.
Tempur-Pedic: Dramatically reduces motion transfer with their premium foam design.
Responsiveness
Nectar: Firmer mattresses are more responsive. As Nectar's memory foam is available as medium or medium-firm, the responsiveness of their mattresses is pretty good.
Tempur-Pedic: If you choose a soft memory foam there will be weak responsiveness compared to firm memory foam in their product range.
Resilience and bounce
Nectar & Tempur-Pedic: These memory foam mattress types do not have significant resilience or bounce. Both brands are not ideal for sleepers who prefer a little bounce.
Edge support
Nectar: Features one of the best edge supports in the memory foam market. Ideal for couples who may be restricted in space.
Tempur-Pedic: For the firmer mattresses in the product range, the edge support is considerably stronger than the softer memory foam mattresses.
Inflation time, off-gassing and smell
Nectar: Delivered fresh, the Nectar mattress may contain the 'new mattress smell' for at least a couple of days after purchase. It needs to be kept in a well-ventilated room to prevent risks of bad mattress smell.
Tempur-Pedic: Although some issues of off-gassing are known to exist with Tempur-Pedic mattresses, this issue will fade over time. To prevent such smells, the mattresses should be aired out every so often.
Sleep position ratings
SLEEP POSITION
Light sleepers(less than 130 lbs)
Average sleepers(130 lbs to 230 lbs)
Heavy sleepers(greater than 230 lbs)
Tempur-Pedic
Side
8
9
8
Back
10
8
8
Stomach
7
8
7
Nectar
Side
6
7
7
Back
9
8
9
Stomach
5
6
8*
*Out of 10
The premium range of Tempur-Pedic mattresses evidently best cater for all sleeper types, scoring highly for light, average and heavy sleepers in the side, back and stomach positions. They are performing consistently best for side and back position sleepers across all sleeper types. If you fall into one of these sleeping categories, a Tempur-Pedic mattress would be difficult to resist.
The outlook differs for Nectar whose mattresses do not cater too well for light sleepers in the side and stomach positions as well as average sleepers in the stomach position. They do not cater well to some of the most common sleeping positions. Although these scores compare favorably to other mattresses, in comparison to Tempur-Pedic, Nectar has clear weaknesses in terms of sleep position ratings.
You should identify which sleeper type you are and see which rating applies to your individual sleeping style.
Sizes and pricing
| | | |
| --- | --- | --- |
| SIZE | Tempur-Pedic | Nectar |
| Twin | $1,599 | $399 |
| Twin XL | $1,599 | $469 |
| Full | $1,914 | $599 |
| Queen | $2,099 | $699 |
| King | $2,792 | $899 |
| California King | $2,799 | $899 |
| Split King | $1,699 | – |
Customer service
| | | | |
| --- | --- | --- | --- |
| | Sleep trial | Warranty and refund | Delivery |
| Tempur-Pedic | 90 nights | 10 yearsFull refund minus shipping charges | Within the U.S. |
| Nectar | 365 days | Lifetime warrantyfull refund | Within the U.S. |
The Nectar mattresses are all considerably more affordable and are more accessible to those on a limited budget. For that money, you also get a full year sleep trial which comes with a lifetime warranty and a full refund for customers in the US.
For the premium prices at Tempur-Pedic, you get a 90-day sleep trial and the refund is reduced due to the shipping charges.
Before making a decision you have to know a few really important facts:
What is your budget?
What kind of sleeper are you? (light, average, heavy)
What sleeping position to you take up most of the time? (side, back, stomach)
These are the three fundamental questions you need to know. Only then can you start to examine the broader characteristics of the Tempur-Pedic and Nectar memory foam mattresses.
So which should you buy?
Tempur-Pedic
VIEW ON AMAZON [wpsm_pros]
Inclusive of all sleepers
Wide range of mattress firmness available
High-quality foam
[/wpsm_pros][wpsm_cons]
Poor temperature control
Expensive prices
Short sleep trial
[/wpsm_cons]
Nectar
VIEW ON AMAZON [wpsm_pros]
Affordable prices
Fantastic edge support
Full refund and full year sleep trial
[/wpsm_pros][wpsm_cons]
Not great for light sleepers
Poor resilience and bounce
Requires a well-ventilated room
[/wpsm_cons]
In conclusion
Hopefully, this article has provided a vast amount of information for you to consider before purchasing either a Tempur-Pedic or Nectar memory foam mattress.
It is clear to see why these mattresses are so well reviewed by customers. Tempur-Pedic offers customers great firmness ranges and premium quality design that caters for all sleepers. Whereas Nectar offers affordable memory foam mattress solutions with great customer service.
It is important that you identify what your budget is and what type of sleeper you are before committing to either a Tempur-Pedic or Nectar mattress. By then taking the time to do your research, you will give yourself the best chance of landing the best memory foam mattress to suit your needs.