TalkAboutSleep is reader-supported. We may earn a commission through products purchased using links on this page. Learn more about our process
here
If you're looking for a new mattress but don't know what to choose, it's worth taking a close look at the Amerisleep and Helix mattresses. These two mattresses are immensely popular, with rave reviews from the many sleepers who have tried them, and are designed to be comfortable no matter what position you sleep in. They also each offer a sleep trial so you can be sure you've found a mattress you love.
That said, there are some important differences between the Amerisleep vs. Helix mattresses. Importantly, Amerisleep uses a layer of memory foam to cushion you and contour to your body, so you'll experience a slow sinking into the bed and relatively slow response as you move. The Helix mattress, on the other hand, doesn't use any memory foam and offers the responsive and springy feel of a traditional foam mattress. To help you further explore which of these two mattresses is better for your sleep, we'll dive deep into a full head-to-head comparison of the Helix vs. Amerisleep mattresses.
Quick Comparison
Our comparison will focus specifically on the Amerisleep AS3 and the Helix midnight mattresses since these are the most popular models from each mattress maker. If you love the mattress but need slight customizations, both manufacturers offer similar versions of these mattresses with thicker or thinner comfort layers and more or less support.
From a broad overview, the Amerisleep and Helix mattresses are similar in many ways. They both offer medium firmness to cater to a wide variety of sleepers and come with 100-night sleep trials and excellent customer service.
If you look beyond the exterior, though, there are some significant differences. The Amerisleep mattress is a full-foam mattress with a memory foam comfort layer that contours to fill in the gaps around your body. The Helix mattress uses a hybrid construction with proprietary Helix dynamic foam that is highly responsive and especially comfortable for side sleepers. The covers are also different – the Amerisleep mattress includes a premium Celliant fiber cover, while the standard Helix cover is lower-cost polyester (although, upgrades are available).
The price is also different – you'll pay more for the premium eco-friendly foam used in the Amerisleep mattress, as well as for the extended warranty, than for the foam and coils and shorter warranty of the Helix mattress.
Leesa
Helix

Memory foam comfort layer
Excellent back support
Celliant fiber cover
Thick 12-inch profile
100-night sleep trial
20-year warranty
Excellent customer service
Made in the USA

Hybrid construction for more support
Proprietary dynamic foam comfort layer
Responsive and supportive, especially for side sleepers
100-night sleep trial
10-year warranty
Excellent customer service
Made in the USA

VIEW ON AMAZON
VIEW ON HELIX SLEEP
Mattress specifications
| | | |
| --- | --- | --- |
| | Amerisleep | Helix |
| Type | Foam | Hybrid |
| Firmness | Medium (5.5) | Medium (5.5) |
| Thickness | 12″ | 10″ |
| Weight | 96 lbs | 84 lbs |
| Sleep trial | 100 nights | 100 nights |
| Warranty | 20 years | 10 years |
| Price | $1399 | $895 |
| Certification | CertiPUR-US, meets Clean Air Act standards | CertiPUR-US |
Construction
Amerisleep
Helix
Support core
2″ 1.65 PCF polyfoam
7″ 1.8 PCF polyfoam
pocketed coils
HD polyfoam
Comfort layers
3″ 4 PCF memory foam
2.5 PCF memory foam
transitional polyfoam
Cover
77% Polyester
21% Celliant
2% Spandex
dual-layer stretch polyester
Although both the Amerisleep and Helix mattresses are targeting medium firmness and comfort for every sleeping position, how they do this differs widely. The Amerisleep mattress is built with three inches of memory foam at the top, which allows you to sink into the mattress while cushioning the gaps in your spine or side to provide comfort. This makes the mattress supple, but far less responsive to movements. The Helix mattress, on the other hand, uses Helix dynamic foam that is stiffer and more responsive, but doesn't allow you to sink into the mattress.
The support core is also hugely different. The Amerisleep mattress is fully foam – it uses two layers of high-density foam to provide support for sleepers of any weight. Underneath the foam of the Helix mattress, however, are pocketed coils like you'd find in a traditional innerspring mattress mixed with high-density foam. The innerspring coils contribute to the springiness of the bed and can add to its overall breathability, although innersprings can be uncomfortable for some heavier sleepers.
Comfort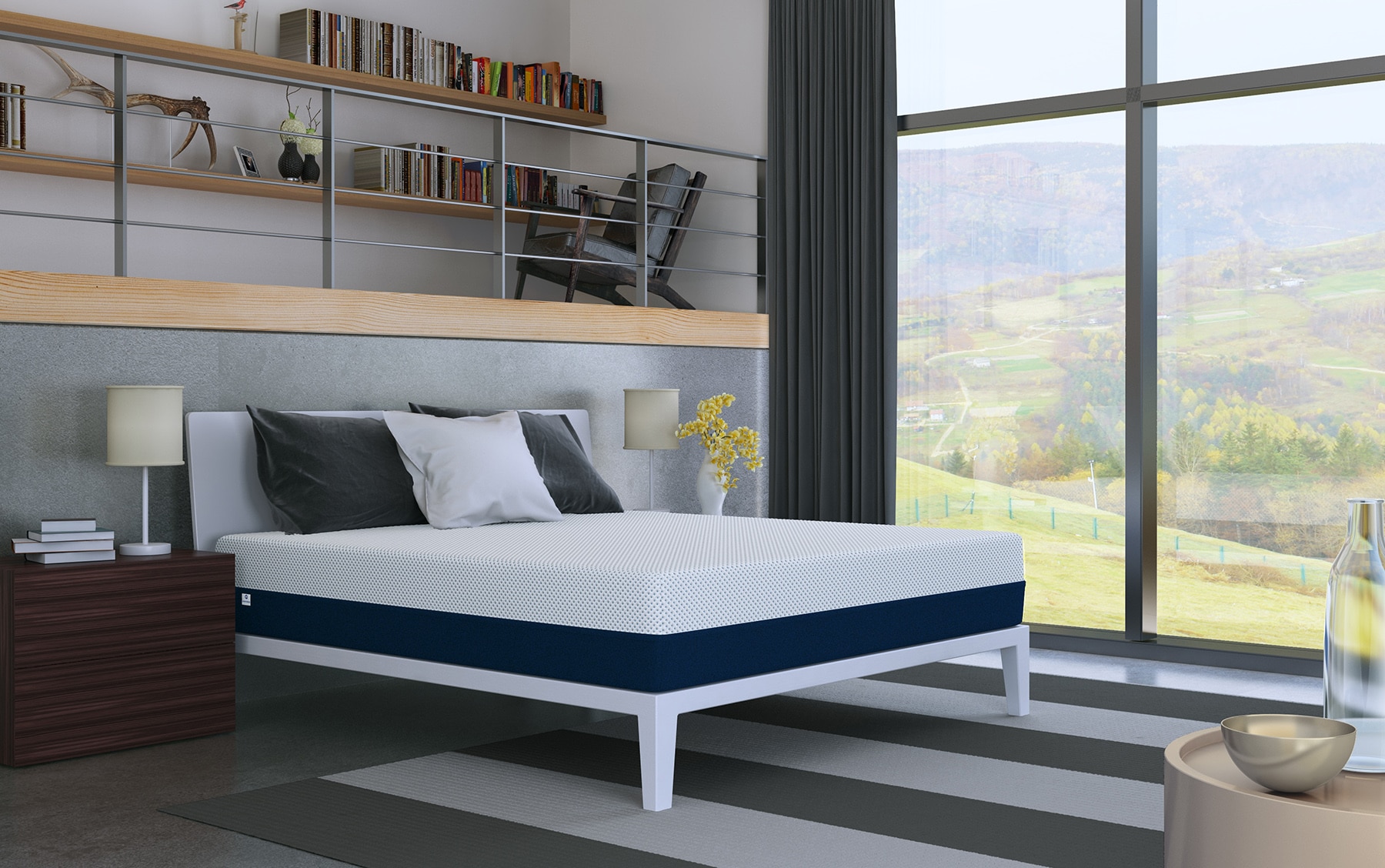 Choosing the right mattress is all about finding what feels comfortable for your body. So, we'll take a deep look at how the Amerisleep vs. Helix mattresses differ in terms of a variety of dimensions when it comes to helping you get a good night's sleep.
Firmness and support
Both the Amerisleep and Helix mattresses are rated 5.5/10 for firmness, indicating that they are medium-firm. Users feel that these ratings are generally true – there are few complaints that the mattresses are too firm, although some back and stomach sleepers who prefer firm mattresses will find them to be too plush.
While both mattresses provide excellent support for back, stomach, and side sleepers, the feel of this support is very different. The memory foam in the Amerisleep mattress welcomes you into the bed and allows you to sink down into it, contouring to your body and cushioning as you sink. This is ideal for back support since it adapts to the natural contours of your back, although it can feel less supportive if you sleep on your side or stomach. The Helix dynamic foam comfort layer provides stiffer support, holding you on top of the bed without allowing you to sink into it. This type of support is ideal for many side sleepers and can also be good for correcting back pain.
Temperature control
The Helix is the clear winner when it comes to cooling you throughout the night. The polyester cover is highly breathable, and the pocketed innerspring support layer allows air to move freely underneath the dynamic foam layer. Plus, since you're sleeping on top of the Helix mattress rather than sinking into it, there's not as much concern about the foam comfort layer trapping heat around your body.
The Amerisleep mattress isn't known for being particularly hot as far as memory foam mattresses are, but it can't match the breathability of the Helix mattress. You should expect some heat to build up between your body and the foam after you sink into the bed. However, Amerisleep's Bio-Pur memory foam is designed to enhance air circulation and users found that cooling was not a major issue with this mattress except on the warmest nights.
Motion transfer
If you sleep with a partner, motion transfer across the mattress can be a major issue. With the Amerisleep mattress, it's one you never have to worry about – the all-foam construction does an incredible job of dampening motion. For many sleepers that means never feeling a thing even as your partner gets in and out of bed on the other side of the mattress.
The Helix mattress isn't quite as effective at dampening motion, which is a natural consequence of being a highly responsive mattress. That said, when you order a Helix mattress you have the ability to customize the two halves of the mattress to fit your and your partner's respective preferences. So, there shouldn't be any tossing and turning in the night coming from the other side of the bed to wake you up.
Responsiveness
Both the Amerisleep and Helix mattresses will respond to your body, but in very different ways. The memory foam in the Amerisleep mattress is slow to rebound or sink after you move, so if you change positions the mattress will still be responding over one minute later. That's not necessarily a bad thing, but be aware that the Amerisleep mattress is not built to move with your body in real-time.
The Helix mattress, on the other hand, is highly responsive. The dynamic foam comfort layer and innerspring coils work together to move up and down instantly as you change positions, ensuring that you are always supported as you move.
Resilience and bounce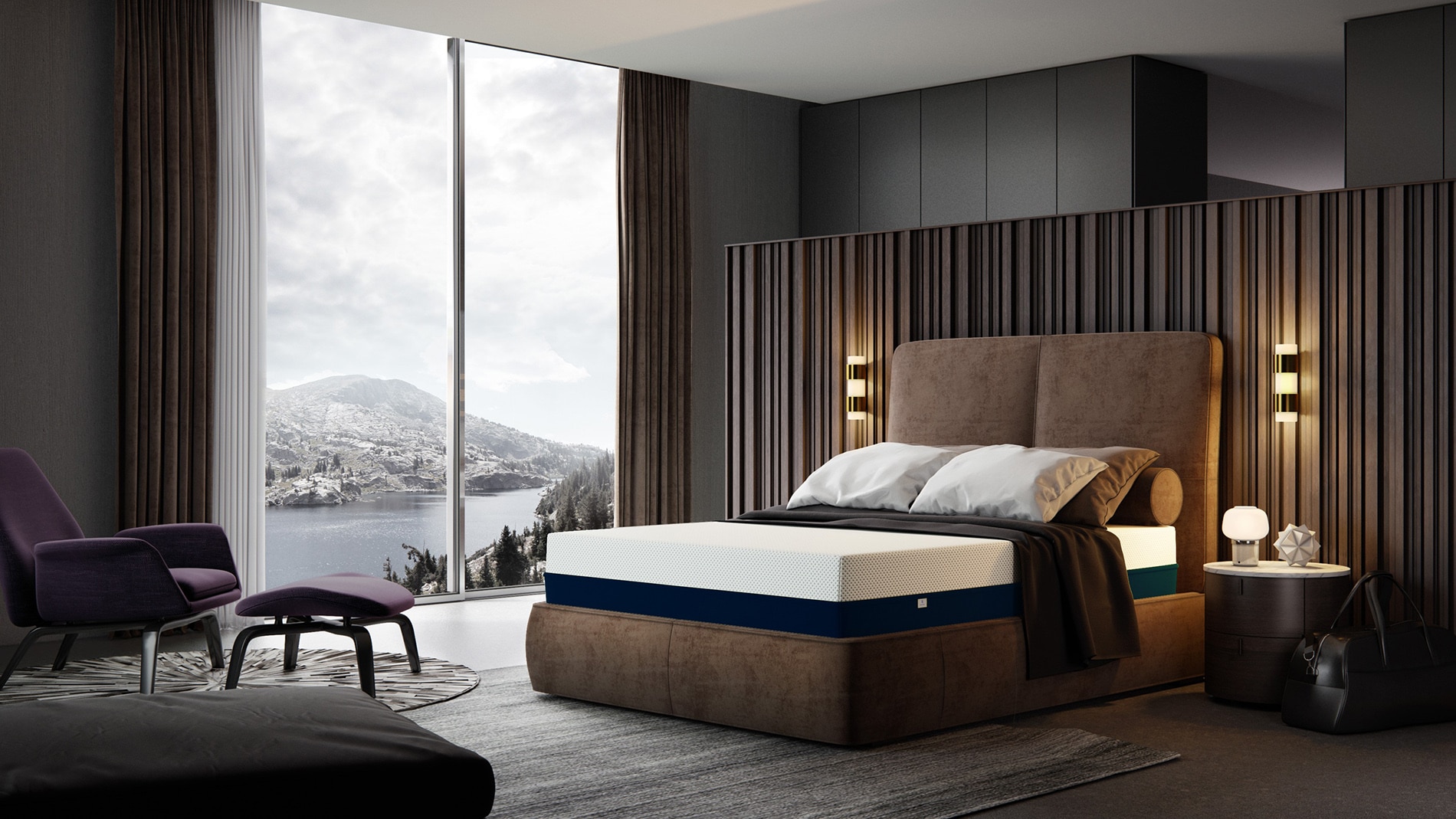 Resilience is virtually a non-issue for the Helix mattress since its surface won't sink as you move around the mattress. It's good to know also that users report that the dynamic foam in the Helix mattress retains its shape and doesn't form sags even after several years of sleeping on it in the same position.
Resilience is more of a question for the Amerisleep mattress, but one that it answers with confidence. The memory foam comfort layer in the Amerisleep mattress springs back night after night without hesitation for more than a decade before beginning to show signs of wear. This is where the 20-year warranty behind the Amerisleep mattress is particularly helpful, since even the high-quality foam used in this mattress will eventually lose its resilience.
When it comes to bouncing, it is little surprise, therefore, that the Helix mattress is the winner. The pocketed coils inside the Helix mattress allow you to truly bounce off the surface of this mattress, although you'll be slightly dampened by the dynamic foam layer. The Amerisleep mattress, however, will not offer much bounce at all – any impact on the mattress's surface will simply leave you in a temporary crater of foam as the memory foam sinks beneath you.
Edge support
The Helix mattress also offers better edge support than the Amerisleep mattress, although the Amerisleep performs surprisingly well for a memory foam mattress. You can sit or sleep on the edge of both of these mattresses. On the Amerisleep mattress, you'll need to keep in mind that the slow compression of the foam can cause the edge to slope away from the rest of the bed and lead to you falling off.
Smell
All foam mattresses start out with a faint chemical odor, but this dissipates quickly for both the Amerisleep and Helix mattresses. The Amerisleep mattress may take slightly long to deodorize simply because it has more foam, but most users find that any smell is gone by the time they first sleep in the bed.
Sleep position ratings
SLEEP POSITION
Light sleepers(less than 130 lbs)
Average sleepers(130 lbs to 230 lbs)
Heavy sleepers(greater than 230 lbs)
Amerisleep
Side
9
10
9
Back
9
10
10
Stomach
9
9
8*
Helix
Side
9
10
10
Back
10
9
8
Stomach
9
8
7*
*Out of 10
Both the Amerisleep and Helix mattresses are impressively comfortable for a wide range of sleeping positions. To see the same mattress be as comfortable for side sleepers as it is for stomach sleepers is unusual. Overall, either the Amerisleep or Helix mattress will be comfortable for the vast majority of sleepers.
The only category of people this doesn't hold true for is heavyset sleepers, who will need more support. For heavier people, the Helix's firm top layer tends to be more comfortable for sleeping on your side. But, if you sleep on your back or stomach, you may feel the imprint of the innerspring support layer, which can be quite uncomfortable.
Sizes and pricing
| | | |
| --- | --- | --- |
| SIZE | Amerisleep | Helix |
| Twin | $1099 | $500 |
| Twin XL | $1149 | $600 |
| Full | $1249 | $750 |
| Queen | $1399 | $895 |
| King | $1699 | $1,145 |
| California King | $1699 | $1,145 |
Customer service
Sleep trial
Warranty and refund
Delivery
Amerisleep
100 days
20-year warranty
Helix
100 days
10-year warranty
full refund
Within the U.S. and most of Canada
Sleep trial
Both the Amerisleep and Helix mattresses come with 100-night sleep trials. Both companies offer excellent customer service and will help organize a pickup from your home for any mattress that you wish to return at the end of the sleep trial period.
Warranty and refund
The Helix and Amerisleep warranties work in much the same way for the first 10 years. During this time, if you find a problem with your mattress, both companies will replace the mattress and cover the shipping costs involved. Note that the warranties don't cover normal wear from sleeping on the mattress like a softening comfort layer.
While the Helix warranty ends at 10 years, the Amerisleep warranty transitions into a prorated period from 10 to 20 years. During this time, Amerisleep will cover up to 50% of the original cost of your mattress.
Delivery
Both Amerisleep and Helix will ship their mattresses for free within 3-5 days for any addresses within the contiguous US. Delivery is available throughout the rest of North America for a shipping charge. Keep in mind that delivery is only to your door, so you'll be responsible for moving the bed up to your bedroom and setting it up.
Trade-in
Neither Amerisleep nor Helix offer trade-in programs beyond their warranties at this time.
So which should you buy?
Amerisleep
VIEW ON AMAZON
Pros
Memory foam contours to your body
Dampens motion across bed
Cushioning is ideal for back support
Transitional foam supports heavyset sleepers
Celliant cover included
20-year warranty
100-night sleep trial
Cons
Expensive
Not as breathable as Helix mattress
Memory foam causes sinking and is slow to respond
Helix
VIEW ON HELIX SLEEP
Pros
Bouncy dynamic foam comfort layer
Pocketed innersprings offer excellent and responsive support
Highly breathable
Firm top is ideal for side sleepers
10-year warranty
100-night sleep trial
Relatively inexpensive
Cons
Not great for heavyset sleepers
Cheap polyester cover
Doesn't contour to your body
In conclusion
Both the Amerisleep and Helix mattresses provide a great night's sleep. The Amerisleep mattress is ideal for sleepers who prefer the cushioning feeling and slow responsiveness of memory foam, while the Helix mattress is better for sleepers who want to be on top of their bed and prefer a more responsive feel. Ultimately, it's hard to go wrong when choosing between the Helix vs. Amerisleep mattress – and with a 100-night sleep trial included with each of these mattresses, there's no reason you can't try out both of them.