TalkAboutSleep is reader-supported. We may earn a commission through products purchased using links on this page. Learn more about our process
here
If you're looking for a quality mattress, there's a good chance that Brooklyn Bedding and Casper are two names you'll be familiar with. Both of these brands offer high quality hybrid mattresses which are aimed to please a wide variety of sleepers. Both mattresses can work for many different sleeping position preferences and have a lot of advantages, but when it comes to Brooklyn Bedding vs Casper, which brand comes out on top? Well, we've selected the most popular mattress models from each brand, both with very high user ratings and review scores, in order to compare and contrast them, highlighting the key differences and helping you decide between Brooklyn Bedding and Casper for your next hybrid mattress.
Quick Comparison
Brooklyn Bedding
Casper

Made from a mixture of polyfoam and pocketed coals
Features a 4-layer build designed to provide both stability and comfort
11 inches tall
6 inches of pocketed coils, 1 inch of HD foam, 2 inches of gel-infused polyfoam, and then a final 2 inch layer of polyfoam
A cozy quilted cover
Comes with a 120 night trial and 10 year warranty

Made from a mixture of memory foam, pocketed coils, and polyfoam
Features a 4-layer build designed to provide both stability and comfort
12 inches tall
inches of pocketed coils and base foam, 1.5 inches of polyfoam, 1.5 inches of memory foam, and then a final top layer featuring an additional 1.5 inches of polyfoam
A simple polyester cover
Comes with a 100 night trial and 10 year warranty

VIEW ON AMAZON
VIEW ON AMAZON
Mattress specifications
| | | |
| --- | --- | --- |
| | Brooklyn Bedding | Casper |
| Type | Hybrid | Hybrid |
| Firmness | Soft (3.5), Medium (5.5), Firm (7.5) | Medium (5.5) |
| Thickness | 11″ | 12″ |
| Weight | 105 lbs. | 106 lbs |
| Sleep trial | 120 nights | 100 nights |
| Warranty | 10 years | 10 years |
| Price | $755 (Queen) | $1,495 (Queen) |
| Certification | CertiPUR-US | CertiPUR-US |
Construction
Brooklyn Bedding
Casper
Support core
6″ Pocketed Coils
1″ HD Polyfoam
7″ Pocketed Coils and HD Base Foam
Comfort layers
2″ Gel-infused Polyfoam
2″ Polyfoam
1.5″ Polyfoam
1.5″ Memory Foam
1.5″ Transitional Polyfoam
Cover
Quilted Polyfoam and Cotton Top
Polyester
As we can see from the comparison tables above, there are some similarities, but also some clear differences in terms of how these two different mattresses are put together. If we look at the support core for both Brooklyn Bedding and Casper, the designs of the mattresses are very similar, featuring a total of 7 inches of pocketed coils and HD foam.
However, when we move up to the comfort layer, the differences between the two brands start to become more evident. The Casper features a layer of memory foam sandwiched between two layers of polyfoam, while the Brooklyn Bedding hybrid mattress only uses polyfoam. The BB mattress also comes with a cozier, quilted cover.
Comfort
Comfort is the number one factor many people talk about when shopping for a new mattress, but what do we really mean by 'comfort'? It's quite a vague and broad term, and to really define the comfort of a mattress, we have to dig deeper and break it down into smaller, individual categories like temperature control, motion isolation, and responsiveness. Read on to learn how Casper vs Brooklyn Bedding pans out in these different categories.
Firmness and support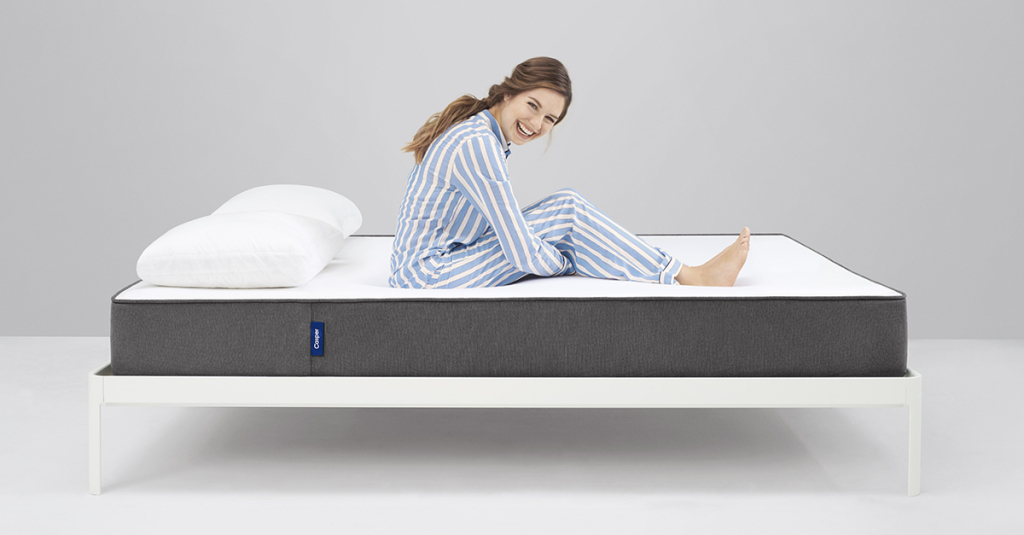 Some sleepers favor a firmer mattress due to the extra support it can provide for their spine or other parts of their body, while others tend to prefer softer and plusher mattresses that simply let you sink into them. The Casper mattress is only available in a 5.5 variant, rated as a Medium mattress, so it offers a level of firmness that will please most people.
The Brooklyn Bedding mattress, however, goes much further than this as it comes in three different options for firmness: 3.5, 5.5, and 7.5. This means you can buy the Brooklyn Bedding mattress in either Soft, Medium, or Firm options, so you can definitely find one to suit your own personal preferences.
Temperature control
Temperature control is such an important factor for people who sleep hot or live in areas with warm climates, and if you're looking for a strong cooling mattress, the Casper is one of the best around. It features very strong airflow around its pocketed coils and comes with a highly breathable cover too.
With that said, the Brooklyn Bedding mattress is also very efficient and effective in this domain. Its coil layer also provides strong airflow and it comes with that gel infused layer of memory foam which also offers coolness and breathability, helping you enjoy peaceful nights at an ideal temperature.
Motion transfer
Motion transfer is one of the most important factors for couples, as this determines how well the mattress is able to absorb motion from one partner so that the other doesn't get disturbed during the night. It can be absolutely vital to find a mattress with good motion isolation if you have a partner who tends to roll around and change sleeping position.
For Brooklyn Bed vs Casper in motion transfer, the edge just about goes to the Casper. The Brooklyn Bedding is very efficient in this department, with its all-foam comfort section absorbing a lot of motion, but the Casper is ever so slightly more effective. The difference is quite negligible overall though.
Responsiveness
Responsiveness is another essential factor to consider if you're buying the mattress as a couple, as many couples always prefer a more responsive and bouncy mattress overall, rather than one that simply sinks down beneath them when they lie on it.
For this factor, the Brooklyn Bedding takes the win. The Casper Hybrid is less responsive than a lot of other hybrid mattresses out there right now and it fails to live up to the high standards set by the company in so many other areas. The Brooklyn Bedding, however, is impressively responsive for a hybrid mattress.
Resilience and bounce
Resilience and bounce are effectively linked to responsiveness, so it's clear to see that the Brooklyn Bedding Signature hybrid mattress is once again the winner in this category. It performs very strongly for a hybrid, offering a nice degree of bounce and resistance for the sleeper.
The Casper struggles in this department, and if we were to drop a ball on both the Casper and the Brooklyn Bedding at the same time, we'd see it sink into the Casper much more quickly and easily than on the BB. Again, this means that the Brooklyn Bedding mattress goes down as the better option for couples in search of a bouncy and resistant mattress to share.
Edge support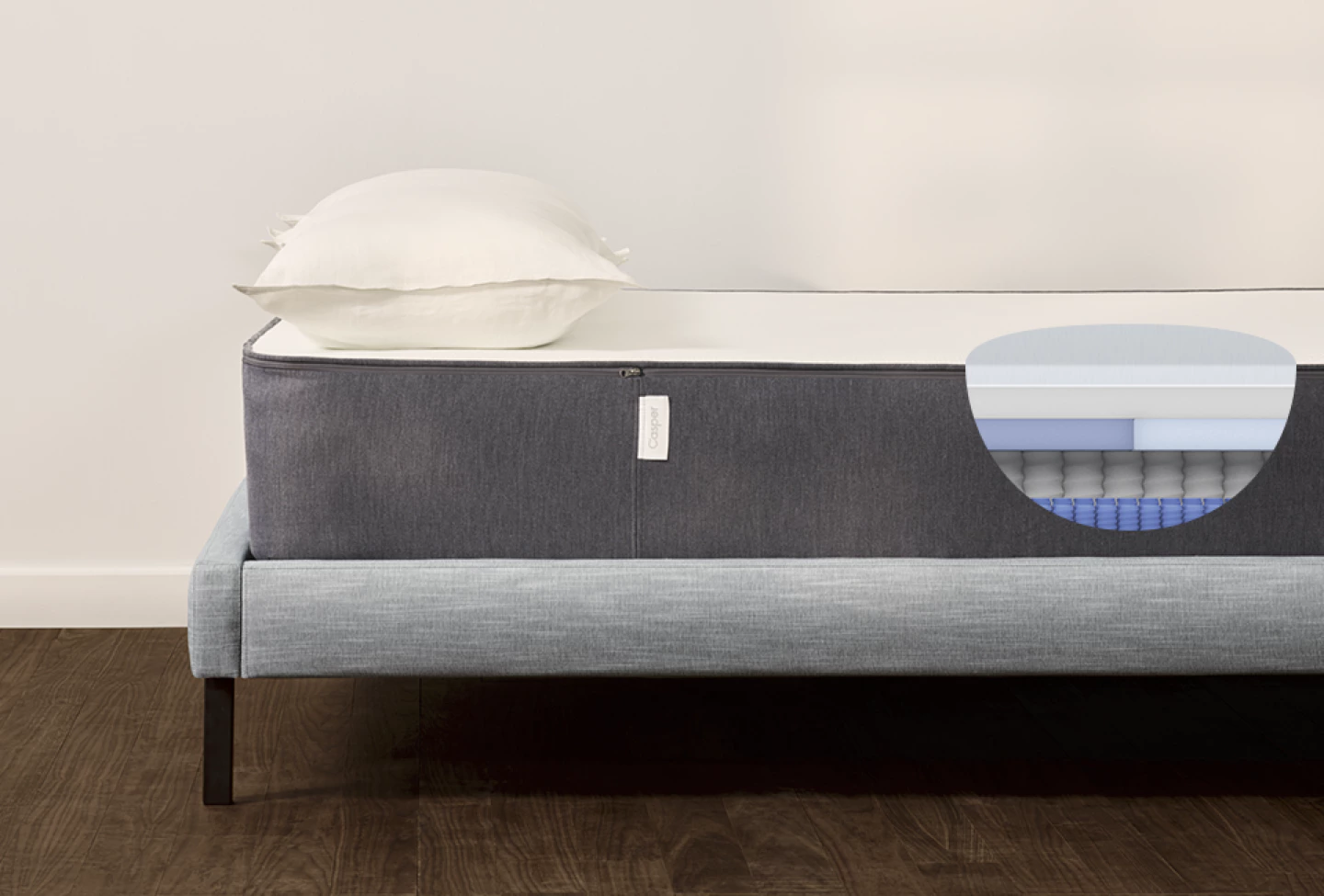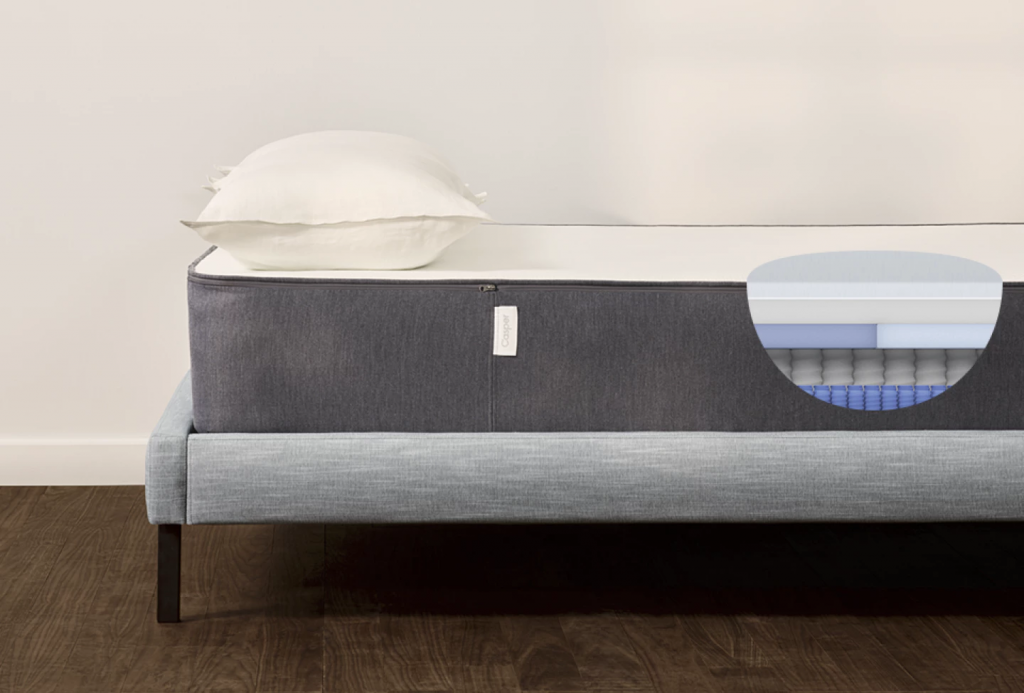 Edge support is another important factor to think about when comparing any two mattresses or trying to find the perfect one for you. This factor tells us how firm and supportive a mattress is around its edges and corners. Some manufacturers forget these areas and fail to provide them with decent strength and support, resulting in mattresses that sag and sink around the edges.
If you like to sit on the sides of your mattress or lie near the edges in the night, you'll find that the Brooklyn Bedding mattress is a big winner in this category. The Signature hybrid mattress features those strong polyfoam layers and dense coils that really stand up to the test around the edges. Meanwhile, the Casper isn't too bad at first for edge support, but some users have reported sinkage over time.
Inflation time, off-gassing and smell
Most modern foam or hybrid mattresses tend to need around 24 hours of inflation time as standard before the user actually sleeps on them. This 'golden rule' is true for both the Casper and the Brooklyn Bedding Signature, so there's no major difference between the two in this particular category.
When we look at off gassing and odors, however, we can start to see a difference. Casper owners have reported some off gassing and odors with their mattresses for the first couple of weeks of ownership. The Brooklyn Bedding Signature, however, has minimal odor compared to many other hybrids, including the Casper.
Sleep position ratings
SLEEP POSITION
Light sleepers
(less than 130 lbs)
Average sleepers
(130 lbs to 230 lbs)
Heavy sleepers
(greater than 230 lbs)
Brooklyn Bedding
Side
9
10
8
Back
10
10
9
Stomach
9
9
8
Casper
Side
10
9
8
Back
10
9
8
Stomach
9
8
7
*Out of 10
The table above gives us ratings out of 10 for the comfort levels of different sleeper weights and sleeping positions on each mattress, and we can see that, overall, both of them perform very strongly in almost every category. The Casper seems to struggle for both heavy sleepers and stomach sleepers when compared to the Brooklyn Bedding, which has no real obvious weaknesses and is especially strong for back sleepers. The ratings show us that, despite being the cheaper model of the two, the Brooklyn Bedding is actually more universally comfortable and therefore more versatile than the Casper.
Sizes and pricing
| | | |
| --- | --- | --- |
| SIZE | Brooklyn Bedding | Casper |
| Twin | $479 | $795 |
| Twin XL | $559 | $895 |
| Full | $679 | $1,295 |
| Queen | $755 | $1,495 |
| King | $999 | $1,795 |
| California King | $999 | $1,795 |
Customer service
Sleep trial
Warranty and refund
Delivery
Brooklyn Bedding
120 days
10-year warranty
full refund
Within the U.S. and Canada
Casper
100 days
10-year warranty
full refund
Within the U.S. and Canada
Sleep trial
These days, many mattress manufacturers offer sleep trials to their customers, letting them test out the mattress for a set period of time to see whether or not they enjoy it and whether or not they want to continue with their purchase or return the mattress and try a different model.
The industry standard for this practice is a sleep trial of 100 nights, and that's exactly what the Casper is able to offer. The Brooklyn Bedding Signature, however, goes one step further by providing an impressive 120 night sleep trial, giving you an extra few weeks to make your mind up.
Warranty and refund
When you're buying something as big and important as a mattress, you need to know that your investment is properly covered and protected by a strong warranty. The industry standard for mattresses is a 10-year warranty, and that's exactly what is provided by both Casper and Brooklyn Bedding on their hybrid mattresses. This means that if you have any problems with your Casper or BB mattress, you can expect a full refund within the first 10 years.
Delivery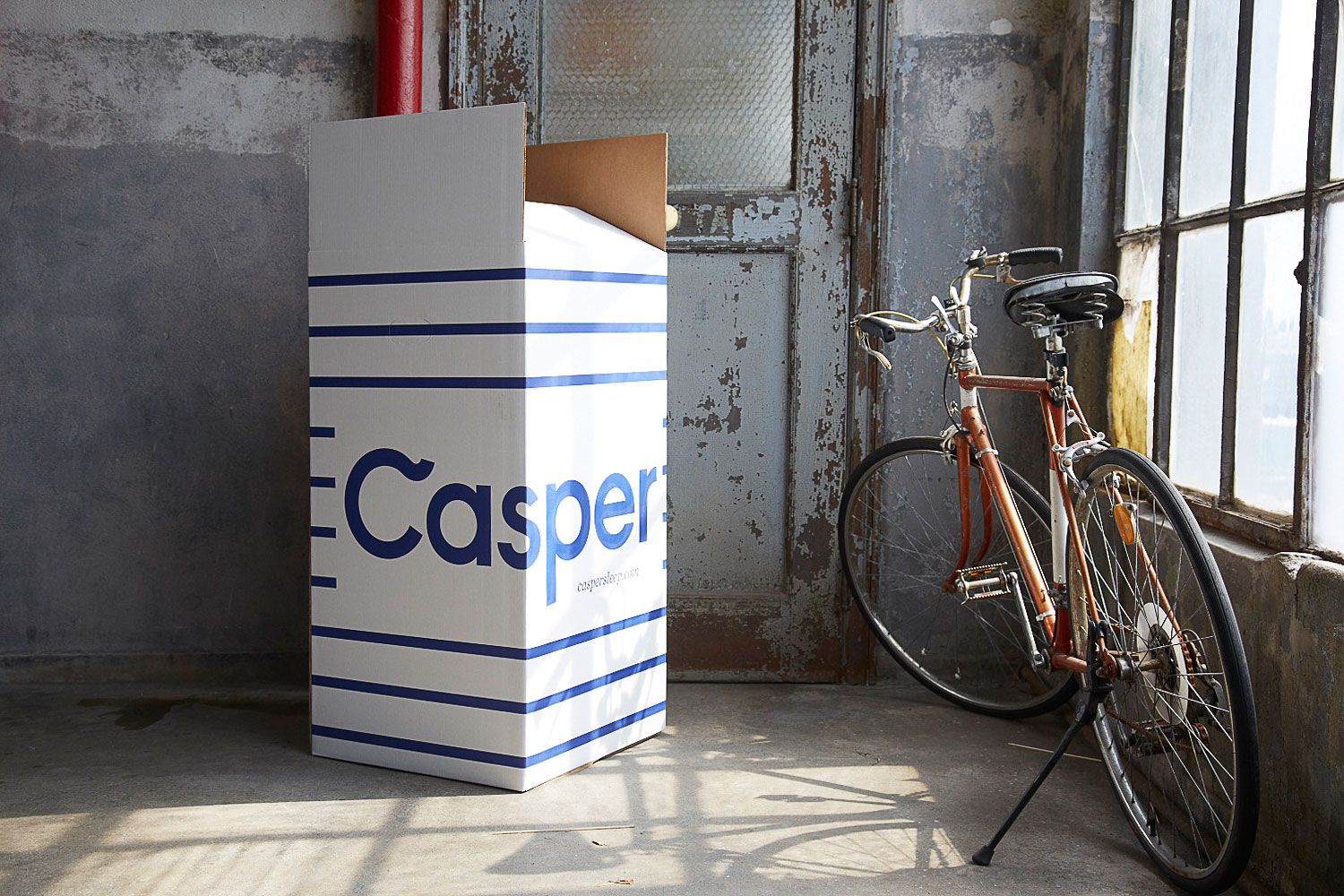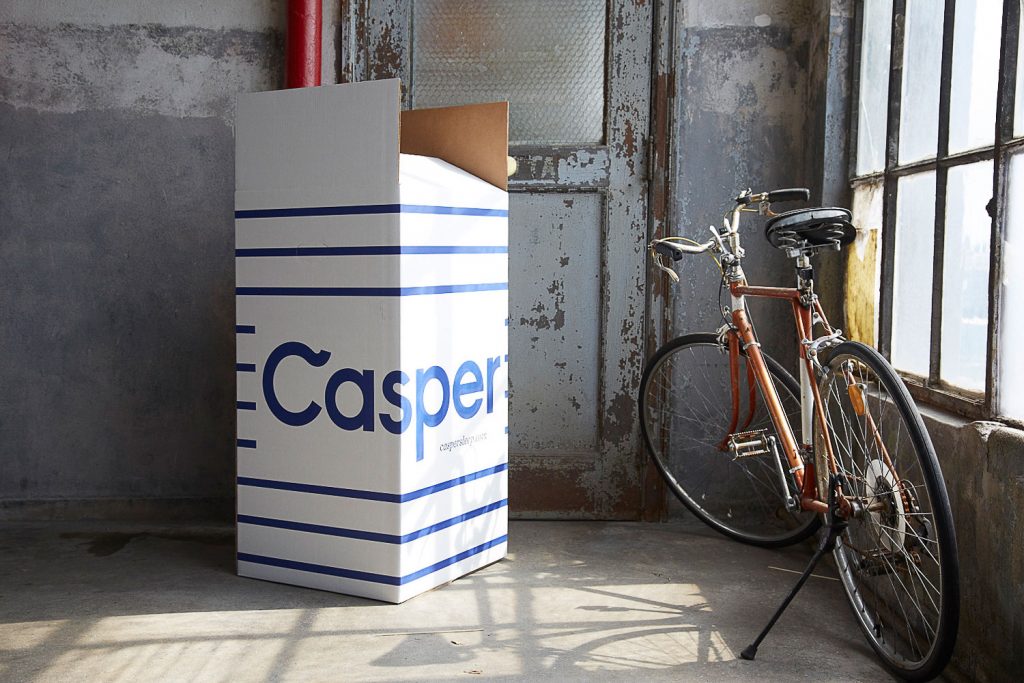 Once again, we have a tie in this Casper vs Brooklyn Bedding comparison. When it comes to availability and delivery options, both the Casper Hybrid and Brooklyn Bedding Signature are available all around the United States and Canada, letting all American and Canadian buyers order with ease and get their mattresses delivered straight to their doors.
So which should you buy?
Brooklyn Bedding
VIEW ON AMAZON [wpsm_pros]
Multiple firmness options available
Slightly longer sleep trial
Much more affordable
Bouncier and more responsive
Better for couples
Stronger edge support
More versatile
Minimal off-gassing
[/wpsm_pros][wpsm_cons]
Slightly weaker temperature control
Not the best for heavy sleepers
[/wpsm_cons]
Casper
VIEW ON AMAZON [wpsm_pros]
Very comfortable feel
Strong temperature control
Slightly stronger motion isolation
Excellent for light sleepers
Conforms and contours to the sleeper's shape
A very quiet mattress overall
[/wpsm_pros][wpsm_cons]
More expensive
Lacks a little responsiveness and bounce
[/wpsm_cons]
In conclusion
So, having looked thoroughly at both the Casper and the Brooklyn Bedding mattresses, can we identify a clear winner? Well, it's a little more complicated than simply saying one of these mattresses is better than the other. They both have plus points and negative points that need to be taken into account, with each mattress outperforming the other in certain areas. This means that the best mattress for you will actually depend on which of those areas you value the most.
For example, if you crave total comfort and strong temperature control, the Casper might be the best option for you. It offers excellent levels of performance in terms of motion isolation too, making it a strong option for couples who don't want to disturb each other in the night, and it's a great choice for light sleepers too. It also has that conforming, contouring, memory foam feel that many people enjoy, so it clearly has some big selling points.
The Brooklyn Bedding Signature also stands out in a lot of categories and clearly outperforms the Casper in terms of responsiveness, bounce, and resilience, making it a popular choice with couples. It's also a lot more affordable overall, so if you're looking to get the most value for money, the Brooklyn Bedding might be your dream mattress. Not only that, but it also features better edge support, minimal off-gassing, and a longer sleep trial.
Ultimately for Casper vs Brooklyn Bedding, the mattress you choose will depend on your own needs and preferences. If you're working with a smaller budget and want great value, strong responsiveness, and a lot of other key advantages, the BB is the better choice. If money isn't a concern and you really want the unique characteristics of the Casper, you can choose that one instead. It's important to weigh up all the pros and cons, think about which individual factors you value the most, and then make an informed decision with all the information you have.