TalkAboutSleep is reader-supported. We may earn a commission through products purchased using links on this page. Learn more about our process
here
There are many different mattress brands out there in competition with each other. It can be hard to know which is going to be best for you. That's why we've created comparisons to help with this process. This comparison focuses on Brooklyn Bedding vs Leesa.
For this article, we'll be focusing on the Brooklyn Bedding Signature Hybrid and the Leesa Hybrid mattress, and these are some of the brands' most popular and versatile options, with a lot in common. This can make it tough for consumers to separate the features and work out which is best. Both are hybrid beds and have relatively similar features, but there are some differences including a fairly big price difference, especially when you get to the larger mattresses.
However, neither are anywhere near the high end of the market in terms of price. For those who want a good hybrid model which doesn't cost the earth, it is worth considering these two and the pros and cons of each of the models.
For the purposes of this comparison, when we talk about the Leesa we're referring to the hybrid model which used to be called the Leesa Sapira. Keep this in mind if you've still seen the mattress marketed as a Sapira.
Quick Comparison
Brooklyn Bedding
Leesa

Known for excellent value
Available in all six sizes
Made in the USA
120-night trial
1024 individually encased coils for your comfort
Certi-PUR US certified
Ships directly to your door in a box
Brooklyn's own patented cooling technology
Comes in firm, medium and soft comfort levels

Actively responds to pressure points while you sleep.
Cooling Avena foam top layer
Made in the USA
100-night trial
Over 1,000 individually-wrapped pocket springs
Ships rolled into a small box
Memory foam layer to contour to your body
Certi-PUR US certified
Available in all six sizes

VIEW ON AMAZON
VIEW ON AMAZON
Mattress specifications
| | | |
| --- | --- | --- |
| | Brooklyn Bedding | Leesa |
| Type | Hybrid | Hybrid |
| Firmness | Soft (3.5), Medium (5.5), Firm (7.5) | Medium Firm (6.5) |
| Thickness | 11″ | 11″ |
| Weight | 105 lbs. | 115 lbs. |
| Sleep trial | 120 nights | 100 nights |
| Warranty | 10 years | 10 years |
| Price | $755 (Queen) | $1,370 |
| Certification | CertiPUR-US | CertiPUR-US |
Construction
Brooklyn Bedding
Leesa
Support core
6″ Pocketed Coils
1″ HD Polyfoam
6″ 14.5-gauge Pocketed Coils
1″ 1.8 PCF HD Polyfoam
Comfort layers
2″ Gel-infused Polyfoam
2″ Polyfoam
1.5″ 3 PCF Polyfoam
1.5″ 4 PCF Memory Foam
1″ 2 PCF Transitional Polyfoam
Cover
Quilted Polyfoam and Cotton Top
Polyester Blend
As you will see from the comparison above, there is a lot which is relatively similar when it comes to these two products. They both have the same certification, the CeriPUR-US, which we've come to expect from quality mattresses. They're similar weights, the same thickness and both offer the same generous ten-year warranty. You can see why people end up having to seriously consider which of these two is most suitable for them.
There are some differences, too. One of the big ones is the significant price difference which means the Brooklyn Bedding option is cheaper. This can be great if you are on a budget.
Comfort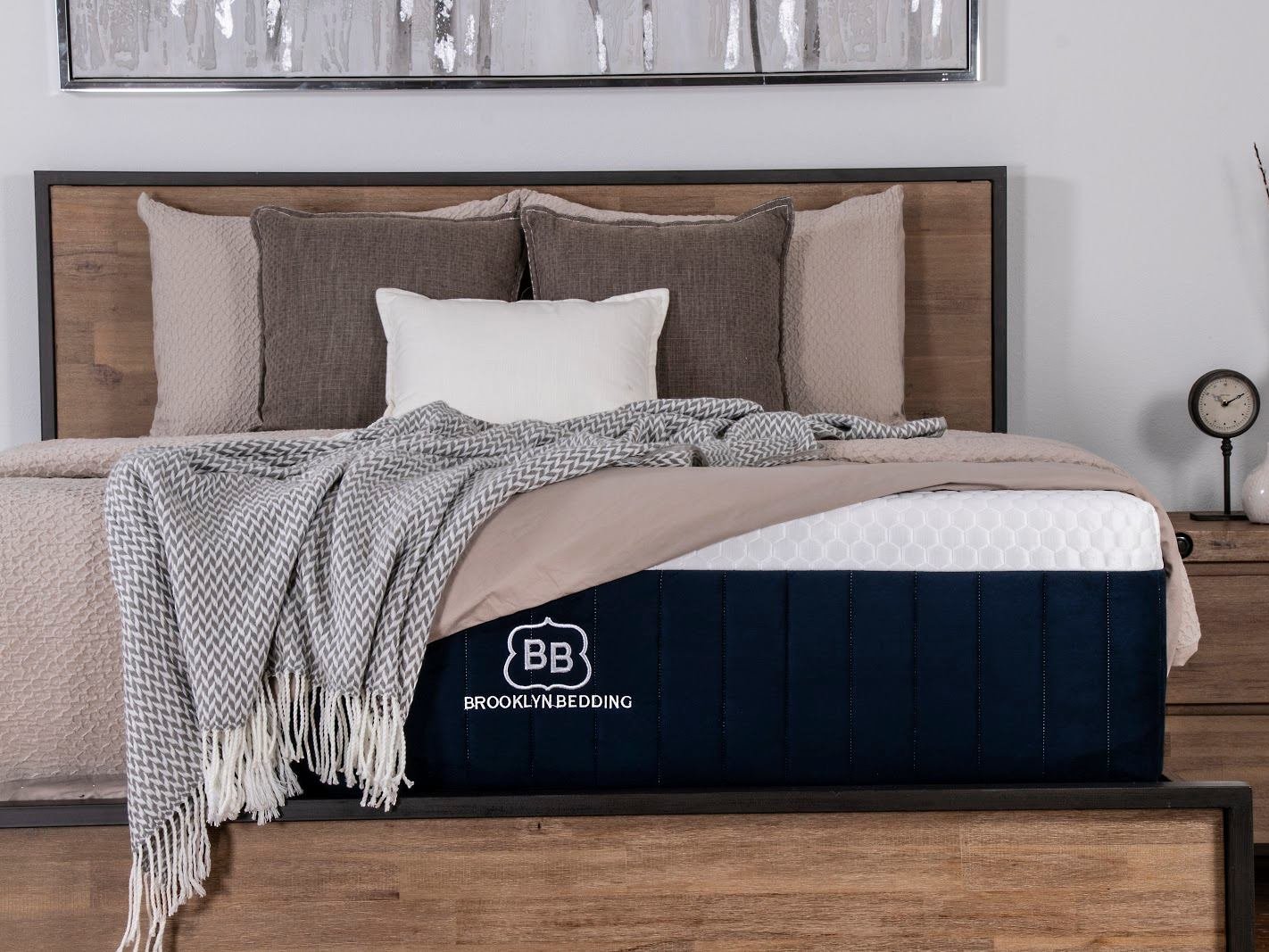 Many factors go into the comfort of a mattress. It isn't just a case of wanting something to be soft, there are a variety of different aspects of design which the companies manufacturing these mattresses have to consider. Also, what is best for one type of sleeper may not be best for another. The comfort varies not only based on preference, but on your body shape, too.
The features which most impact the comfort are listed below with a clear comparison between the two.
Firmness and support
Leesa's mattress is perhaps on the firm side of medium. It is listed as a medium firmness, but also has very good back support. The memory foam design on the top gives it just that right level of sinkage, but the firmness is definitely not on the soft side of the scale.
The Brooklyn Bedding hybrid gives a lot more choice as you can opt for soft, medium or firm. Medium is about right for most sleepers, especially if you don't always sleep in one position. If you flit between sleeping on your back and side for instance, it gives a good compromise for all positions.
If we were to compare the Leesa's single firmness to the Brooklyn Bedding options, it would be somewhere between the medium and firm settings. There's no denying that the firmness offered by the Leesa makes it best for back sleepers.
Temperature control
Overheating at night is very unpleasant, and you should be able to sleep in comfort. Even though these are two of the more affordable hybrid mattresses, they both offer decent systems for preventing you from overheating.
The Brooklyn Bedding is designed for a breathable sleeping experience. Though it doesn't use gels or any fancy additional layers for cooling, it does a very good job of keeping a relatively low temperature. The top layer is also infused with cooling TitaniumGel™ which is a plus point for most people, but if you do tend to overheat easily then you might prefer something with a more thorough cooling effect. You can twin this up with cooling pillows, for example.
An example of a cooling technology can be seen in the Leesa. Though it doesn't use a gel or anything like the Brooklyn Bedding, it does have a specific layer, the Avena foam, which is designed to stay cooler through the night. For those who get hot in the night, this could be a good option.
Motion transfer
Motion transfer is really important for double beds where you may be sleeping as a couple. It is really important to avoid motion transfer as much as possible as it can disturb the other person's sleep. Motion transfer is essentially the redistribution of your weight impacting upon the shape and position of the bed.
Leesa has a dense foam and plenty of layers, and does a really good job of minimizing motion transfer so you can enjoy a more peaceful night's sleep.
In a similar way, the Brooklyn Bedding option manages to cut down on motion transfer a lot better than the majority of hybrids manage to, thanks to the individually encased coils.
Responsiveness
Responsiveness relates to how well the mattress responds to changes in pressure. The Brooklyn Bedding mattress has a good responsiveness and responds to the weight of the person laying on it, or any movement on the bed. This is also true of the Leesa, but it isn't quite as impressive in this regard. It is a matter of personal preference as not everyone values responsiveness as much.
Resilience and bounce
Both are resilient and well-constructed mattresses. The firm core makes them very resilient and the Brooklyn Signature Mattress, in particular, has a fantastic bounce to it. The way these hybrids are constructed, nobody could really fault their resilience. The bounce is excellent for other bedtime activities, particularly in the Brooklyn Signature. You can definitely feel the springback more than the Leesa.
In terms of how long they are likely to last, you can expect to get well over 8 years from these mattresses, maybe longer from the Brooklyn Bedding option.
Edge support
Brooklyn's signature model has a dense polyfoam layer and this does a really good job of preventing the edges from sinking, even after years of use.
The same sort of technology is in place for the Leesa, but it somehow doesn't quite have the same standard with edge support. It is certainly not bad, but not exceptional either.
The Brooklyn Bedding mattress probably just beats the Leesa, and all of this at a lower price tag.
Inflation time, off-gassing and smell
Off-gassing is inevitable, and there's going to be some sort of smell which comes with buying a mattress in a box like this. The two mattresses are pretty similar in this respect, you can expect a couple of days of some sort of smell, but this will fade. It is inevitable when buying a new mattress. The smell while the mattress off-gasses and inflates to its normal shape will take around 48 hours, but most will fade overnight if you leave all the windows open.
Sleep position ratings
SLEEP POSITION
Light sleepers

(less than 130 lbs)

Average sleepers

(130 lbs to 230 lbs)

Heavy sleepers

(greater than 230 lbs)

Brooklyn Bedding
Side
9
10
8
Back
10
10
9
Stomach
9
9
8
Leesa
Side
7
9
8
Back
9
10
9
Stomach
7
9
8
*Out of 10
Heavy sleepers will probably get the same out of either of these mattresses when it comes to sleep positions. This is especially true if you are buying the medium or firm options of the Brooklyn Bedding mattress.
Lighter sleepers may actually find that though the Leesa has superb back support, it doesn't have quite the same level when it comes to sleeping on your side or on your front. The firmness doesn't quite lend itself to these sleep styles.
Naturally, if there are two of you in the bed you need to think about the needs of both. As you can see from the table comparing the different sleeping positions, you will want to get a product with versatility, and that product is probably going to be the Brooklyn Bedding signature mattress.
Sizes and pricing
| | | |
| --- | --- | --- |
| SIZE | Brooklyn Bedding | Leesa |
| Twin | $479 | $819 |
| Twin XL | $559 | $897 |
| Full | $679 | $1,395 |
| Queen | $755 | $1,370 |
| King | $999 | $1,570 |
| California King | $999 | $1,714 |
Customer service
Sleep trial
Warranty and refund
Delivery
Brooklyn Bedding
120 days
10-year warranty
full refund
Within the U.S. and Canada
Leesa
100 days
10-year warranty
full refund
Within the U.S. and Canada
Sleep trial
We have grown to expect decent sleep trials when we are buying mattresses. This is the amount of time the company are willing to give you to change your mind, even if there's nothing particularly wrong with the mattress. If you just find that it isn't quite for you, you can send it back during your sleep trial and get your money back. This means you can effectively 'audition' the mattresses to see which will be most suitable for you.
This is different to the warranty, which covers you if anything goes wrong with your mattress and guarantees a certain longevity for the mattress.
The Brooklyn Bedding option offers a 120-day sleep trial, whereas the Leesa gives the industry standard of 100 days. Both are pretty generous.
Warranty and refund
The warranty is the other kind of protection. It means that if anything goes wrong with the bed itself then you will be able to get a refund or replacement. Both companies offer a 100% refund policy meaning you can recoup all of your money if something goes wrong.
Delivery
Delivery can be made to the US and Canada, the same for both of these manufacturers. They are both folded very tightly into extremely small packages. Well, small compared to the size they eventually end up expanding to! Naturally, these sizes vary depending on which size mattress you opt for, but they don't require multiple people to deliver.
So which should you buy?
Brooklyn Bedding
VIEW ON AMAZON
Pros
The Brooklyn Bedding option is certainly cheaper than the Leesa, especially as you increase the size.
Available in three different firmness options for you to choose which you find most suitable.
Generous trial and warranty periods.
Versatile and great for couples even if they are different shapes and sizes or have different sleeping styles.
Firm and bouncy design.
Excellent memory foam response to contour to the shape of your body.
Cons
Doesn't cool quite as well as some other options of mattress.
Back support not quite up there with the Leesa.
Leesa
VIEW ON AMAZON
Pros
Exceptional back support with their medium to firm design. The Leesa is brilliant for those who need this extra back support.
Virtually silent, this is one of the quietest mattresses you could ever wish for with virtually no spring noise.
Does a good job of cooling, and a breathable design doesn't overheat very easily.
Generous trial and warranty periods.
Also has an excellent memory foam response to contour to the shape of your body.
Cons
Okay, but not great for side sleepers. The same applies to those who sleep on their stomach.
In conclusion
In conclusion, it is unlikely that either of these brilliant mattresses will be too much of a disappointment. The Brooklyn Bedding option is particularly good for its price, and it is hard to believe that it is available for such a modest fee. For a hybrid, it is one of the cheapest options out there, but it performs as well as some options two or times the price. It is especially good for lighter sleepers and does a good job for all different styles of sleep, whether you sleep on your front, side or back.
Both of these mattresses do a good job of keeping you cool, have plenty of firmness and are well-built, so it is highly unlikely that they won't last you at least five or six years before you should think about replacements. Both are also available in the six mainstream sizes you can need from your bed, so you won't have a problem matching it up to the frame.
The truth is that in the Leesa vs Brooklyn Bedding debate, neither are among the most expensive options on the market for hybrid mattresses. Both do a very good job for the price. If you want that extra level of back support, and a product with truly wonderful consumer reviews then we recommend the Leesa. To save a bit of money on a versatile hybrid option, go for the Brooklyn Bedding option.