TalkAboutSleep is reader-supported. We may earn a commission through products purchased using links on this page. Learn more about our process
here
Popular brands are always the right place to start when you want to buy something for yourself. The more people like a product, the more likely it is that you will also like it. Both mattresses mentioned in our title enjoy similar levels of popularity, and thus the Casper vs. LUCID comparison makes sense if you are going to pick out the bed for your needs. In addition to being likable, there are a couple of features unique to both options that should convince you to buy one or the other. However, you can't close your eyes and choose. You have to consider the differences carefully. One illustrative example of things you have to consider is your budget for buying the mattress. A limited budget limits your choices and all but decides who takes the cake in the LUCID vs. Casper comparison. A decision like this would be in favor of the LUCID as it is almost four times cheaper than its counterpart. On the other hand, if money does not limit your buying ability, you are allowed to look at both mattresses feature-wise to see which bed will serve you better in the long run.
Quick Comparison
Foam mattresses are just as comfortable as spring beds, and the LUCID and Casper options are prime examples. Firmness usually has a direct correlation to comfort and if a bed falls over 7.5 or below 5.5 chances are you will be underwhelmed when you sleep on it. Both these options don't suffer from such problems rating a cool 6.5 on the firmness meter, which a lot of buyers and even manufacturers prefer. This is made by layering different types of foam on top of each other. Each of these mattresses is made of different kinds of layers all hoping to produce the same result: a bed that all kinds of people can rest and sleep on. Where thickness is concerned the Casper comes in at 12 inches, which is two inches thicker than the LUCID. As such, it shouldn't be a surprise that the former weighs about 30 lbs more. This impacts your ability to move the mattress but is unlikely to be a decider in whether you pick either bed.
Casper
LUCID

12-inch thickness
85-pound weight
100-night sleep trial
10-year warranty
6.5 medium-firm rating
Four foam layers construction
Polyester fabric bed cover

10-inch thickness
55-pound weight
10-year warranty
6.5 medium-firm rating
Two foam layers construction
Tencel blend bed cover fabric

VIEW ON AMAZON
VIEW ON AMAZON
Mattress specifications
| | | |
| --- | --- | --- |
| | Casper | LUCID |
| Type | Foam | Foam |
| Firmness | Medium-firm (6.5) | Medium-Firm (6.5) |
| Thickness | 12″ | 10″ |
| Weight | 85 lbs | 55 lbs |
| Sleep trial | 100 nights | – |
| Warranty | 10 years | 10 years |
| Price (Queen) | $954 | $240 |
| Certification | CertiPUR-US, Oeko-Tex Standard 100 | Certi-PUR-US |
Construction
Casper
LUCID
Support core
7″ 1.8 PCF HD polyfoam
7.5″ High-Density Support Foam
Comfort layers
1.5″ polyfoam
1.5″ 4 PCF memory foam
1.5″ latex-like foam
2.5″ Gel Memory Foam
Cover
polyester
Tencel Blend
Once you get down to the nitty-gritty features, they are likely to tell you what you should know about the mattresses, and from there you can predict which one is a better fit for your home. We can start with the bed covers that hold the mattresses together. Polyester material, for instance, is durable which you want on a mattress that you will use for at least ten years. Also, given that it is quick-drying, it is ideal for situations where the sleeper sweats at night. However, the Casper mattress will also incorporate cooling features to ensure you don't sweat too much in your sleep. Tencel blend on the LUCID also does well with regards to moisture absorption.
The innards of the Casper bed consists of 4 total layers. Seven inches polyfoam makes up the base layer with three other components acting as the comfort layers divided into 1.5 inches each. One is made of a lower density polyfoam than that of the base layer. The middle layer is memory foam, while the last layer is latex-like foam.
The LUCID bed features a much simpler design. Components consist of two major components in addition to the Tencel blend cover. The bottom layer is high-density support foam while the other layer is wholly made of Gel memory foam. These differences account for the difference in size, weight, and feel for the two options.
Comfort
If you sleep on the two mattresses, you are bound to feel the differences over time, but that is the time you don't have. You can only make the purchase once, and if you don't want to spend the extra cash, you need to get it right the first time. Features listed are in a much better position to tell you which mattress you should buy as they give information about how it should feel to sleep on the bed. This information is not always direct, and sometimes you have to deduce how a bed will perform in a particular area by looking at the component materials. Listed below are some of the critical areas that influence comfort and how the two mattresses on review perform in each.
Firmness and support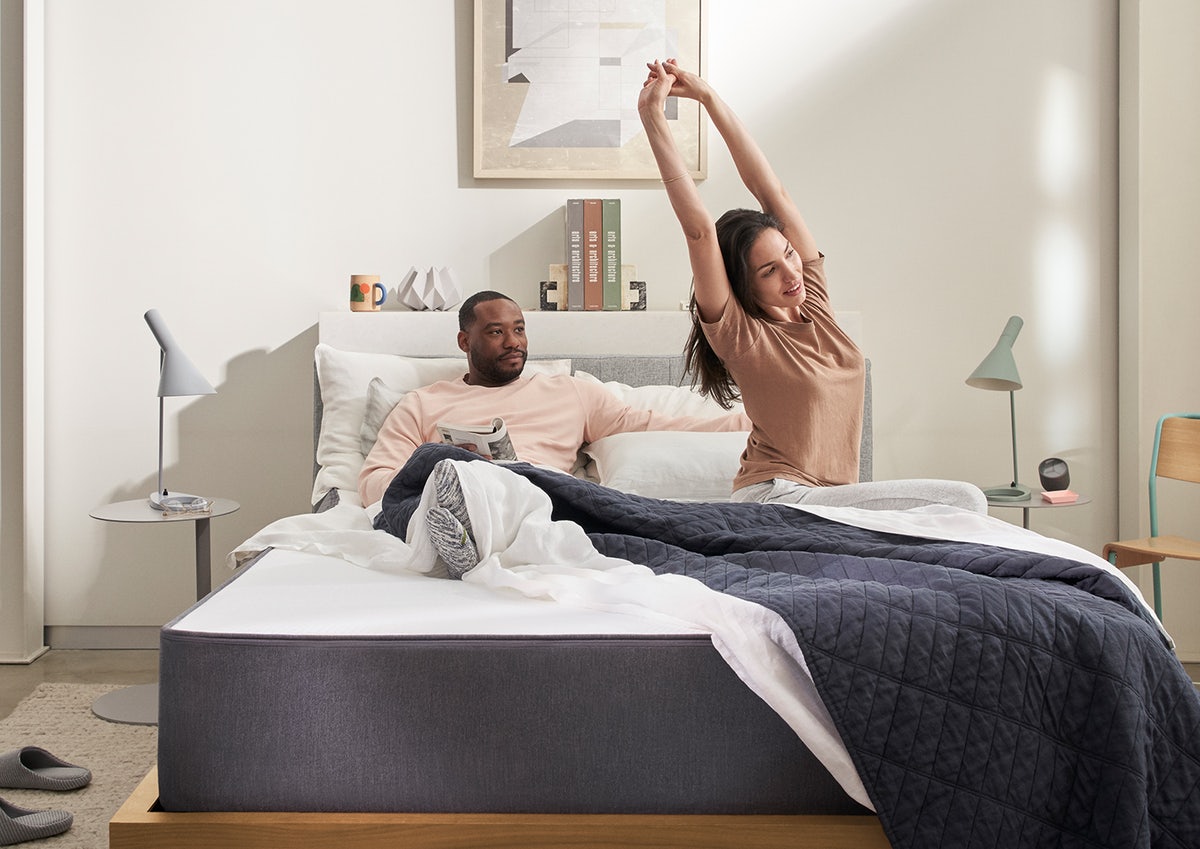 The wrong mattress will leave you with chronic back pain and possible long term damage to your spine. If you've ever slept on the wrong mattress you know it is possible to wake up less rested than before you went to sleep. Firmness is one of the factors that influence that. This is possible for firmness extremes meaning when the mattress is either too soft or too hard. Fortunately, none of these beds on review suffer from such problems. Where firmness and support are concerned, they rank the same at 6.5 points. This allows the major pressure points of the body to sink a bit into the mattress, leaving the rest of the body elevated. Consequently, people can sleep with their bodies perfectly aligned. As a result of these features, back pain is alleviated, and you also wake up more rested.
Temperature control
Both mattress manufacturers know that sleeping hot can be quite uncomfortable. As such, they try their best to regulate temperatures while you sleep. The Casper, for instance, has open-cell foam design. Where another foam mattress would trap heat, causing temperatures to rise the open cell lets the heat you produce escape while circulating fresh air to keep you cool as you sleep. The LUCID, on the other hand, employs different measures hoping to get the same result. The memory foam in the top comfort layer has spaces that allow for air circulation, and this should result in cooler sleep.
Motion transfer
If you have a partner sleeping next to you, there needs to be as little motion transfer as possible. That way, what he or she does on their side of the bed does not affect your side. As such, you sleep much more peacefully. Memory foam is a stellar performer when it comes to isolating movement, and luckily, both mattresses have that. However, you will note with the Casper that there is a latex-like foam layer added. This layer dampens the mattress' ability to keep motion isolated though not by much. Consequently, LUCID takes a slight lead over its opponent with this feature.
Responsiveness
One downfall of memory foam is also the fact that it is not very responsive. It does adjust to your body shape and pressure, but this takes some time. Given that LUCID only has memory foam in its top layer, you should not expect much responsiveness from the bed. Casper regains equal footing since the same layer that increases motion transfer also does the same for responsiveness allowing the mattress to adjust quickly to your weight and body shape.
Resilience and bounce
Both these mattresses are very resilient. Nonetheless, you start seeing a difference in the bounce provided by both options. LUCID can't offer as much bounce as its counterpart. The responsiveness is minimal, and thus, it will take a bit longer for the mattress to get back to normal after you have applied pressure to a specific area. On the other hand, Casper with its heightened responsiveness will provide a bit of bounce not common in a lot of other foam mattresses.
Edge support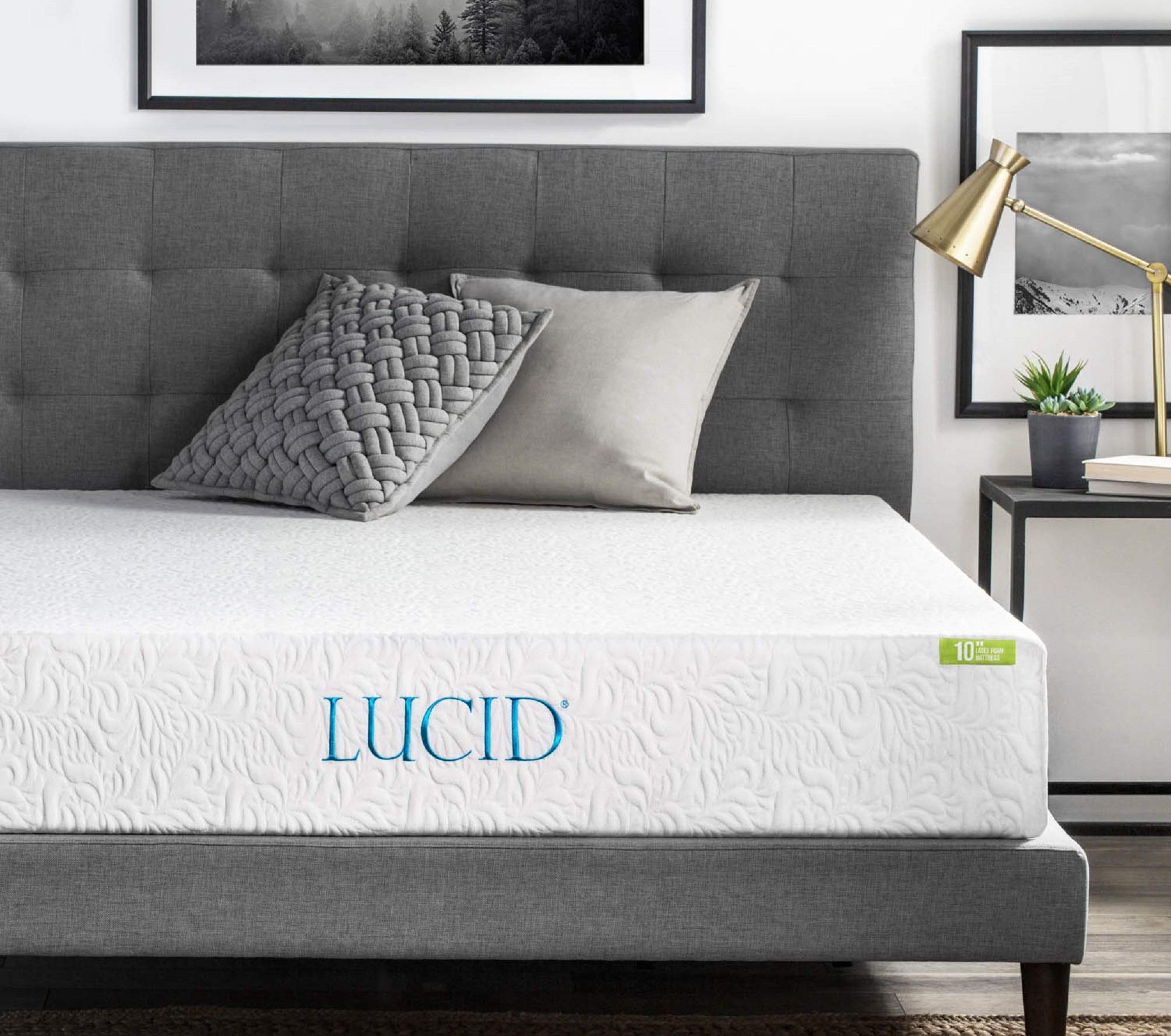 Edge support is not an area in which foam mattresses generally do well. These two pretty much perform as expected with minimal edge support. However, if this is a feature that you absolutely must have, then you might want to upgrade to the hybrid version of this Casper mattress.
Inflation time, off-gassing and smell
Given foam mattresses are compressed so they can fit in a small shipping box they don't come in their full sizes. However, this is not a permanent state. If you allow enough time in a well-ventilated space, each of the two beds will intake air and grow back to its full size. Another advantage of letting the beds breathe after unwrapping them is that odors common to foam mattresses when they are new dissipate. This process usually involves a wait time of no more than a few days so you might not want to rush to get rid of your old mattress.
Sleep position ratings
SLEEP POSITION
Light sleepers(less than 130 lbs)
Average sleepers(130 lbs to 230 lbs)
Heavy sleepers(greater than 230 lbs)
Casper
Side
9
9
9
Back
9
9
8
Stomach
9
10
8*
LUCID
Side
7
9
9
Back
9
10
10
Stomach
8
9
9*
*Out of 10
Light, average weight, and heavy sleepers all seem to rate the Casper mattress well, and this is true for all sleeping position. Perhaps the bed's lowest rating is an eight out ten for people who weigh more than 230 lbs and prefer sleeping on their stomach. Other groups of people in different sleeping positions rate from nine to ten.
The LUCID mattress is not far behind either. The bed, however, has its lowest rating as a seven out of ten. An eight rating also features for this bed with the majority of ratings being nines and tens. As such, the Casper mattress is the better mattress, but you would have to check for yourself to see if your preferred sleeping position, as well as weight class, is well represented. You can check the table as we have provided that information
Sizes and pricing
| | | |
| --- | --- | --- |
| SIZE | Casper | LUCID |
| Twin | $595 | $221 |
| Twin XL | $695 | $170 |
| Full | $895 | $199 |
| Queen | $954 | $240 |
| King | $1099 | $304 |
| California King | $1173 | $350 |
Customer service
| | | | |
| --- | --- | --- | --- |
| | Sleep trial | Warranty and refund | Delivery |
| Casper | 100 days | 10-year warranty | Within the U.S. |
| LUCID | – | 10 years | Within the U.S. |
Sleep trial
LUCID doesn't offer a sleep trial, and probably the reason behind that is the low pricing. Looking at the LUCID mattress price tag, you have to admit that you get a pretty good deal overall. One hundred days of the Casper sleep trial should be enough to determine whether to keep the mattress or to return it to the manufacturer and get your money back before looking at other options.
Warranty and refund
What LUCID offers is a 10-year warranty that should cover any defects and damage to the product. This is also what the Casper offers.
Delivery
Buyers within the U.S. will have these bed delivered right to their doorstep if they wish so. They could also drive down to a store nearby that offers the same products as manufactured within the country. People from other parts of the world will have to consider logistics and determine whether it is financially feasible to bring either bed to their current location.
So which should you buy?
Casper
VIEW ON AMAZON [wpsm_pros]
100-day sleep trial
Better overall sleep ratings
Optimum firmness rating
Provides air circulation for sleeping cool
Free delivery within the U.S.
[/wpsm_pros][wpsm_cons]
Almost non-existent edge support
Expensive
Bulky
[/wpsm_cons]
LUCID
VIEW ON AMAZON [wpsm_pros]
Optimum firmness rating
Inexpensive
Free delivery within the U.S.
Provides sufficient air circulation
[/wpsm_pros][wpsm_cons]
[/wpsm_cons]
In conclusion
Having seen the information we provided about the mattresses, you can now easily make the decision. One of a few critical areas to look into before committing to one bed is the pricing of the items. To make it easier, we have provided a table showing the prices of each size bed for both manufacturers. If you are looking to buy the Casper, you will need to have more money in your pocket.
Comfort is also one area that should heavily influence the final decision. Again in some areas that affect satisfaction, the Casper mattress does better but not so much that you can disregard its counterpart the LUCID. Ultimately you have to decide if these differences are worth the extra money. The availability of a sleep trial may also tip the scale in Casper's favor. So which mattress will you be ordering?