TalkAboutSleep is reader-supported. We may earn a commission through products purchased using links on this page. Learn more about our process
here
In recent years, memory foam mattresses have been perfected, to make them the ideal choice for those who are looking for a balance of comfort and support. Memory foam mattresses allow body weight to be evenly distributed for optimum support and to relieve aches and pains from individual pressure points. This encourages a restful night's sleep, and you can wake feeling refreshed and revitalized. Two great examples of this are the Ghostbed and Casper mattresses. Both of these options are designed to offer superb comfort and excellent support. So, how do they stack up against each other in a head to head Ghostbed vs Casper comparison?
Quick Comparison
Casper has been around since 2014, and its flagship mattress features polyfoam and memory foam layers with a high density base layer. This mattress is considered to offer medium firm support with a below average price point. The Casper mattress is designed with a comfort layer and three separate components. The middle memory foam layer has been placed between polyfoam top and bottom layers. There is also a polyfoam core for additional stability and support.
Ghostbed was founded around the same time in 2015, and its flagship bed has layers of gel memory foam and synthetic Dunlop latex in addition to a polyfoam high density base layer. This mattress is also at a below average price point and offers a similar level of support. The body conforming memory foam of this mattress is teamed with latex for stability and responsiveness to create a balance of firmness and softness that is ideal for average weight sleepers to improve spinal alignment and thus alleviate aches and pains.
GhostBed
Casper

Three types of foam including 2" cooling gel memory foam
Made in the USA
101-night trial
Superior cooling for sleep comfort
20-year warranty

4 Layer construction for breathability, bounce and support
Hypoallergenic latex
100-night trial
Softer foam for the shoulder region
10-year warranty

VIEW ON AMAZON
VIEW ON AMAZON
Mattress specifications
| | | |
| --- | --- | --- |
| | GhostBed | Casper |
| Type | Foam | Foam |
| Firmness | Medium Firm (6.5) | Medium firm (6.5) |
| Thickness | 11″ | 12″ |
| Weight | 89 lbs | 85 lbs |
| Sleep trial | 101 nights | 100 nights |
| Warranty | 20 years | 10 years |
| Price | $895 (Queen) | $1,095 (Queen) |
| Certification | Certi-PUR-US | CertiPUR-USOeko-Tex Standard 100 |
Construction
GhostBed
Casper
Support core
7 1/2″ 2 PCF HD Polyfoam
7″ 1.8 PCF HD Polyfoam
Comfort layers
1 1/2″ Synthetic Dunlop Latex2″ 4 PCF Gel Memory Foam
1.5″ Polyfoam1.5″ 4 PCF memory foam
1.5″ latex-like foam
Cover
Viscose/polyester blend
Polyester
Both mattresses are designed to support couples and offer medium firm support. While the Casper has slightly more depth, both mattresses include several layers to provide support, bounce and breathability. So, we need to explore in a little more detail what separates these mattresses for a more accurate comparison.
The Casper is made with a three tiered system including top and bottom layers of polyfoam. The core is an open structure memory foam and together these layers offer close conforming to alleviate aches and pains and improve spinal alignment. This makes the Casper highly supportive with a polyfoam high density base layer to reinforce the mattress and maintain an even sleeping surface.
The Ghostbed is made using layers of gel memory foam Dunlop latex to create the Medium Firm feeling with some levels of conforming. The latex layer is designed to help maintain a neutral temperature for a cooler sleep.
Unfortunately, since both companies have only been in business for less time than the standard warranty, it is difficult to gauge how the mattresses will continue to perform in the long term.
Comfort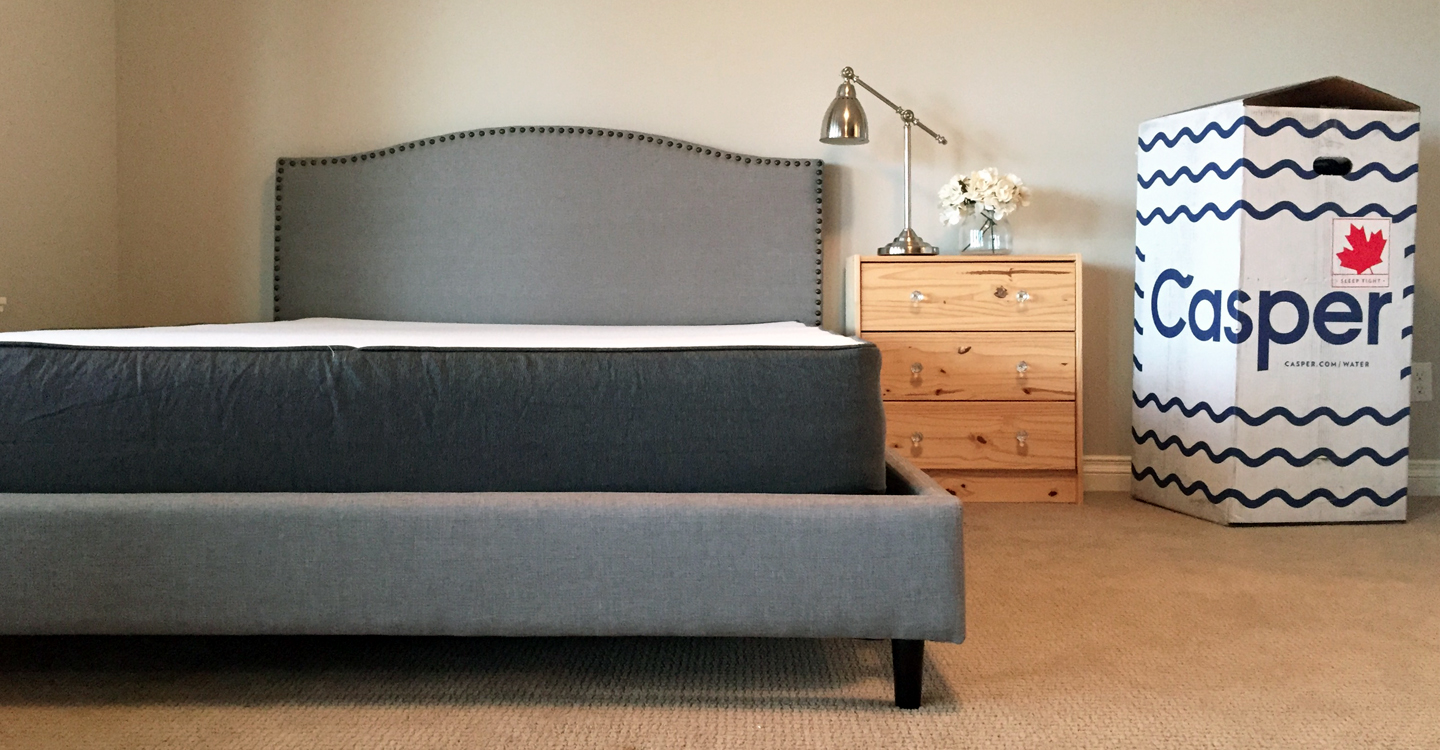 The Casper has been designed to offer a balance of comfort and support. The mattress features softer foam under the shoulder area with greater supportive, firm foam under the hips and core area. The open cell latex material is designed to help keep you cool. However, the Ghostbed features a cooling gel layer that is specifically designed to maintain a cool sleeping temperature. Ghostbed claim that this makes its mattress the coolest mattress in America.
Firmness and support
Both mattresses are rated as offering similar medium firm support, which provides moderate levels of firmness suitable for most sleepers. The Casper features four layers of different foams to provide this support, while the Ghostbed has three types of foam. With such similar figures, there is not much to separate these two mattresses in this category.
Temperature control
Here is where the gaps in the comparison start to appear. Although Casper claims that the open cell latex construction will help to keep you cool, Ghostbed has included a 2" layer of cooling gel memory foam that was developed using superior technology and techniques to aid temperature control.
Motion transfer
The Casper has been designed to absorb movement and minimize motion transfer to prevent disturbing your sleep partner. This claim has been supported by owner reviews and customer feedback. The Ghostbed is shown to be slightly less responsive to absorb motion transfer. Although motion is isolated to some extent, it is not as effective as the average foam mattress, which could be problematic for couples with one-night owl or a sleep partner who tends to have a disturbed night.
Responsiveness
The Casper has been shown to offer conforming comfort to respond to your body characteristics and provide targeted pressure relief. The Ghostbed closely conforms to alleviate the aches and pains of most sleepers.
Resilience and bounce
Both the Casper and Ghostbed are reported as not being particularly responsive or bouncy. While the multi layered construction is designed to offer support and comfort, there is not much bounce compared to most mixed foam type mattresses. While this may be ideal for those suffering from back pain, it may be problematic for those looking for a little more bounce and resilience in their mattress.
Edge support
Edge support is an indication of how well a mattress will wear over time. As most of us tend to sit on the edge of the bed to dress, it is crucial that mattresses have sufficient edge support to prevent sagging over time. This is another area where these two similar mattresses stand apart. The Casper has been shown to offer minimal edge support, so it is likely to suffer perimeter shrinkage over time. The Ghostbed offers far better edge support compared to the Casper and many other memory foam mattresses on the market. While it may still be susceptible to sinkage with prolonged sitting, it should offer better results in the long term.
Inflation time, off-gassing and smell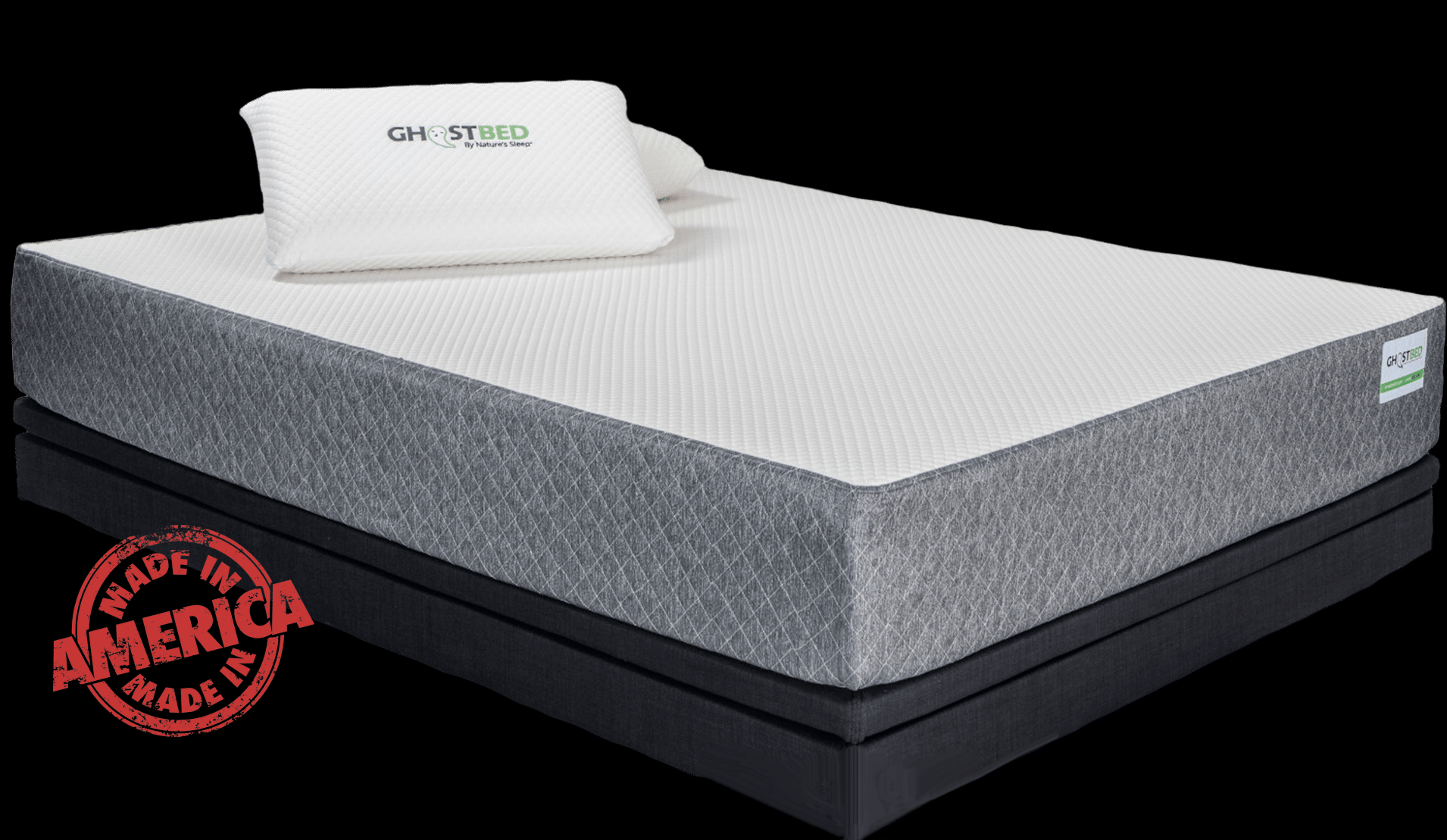 Both mattresses are shipped in a box and will take some time to fully inflate. Ghostbed state that its mattress will begin to inflate immediately out of the packaging and will be fully inflated within a few hours, but it can take up to 24 hours. While Casper do state that its mattress is boxed for convenient shipping, there is no mention of the maximum inflation time and what you can expect. Since most memory foam mattresses require up to 24-hour inflation time, we would have to assume this is the case for the Casper
Casper owners have reported that this mattress does have moderate offgassing, but the company does not give any indication of how long this takes to dissipate. The Ghostbed is reported as having little to no odor, which is an extremely rare quality for memory foam mattresses.
Sleep position ratings
SLEEP POSITION
Light sleepers(less than 130 lbs)
Average sleepers(130 lbs to 230 lbs)
Heavy sleepers(greater than 230 lbs)
GhostBed
Side
good
good
good
Back
good
very good
good
Stomach
fair
very good
good
Casper
Side
very good
very good
good
Back
very good
very good
good
Stomach
good
good
fair
The Casper is rated at medium firmness with a 5.5 score, making it optimal for sleepers weighing between 130 and 230 pounds. This mattress provides good pressure relief and conforming for those who weigh less than 130 pounds. The Casper also isolates motion transfer and produces minimal noise, providing a good sleep experience for couples who experience movement, noise or other sleep disruptions.
While the Ghostbed is also rated at medium firm, it has a slightly higher score at 6, which makes it optimal for sleepers weighing at least 130 pounds. Those who are lighter than 130 pounds may find the Ghostbed a little firm with less than optimal conforming effects. This mattress does sleep cool and isolates motion very effectively with no noise, providing an excellent sleep experience.
Sizes and pricing
| | | |
| --- | --- | --- |
| SIZE | GhostBed | Casper |
| Twin | $445 | $595 |
| Twin XL | $645 | $695 |
| Full | $820 | $895 |
| Queen | $895 | $1,095 |
| King | $1,075 | $1,395 |
| California King | $1,095 | $1,395 |
| Split King | $1,290 | N/A |
Customer service
| | | | | |
| --- | --- | --- | --- | --- |
| | Sleep trial | Warranty and | Refund | Delivery |
| GhostBed | 101 days | 20-year warranty | Full refund | Within the U.S. |
| Casper | 100 days | 10-year warranty | Full refund (minus shipping) | Within the U.S. and Canada |
Both mattresses are offered with a sleep trial, 100 days for the Casper and 101 with the Ghostbed. This provides a full refund in the case of the Ghostbed, but Casper deduct the cost of shipping from its refund. Ghostbed does stipulate that a return can only be initiated after a 30-day usage, but Casper does not appear to have any such clauses.
Another area where the mattresses differ is in the warranty. While the Casper is offered with an impressive 10-year warranty, this pales in comparison to the substantial 20-year warranty offered with the Ghostbed. Both warranties are relatively standard with no coverage for deliberate damage, misuse or comfort preferences.
Both mattresses are boxed for convenient shipping, but Ghostbed promote a "spookily fast" delivery service, as the products are designed and manufactured in the U.S. The company has nine continental locations, so customers typically receive their new mattress within two to five days.
Due to the weight of the Dunlop latex layer, the Ghostbed is over 25 pounds heavier than the Casper, which may make transportation and set up a little more challenging for those with limited mobility.
So which should you buy?
GhostBed
VIEW ON AMAZON
Pros
Good motion isolation- ideal for couples with different sleep styles
101-night free trial – no quibble trial to ensure complete comfort
Little to no offgassing- this is highly unusual for memory foam mattresses
Low noise potential- users report little to no noise even during disturbed sleep
Cons
Limited firmness- the mattress is rated medium firm which may not be sufficient for some sleepers
Sleep trial has a 30-night minimum- you need to use the mattress before you can qualify for a return
Does not offer shipping outside of continental US
Casper
VIEW ON AMAZON
Pros
Fairly cool sleep experience- although this mattress lacks a dedicated cool layer, users report it does offer a fairly cool sleep experience
100 Night Free Trial- with no minimum period
Casper has an A+ Better Business Bureau Rating- this highlights reliability and consumer confidence
Offers shipping throughout the continental US and Canada
Cons
Unsuitable for those weighing more than 230 pounds- heavier sleepers may find the mattress far too soft to offer proper support
Not a great firmness for those who need more support- this medium firmness mattress has a slightly lower rating than the Ghostbed
Lack of details for inflation instructions, may take longer than the typical 24 hours
In conclusion
In summary, the Casper provides a solid choice for sleepers with sensitive pressure points requiring additional cushioning for the shoulders, lower back and hips. It is also a good choice for those with a sleep partner and looking to limit movement felt during the night with a feeling of a mattress that hugs the body.
The Casper is a good choice for side sleepers weighing less than 230 pounds and the zoned support system provides optimal conditions for average weight sleepers who prefer to rest on their back. However, if you prefer to sleep on your stomach, you may find the Casper lacking mid back and midriff support. The Casper offers a medium feel that may be too soft for larger sleepers who may experience sinkage and sagging that fails to offer proper support.
The Ghostbed is ideal for those weighing more than 130 pounds, but lighter sleepers should find that this mattress offers sufficient support and conforming for a comfortable night's sleep. This mattress is also suited to those who prefer a higher profile mattress and want to eliminate sleep disruption from movement or noise. The mattress emits no noise and no offgassing, which is unusual in a memory foam mattress.
So in conclusion of this Ghostbed vs Casper comparison, the Ghostbed comes out on top. This mattress has a far more substantial warranty and fantastic construction to offer support, comfort and longevity for any sleeper.