TalkAboutSleep is reader-supported. We may earn a commission through products purchased using links on this page. Learn more about our process
here
For all of us getting a good night's rest is as important as food and water. Living without adequate sleep not only leads to physical exhaustion, but it also affects your mental activities. To get a good night's rest requires you to have a comfortable mattress. There are many mattress brands in the market that could satisfy your needs, but today we look at the GhostBed vs Nectar mattresses. These foam mattresses are some of the more popular brands in the market and they have proven to worth the customer's attention.
In this review, we compare these two models, trying to uncover what makes them a better choice for your sleep needs. Both mattresses offer 11-inches of thickness and they are within the same price range. Where they may differ may be in their construction which we will break down later. For now, let us look at the information presented below. By the time you are through, you will have a clear idea of which mattress is made for you in the GhostBed vs Nectar saga.
Quick Comparison
The GhostBed mattress is a product from GhostBed brand that has spent over fifteen years perfecting foam mattresses for your needs. Manufactured in the US, this mattress offers four layers to create 11-inches of firm comfort. The mattress is engineered in such a way that it is able to offer support to sleepers of different weights in different positions. Accompanied by a 20-year warranty, you can rest easy knowing that you spent your money well.
On the other hand, we have the Nectar Original mattress by the Nectar brand which is among the fastest-growing in the US. This mattress is lighter in weight and also offers 11 inches of thickness created by four layers which in turn provide the level of comfort that you need. Able to handle different sleeping positions with ease, this mattress comes with a lifetime guarantee.
GhostBed
Nectar

11-inch foam mattress designed to offer medium firmness for comfort
Made of three layers of foam to provide firmness and comfort
Gives 101 trial nights to see whether the mattress is of good quality
Features a comfortable viscose/polyester blend cover to keep your skin cool as you sleep
Offers a 20-year warranty to boost customer satisfaction
It is Certi-PUR-US certified assuring you of both environment and health safety

An 11-inch mattress that offers medium firmness for those who sleep on it
Made of four foam layers to provide structure and support
Features a 365-night trial period to try it out
It comes with a Cotton and Tencel® Lyocell cover that is bug resistant and supports air circulation
Accompanied by a lifetime warranty
Certified as safe for health and the environment by the meeting CertiPUR-US standards

VIEW ON AMAZON
VIEW ON AMAZON
Mattress specifications
| | | |
| --- | --- | --- |
| | GhostBed | Nectar |
| Type | Foam | Foam |
| Firmness | Medium Firm (6.5) | Medium firm (6.5) |
| Thickness | 11″ | 11″ |
| Weight | 89 lbs | 74 lbs |
| Sleep trial | 101 nights | 365 nights |
| Warranty | 20 years | Lifetime |
| Price (Queen) | $799 | $799 |
| Certification | Certi-PUR-US | CertiPUR-US |
Construction
GhostBed
Nectar
Support core
7 1/2″ 2 PCF HD polyfoam
6″ HD polyfoam
Comfort layers
1 1/2″ synthetic Dunlop latex
2″ 4 PCF gel memory foam
1″ quilted gel memory foam
1″ 4 PCF gel memory foam
3″ 3.5 PCF memory foam
Cover
Viscose/polyester blend
Cotton and Tencel® Lyocell
Both the GhostBed and the Nectar mattresses offer 11-inches of thickness however, their internal structure differs a bit. The GhostBed mattress features three foam layers while the Nectar mattress has four foam layers. They both provide a medium feel, but the GhostBed provides firmness that is perfect for light sleepers. People who need more structure from their mattresses would probably lean towards the Nectar mattress. All in all, they are both great mattresses depending on the specific features you are looking for.
Comfort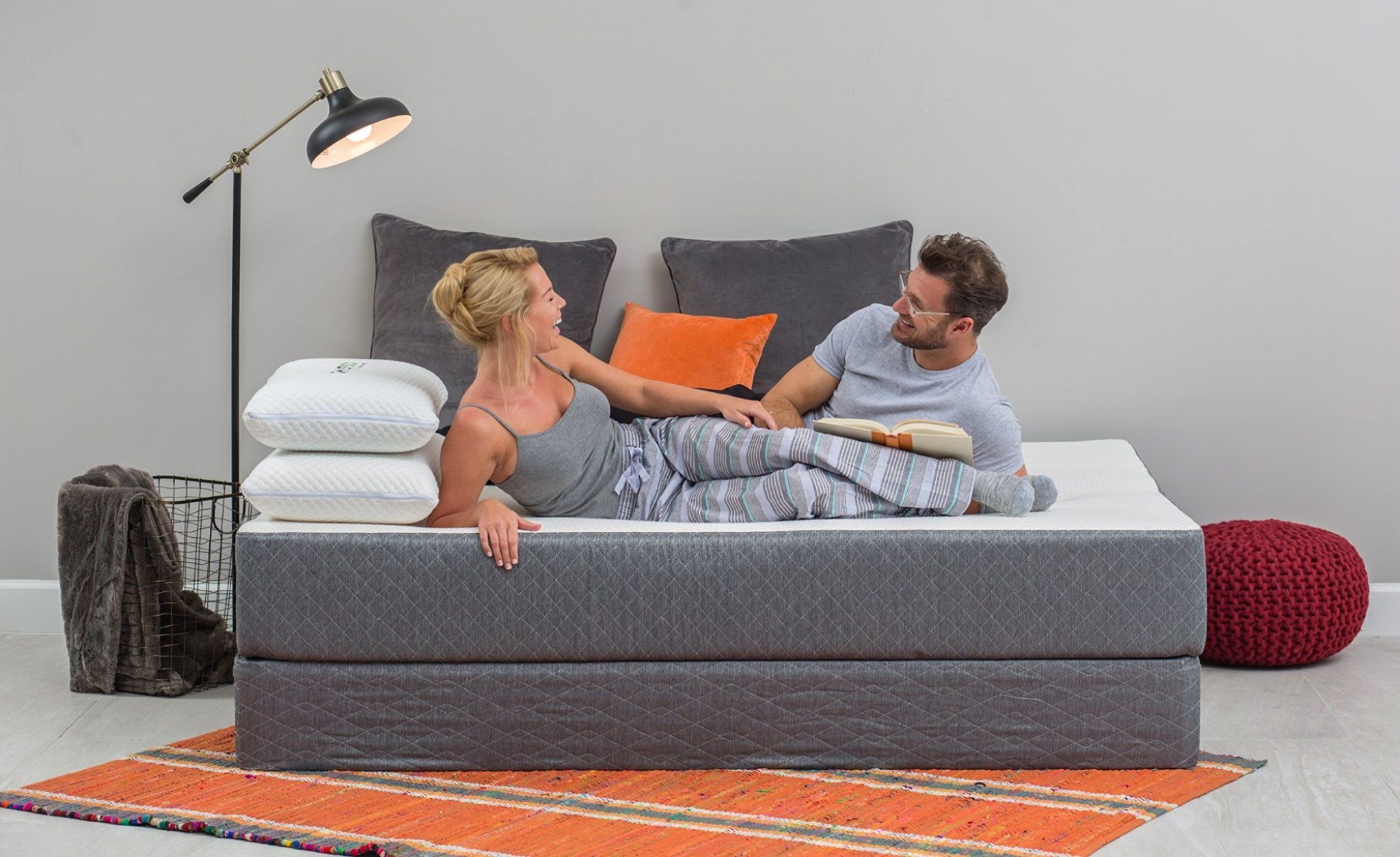 Whether you have back issues or you are completely healthy, a comfortable mattress is essential. Such mattress should provide good support and also allow your skin to remain cool as you sleep. Finding a mattress that offers the right structural support for your frame will eradicate days where you wake up with sore joints or muscles. You may prefer laying on your back or your stomach, but what matters is that your mattress remains comfortable in all positions. The factors presented below will affect the comfort level you experience with each of these mattresses. You may want to go through them to understand what to look for in a mattress you wish to purchase.
Firmness and support
The construction of mattresses matters as it determines the firmness and the comfort level the sleeper will experience. The GhostBed mattress comprises of three layers and to give you that firm but not stone firm feel. The support core consists of 7 1/2″ 2 PCF HD polyfoam which is basically the backbone foam that supports the other layers. The support core is then followed by two comfort layers that consist of 1 1/2″ synthetic Dunlop latex and 2″ 4 PCF gel Memory foam. The gel memory foam together with the plush cover provides the right amount of cushioning to support different sleeping positions. The plush cover is removable for easy cleaning and maintenance. This makes this mattress easily manageable in terms of hygiene.
When you look at the Nectar mattress, you find four foam layers covered by a Cotton and Tencel® Lyocell fabric. The support layer includes 6″ HD polyfoam, followed by the comfort layer that contains three types of memory foam. The comfort layer is responsible for giving cushioning to your body, and the cover helps with temperature control. The cover is removable for cleaning which makes it easy to maintain.
The bottom line is that the GhostBed provides adequate firmness and would be perfect for light sleepers. The Nectar mattress would be recommended for heavy sleepers as it gives adequate support, including on the edges.
Temperature control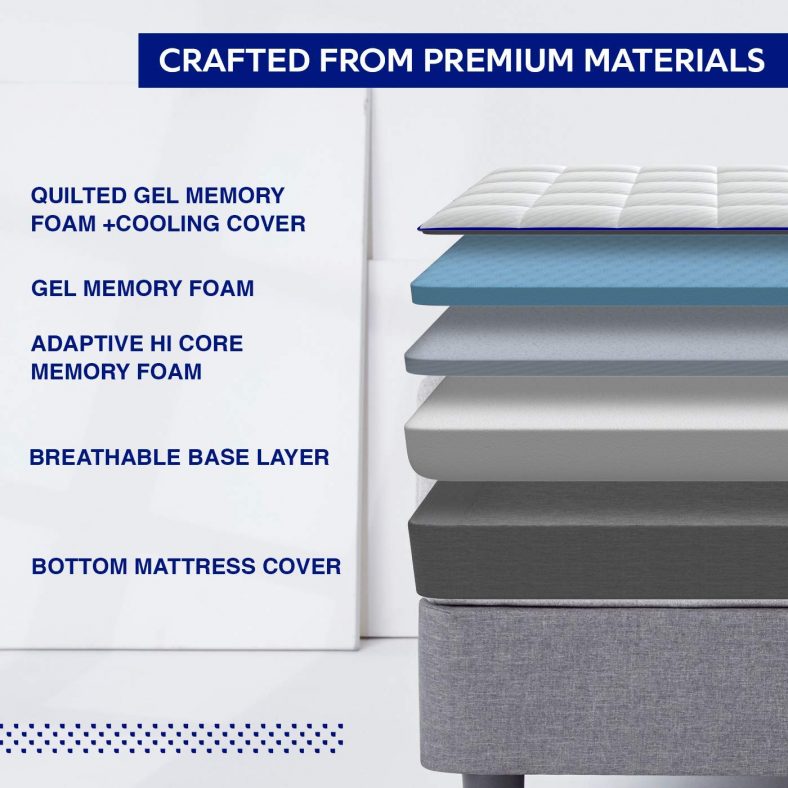 In terms of temperature control, both of the mattresses are designed to keep you cool, and they feature a cover that circulates air. However, in reality, both mattresses do retain some heat. It seems that the Nectar mattress is warmer than GhostBed, but that is left to personal opinion. If you prefer sleeping in a cool environment, you may want to consider using bamboo, linen or microfiber sheets. These fabrics are great at keeping hot sleepers cool so that you don't wake up in a pool of sweat. If you do not mind a bit of warmth then both mattresses would perform well.
Motion transfer
We have all experienced how it feels like to sleep on a wobbly mattress. One cannot change sleeping positions without the whole mattress being in moving about. It is even trickier when trying to get out of bed without waking your partner. A lot of mattresses claim to offer low motion transfer, and that is true for the GhostBed mattress. You can move around without disturbing your sleeping baby or partner.
At the same time, the Nectar mattress seems to offer lower motion transfer compared to the Ghost Bed mattress. Satisfied customers attest to experiencing very low motion transfer that allowed their partners to sleep through the night. The lower motion transfer can be attributed to the use of memory foam or other materials like latex and polyurethane. The use of this material allows energy to be absorbed instead of being transferred through the rest of the material.
Both mattresses offer low motion transfer, and there isn't much of a difference. It will all depend on the frame and the general preference of the sleeper.
Responsiveness
Responsiveness can be equated to how the mattress responds to pressure and movement. A highly responsive mattress gives in to pressure easily and returns to its original form quickly. A mattress that possesses low responsiveness will take time to form an indentation and return to its original form.
The GhostBed seems to have low responsiveness hence its lack of bounce. If you want to roll out of bed quickly you may have to use more energy compared to a spring coil mattress. However, it still provides cushioning that hugs your body to keep you comfortable as you sleep.
The Nectar mattress seems to be more responsive than the GhostBed mattress. You can leave your imprint, and the foam mattress will bounce back to its original form. It offers a good balance of materials that support responsiveness but keeps too much motion transfer at bay. If you need a bit of bounce to your mattress, the Nectar mattress would do.
Resilience and bounce
In terms of resilience and bounce, the Nectar mattress takes a slight advantage thanks to the layers of memory foam. Seeing that it is more responsive compared to the GhostBed, it provides more of a bounce and therefore has a bit more cushioning. The GhostBed is comfortable, but it does not have much bounce to it. Those who need firm support for their joints and do not need much bounce to their mattress should go for the GhostBed. The bed takes some time to break in and therefore, you will have all the firmness you need.
Edge support
Edge support is important if you don't enjoy rolling out of bed. If you have a heavier set frame, then edge support prevents you from sleeping in an awkward position when the mattress starts to wear out eventually. Edge support also prevents the mattress from wear and tear if you are used to sitting at the edge of the bed.
When it comes to edge support, the GhostBed loses out on this one. It is a well-balanced mattress but it does not offer adequate edge support. The Nectar mattress takes the edge support advantage as its structure is engineered to offer more support. Appropriate for heavy sleepers, the Nectar mattress bounces back with ease.
Inflation time, off-gassing and smell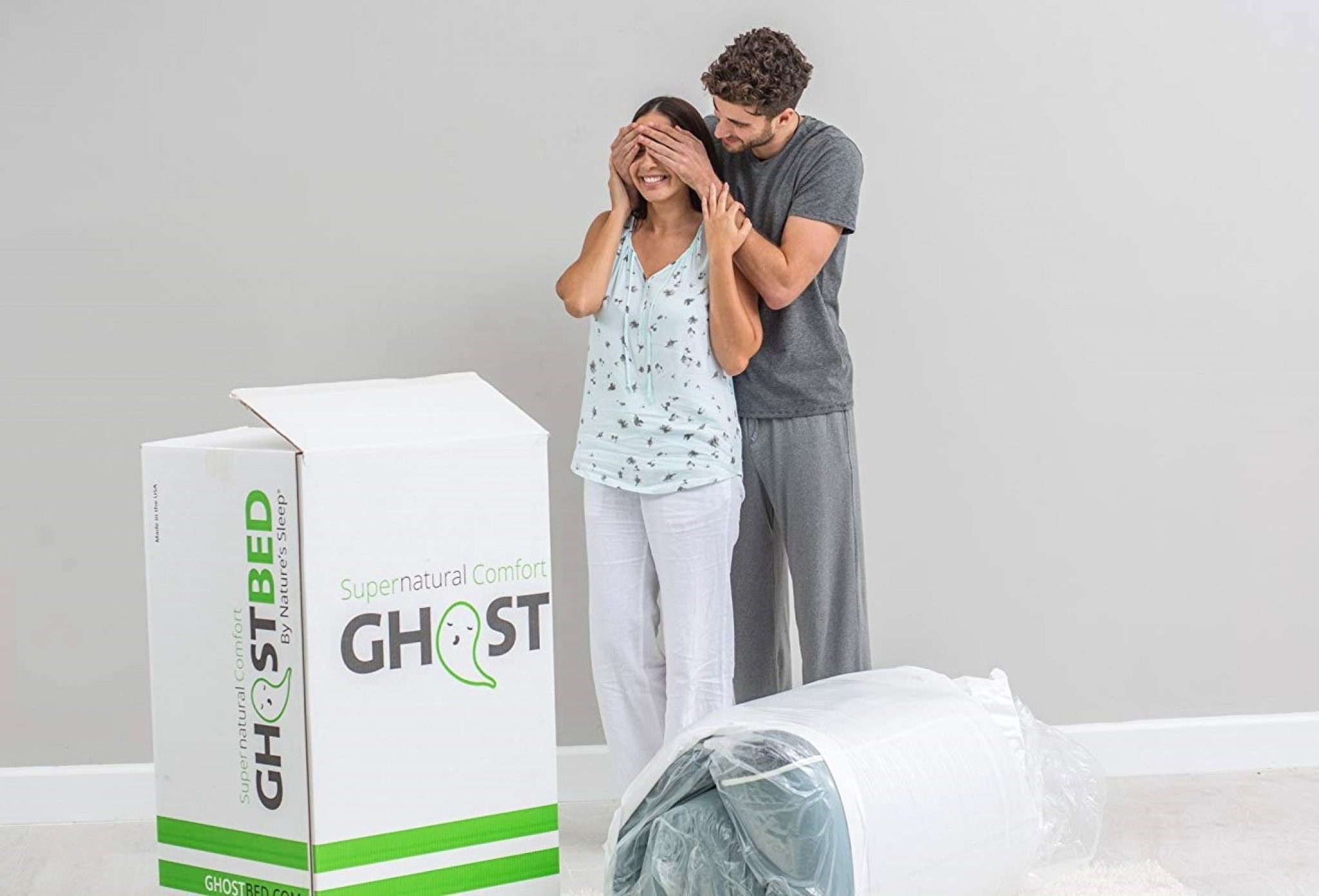 When removed from the delivery box, the GhostBed takes anywhere from a few days to a few hours to inflate. The manufacturer says you should give it 24 hours to unfold but some mattresses take more time. The mattress gives off a slight chemical smell that goes unnoticed by some. The smell will dissipate after 48 hours living you with a fresh neutral-smelling mattress for use.
The Nectar mattress takes about 24 to 72 hours to inflate to a useable form. Some of the mattresses may take more than a few days to inflate to the full 11 inches. In terms of smell, the mattress does emit a chemical smell that dissipates in a couple of hours. It is non-toxic and it will not harm your health.
In this round, the GhostBed wins as it inflates a little bit faster and does not produce a strong chemical smell that might offend some. If you are sensitive to smell, you may want to choose wisely.
Sleep position ratings
SLEEP POSITION
Light sleepers(less than 130 lbs)
Average sleepers(130 lbs to 230 lbs)
Heavy sleepers(greater than 230 lbs)
GhostBed
Side
7
7
7
Back
7
8
7
Stomach
6
8
7
Nectar
Side
7
7
7
Back
8
7
8
Stomach
6
7
7*
* Out of 10
They say your favorite sleeping position says something about your personality, but that is a topic for another day. When you do purchase a mattress, you expect to be comfortable whether you choose to sleep on your side or on your belly. Many brands advertise that their mattresses appeal to all sleeping positions but at the end of the night, only the sleeper can judge.
According to the chart presented, the GhostBed serves better average and light sleepers. Sleepers in this category who prefer to sleep on their side and back will benefit from owning this mattress. However, it may prove problematic for light sleepers who prefer to sleep on their stomachs.
The Nectar mattress is not very comfortable for light sleepers who lie on their stomach, but it serves heavier sleepers more. The Nectar mattress offers comfortable sleep for both light and heavy sleepers who prefer to lie on their back. It does okay for side sleepers and heavier sleepers who sleep on their stomach as well.
Depending on the size of your frame and your favorite sleeping position, select from either of these mattresses. They offer both advantages and disadvantages depending on the sleeping position you prefer. If you're a combination sleeper, then you do not have too much to worry about.
Sizes and pricing
| | | |
| --- | --- | --- |
| SIZE | GhostBed | Nectar |
| Twin | $495 | $499 |
| Twin XL | $590 | $569 |
| Full | $775 | $699 |
| Queen | $799 | $799 |
| King | $900 | $999 |
| California King | $930 | $999 |
Customer service
| | | | | |
| --- | --- | --- | --- | --- |
| | Sleep trial | Warranty | Refund | Delivery |
| GhostBed | 101 days | 20 years | Full refund | Within the U.S. |
| Nectar | 365 days | Lifetime | Full refund | Within the U.S. |
| | | | | |
The GhostBed mattress offers a 101-night trial for the customer to see if it fits their needs. If you happen to be unsatisfied with the quality, you can return it. The process of returning the mattress is not easy and you will have to pay for the shipping costs depending on your supplier. Be sure to go through the terms and conditions of the 20-year warranty before you choose to fully commit. Easily delivered within the U.S., this mattress can get to you within 2–5 days. The vacuum compressed mattress arrives in a box ready for unpacking and inflation.
As for the Nectar mattress, we are looking at a 365-night trial. This is more than adequate time for you to find out if the mattress is worth your time, through all the year's seasons. Additionally, it comes with a lifetime warranty. As always, get accustomed to the terms and conditions of the warranty to understand what is covered. The brand offers free shipping within the U.S., meaning that you can get your mattress in a couple of days. If you happen not to like the mattress and you return it, you can get a full refund within the trial period. If you purchase from Amazon, make sure you are within their specified return policy to avoid getting some charges.
So which should you buy?
GhostBed
VIEW ON AMAZON
Pros
Consists of three foam layers that offer a medium-firm comfort feel
Offers adequate support for light and average sleepers
Comes with a cover that can be removed for cleaning
Perfect for side and back sleepers as it relieves pressure from the joints
Takes a short time for it to get inflated and ready for use
Cons
Does not offer adequate support for heavy sleepers
Lacks edge support
Nectar
VIEW ON AMAZON
Pros
Provides enough support for the heavier sleepers in all sleeping positions
Consists of four foam layers that provide good cushioning and responsiveness needed for comfort
Has a removable and washable cover for hygiene purposes
Offers edge support to prevent rolling over
Comes with a lifetime warranty and a 365-night trial period for customer satisfaction
Has very low motion transfer
Cons
Might feature a strong chemical smell that will dissipate eventually
In conclusion
In the end, it all comes down to personal preference between the two mattresses. Both mattresses are of dependable quality and they fetch the same price. You will be the one to decide whether your body type can be supported by the GhostBed or the Nectar mattress. It is advisable to select the GhostBed mattress if you are a light or average sleeper.
If you happen to fall on the heavier side of things then the Nectar mattress might be the best option. In the battle of GhostBed vs Nectar, you will be the final judge. Regardless, we are sure that once you get your new mattress, your sleep will never be the same. Don't you agree? Let us know what you think in the comment section below.