TalkAboutSleep is reader-supported. We may earn a commission through products purchased using links on this page. Learn more about our process
here
When comparing GhostBed vs. Tempur-Pedic mattresses, both companies have valuable industry knowledge and experience. These mattress experts provide all customers with the most comfortable night's sleep ever. Upon first glance, they share several mattress specifications, including type, firmness, and thickness. But their own makeup is what sets each companies mattress type apart from the other, and more so the considerable difference in price tag! This article compares GhostBed vs. Tempur-Pedic, namely the original GhostBed mattress and the all-foam TEMPUR Adapt mattress. Looking at specifications, comfort levels, sleep positions, customer service, and indeed prices, we consider whether the increased price difference is worth it here, considering their similarity in comfort levels.
Quick Comparison
Launched in 1992, the Tempur brand took the unique path of attempting to construct a mattress using NASA developed research. The result is a material, unlike any other ordinary memory foam on the market. Offering pressure relieving and groundbreaking material throughout, alongside the ability to arrange finance on their mattresses, this is perhaps one of the most expensive brands on the current market – but with this high price tag comes the accolade of being named the most highly recommend beds in America.
Established in 2001, GhostBed was created by the company's CEO who himself was fed up of struggling to find a supportive mattress. After three neck surgeries, Marc L. Werner invented his own pillows and mattresses which could support his neck and back and allow him to sleep and indeed live without constant pain. Almost two decades later, this mission continues to provide an innovative and industry-leading pain-free mattress design – but one which is more affordable on the broader marketplace.
GhostBed
Tempur-Pedic

Mattresses designed through first-hand experience of back and neck pain
Supportive yet soft properties throughout
Pressure points all over to support all sleeper types
Plush surfaces
Cooling phase change material
Longer and deeper sleep encouraged
A mixture of unique foam types in make up
Long lasting high-density base mattress
Fantastic affordable price ranges
Some of the lowest costs but highest quality mattresses
Staggering 20-year warranty
100-night sleep trial
Most useful for average sleepers which are 130 to 230 pounds
Wonderful customer ratings

Mattresses designed by utilizing unique NASA research
Unique foam type used found solely in Tempur-Pedic mattresses
Pressure relieving properties
Motion transfer reduced
Two layers of adapting and conforming material and technology used
Support layers acclimatize to individual sleeper body shape
Cool to the tough feel
Exact cushioning and support level offered
Supports a wide range of sleeper types and positions but especially side and back
Ideal for light, medium and heavy sleepers ranging from less than 130 pounds to greater than 230 pounds
10-year warranty
90-night sleep trial
Consistently well-rated customer reviews

VIEW ON AMAZON
VIEW ON AMAZON
Mattress specifications
| | | |
| --- | --- | --- |
| | GhostBed | Tempur-Pedic |
| Type | Foam | Foam |
| Firmness | Medium Firm (6.5) | Medium (5) |
| Thickness | 11″ | 11″ |
| Weight | 89 lbs | 79 lbs |
| Sleep trial | 100 nights | 90 nights |
| Warranty | 20 years | 10 years |
| Price | $895 (Queen) | $2,099 (Queen) |
| Certification | Certi-PUR-US | CertiPUR-US |
Construction
GhostBed
Tempur-Pedic
Support core
7 1/2″ 2 PCF HD Polyfoam
Polyfoam (Solid)
Comfort Layers
1 1/2″ Synthetic Dunlop Latex
2″ 4 PCF Gel Memory Foam
Memory foam
Cover
Viscose/polyester blend
SmartClimate dual-layer removable cover
When briefly comparing these mattresses against one another here, both offer similar mattress specifications but different construction properties. With the exact same thickness level of 11″, both are also a foam type design. However, the further we look into their specifications, the more differences begin to show. The Tempur-Pedic is a full 10lbs lighter than the GhostBed, while the Ghostbed offers more firmness in its Medium Firm 6.5 level, as opposed to the Tempur-Pedic Medium 5 Level.
The deeper we delve into the construction; the difference becomes further apparent here. The GhostBed uses a three system design of polyfoam in its support core and two differing comfort layers consisting of latex and gel memory foam. The Tempur-Pedic mattress differs significantly here with its unique, and only found in this mattress, memory type of foam, with a solid polyfoam support core.
With a similar sleep trial, The GhostBed offers ten years more on their warranty as opposed to the Tempur-Pedic. However, perhaps the greatest of both CentriPUR-US models here is their price! With the Tempur-Pedic retailing at $2099 and The GhostBed at $865, this is probably where the two really do differ significantly.
Comfort
The comfort factor of a mattress is absolutely crucial, and it pays to get this right first time. On average, we as a nation will spend a third of our lives sleeping, so the comfort level of the mattress we lie upon every night needs to be able to accommodate us much here.
Experts suggest that the right mattress will on average last us for around the seven-year mark. However, for it to be good enough to serve us this long, it has to be constructed and designed in a way that will stand the test of time.
Obviously, being able to spend as much as you can in this market will enable you to select from the most supportive and indeed most comfortable of mattresses here.
When opting for the best GhostBed or Tempur-Pedic mattress, we recommend focusing your attention to factors such as firmness and support, temperature control, motion transfer, responsiveness, resilience and bounce, edge support and perhaps that of inflation time, off-gassing and smells.
Firmness and support
The firmness level of a mattress dictates how well it supports you throughout your sleep. This is an essential deciding factor which you can determine by your usual sleeping position you take up the most. If you tend to sleep in a variety of positions, you'll need to ensure your mattress can cater to each one of these. Yet, for best practice, the ideal choice is a Medium Firm type as this works to provide an almost perfect combination of ultra-comfort and ongoing assured support.
The GhostBed assumes the best firmness level here as a Medium Firm 6.5 choice. Therefore, it has the balance just right whereby it's not too hard and not soft but correctly in between the two. Consequently, you can be assured of the correct support throughout the night as you sleep, regardless of your sleeping position, while equally assured that it will provide a good level of comfort as well. You'll also be able to wake pain-free through such an ideally placed comfortable and supportive construction,
The Tempur-Pedic mattress is a Medium 5 level mattress. For many people who don't like the concept of sleeping on a firmer mattress, this is also an ideal balance of comfort and support, though not quite as supportive as The GhostBed model. The foam material used in the Tempur-Pedic mattress, which is unique to this brand, more than makes up for the less firm rating here offering support through its comforting advancing materials used.
Finally, with both mattresses offering a thickness level of 11″, this composition ensures a fantastic support core with just the right level of height.
Temperature control
To ensure we sleep deeply, peaceful and without constantly waking throughout, our body temperature needs to remain at a steady and stable level through the night. This means maintaining just the right temperature to keep the body comfortable but also refreshed.
Unfortunately, when we fall asleep our body temperature has a natural tendency to vary greatly, especially if there's no control from the mattress itself. This tendency becomes more problematic when the outside temperature changes as well.
Thus, it's worth ensuring your mattress can offer an excellent level of temperature control. It should be able to do this by dispersing the heat from your body and keeping your body temperature at a stable one for the length of your sleep.
The GhostBed mattress boasts a claim as one of the most cooling mattresses in America. This is primarily due to its cooling gel memory foam which is inserted into the middle of the mattress makeup, alongside a plush aerated latex which resides at the top of this mattress and encourages a cooler sleeping surface.
Equally, the Tempur-Pedic mattress boasts a cover which uses a premium knit technology in its design. This results in a cover which is completely cool to the touch and therefore able to reduce body heat all over the sleeping surface.
Motion transfer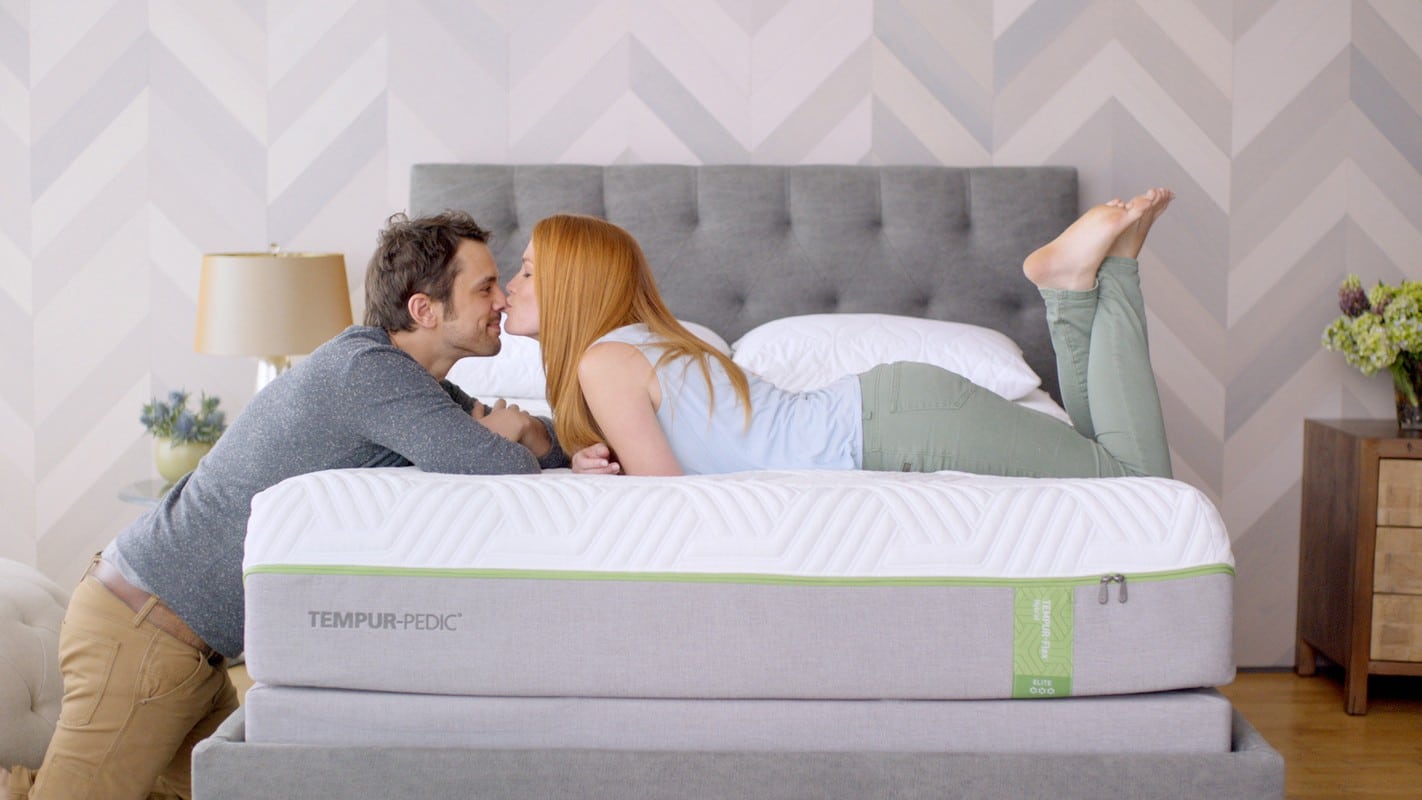 When we move around during our sleep, we create what is called motion transfer. For some people, it may seem an insignificant process, but if you are a light sleeper, sleep with a partner and indeed move around a lot during your sleep, you may notice the quality of your sleep or that of your partners, is reduced as a result! This is especially so if your mattress has little to no ability to cope with the effects of motion transfer.
The GhostBed is claimed to offer a good level of motion transfer, but it is not mentioned as one of its generated features, and some customers rate this area of the mattress lower. Though it's suggested it will isolate motion to some extent, it isn't done as much as those more average of foam latex mattresses.
The Tempur-Pedic, on the other hand, claims to provide a very good level of motion transfer. In fact, it's often referred to as one of its key strengths by many. This is because of its abilities in its unique Tempur material to significantly minimize any transfer to a very good extent.
Responsiveness
The conforming elements of a mattress indicate how responsive it is when you place pressure upon it. Those mattresses that have a good level of responsiveness will be able to work to the way you individually lie as you sleep and continue to respond to your body shape and position as you turn throughout your sleep. This should work well here no matter whether you're a back, side, front, or combination sleeper.
The GhostBed has been designed with a perfect level or responsiveness in its material, which allows it to work well to alleviate most aches and pains. This is because it conforms closely.
Once again, utilizing its advanced designing system, the Tempur-Pedic mattress also offers fantastic conforming properties. It is especially useful for targeting the source of pain and relieving pressure, encouraging an improved spinal alignment throughout.
Resilience and bounce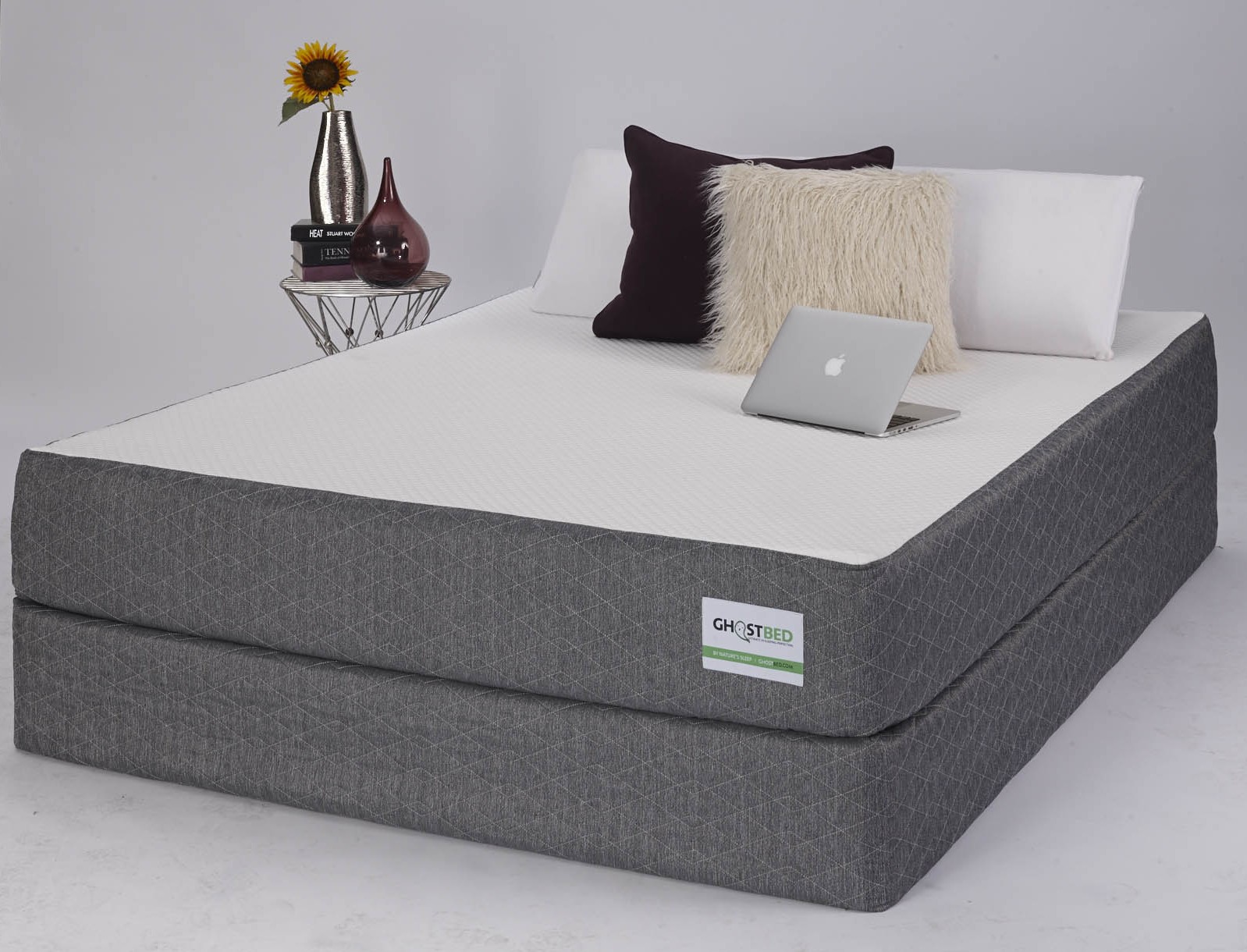 Resilience and bounce refer to how durable the bed remains over time alongside how much activity it will stand up to before showing any possible signs of wear and tear.
Both mattresses excel in terms of their duration, with claims that they have a longer than average longevity and therefore the more improved of all-around performance.
Regarding bounce, neither mattress can claim to offer much in the way of this, but this is due to the nature of their foam layers and study makeup. Therefore, they are both perhaps the better solution when it comes to sharing the bed throughout the night with a partner.
Edge support
Whether you tend to sleep more towards the edge of the bed or whether you like to be able to sit on the side of your bed without rolling off, an element of edge support in your mattress will provide help here, though you won't necessarily be able to see it visually
Though neither mattress makes any grand claims about having edge support, because of their fantastic overall surface support they do provide an element of excellent support towards this part of the bed. However, it's claimed that they are both naturally susceptible to sinkage around the edges if this area's used solely over time.
Inflation time, off-gassing and smell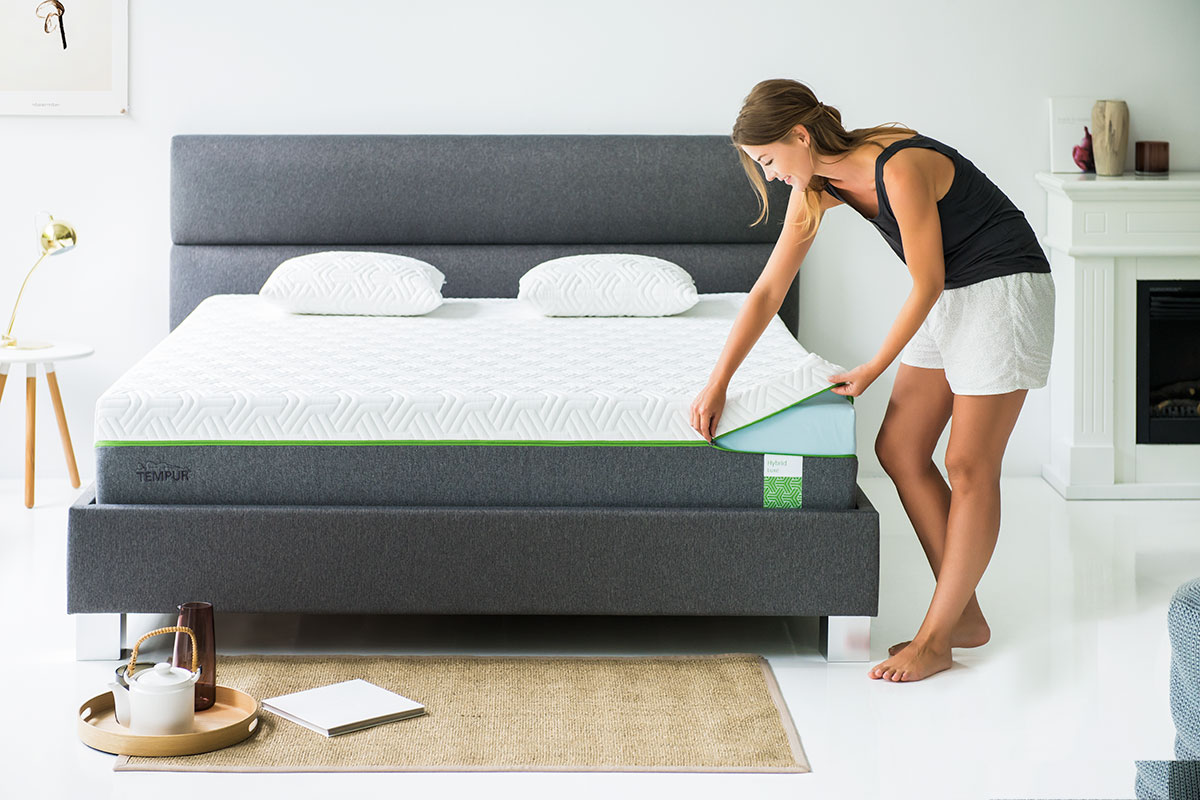 While not as problematic over time, some mattresses will require an inflation time when first purchased and along with this may come an instant off-gassing and odor. This should all be relatively short and certainly not last longer than a day or two at most.
The GhostBed mattress once unboxed will begin to expand, as soon as you remove its plastic protective wrapping. It's recommended that you allow a few hours to a whole day for it to reach its full size before using.
The Tempur-Pedic can be placed on the bed and used almost instantly as it doesn't require any inflation time. This is because it is delivered in a giant cardboard box, as opposed to being folded up into a smaller box.
As both mattresses are CertiPUR-US certified, they have low VOC, meaning both are better for indoor air quality. This should assure that neither has a gassing off or smell present. Though some customers report a new product smell on both mattresses, this does disappear very quickly and is no cause of concern on either model.
Sleep position ratings
SLEEP POSITION
Light sleepers

(less than 130 lbs)

Average sleepers

(130 lbs to 230 lbs)

Heavy sleepers

(greater than 230 lbs)

GhostBed
Side
good
good
good
Back
good
very good
good
Stomach
fair
very good
good
Tempur-Pedic
Side
very good
very good
very good
Back
very good
very good
very good
Stomach
good
good
good
Both mattresses are useful for ensuring a more comprehensive range of sleepers and sleeping positions are catered for here. However, the GhostBed doesn't fair well for light stomach sleepers. In terms of the best overall sleep positions rating, it's the Tempur-Pedic mattress which edges it here.
Sizes and pricing
| | | |
| --- | --- | --- |
| SIZE | GhostBed | Tempur-Pedic |
| Twin | $445 | $1,599 |
| Twin XL | $645 | $1,599 |
| Full | $820 | $1,914 |
| Queen | $895 | $2,099 |
| King | $1,075 | $2,792 |
| California King | $1,095 | $2,799 |
| Split California King | $1,290 | $1,699 |
Customer service
| | | | | |
| --- | --- | --- | --- | --- |
| | Sleep trial | Warranty | Refund | Delivery |
| GhostBed | 100 days | 20 years | Full refund | Within the U.S. |
| Tempur-Pedic | 90 days | 10 years | Full refund minus shipping charges | Within the U.S. |
The customer service of both GhostBed and Temp-Pedic are said to be some of the best in the industry! With both offering proper sleep trials and a full refund if you aren't happy with your purchase, both companies deliver throughout the US.
Also, though the Tempur-Pedic 10-year warranty is itself fantastic, the inclusion of a 20-year warranty from Ghostbed is undoubtedly a major attraction!
So which should you buy?
GhostBed
VIEW ON AMAZON
Pros
Adaptive gel memory foam
Encourages cooling sleeping throughout
High-density memory foam core
Plush feel through surface cover
Great medium firm support
Good for long term comfort
Offers optimal balance
Relieves hip and back pain
Reduces stiffness and pressure points
Vacuum compressed and rolled when delivered
Good low pricing
CertiPUR-US Certified
Fits existing frames and foundations
100-day free trial
20-year warranty
Cons
Reduced edge support
No bounce
Some claim it's a little firmer than expected
Tempur-Pedic
VIEW ON AMAZON
Pros
Utilizes fantastic technology throughout its design
Unique memory foam only found in Tempur mattresses
Comfort layer ideally positioned in the middle of design
Works to personal and individual comfort and support levels
Soft to the touch
Relieves pressure
Reduces motion transfer
Works to react you as you sleep
Advanced adaptability
Features a cooling cover
Delivered full size
10-year warranty
90-day sleep trial
CertiPUR-US Certified
Well known brand
Cons
Reduced edge support
No bounce
Heavy to move around
Can take longer to break in
Very high price tag indeed
In conclusion
When making that all important final decision as to which mattress is best, the GhostBed or the Tempur-Pedic, comfort and feature wise, it's a hard one to call.
However, unless you have a personal preference as to each brand name, we believe the winner here has to be the GhostBed.
Though the GhostBed has no extra leverage over the Tempur-Pedic, and they both offer an equal amount of comfort and support, we feel the heftier price tag of the Temper-Pedic is an essential factor when it comes to choosing here.
We feel that the GhostBed lives up to the same fine and high standards of the Tempur-Pedic – but doesn't require that almost eye-watering of outlays to achieve such sleeping comfort!
With an aim to catering to sleep perfection, that is the philosophy behind the GhostBed, and the concept of this model being designed by a person who experienced first-hand neck and back pain through poorly constructed mattresses, we feel the GhostBed just pips the post when it comes to a winner here.
Ultimately, both mattresses are well deserving of a five-star quality rating, and both do work hard to deliver some fantastic results; of this, there's no denying. But, if you're looking for a good quality mattress which will stand the test of time and offer relief throughout its life span, we thoroughly believe the GhostBed provides all this and much more at a very reasonable cost indeed.