TalkAboutSleep is reader-supported. We may earn a commission through products purchased using links on this page. Learn more about our process
here
If you're shopping for a high quality mattress, there's a good chance that Helix and Nectar are two names you'll be considering. These brands produce some of the greatest mattresses around, with both the Helix Midnight and the Nectar offering a lot of versatility and universal appeal.
But when it comes to Helix vs Nectar, which brand comes out on top? Both of these mattresses share some similarities and are well-suited for a wide range of sleepers with different sleeping positions and styles, but they do have some key differences that might make one more suitable for you than the other.
Quick Comparison
Nectar and Helix are two of the leading online retailers of mattresses right now, with both of these companies sharing a lot of values and principles. They both prioritize value and quality above all else, aiming to provide customers with universal, versatile mattresses, great levels of customer service, and satisfying experiences for every sleeper.
When looking at the Helix Midnight and Nectar foam mattresses, we can see some similarities, but quite a few differences, too, in terms of firmness, construction, and other key aspects. The Nectar is the cheaper of the two mattresses too, although the difference in price between these brands isn't exceptionally large.
Helix
Nectar

A hybrid mattress
Features a 4-layer design
10 inches tall
Firmness rating of 5.5
A layer of pocketed coils, followed by HD polyfoam, then memory foam and transitional polyfoam on top.
Comes with a 10-year warranty and 100-night trial

A memory foam mattress
Features a 4-layer design
1 inches tall
Firmness rating of 6.5
6 inches of polyfoam, 1 inch of quilted gel memory foam, 1 inch of 4 PCF gel memory foam, and then 3 inches of additional memory foam
Comes with a lifetime warranty and 1-year trial

VIEW ON HELIX SLEEP
VIEW ON AMAZON
Mattress specifications
| | | |
| --- | --- | --- |
| | Helix | Nectar |
| Type | Hybrid | Foam |
| Firmness | Medium (5.5) | Medium firm (6.5) |
| Thickness | 10″ | 11″ |
| Weight | 84 lbs | 74 lbs. |
| Sleep trial | 100 nights | 365 nights |
| Warranty | 10 years | Lifetime |
| Price | $895 (Queen) | $699 (Queen) |
| Certification | CertiPUR-US | CertiPUR-US |
Construction
Helix
Nectar
Support core
Pocketed Coils
HD Polyfoam
6″ HD Polyfoam
Comfort layers
2.5 PCF Memory Foam
Transitional Polyfoam
1″ Quilted Gel Memory Foam
1″ 4 PCF Gel Memory Foam
3″ 3.5 PCF Memory Foam
Cover
Dual-layer Stretch Polyester
Cotton and Tencel® Lyocell
From the tables above, we can immediately notice some big differences between the Helix and Nectar mattresses. For starters, the ways in which these mattresses are put together are very different. The Nectar features a standard foam support core, while the Helix actually makes use of both foam and pocketed coils.
After that, the comfort sections of each mattresses differ greatly too, with the Nectar featuring an all-memory foam build and gel foam layers for cooling and breathability, while the Helix is made up of both memory foam and polyfoam. We can also see some differences in the covers, with the Nectar featuring a cotton and Tencel blend.
Comfort
When considering the overall comfort of a mattress, we have to look at a lot of different individual features and factors. Many things contribute to making a mattress comfortable for a sleeper. For example, the overall firmness level is a key factor as some people favor firmer mattresses, while others prefer those that are softer and more contouring.
Factors like temperature control, motion transfer, resilience, and edge support can also factor into the overall comfort value for any mattress, and everyone will have factors which are more important for them than others. Read on to learn how Helix and Nectar perform in each of these different categories.
Firmness and support
The Nectar mattress is rated as 6.5 on the firmness scale, putting it in the 'Medium Firm' category, while the Helix is significantly softer at 5.5, which makes it a 'Medium' mattress in terms of firmness.
This essentially means that the Nectar is able to offer more solid and stable support to the sleeper, so it's a good option for those who prefer a firmer mattress or struggle with back pain or other issues and need that added layer of support.
Despite its additional firmness, the Nectar feels plush and soft to the touch, contouring around the body nicely with its multiple layers of memory foam. The Helix is also very soft and offers that traditional memory foam feel.
Temperature control
If you live in a warm area or tend to get hot while you sleep and don't want to wake up feeling sticky and sweaty, it's absolutely vital to choose a mattress with strong temperature control capabilities, and both the Helix and Nectar perform well in this domain.
The Nectar is the better option though by far, featuring lots of smart cooling materials and technology, from its Tencel cover through to its multiple gel memory foam layers which work wonderfully to absorb heat and keep the sleeper nice and cool all through the night.
Motion transfer
Motion transfer, or motion isolation, is a big factor for couples to think about as it determines how well the mattress is able to absorb and minimize the effects of people moving around upon it. So if you share the mattress with a partner and don't want them to disturb you, this aspect is very important.
The Helix mattress offers very strong motion isolation due to its layer of encased coils, which work well to absorb and distribute motion and pressure, preventing other sleepers from being disturbed. The Nectar also performs well in this aspect due to its memory foam design, so there isn't a big difference between the two here.
Responsiveness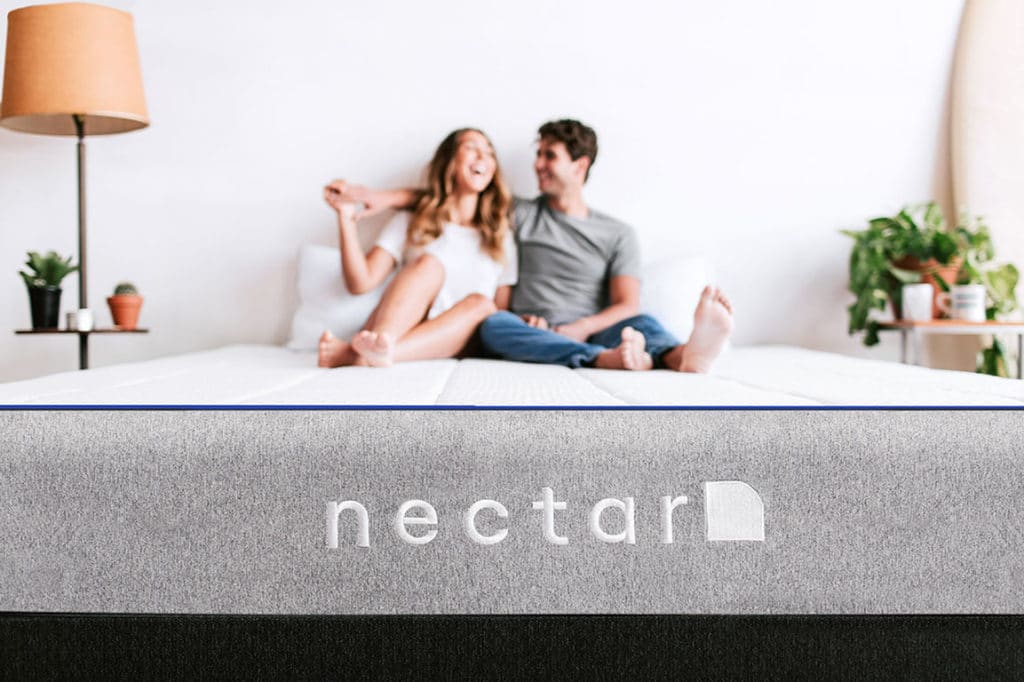 Responsiveness tells us how the mattress responds to any kind of movement or pressure. Some people like mattresses with low responsiveness which let you just sink into them, and this is a typical feature of many memory foam mattresses. Others prefer more responsive mattresses to let them move around more easily.
In this category, the Helix stands out as being more responsive overall. Again, this is thanks to its layer of pocketed coils, which work to provide a little bounce and resistance when compared to the softer foams of the Nectar.
Resilience and bounce
Resilience and bounce are often important factors for couples sharing a mattress, and these factors are directly connected to responsiveness. When a mattress is more responsive, it tends to also be more resilient and bouncy in general.
So, the logic dictates that the Helix is once again the winner here. It's a bouncier and more resilient mattress overall than the Nectar, which is very soft and plush in general. The Helix still isn't as bouncy as something like a latex mattress, but it's a better option overall than the Nectar if bounce is a big factor for you.
Edge support
Edge support might not matter to some, but will be a big factor for others. This aspect of a mattress' comfort level tells us how well the mattress holds up to people sitting or lying on its edges. Many mattresses, especially foam mattresses, tend to be a little weaker in the areas around the corners and edges.
Since the Nectar mattress is firmer overall, it's able to offer a bit more edge support than the Helix. Neither of these mattresses is able to offer exceptionally strong edge support, but the Nectar is the clear winner in this category.
Inflation time, off-gassing and smell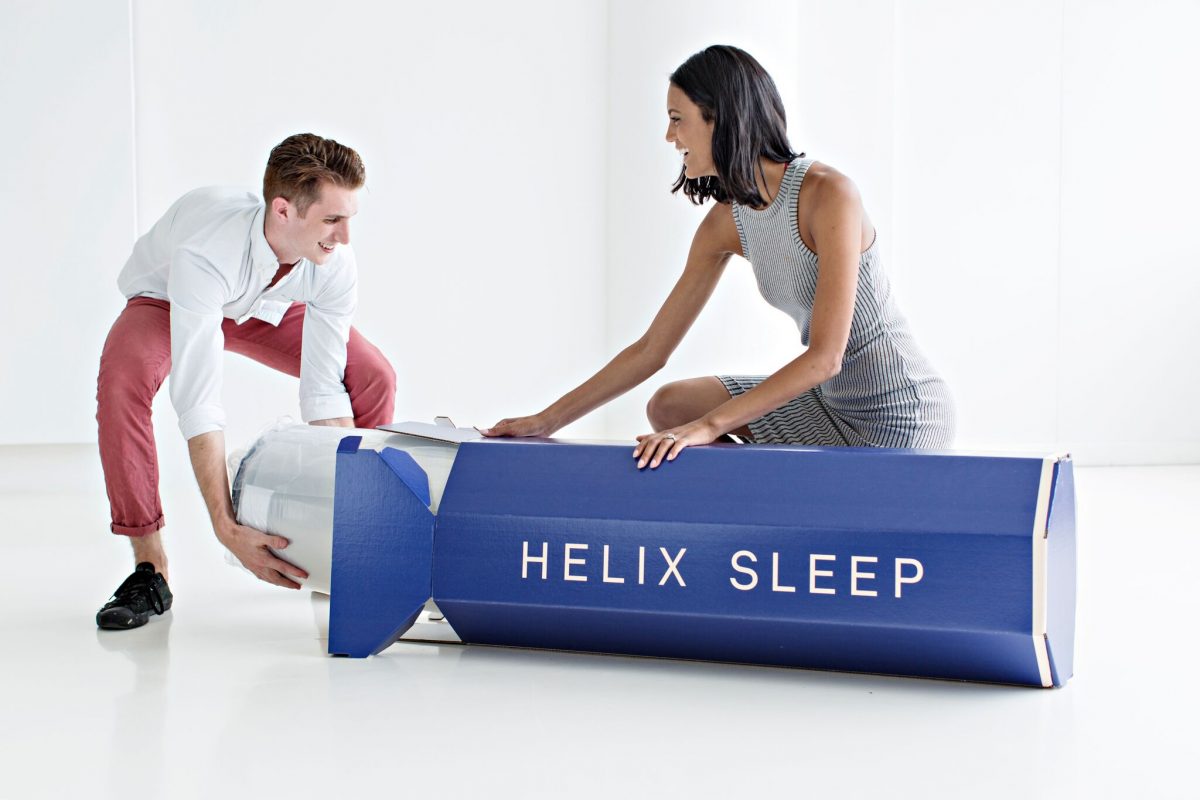 The Nectar needs up to 48 hours to inflate, while the Helix is ready to go after just 24 hours. You can technically sleep on the Nectar after 24 hours too, but it's wise to leave it a little longer to ensure that it fully inflates and you get the most comfort and satisfaction from sleeping on it each night.
In terms of off-gassing and odors, both the Helix and the Nectar might show some faint odors to begin with, but these should fade away within the first few days. In general, user reports seem to indicate that the Helix has less odors overall.
Sleep position ratings
SLEEP POSITION
Light sleepers(less than 130 lbs)
Average sleepers(130 lbs to 230 lbs)
Heavy sleepers(greater than 230 lbs)
Helix
Side
9
10
10
Back
10
9
8
Stomach
9
8
7
Nectar
Side
8
8
9
Back
9
9
10
Stomach
7
9
9
*Out of 10
The table above shows how these two mattresses compare against each other for sleepers of different styles and weights, and the results make for interesting reading. We can see that the Helix is the better option for light sleepers when compared to the Nectar, and it also performs very strongly for side sleepers in general. The Nectar, meanwhile, is the better option for heavy sleepers and works very well for back sleepers, so the mattress you choose might depend on your own body size and what kind of position you tend to sleep in.
Sizes and pricing
| | | |
| --- | --- | --- |
| SIZE | Helix | Nectar |
| Twin | $500 | $500 |
| Twin XL | $600 | $550 |
| Full | $750 | $700 |
| Queen | $895 | $800 |
| King | $1145 | $800 |
| California King | $1145 | $900 |
Customer service
Sleep trial
Warranty and refund
Delivery
Helix
100 days
10-year warranty
full refund
Within the U.S. and most of Canada
Nectar
365 days
Lifetime warranty
full refund
Within the U.S.
Sleep trial
Many mattress manufacturers will let customers test out their products for a set amount of time. During this 'sleep trial' period, you can try out the mattress and see whether or not it's right for you, able to return it for a full refund if you're not totally satisfied before the trial ends.
Helix offers the industry standard sleep trial of 100 nights, which is a decent amount of time overall, but Nectar goes much further, offering one of the very best sleep trials in the industry: a full year.
Warranty and refund
When investing in a quality mattress, it's vital to know that your purchase is protected and that the manufacturer will help out if ever your mattress encounters some kind of fault or flaw that needs to be fixed.
Again, we can see Helix following the industry standards here by offering a 10-year warranty, which is perfectly satisfactory. Once again, however, Nectar goes above and beyond the call of duty by offering an unbeatable lifetime guarantee, giving you total protection for your purchase and proving how confident the manufacturers are in their product.
Delivery
The Nectar mattress wins the battles for warranties and sleep trials, but Helix comes out on top when these two mattress manufacturers are compared in terms of their delivery options. Right now, Nectar mattresses are only available for delivery around the United States, whereas the Helix mattress is also available in Canada.
So which should you buy?
Helix
VIEW ON HELIX SLEEP
Pros
Memory foam feel
Strong motion isolation
More responsive
Bouncier overall
Better for couples
More versatile
Great for side sleepers
Cons
More expensive
Weaker warranty and trial options
Nectar
VIEW ON AMAZON
Pros
More affordable
Lifetime warranty
Very long sleep trial
Offers more support for those who need it
Very good temperature control
Excellent for back sleepers
Cons
Lacks responsiveness
Not quite as versatile
In conclusion
So which mattress should you choose? Which is the best option out of Helix and Nectar? Well, as we can see from the many pros and few cons of each of these mattresses, there's no clear winner. Both the Helix and the Nectar mattresses have their own positive features and aspects, and the right mattress for you will depend on which of those features and aspects you tend to value the most.
If we're judging in terms of pure versatility and comfort, the Helix is probably just about the winner. It's slightly more versatile, being better suited for a wider range of sleepers than the Nectar, while also offering that memory foam feel that many people enjoy and providing a lot more bounce and responsiveness for couples too. It also shows excellent signs of motion isolation, so it really does excel in a lot of categories.
The Nectar, however, has a long list of advantages of its own. For starters, it's slightly firmer, so it will appeal to those who need a stronger and more supportive mattress for body support and spinal alignment. It's also better at temperature control and works wonders for back sleepers. Not only that, but it's also much more affordable and comes with that all-important, year-long sleep trial, as well as the incredible lifetime warranty.
Overall, it's clear to see that both the Nectar and the Helix are excellent mattresses, and most customers will be perfectly satisfied with either one. When trying to choose between Nectar vs Helix, it's important to think about what you really want from a mattress. If you favor a cool night's sleep, the Nectar is the answer. If you prefer bounce and responsiveness, the Helix is better. If you're prepared to spend big, the added quality of the Helix might be right for you, but if you're on a budget, the Nectar offers a whole lot of value.