TalkAboutSleep is reader-supported. We may earn a commission through products purchased using links on this page. Learn more about our process
here
Both Lull and Tuft & Needle produce high-quality foam mattresses that can be shipped directly to your home. On the outside, these mattresses have a lot in common – they are both medium-firm mattresses that are certified by CertiPUR-US. But when it comes to comparing Lull vs. Tuft & Needle mattresses, there are a number of important differences on the inside. The Lull mattress has a layer of gel foam to keep you cool, while the polyfoam comfort layer in the Tuft & Needle mattress offers the best vibration isolation.
To help you decide between the Lull and Tuft & Needle mattresses, we'll take a closer look at how they stack up.
Quick Comparison
Leesa and Helix got started around the same time. Leesa came into existence in 2014, while Helix started up in 2015. Leesa has made a name for itself through its dedication to social and environmental causes, as well as its commitment to offering high quality mattresses. Helix, meanwhile, specializes in hybrid mattresses, making use of memory foam and other materials to create quite a wide range of versatile and comfortable mattress models to suit all sleepers. The Leesa and Helix Midnight mattresses have some things in common, as well as a few big differences. The Leesa is the more expensive model, as well as being slightly firmer.
Leesa
Helix

6.5 firmness rating
11 inches thick
More expensive
Features a five-layer design
6 inches of coils and 1 inch of polyfoam for support, followed by a triple layer of polyfoam and memory foam
A polyester blend cover
Comes with a 10-year warranty and 100-night trial

5.5 firmness rating
10 inches thick
More affordable
Features a four-layer design
A base layer of coils and polyfoam for support, followed by a mixture of memory foam and transitional polyfoam for comfort
A dual-layer polyester cover
Comes with a 10-year warranty and 100-night trial

VIEW ON AMAZON
VIEW ON HELIX SLEEP
Mattress specifications
| | | |
| --- | --- | --- |
| | Leesa | Helix |
| Type | Hybrid | Hybrid |
| Firmness | Medium firm (6.5) | Medium (5.5) |
| Thickness | 11″ | 10″ |
| Weight | 115 lbs | 84 lbs |
| Sleep trial | 100 nights | 100 nights |
| Warranty | 10 years | 10 years |
| Price | $1,370 (Queen) | $895 (Queen) |
| Certification | CertiPUR-US | CertiPUR-US |
Construction
Leesa
Helix
Support core
6″ 14.5-gauge Pocketed Coils
1″ 1.8 PCF HD Polyfoam
Pocketed CoilsHD Polyfoam
Comfort layers
1 1/2″ 3 PCF Polyfoam
1 1/2″ 4 PCF Memory Foam
1″ 2 PCF Transitional Polyfoam
2.5 PCF Memory Foam
Transitional Polyfoam
Cover
Polyester Blend
Dual-layer Stretch Polyester
The Leesa vs Helix comparison table above shows us how the construction of these mattresses differs. The support core for both mattresses is actually quite similar, with a mixture of pocketed coils and polyfoam being used for the foundation of both the Leesa and the Helix Midnight models. Both mattresses then feature a mixture of polyfoam and memory foam for comfort, but the Helix has a dual-layer design, whereas the Leesa features three separate layers of foam. The Helix also features a more advanced cover.
Comfort
When shopping for any kind of mattress, comfort is the thing you're looking for most of all. Other factors, like price and durability, will come into consideration, but the most important aspect of any mattress for the user has to be how comfortable it really is. When looking at the comfort rating of any mattress, we can't just look at how soft or firm it is, we have to look deeper.
A mattress' comfort rating can be broken down into lots of smaller aspects like how hot or cool it sleeps, how well it handles motion from a secondary sleeper, how fast or slow it is to respond to pressure and movement, how bouncy it is, how strong the support is around the edge, and whether or not it shows any signs of off-gassing or odor. See how the Leesa vs Helix comparison pans out for these different aspects below.
Firmness and support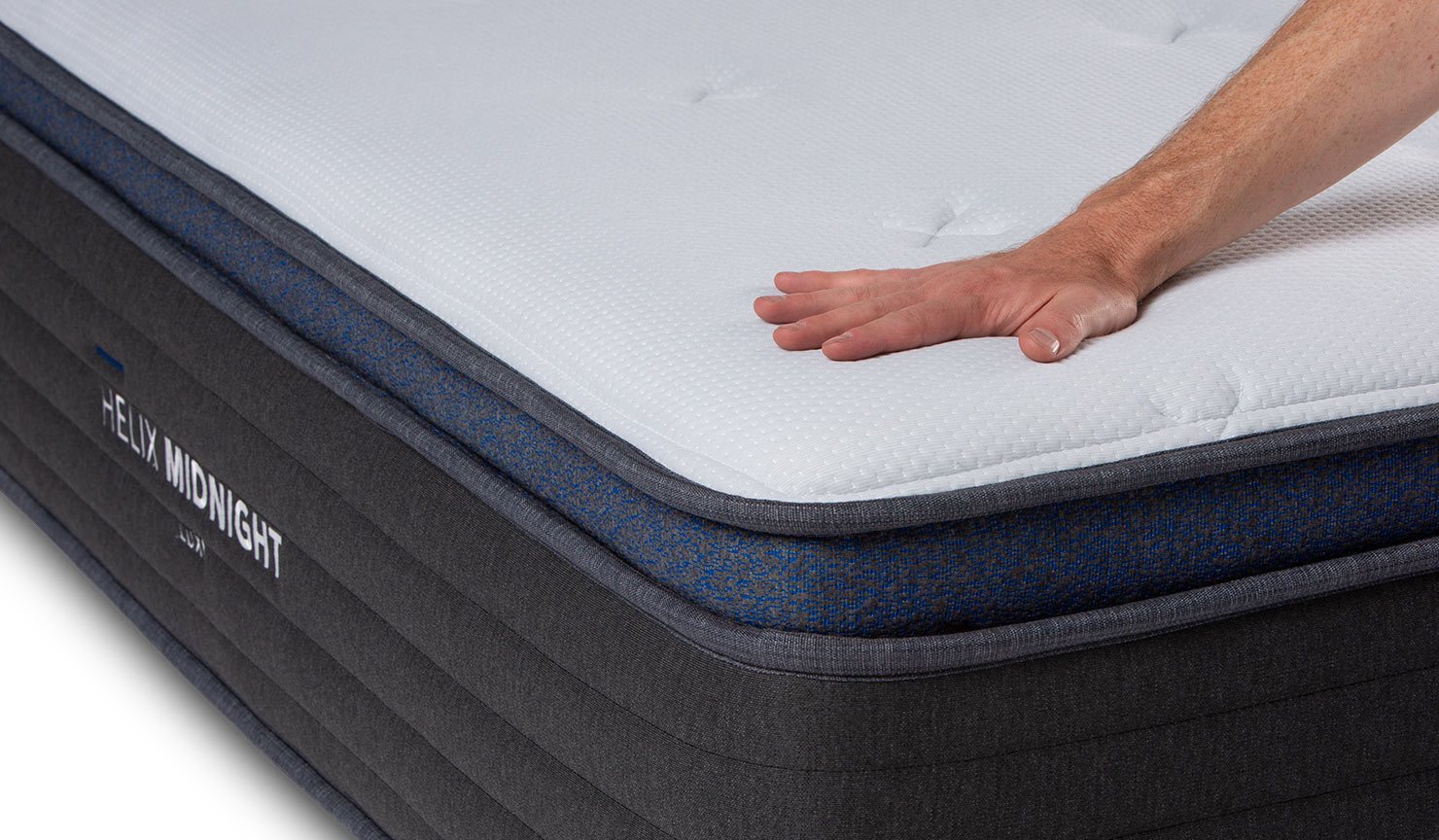 As our Leesa and Helix comparison table above shows, the Leesa mattress has a firmness rating of 6.5, which is Medium Firm, while the Helix Midnight has a rating of 5.5, which is Medium. The difference in firmness between these two mattresses isn't too big, but it's still noticeable.
The softer nature of the Helix Midnight mattress gives it more of a classic memory foam feel, with close conforming and contouring. Meanwhile, the Leesa offers a little more support, making it a stronger option for people who struggle with back pains or other bodily aches or tensions that may benefit from a little extra firmness and support.
Temperature control
Temperature control is a major issue for many people when choosing a mattress, and you need to be very careful when buying a memory foam mattress as some of them can sleep very hot, making them quite uncomfortable in the summer or in places with warm climates in general. Fortunately, both the Leesa and the Helix offer good temperature control, with some differences.
Of the two, the Helix Midnight is the stronger option. It features a smart design with a highly breathable coil layer and the dual-layer cover, which provides impressive wicking and breathability. The Leesa is still strong in this aspect, but some users have reported that it sleeps a little hot.
Motion transfer
Motion transfer, or motion isolation, is another important factor to think about when buying a foam mattress, particularly if you're going to be sleeping on it with a partner. If your partner rolls around or gets up at different times to you, their motion could disturb you while you sleep. A mattress with a strong motion transfer rating, however, will be able to absorb motion and help you sleep more soundly.
Fortunately, both the Leesa and the Helix are excellent at absorbing motion and minimizing the effects of movement on other parts of the mattress. Hybrids can sometimes struggle with motion transfer, but the Helix Midnight is one of the better options. Meanwhile, the dense construction of the Leesa helps it to absorb motion even more strongly.
Responsiveness
The responsiveness of a mattress tells us how fast or slow it is to respond to pressure and movement. It effectively determines whether you'll sink into the mattress or feel a bit of resistance as you lie on it and move around.
In the case of Helix vs. Leesa, the Leesa mattress is less responsive than the Helix. Users have been quite pleasantly surprised by how fast-to-respond the Helix Midnight has proven to be, while owners of the Leesa have criticized it for its rather weak responsiveness rating.
Resilience and bounce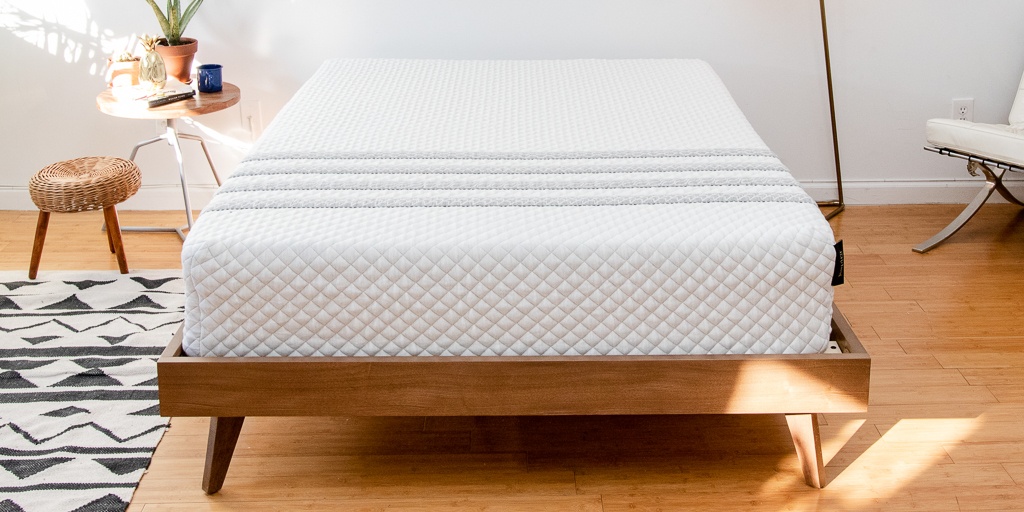 Resilience and bounce are strongly linked to responsiveness, and you can see how bouncy or resilient a bed is by dropping a ball onto it and seeing how high or strongly the ball bounces. As previously stated, the Helix Midnight is the more responsive mattress of the two, and this means that it's bouncier overall.
Couples tend to appreciate a bouncier mattress, so this may be an important factor for you if you're going to be sharing the mattress with a loved one. The hybrid nature of the Helix makes it bouncier overall, while the Leesa is quite slow to respond in general, like many other foam mattresses.
Edge support
If you're the sort of person who sometimes sits on the side of the bed to get dressed in the morning or evening, or perhaps sleeps near the edge of the bed when sharing it with a partner, edge support will be a very important issue for you to think about.
Most memory foam mattresses struggle to provide much edge support. The Leesa does better than some of its rivals, but is still quite weak in this aspect and it's easy to sink into it when sitting on the side. The Helix Midnight, however, provides excellent edge support thanks to its dense foam layers and strong coils.
Inflation time, off-gassing and smell
When you buy a new Leesa or Helix Midnight mattress, you'll need to leave it about 24 hours after unboxing in order for the mattress to fully inflate and settle, ready to be slept on. This is more or less the standard for the industry, and most new mattresses require a day before being ready for use.
In terms of off-gassing and odor, users have reported minimal issues with both the Helix Midnight and the Leesa. The Leesa actually performs a little more strongly in this aspect, with many users detecting no odor or off-gassing. Some odors have been remarked with the Helix, but they fade within a few days in most cases.
Sleep position ratings
SLEEP POSITION
Light sleepers (less than 130 lbs)
Average sleepers (130 lbs to 230 lbs)
Heavy sleepers (greater than 230 lbs)
Leesa
Side
7
9
9
Back
9
10
10
Stomach
8
9
9
Helix
Side
9
10
10
Back
10
9
8
Stomach
9
8
7
*Out of 10
The comparison table above gives us an idea of how well each mattress performs for both different styles of sleeper and different body types. Those who are quite light sleepers will find the Helix to be more comfortable, while heavier sleepers will generally favor the Leesa, which is slightly more versatile overall. The Helix performs very well for side sleepers, but the Leesa is excellent for back sleepers and its additional firmness makes it a good option for combo sleepers too.
Sizes and pricing
| | | |
| --- | --- | --- |
| SIZE | Leesa | Helix |
| Twin | $1,036 | $500 |
| Twin XL | $1,147 | $600 |
| Full | $1,395 | $750 |
| Queen | $1,370 | $895 |
| King | $1,570 | $1,145 |
| California King | $1,895 | $1,145 |
Customer service
Sleep trial
Warranty and refund
Delivery
Leesa
100 days
10-year warranty
full refund
Anywhere within the U.S. and Canada
Helix
100 days
10-year warranty
full refund
Within the U.S. and most of Canada
Sleep trial
The industry standard for sleep trials right now is 100-nights, and this is what you'll get with both the Leesa and the Helix Midnight mattress. If you buy one of these mattresses, you'll get 100 nights to test it out and see how well you sleep before deciding whether or not you'd like to stick with it or return it and try a different model.
Warranty and refund
Just like the industry standard of a 100-night sleep trial, most mattress-makers also offer 10-year warranties as standard with all new mattresses, and we can see that both Leesa and Helix adhere to this unwritten rule. Any purchase of either one of these mattresses will come with a full 10-year warranty with the promise of a full refund if you encounter any issues with your mattress during this period of time.
Delivery
When looking at the delivery options, we can see one minor difference between the Leesa and the Helix Midnight. United States-based shoppers won't be affected by this issue, as both mattresses are available for delivery all over the US. However, if you live in Canada, you may find that the Helix Midnight might not be available in your area. The Leesa mattress, however, is available for delivery all over Canada.
So which should you buy?
Leesa
VIEW ON AMAZON
Pros
Firmer and better support for those with back pain or issues
Excellent motion transfer
More versatile
Excellent for back sleepers
Made by an eco-friendly company
Minimal off-gassing and odors
Cons
Significantly more expensive
Not very responsive
Helix
VIEW ON HELIX SLEEP
Pros
More of a classic memory foam feel
Much more affordable
Better temperature control
Bouncier and more responsive
Better for couples
Strong edge support
Cons
May be too soft for some
Heavy sleepers may struggle
In conclusion
The Lull and Tuft & Needle mattresses are highly similar foam mattresses, but they have a few key differences that set them apart. The Lull mattress is slightly firmer and has a layer of gel-infused memory foam that allows the mattress to conform to your body while keeping you cool. The Tuft & Needle mattress is softer and doesn't have the same memory foam feeling. Overall, many back sleepers preferred the Lull mattress, while many side and stomach sleepers preferred the Tuft & Needle mattress. The price difference between the Lull vs. Tuft & Needle mattresses is also noteworthy, since the Tuft & Needle mattress is much more friendly to sleepers on a budget.