TalkAboutSleep is reader-supported. We may earn a commission through products purchased using links on this page. Learn more about our process
here
You'll be hard-pressed to see any mattress-related argument these days that isn't about Leesa vs Purple. Manufacturing high-quality mattresses on a consistent basis, both companies are two of the leading mattress brands on the market nowadays. Thus, it's not surprising that they are often compared. While Leesa is an all-foam bed engineered to provide a balanced feel, Purple is a mattress with an inventive open-grid built that is both pressure-relieving and bouncy.
Despite their many differences, however, both mattresses are excellent, and each brand has a large base of happy customers who are satisfied with their high level of performance. While choosing one can be hard as a result of this, in this article, we will be covering the firmness levels, constructions, sleep experiences, and prices associated with both mattresses to help potential buyers choose the one that has the highest tendency to bring them many years of peaceful and restful nights.
Quick Comparison
While any of them would make for a great purchase, both Leesa and Purple are two mattresses with many differences as well as similarities. Each of them comes with three layers, a ten-year limited warranty, and a 100-day risk-free trial period. Moreover, they share medium-firm feel and foam construction, which allows them to provide you with enough support without feeling too firm and uncomfortable.
However, there are many disparities that clearly separate both mattresses. While the Leesa bed measures about ten inches in total thickness, the Purple mattress is a bit less thick at 9.5 inches. Both mattresses are described as medium-firm, but the Purple mattress is a bit heavier than the Leesa model, which is probably why it's more suitable for heavier individuals.
Leesa
Purple

Two-inch cooling "Avena" foam layer
Suitable for back sleepers, front sleepers, and side sleepers, thanks to its adaptive feel technology
CertiPUR-US¨ certified
Six standard sizes available
Hypoallergenic
Designed and made in the United States
Easy to set up
Ten-year limited warranty
100 nights free trial with a refund

Traditional gel-like feel
Marketed as offering perfect spinal alignment for both back and side sleepers
CertiPUR-US¨ certified
Five standard sizes available
Delivered vacuum sealed and rolled
Three-layer design
Utilizes Hyper-Elastic Polymer™
Made in the United States
Ten-year limited warranty
100 night free trial with a refund

VIEW ON AMAZON
VIEW ON AMAZON
Mattress specifications
Leesa
Purple
Type
Foam
Foam
Firmness
Medium firm (5)
Medium firm (6.5)
Thickness
10″
9.5″
Weight (Queen)
71 lbs
110 lbs
Sleep trial
100 nights
100 nights
Warranty
10 years
10 years
Price (Queen)
$890
$999
Certification
CertiPUR-USSustainable Furnishing Council Member
Mattress Recycling Council Member
CertiPUR-US

FDA
Construction
| | | |
| --- | --- | --- |
| | Leesa | Purple |
| Support core | 7″ PU foam | 4″ PU foam |
| Comfort layers | 1.5″ foam blend1.5″ gel-infused memory foam | 2″ Hyper-Elastic Polymer™ material in Smart Comfort Grid™ polyethylene copolymer powder coating; 3.5″ 1.8 lbs density PU foam |
| Cover | Polyester and Lycra® spandex blend | 29% Viscose, 67% Polyester, 4% Lycra (all +/- 5%) |
Leesa
The Leesa mattress measures 10 inches in height and features a quilted polyester lycra cover, which also gives it a nice and comfy feel. Like the Purple mattress, it's also made up of three layers, with the top layer featuring two inches of Leesa's patented and proprietary Premium Foam. Usually referred to as "latex-like", Premium Foam has more bounce when compared to traditional memory foam. It still, however, has obvious contouring properties and its ability to relieve pressure points is nothing short of extraordinary. The top layer has a density and ILD of 3.5 PCF and 20, respectively.
The mattress's second layer is made of two inches of memory foam and has a density and ILD of 3 PCF and 9, respectively. Since it includes a highly-responsive memory foam, it provides more pressure point relief. At the bottom of the mattress, there is a six-inch polyfoam that has 1.8 PCF when it comes to density.
Purple
Measuring 9.5 inches in height and featuring a knit fabric cover, the Purple mattress is remarkable when it comes to constructions. It features three layers in total, with the top one being two inches of the brand's Smart Comfort Grid. For the top layer, the manufacturer used a Hyper-Elastic Polymer, which is a patented and proprietary material.
As implied by its name, it's a grid, which means it's made up of numerous small squares. The squares in the material get compressed when you apply weight to it. The more weight you apply, the more compressed the squares become. As soon as you remove the weight, the squares quickly return to their original shape, thereby giving the Smart Control Grid an elevated level of both resilience and responsiveness.
The mattress's second layer is made of 3.5 inches of polyfoam with a 1.8 PCF density that provides more stability to the Smart Comfort Grid. The layer at the bottom is made up of four inches of polyfoam, and it has a density of 2 PCF.
Comfort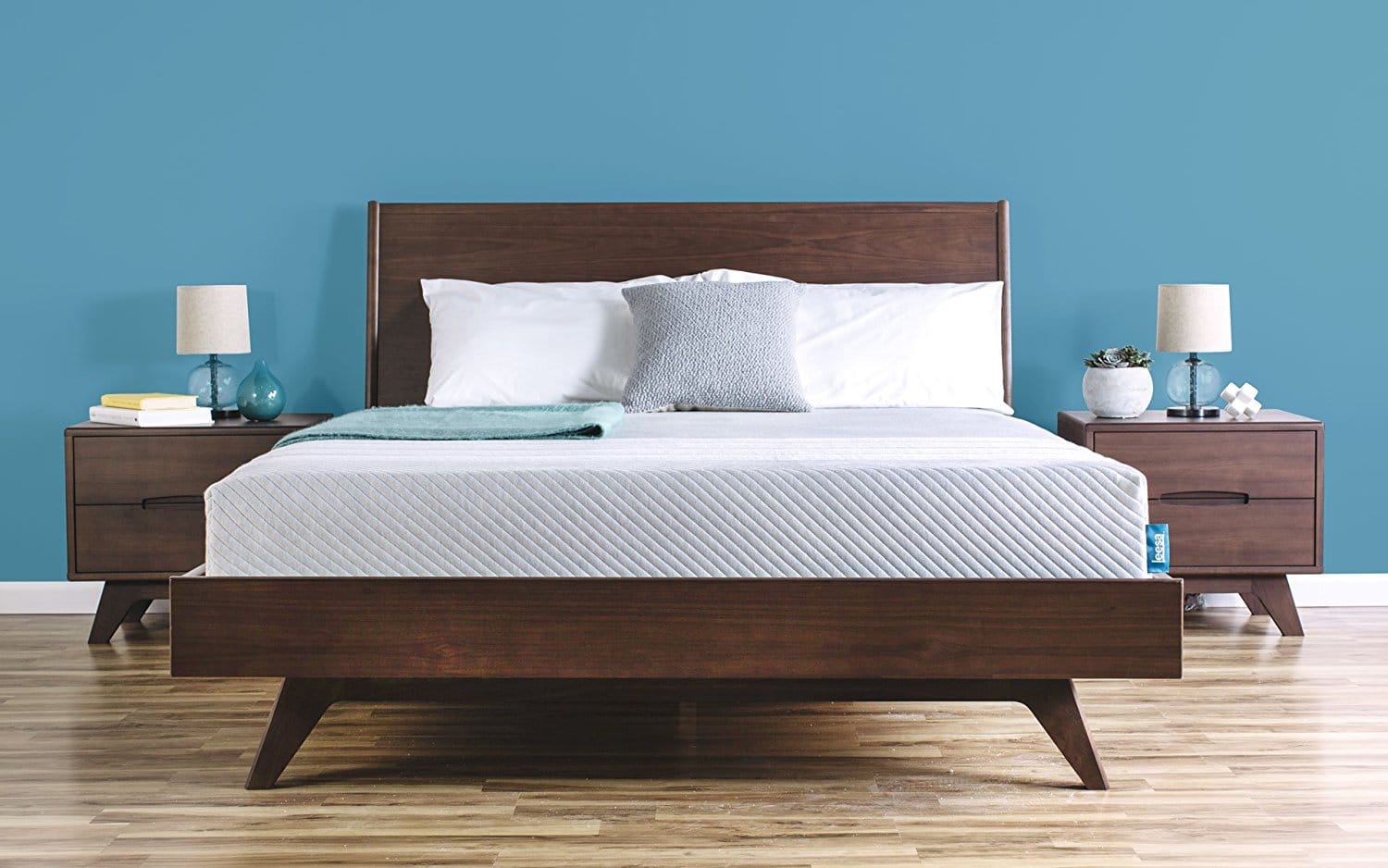 Comfort is probably the primary reason why everyone buys a mattress, which makes it a super important element. How do both mattresses compare in terms of comfort? Let's take a look at it below.
Firmness and support
Apart from being sufficiently strong to support the whole body, the Leesa mattress also prevents the sinking effect that usually comes with memory foam mattresses. Some mattresses are only firm in some regions and often lose support around the footboard and the edges. However, the Leesa mattress provides enough firmness across the entire mattress. Even when you sit on the edge of the bed to dress, you wouldn't feel as if you're being swallowed.
However, while most companies offer the same mattress in different firmness levels, unfortunately, this mattress from Leesa comes in only medium-firm. Although this could discourage some individuals from opting for this model, its firmness level is perfect for every kind of sleepers from back to side to stomach sleepers.
The Leesa mattress also has a very soft feel, much softer than what most people expect as soon as they learn about the support foam incorporated. Since it features a soft material throughout the entire mattress, the bed has a silky finish which enables you to have many years of restful nights.
Additionally, the pre-attached polyester Lycra mattress cover is produced with a very soft material, which with its quilted design adds a conventional touch.
Whether you're a side sleeper, a stomach sleeper, or even a back sleeper, the Purple mattress's medium firmness level is perfect for everybody. It also comes with hand-made layers that allow for appropriate spine alignment and lessen the probability of sleep-related pains and aches. The Purple mattress can also benefit individuals who already suffer from sleep injuries or conditions because the firmness level offers adequate support to the body in all the required regions.
Thanks to its mix of hyper-elastic polymer materials and foam, the Purple mattress has a latex-like feel to the touch. Nonetheless, this bed has a more supportive, softer feel than a pure latex mattress, which allows for a peaceful night with sufficient support. The design of the mattress cover also ensures it has a lax cushiony feel with a beautiful diamond design to charm the eyes.
Temperature control
The Leesa and the Purple mattress are excellent when it comes to regulating temperature, and the Purple does exceptionally well in this regard. With some other foam materials, there is a tendency for the foam to retain heat or for the body to be hugged too tightly by the foam, causing someone to sweat during the night.
Both mattresses are excellent in terms of temperature regulation, and the Purple model performs particularly brilliant in this regard. Some other foam materials often tend to retain body heat, which usually causes the sleepers to sweat profusely all through the night. Thankfully, both the Leesa and the Purple mattress don't have this problem.
The Leesa mattress doesn't have too much sink and comes with a lot of bounce, thereby preventing being swallowed in a way that impedes the circulation of air. While the Purple mattress has these attributes, additionally, it has a lot of open spaces in its top layer, which prevents any kind of heat retention.
Motion transfer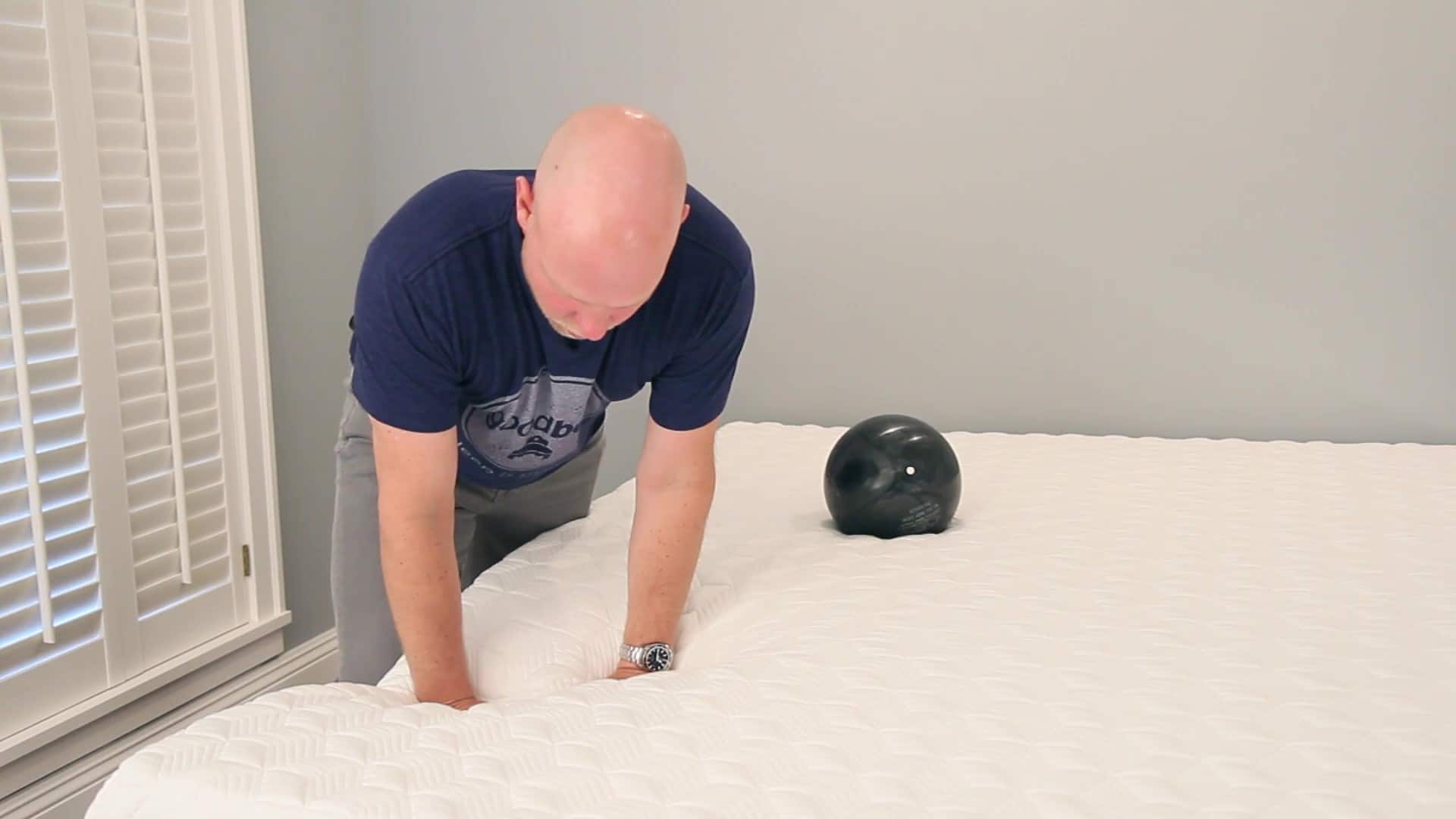 Memory foam was engineered by NASA specifically for shock absorption in the seat cushions in aircraft upon re-entry into the air. Therefore, it is not surprising that foam materials excel considerably when it comes to motion transfer. With the least amount of disturbance, the dense structure of memory foam quickly absorbs motion and dissipates it. The Leesa mattress, when you put it on a durable foam, gets rid of nearly all motion transfer. It features three foam layers to aid comfort with the least motion disturbance all through the night, regardless of your partner's movement in and out of the bed.
Purple mattress also does incredibly well when it comes to motion isolation. The combination of hyper-elastic polymer and premium-quality shock absorbent foams offer greater motion transfer isolation. Besides, the Smart Comfort Grid design means the individual cells will work freely without being affected by one another's bending, stretching, and isolating motion as required under your body's weight pressure. This gets rid of almost all motion transfer throughout the bed.
When it comes to motion transfer isolation, there is no clear winner. Both mattresses provider superior performance in this regard.
Responsiveness
In order for any mattress to offer sufficient support, it must have the ability to deliver a different degree of cushioning to various parts of your body. The ankles, for instance, don't require the same amount of cushioning as the hips. A responsive mattress often compresses in relative to the needs of your body, which keeps your body aligned and ensures that your spine is not twisted in a painful way.
These two mattresses are highly responsive, and it's a major advantage. The hyper-elastic polymer featured by the Purple mattress has a grid design, which allows it to provide this type of relative support. Also, the Leesa mattress's mix of memory foam and Premium Foam allows its sleeping surface to compress to curve to the needs of the body.
The most significant difference when it comes to support is for individuals who weight more than 230 pounds or people with extremely sharp pressure points. Since the Purple mattress has a comfort layer that measures only two inches, it may not offer enough thickness to provide sufficient cushioning in instances like these. The pressure might instead cause the top layer to bottom out immediately, thereby putting a strain on the underneath layer that is less responsive.
On the other hand, the Leesa mattress has a comfort layer that has a combined thickness of three inches. It gives the bed a superior ability to put up with heavier individuals or people with sharp pressure points.
Resilience and bounce
A mattress usually has a bouncy feel if its material quickly springs back to its original shape after movement or when your weight is removed from it. This bounce is capable of aiding movement when engaging in sexual activities or changing sleeping positions.
The material designs in both Leesa and Purple mattresses provide each one with a high degree of resilience. Customers never report problems related to movement on both mattresses, and since the models offer enough bounce, you won't get the feeling of being stuck.
Edge support
Edge support is an issue for a lot of foam mattresses, and the Leesa and Purple models, unfortunately, are not exempted. The design features no material to bolster the edges, and consequently, the material at the edge of the mattress will compress significantly when you lie or sit there. This effect will even be more evident for individuals who weight more than 180 pounds. If you prioritize edge support, you may have to look away from these two mattresses.
Inflation time, off-gassing and smell
Both of these mattresses often release some terrible smell when they're first removed from their packaging. Of course, it is not in any way harmful, but it can be very inconvenient and annoying. However, the smell and off-gassing often go away within a couple of hours if your room is well ventilated. Regardless of the ventilation of your room though, the smell won't last more than 24 hours.
Sleep position ratings
SLEEP POSITION
Light sleepers(less than 130 lbs)
Average sleepers(130 lbs to 230 lbs)
Heavy sleepers(greater than 230 lbs)
Leesa
Side
8
8
6
Back
8
10
7
Stomach
7
9
6
Purple
Side
8
9
7
Back
9
9
8
Stomach
6
7
6
*out of 10
The table above is based on Leesa vs. Purple reviews from expert reviewers and verified buyers with different sleeping positions and weight.
Both Leesa and Purple are widely considered great choices for side sleepers. Medium firmness of these models is perfect for this sleep position since it gives your hips and shoulders enough sinkage allows for the proper spinal alignment as well. But while light and average sleepers think Leesa is "good" for side sleeping, heavy sleepers think it only delivers a fair or average performance. Purple mattress, on the other hand, was rated good, very good, and good by light sleepers, average sleepers, and heavy sleepers respectively.
For back sleeping position though, customers consider both mattresses great choices. While light and heavy sleepers think the Leesa mattress is only "good" for this sleeping position, average sleepers believe it's "very good". That's not surprising since both mattresses boast of medium-firm feel which is considered a good choice for back sleepers. It gives you enough support while still feeling comfy.
Lastly, light and average sleepers who sleep on their stomachs think the Leesa mattress is "good" and "very good" respectively. However, the mattress is only considered to be "fair" by people who weigh more than 230 pounds. Purple mattress received even worse ratings, as only the average sleepers rated it good. Both light and heavy sleepers only rated it as "fair". While heavy sleepers sink too much into the mattresses, light sleepers consider them too firm when they sleep on their stomachs.
Sizes and pricing
| | | |
| --- | --- | --- |
| SIZE | Leesa | Purple |
| Twin | $425 | – |
| Twin XL | $590 | $699 |
| Full | $750 | $899 |
| Queen | $890 | $999 |
| King | $1,090 | $1,299 |
| California King | $1,070 | $1,299 |
Customer service
Sleep trial
Warranty and refund
Delivery
Trade-in
Leesa
100 days
10-year warranty

full refund

Within the U.S. and Canada
N/A
Purple
100 days
10-year warranty

full refund

Within the U.S. and Canada
N/A
We can't really separate the two mattresses when it comes to the customer service. With each bed offering 100 days for sleep trial, ten years for warranty, full refund, and both mattresses delivering in the United States and Canada, you will agree with us that both companies are really on par in this regard. Of course, their sleep trial and warranty terms are quite remarkable.
When mattresses are talked about, the sleep trial means the number of days for which every buyer is allowed to test if the mattress is really what they need. If at the end of the sleep trial you're unsatisfied, you can easily return the bed. It's a risk-free procedure which allows a customer to return the mattress and get a full refund in the event that they change their mind in the trial period. It's a clear display of confidence by both Leesa and Purple to have backed their products by a sleep trial period of 100 days each.
Both Leesa and Purple mattresses are often shipped compressed in a box or tube, to ensure the overall size is compact for easy packaging and transport. While you may perceive a slight off-gas or smell when you remove the mattresses from their packages, the smell will surely go away within 24 hours. We advise you to wait for about two days for the mattress to fully expand.
So which should you buy?
Leesa
VIEW ON AMAZON [wpsm_pros]
100-day free trial and 10 year warranty
Limited motion transfer which is great for couples
Offers sufficient support
The mattress is perfect for any sleeping position
Will sleep cool
Breathable and elegant cover
Exceptional comfort
Premium certified materials
Packaged in a fairly small box
Durable construction
[/wpsm_pros][wpsm_cons]
Not ideal for heavy and too firm for side sleepers
Has only one model and firmness
Has a poor edge support
[/wpsm_cons]
Purple
VIEW ON AMAZON [wpsm_pros]
Hyper-Elastic Polymer technology
Smart Grid design
Medium firm feel
Moderately priced
100-night risk-free trial
Sleeps cooler than most memory foam mattresses on the market
Effective at relieving back pain and minimizing pressure points
Bouncier than a traditional memory foam
Maintains minimal motion transfer​​​​​
[/wpsm_pros][wpsm_cons]
Poor edge support
High price point
[/wpsm_cons]
In conclusion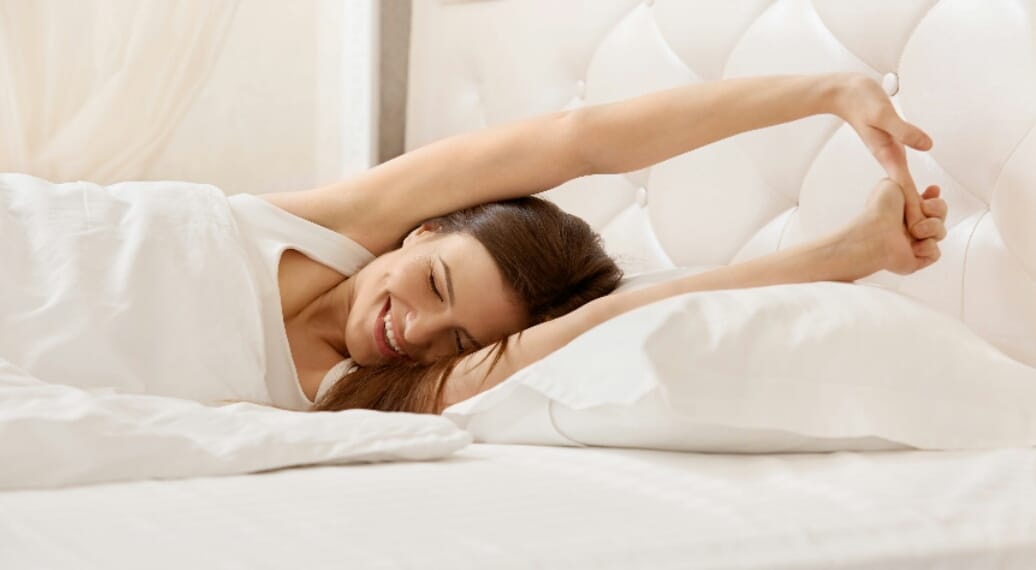 Let's face it, since sleeping is one of the most essential things in life, buying a convenient bed is among the biggest purchases you will make in your life. It usually comes with a feeling of excitement, worry, and joy. While you're excited and joyous since you're finally buying a new mattress which could give you several years of peaceful nights, you are worried because there are chances of you choosing the wrong mattress.
In the Leesa and Purple mattresses, however, you have two options that are not likely to give you any regret. Both models are produced using premium-quality materials to make sure you have optimum support while enjoying a soft, comfortable, and cool sleeping surface. Both beds also come with free shipping and returns, a warranty that will cover you for ten years at least. You also get a 100-day risk-free trial period to test the bed and make sure it fits your requirements.
The Leesa mattress is excellent when it comes to sleep position accommodation, contouring, superior support, motion transfer isolation, and durability. The bed isn't really strong in terms of bounce or edge support. If you're looking for a sinking in feeling that adapts to the shape of your body or a mattress with a general softer feel, then we recommend you to opt for the Leesa mattress over the one from Purple.
The Purple mattress edges the Leesa model in terms of bounce, durability, motion transfer isolation, innovative construction, accommodating heavier individuals, temperature regulation, and pressure point relief. While it's not really good when it comes to edge support and doesn't provide a sinking in feeling, it still offers superb performance.
We hope that this Leesa vs Purple comparison will aid your decision and help you choose the right mattress for your needs. Regardless of the one you eventually get, we're confident that you'll enjoy it.