TalkAboutSleep is reader-supported. We may earn a commission through products purchased using links on this page. Learn more about our process
here
If you're in the market for a better night's sleep, it's worth taking a look at the Lucid and Tempur-Pedic mattresses. These two beds are both hybrid foam and innerspring mattresses, and they each promise to help you sleep soundly no matter your sleeper type. But, the price points of these two mattresses couldn't be more different. In this guide, we'll compare the Lucid vs. Tempur-Pedic beds head to head to help you decide which one is best for your sleeping needs and budget.
Quick Comparison
To start out our comparison, let's take a quick look at what the Lucid and Tempur-Pedic beds offer.
The Lucid mattress is a 12-inch memory foam hybrid mattress rated as medium-soft. It's designed to allow you to sink a fair amount into the bed, but then to also supply the support you need to keep your spine aligned to sleep comfortably. The memory foam layer is relatively thick, at 3.5 inches, so you really will slowly sink into the bed after you initially lay down. Thankfully, the hybrid construction and charcoal-infused memory foam material help prevent you from overheating during the night.
The Tempur-Pedic mattress is one of the more established memory foam hybrid beds on the market. It's rated as medium on the firmness scale, which is appropriate since it's designed to cater to just about every type of sleeper. The memory foam itself is pretty plush, though, so it feels more like you're enveloped into the bed when you lay down rather than sleeping on top of it. Although Tempur-Pedic uses a dual cover system to enhance air flow, overheating is a common complaint for this mattress.
One of the biggest differences between the Lucid and Tempur-Pedic mattresses is in not their constructions, but their prices. The Lucid mattress is extremely affordable – you can get a queen-sized bed for just $430. For a Tempur-Pedic, plan to shell out considerably more. A queen bed will set you back $2,199. When considering that price difference, the Tempur-Pedic needs to be a lot better than the Lucid mattress to make it worthwhile.
Lucid
Tempur-Pedic

Hybrid memory foam and innerspring construction
2-inch layer of bamboo charcoal-infused memory foam
5-inch layer of aloe vera-infused memory foam
Extremely affordable pricing
10-year warranty and 100-night sleep trial

Proprietary Tempur-ES memory foam layer
1,000 individually pocketed innersprings
Dual cover system for temperature regulation
10-year warranty and 90-night sleep trial

VIEW ON AMAZON
VIEW ON AMAZON
Mattress specifications
| | | |
| --- | --- | --- |
| | Lucid | Tempur-Pedic |
| Type | Hybrid | Hybrid |
| Firmness | Medium-soft (4.5) | Medium (5) |
| Thickness | 12″ | 11″ |
| Weight | 97 lbs | 96 lbs |
| Sleep trial | 100 nights | 90 nights |
| Warranty | 10 years | 10 years |
| Price (Queen) | $429.99 | $2,199 |
| Certification | CertiPUR-US | CertiPUR-US |
Construction
Lucid
Tempur-Pedic
Support core
6.5″ Pocketed Coils1″ HD Polyfoam
Tempur® Polyfoam (solid)1000+ spring coils
Comfort layers
2″ Charcoal-infused Memory Foam1.5″ Aloe-infused Polyfoam
1″ Polyfoam
Tempur-ES® memory foam
Cover
Knit fabric
Cool-touch knit cover
In many ways, the constructions of the Lucid and Tempur-Pedic mattresses are very similar. Both beds are hybrid designs, with a healthy layer of memory foam on top of a spring coil support base.
But, when you dive into the details, differences in how these two mattresses are put together start to become apparent. First, the layering of foam in the two mattresses is very different.
The Lucid bed uses three different layers of foam – a two-inch layer of memory foam, a 1.5-inch layer of transitional polyfoam, and another one-inch layer of even firmer polyfoam. The memory foam is infused with bamboo charcoal, which is naturally antimicrobial and helps to promote heat dissipation away from your body. The upper polyfoam is also infused, but with aloe vera. Again, this is naturally antimicrobial, which helps to prevent odors from forming in your bed over time.
The Tempur-Pedic mattress actually uses a single comfort layer, made entirely of Tempur-ES memory foam. This proprietary memory foam is designed to be much more responsive and durable over the long term, meaning it won't form divots after a few years of sleeping in the bed. However, beware that it's not crafted for heat dissipation or airflow, and the Tempur-Pedic bed is known to trap in heat around your body.
The support core of both mattresses is based on individual pocketed innerspring coils. There's not too much difference in the construction of these coils, except that the coils in the Tempur-Pedic are slightly smaller. The net result is simply that there are more of them, which can help to distribute weight across the bed and reduce the likelihood of pressure points forming.
Lucid doesn't seem to have paid much attention to the cover on its mattress. It's a simple knit fabric, without any infusions or cooling technology. The Tempur-Pedic bed, on the other hand, uses a cool-to-touch dual cover system. That helps quite a bit with dissipating heat throughout the night.
Comfort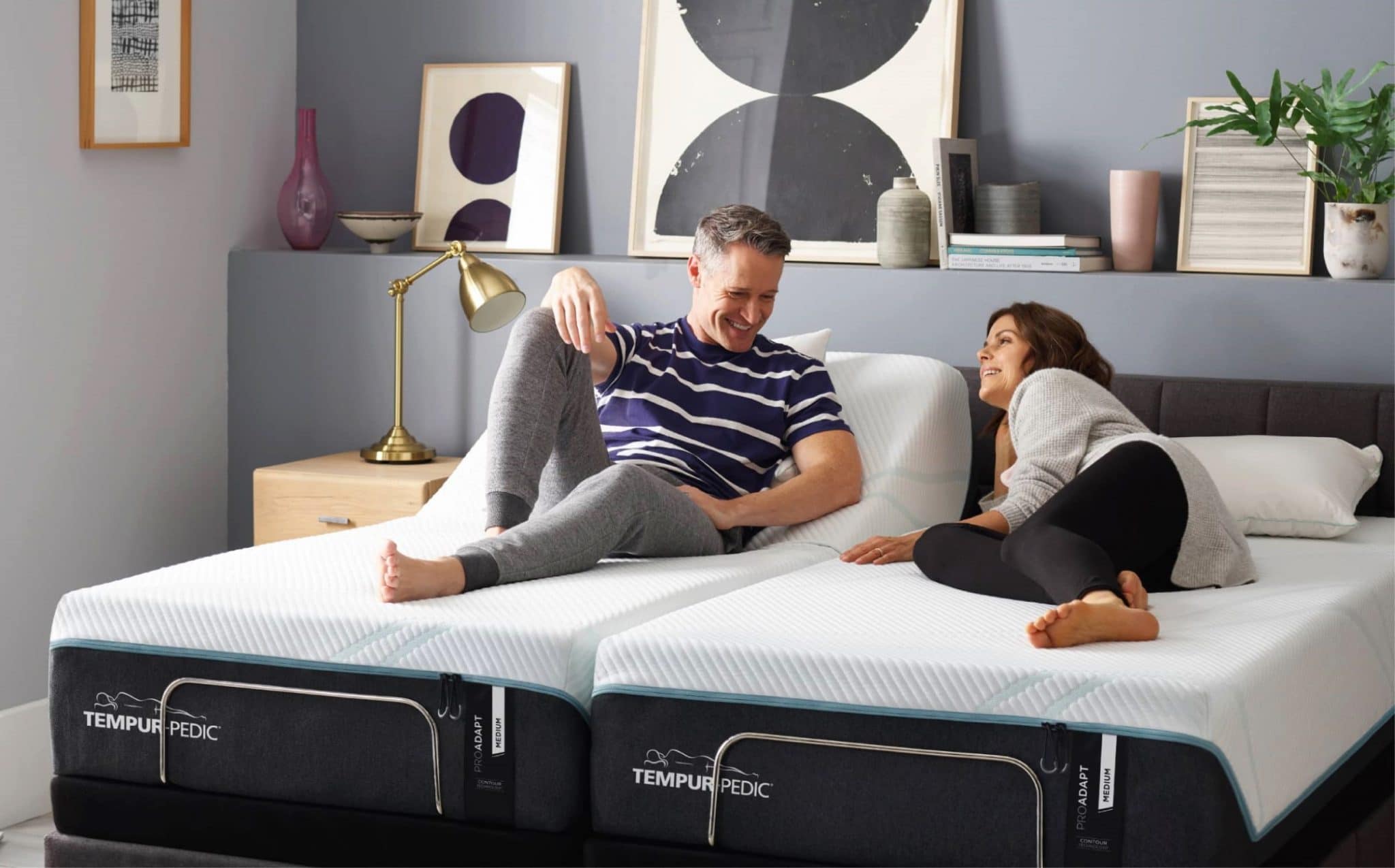 Ultimately, which mattress is right for you comes down to which is more comfortable. Here, we'll take a closer look at how the Tempur-Pedic and Lucid beds stack up when it comes to getting a good night's sleep.
Firmness and support
Both the Lucid and Tempur-Pedic mattresses are right in the middle of the firmness scale. Although they're targeted at all sleeper types, back and side sleepers tend to find these beds to be most comfortable. Even the Tempur-Pedic, which is rated as a 5/10 on the firmness scale, is too soft for a lot of stomach sleepers.
The feeling you get when lying down in these beds also differs somewhat. Since the Lucid bed uses three different layers of foam that increase in density, your initial sinking into the bed is quickly met with support from the deeper comfort layers. So, you end up halfway into the bed, still partially lying on top of it. With the Tempur-Pedic bed, you can sink several inches down. The Tempur-ES memory foam doesn't push back against your body much at all, so you can be almost entirely surrounded by foam by the time your body comes to a stop.
Temperature control
Memory foam mattresses are notoriously hot, and that's true to a certain extent for both of these beds. The Lucid mattress does a better job of controlling your temperature throughout the night thanks to the bamboo charcoal infusion in the upper layer of memory foam. The charcoal infusion encourages heat transfer away from your body, so you're not left cooking in between layers of heated foam.
The Tempur-Pedic mattress doesn't have any such cooling properties, and it's very easy to overheat in the bed. This is especially problematic because your body is mostly surrounded by foam, and the heat has nowhere to go. Although the dual cover system helps dissipate heat to some extent, it cannot keep up with the insulating properties of the Tempur-ES foam. Many people who sleep hot, or who live in hot climates, find that the Tempur-Pedic bed is too warm for them.
Motion transfer
Thanks to the thick foam layers, both the Lucid and Tempur-Pedic mattresses do an excellent job of minimizing motion transfer. If you sleep with a partner who rolls around during the night, that can be a huge benefit. The Tempur-Pedic bed has a slight edge when it comes to reducing motion transfer, in large part thanks to the thickness of the Tempur-ES memory foam layer.
Responsiveness
One of the big dings against the Lucid mattress is that the foam isn't all that responsive. Since there are multiple foam layers, it's relatively hard to get a supportive response from the underlying innerspring base when you push down against the bed. Instead, when you move around, you're mostly navigating around the stiffness of the foam itself.
To be fair, the Tempur-Pedic mattress is only slightly better in this respect. That's because the bed allows you to sink enough that the innerspring base is providing more direct support. Keep in mind, though, that to move around in this mattress you'll need to get out of the very conformed space your body has created in the memory foam.
Resilience and bounce
The two beds are also evenly matched – and perform poorly – when it comes to bounce. If you jump onto either the Lucid or Tempur-Pedic beds, you're more likely to land with a quiet thud than to bounce back up. Once again, that's because of the think memory foam comfort layer that sucks you into the bed rather than pushes back against you. Both beds have enough foam that you won't land on the innerspring layer and bounce back.
As for resilience, the Tempur-Pedic bed has a clear edge. That's thanks in large part to the proprietary Tempur-ES foam, which does a much better job of returning to its original shape than almost any other memory foam on the market. In many ways, it's this resilience that accounts for the high price point of the Tempur-Pedic mattress. Over the long-term, the Tempur-Pedic bed is also less likely to develop divots in the foam than the Lucid mattress is.
Edge support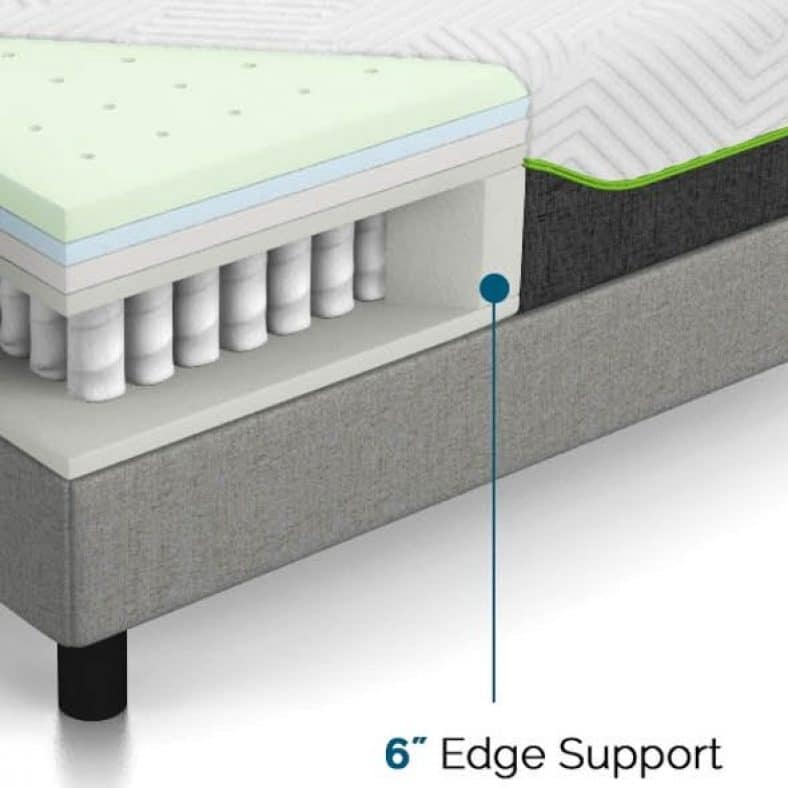 Neither the Tempur-Pedic nor Lucid mattresses offer much in the way of edge support. In both mattresses, the innerspring coils don't extend all the way to the edges. Instead, there's a layer of polyfoam. This compresses quite a bit, not to mention the compression you'll experience from the foam comfort layers. The Tempur-Pedic mattress has less of a feeling of falling out of the bed if you're lying in it, though, since you sink so deeply into the foam.
Inflation time, off-gassing and smell
The Lucid mattress ships as a bed-in-a-box, while the Tempur-Pedic mattress must be picked up from a mattress store or delivered. That means that the Lucid requires some inflation time and may have a factory odor for a day or two, while the Tempur-Pedic will not.
That said, the Lucid is usually ready for you to sleep on it by the end of the day it arrives. Users rarely complain about an off-gassing smell. Just note that it may take up to two days before the bed is fully inflated.
Sleep position ratings
SLEEP POSITION
Light sleepers(less than 130 lbs)
Average sleepers(130 lbs to 230 lbs)
Heavy sleepers(greater than 230 lbs)
Lucid
Side
Good
Very good
Good
Back
Very good
Very good
Good
Stomach
Good
Good
Good
Tempur-Pedic
Side
Very good
Very good
Very good
Back
Very good
Very good
Very good
Stomach
Good
Good
Good
The Tempur-Pedic and Lucid mattresses are relatively matched in firmness and support, so it's no surprise that they're competing for the same sleeper types. Side and back sleepers tend to like these two mattresses most of all since they're relatively soft. But, many stomach sleepers also rate both the Lucid and Tempur-Pedic mattresses highly.
Sizes and pricing
| | | |
| --- | --- | --- |
| SIZE | Lucid | Tempur-Pedic |
| Twin | $249.58 | $1,699 |
| Twin XL | $261.25 | $1,699 |
| Full | $396.03 | $2,049 |
| Queen | $429.99 | $2,199 |
| King | $517.26 | $3,199 |
| California King | $516 | $2,899 |
| Split CA King | N/A | $1,699 |
Customer service
| | | | |
| --- | --- | --- | --- |
| | Sleep trial | Warranty and refund | Delivery |
| Lucid | 100-night | 10-year limited warranty | All 48 contiguous states |
| Tempur-Pedic | 90-night | 10-year limited warranty | Free White Glove delivery in contiguous U.S. |
Both Lucid and Tempur-Pedic offer sleep trials that are roughly in the middle of the industry average. For the Lucid bed, the sleep trial is 100 nights, while for the Tempur-Pedic mattress, it's 90 nights. Both beds also come with a 10-year limited warranty that fully protects you against any sagging or divot formation that results from bad foam material.
The difference in delivery is another important thing to consider when choosing between these two mattresses. The Lucid bed comes to your door in a box, so you're responsible for carrying it into the bedroom and unpacking it. The Tempur-Pedic mattress is delivered by professional movers who will arrange it in your bedroom, so you don't have to lift a finger.
So which should you buy?
Lucid
VIEW ON AMAZON [wpsm_pros]
Very affordable for a queen-sized bed
Charcoal-infused memory foam dissipates heat
Slightly softer feel is better for side sleepers
Supportive enough to keep you on top of the bed
[/wpsm_pros][wpsm_cons]
Knitted cover is not all that special
Very poor edge support
Infused foam material isn't as durable over the long-term
[/wpsm_cons]
Tempur-Pedic
VIEW ON AMAZON [wpsm_pros]
Proprietary Tempur-ES foam conforms to your body extremely well
Dual cover to help dissipate heat
Foam retains it shape after years of use
Free white glove delivery service
[/wpsm_pros][wpsm_cons]
Very expensive
You sink deeply into the bed
Heat can build up around your body throughout the night
[/wpsm_cons]
In conclusion
The Tempur-Pedic and Lucid beds both promise to give you a better night's sleep. The two mattresses are similar in their hybrid construction, medium firmness, and thick memory foam layers. The Lucid bed does a better job at dissipating heat away from your body, while the Tempur-Pedic bed conforms more closely to your body and retains its shape better over time. Ultimately, choosing between the Tempur-Pedic vs. Lucid bed may come down to cost. If that's the case, it's hard to argue with the extremely affordable pricing of the Lucid mattress compared to the Tempur-Pedic mattress.