TalkAboutSleep is reader-supported. We may earn a commission through products purchased using links on this page. Learn more about our process
here
Thinking of which mattress to buy between the Lull vs GhostBed? We're here to shed some light on the different brands to aid in your decision making. We'll first point out that Lull only has one mattress model. On the other hand, GhostBed has three models namely; the GhostBed, GhostBed Luxe and GhostBed Flex.
For the purposes of this review, we're going to compare two mattresses from the two brands which are most similar with regard to construction and price.
We'll be comparing Lull with the original GhostBed because they are both memory form mattresses, and because the original GhostBed also happens to be the most popular. Also, because of the nature of their construction, both mattresses are known for their versatility and how they can accommodate a variety of sleepers.
Quick Comparison
So which one is the better brand between Lull and GhostBed? You'll be happy to know that both brands are known for manufacturing high quality products. Both companies were founded in 2015, but the only difference is that GhostBed mattresses have been constructed by industry experts who have been focused on sleep innovation products for 15 years.
Though they appear almost identical at first glance, they do possess a few differences as we'll highlight shortly.
Lull: The Lull mattress is the flagship mattress from the manufacturer whose headquarters are in Santa Barbara. It's made using premium materials, so picking this mattress means you'll have a long lasting product. This three-layer mattress is made of a combination of memory and poly foams.
Due to the nature of this blend of material, Lull is considered a medium firm type of mattress. On a scale of 1 to 10, Lull has a 6.0 rating. The combination of materials will provide your back with that much needed comfort and therapeutic support. This is because the mattress is designed to not only cradle your spine, but also help relieve pressure points.
Though they are in similar price ranges, the GhostBed is slightly cheaper than the Lull mattress. The Lull will cost you $800 while the GhostBed will cost $770. Note that these prices refer to the Queen size mattresses.
GhostBed: The original GhostBed mattress is also made with quality materials. It's manufactured using a combination of latex and memory foam. On the firmness scale, the GhostBed is rated 6.5 and is also considered to be a medium firm mattress.
Thanks to the materials used in its construction, the GhostBed mattress is also designed to provide you with the necessary comfort and support while you sleep. The design of the mattress also ensures that the surface conforms to your body by aligning your spine for a comfortable sleeping position.
Lull
GhostBed

Three-layer mattress
1.5" Viscoelastic memory foam
Open cell fiber structure

7" core support layer
10-year warranty
Medium firm
100 days night trial
Gel foam layer

Three-layer mattress
Adaptive gel memory foam
Luxury latex
High density support foam
Removable cover
Cooling gel
Medium firm
20-year warranty
101 days night trial

VIEW ON AMAZON
VIEW ON AMAZON
Mattress specifications
Lull
GhostBed
Type
Foam
Foam
Firmness
Medium firm (6.5)
Medium firm (6.0)
Thickness
10″
11″
Weight
69 lbs.
85 lbs.
Sleep trial
100 nights
101 nights
Warranty
10 years
20 years
Price
$800 (Queen)
$779 (Queen)
Certification
CertiPUR-US
Sustainable Furnishing Council® Member
Mattress Recycling Council® Member
CertiPUR-US
Construction
Lull
GhostBed
Support core
7″ HD Polyfoam
7 1/2″ 2 PCF HD Polyfoam
Comfort layers
1.5″ Gel Memory Foam
1.5″ Transitional Polyfoam
1 1/2″ Synthetic Dunlop Latex
2″ 4 PCF Gel Memory Foam
Cover
Polyester and rayon
Viscose and polyester blend
As mentioned earlier, both mattresses are foam mattresses but what differs is the composition of materials used in their construction as we'll discuss below.
Lull: The top layer is made of a gel memory foam while the transitional features a combination of polyfoam and latex material. Lull's support layer is made up of high density polyfoam. And the entire mattress has a cover made up of a combination of polyester & rayon.
All these layers leave the mattress with an average thickness of 10" making it ideal for heavier persons. Overall the mattress is relatively lightweight compared to the GhostBed and weighs around 69lb.
GhostBed: With regards to construction, the base is made of a 7.5" layer of dense polyfoam while the middle layer comprises of a 2" layer of gel memory foam. The top layer is made up of a 1.5" layer of aerated latex foam. Because of these materials, you'll enjoy pressure relief on your sensitive body areas.
The GhostBed mattress is also slightly thicker than the Lull and has a thickness of 11". GhostBed's comfort layer is also thicker than the Lull – it has a 3.5" thick layer while the Lull is 3". This means between the two mattresses, the GhostBed is the ideal pick for heavier individuals. There are less chances of them sinking down to the firmer layers underneath the comfort layer.
Though the GhostBed's cover is soft, it's made of a stretchy and durable combination of polyester & viscose.
Overall the main difference between the two is that the GhostBed mattress features a balanced foam feel while the Lull has a classic memory feel. This means it's much easier to move on the GhostBed mattress than on the Lull thanks to the latex.
Comfort
How comfortable is the mattress? Comfort has to be one of the first aspects to consider before purchasing a mattress if you expect to enjoy a good night's sleep.
When it comes to picking a mattress, there are several factors that you must consider which contribute to its comfort levels. We'll highlight and compare the most important aspects between the two brands which determine their comfort.
Firmness and support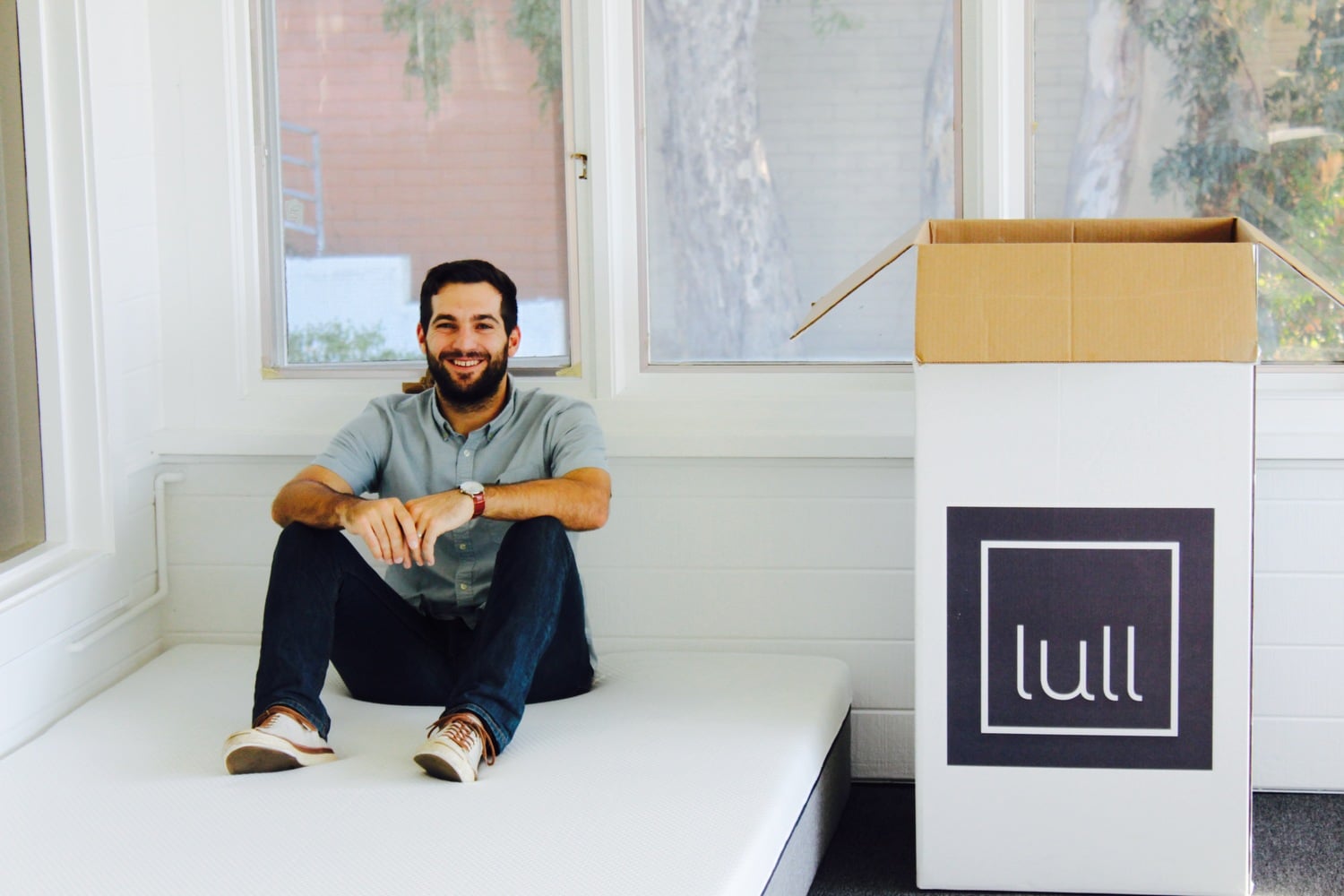 Lull: As mentioned earlier, Lull is a relatively firm mattress. Thanks to the composition of materials used in its construction, you can expect close conforming if you lie on this one. You won't have to worry about sinking too much into your mattress which makes it the ideal brand to pick for persons suffering from back, neck and hip pain.
This also makes it best suited for the average and above weight average individuals. Persons who are lighter can pick it if they want a firmer bed.
GhostBed: Like the Lull, the GhostBed mattress is also considered to be firm and will also provide you with adequate support. But if we were to pick the firmer between the two, it would be the GhostBed. As a result, it's best suited for all types of sleepers especially side sleepers. They won't be experiencing any pain or discomfort around their hips or shoulders while sleeping.
Temperature control
Lull: Thanks to the gel-infused foam top layer, the Lull mattress is designed to offer cooling properties. And the breathable cover also contributes to the cooling effect. Some users found the Lull to be warm, but it's definitely much cooler than some of the competing brands.
Which one is cooler in the Lull vs GhostBed comparison?
GhostBed: While they both have breathable properties, the GhostBed takes the lead where cooling capabilities are concerned.
The top layer is made of latex and features holes which make the mattress breathable. Also, the gel memory and latex foams have larger cells than the traditional mattress foams. This means the mattress is designed to never retain body heat by effectively transferring it away from the body while you sleep.
Motion transfer
Lull: Due to the nature of materials used in its construction, this is the ideal brand to pick for couples. The surface of the mattress features two layers of memory foam that are designed to not only absorb, but isolate motion transfer to a large extent. Your partner won't be disturbed or woken up in the middle of the night if you happen to shift positions.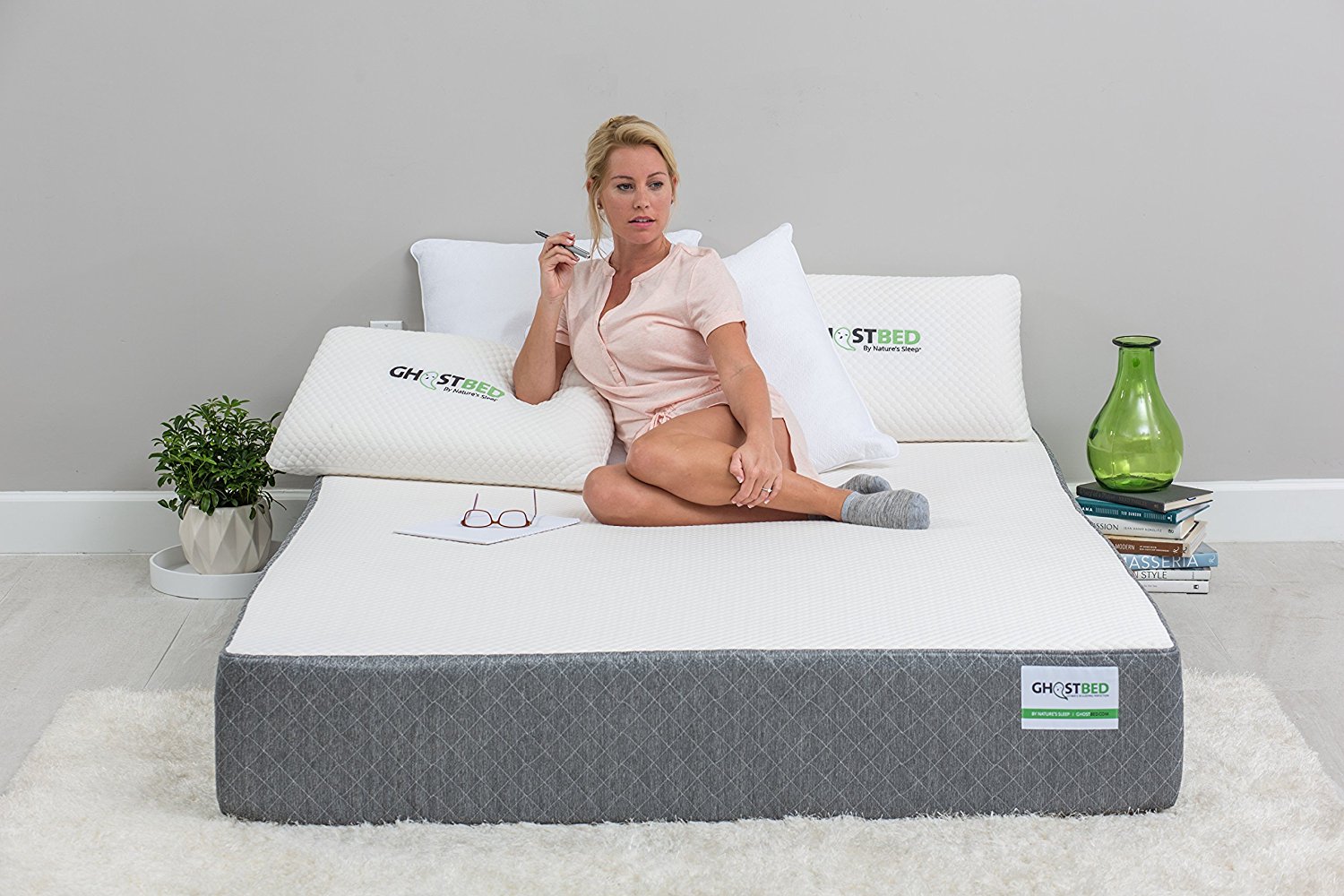 GhostBed: The GhostBed's foam layer is in the middle while the Lull's foam layer is on top. This essentially makes the Lull isolate motion transfer better than the GhostBed mattress. So the Lull is the one to pick if you and your partner want to enjoy a good night's sleep.
Responsiveness
Like most memory foam mattresses, the Lull isn't considered to be very responsive. But note that since the GhostBed is made up of a combination of memory foam and aerated latex, it's more responsive than its Lull counterpart. This is because latex foam is well known for its responsive characteristics.
As a result, the slow moving foam responds quickly when you apply pressure to it and quickly returns to its original shape. The Lull will take slightly longer to return to its shape when the same pressure is applied.
Resilience and bounce
Lull: Lull isn't considered to be very bouncy. But note that this isn't uncommon when it comes to memory foam mattresses.
GhostBed: Since the GhostBed is slightly thicker and firmer than the Lull, you can't expect much bounce from it. But because the GhostBed features latex components, this design tends to give the bed a springy and bouncy feel compared to the Lull.
Edge support
Lull: Most memory foams offer minimal edge support because of the nature of their construction and Lull is no exception. As a result, you can expect premature sinkage, especially around the edges where people tend to sit.
GhostBed: We understand that most memory foam mattresses don't provide the best edge support. But if we were to compare between the two, the GhostBed has better edge support than the Lull. This is because the GhostBed mattress is much thicker and firmer compared to the Lull. But note that it'll sink in places where persons repeatedly sit.
Inflation time, off-gassing and smell
Lull: Off gassing is expected if you pick this brand—as is common with most foam mattresses. But you'll be happy to know that the odor from the Lull mattress quickly disappears after a couple of days.
In terms of inflation time, the Lull is designed to fully expand within 24 to 48 hours.
GhostBed: While it's expected for foam mattresses to give off chemical odors, the GhostBed mattress manufacturers decided to defy the odds. As a result, it's constructed in such a manner that ensures it produces little to no odor at all.
The GhostBed also takes between 24 and 48 hours to fully expand.
Sleep position ratings
SLEEP POSITION
Light sleepers

(less than 130 lbs)

Average sleepers

(130 lbs to 230 lbs)

Heavy sleepers

(greater than 230 lbs)

Lull
Side
8
10
9
Back
9
9
10
Stomach
7
8
9
GhostBed
Side
9
9
9
Back
8
10
9
Stomach
7
10
8
Both the Lull and GhostBed mattresses are designed to last long. But it's been noted that the Lull will last longer than the GhostBed mattress. It's known to last between five and seven years. The GhostBed is known to lose its durability somewhat, especially if the users are on the heavier side.
Overall, both mattresses suit a variety of sleepers, and are can be a good choice for couples with different sleeping styles.
Sizes and pricing
| | | |
| --- | --- | --- |
| SIZE | Lull | GhostBed |
| Twin | $500 | $495 |
| Twin XL | $550 | $650 |
| Full | $700 | $775 |
| Queen | $800 | $779 |
| King | $800 | $969 |
| California King | $900 | $989 |
Customer service
Sleep trial
Warranty and refund
Delivery
Trade-in
Lull
100 days
10-year warranty
full refund
Within the U.S.
N/A
GhostBed
101
20-year warranty
full refund
Within the U.S.
N/A
Sleep trial
Lull: The mattress comes with a 100-night sleep trial. This means you can decide to return the mattress anytime within the 100 days of purchasing the mattress if it doesn't meet your expectation. And you'll receive a full refund. Also note that you're eligible for this discount if you purchase your mattress from Amazon.
GhostBed: Unlike the Lull manufacturers that offer 100-night sleep trial, GhostBed went a step further by adding an extra day. But the 101-night free trial is applicable only to customers who purchase the mattress directly from GhostBed.
Unlike Lull which extends the 100-night sleep trial to customers who purchase the mattress from Amazon, GhostBed only offers a 30-night trial to such customers. To enjoy the full 101-night-trial period, it's in your best interests to buy directly from the manufacturer.
Warranty and refund
Lull: The Lull mattress comes with a 10 year limited warranty for repairs or replacements—but not refunds. The warranty will only cover defects including visible sagging of the mattress or manufacturing flaws in the cover.
GhostBed: Unlike Lull, who offer a 10-year warranty on their products, GhostBed offer a 20-year non-prorated warranty on its mattresses. But here's the catch; during the first 10 years, customers can get their mattresses repaired or replaced at no extra costs. But from the 11th year, you'll have to pay a prorated fee which increases in 5% increments with every year of ownership.
Though the Lull mattress cover is also covered for 10 years, the GhostBed mattress is only covered for one year. Also note that with GhostBed mattress owners are responsible for all shipping charges associated with replacement & repairs of their products.
Delivery
Lull: You'll receive your Lull mattress compressed and shipped in a box. Deliveries are done throughout all 50 states. While customers in the U.S. can expect free shipping, persons in Hawaii or Alaska have to pay additional shipping charges.
GhostBed: The GhostBed mattress is also vacuum compressed and rolled for shipping purposes and you can expect delivery in the U.S. within three to five days.
Trade-in
Unfortunately, both manufacturers don't allow trade ins with either mattress. You have to purchase brand new ones at the full price from each manufacturer.
So which should you buy?
Lull
VIEW ON AMAZON [wpsm_pros]
Very comfortable
Odor dissipates quickly
Provides adequate support
Durable
No gaps or spaces
[/wpsm_pros][wpsm_cons]
Too firm for others
Loses support quick
Can have a strong odor
[/wpsm_cons]
GhostBed
VIEW ON AMAZON [wpsm_pros]
Little to no odor produced
20-year warranty
Quick shipping
Conforms to body shape
Comfortable
Slightly cheaper for some sizes
[/wpsm_pros][wpsm_cons]
A little warm
Durability questionable
Not for heavy people
[/wpsm_cons]
In conclusion
So which one will you pick: GhostBed or Lull? As mentioned earlier, both mattresses are very similar with regards to construction. The one you pick will really be a matter of preference.
We advise you not to base your decision solely on the price. Though the GhostBed is cheaper than the Lull mattress for some sizes, the difference isn't very significant. So rather pick one based on other factors including durability or sleeping position preferences.
A few users have found the GhostBed mattress to be slightly firm. This is the product to pick especially if you're on the heavier side because you won't experience much sinkage. Lighter people may find it too firm. The same reason also makes it the ideal pick for couples.
However, the Lull is also a good mattress and will provide you with comfort & support. Ultimately the one you pick boils down to preference.
Hopefully, this GhostBed vs Lull comparison will help you make the right decision and pick the best mattress for your needs!