TalkAboutSleep is reader-supported. We may earn a commission through products purchased using links on this page. Learn more about our process
here
Many people are looking to Lull vs. Tempurpedic mattresses. The two brands make some very similar claims about their products and have built mattresses to provide a huge level of comfort for many years, but there is a huge difference in price tag. Lull's offering is a lot more affordable than the Tempurpedic options. As Lull currently only produce one model, we've compared this to the closest option (and one of the most popular) in the Tempurpedic range, the TEMPUR-Adapt mattress. Similar in features, even if it is very different in price. For our full Lull vs Tempurpedic comparison, check out the table below.
It is clear to see why these two are often compared. If you look at our table of Mattress specifications for these two you will see that they are similar in height (Lull is 10" vs the 11" of the Tempurpedic) and they are made out of almost identical materials – but with some important differences.
Quick Comparison
Lull has only been offering mattress products since 2015 and is a relatively new brand in the scheme of things. Tempurpedic has a little more time on the market as they launched in 1992, though their products have changed a lot.
Out of the two brands, Lull is a far more affordable option for a mattress, costing a fraction of many of its competitors, including the Tempurpedic.
Both of these products have been built with airflow in mind. The 1.5-inch elastic memory foam topping on the Lull features gel inside which takes heat away from your body. The fibers within also improve the airflow and allow for much cooler evenings. Tempurpedic has a top layer of 'Tempurpedic knit' which is a different approach to cooling.
Both brands also offer door-to-door delivery meaning no awkwardness getting the product from stores. The shipping is a big consideration when buying such a huge item.
Certi-PUR foam can be found within both, which means no harmful chemicals or annoying off-gassing to deal with. This mattress also smells much better than most when installed.
One key difference between the brands is that Tempurpedic has more options in the brand. While Lull currently only has one mattress to sell you, Tempurpedic has some with more advanced and elite features that can be purchased instead.
Tempurpedic's features also include the Tempur-es comfort layer. This is designed to go over many of the layers of the mattress and provide an overall more comfortable feel. Tempurpedic also offer the split California King size in their mattresses, which Lull do not offer.
Tempurpedic has a really responsive design and feels soft in spite of being medium firmness, it will adjust to your body and create a 'hugging' effect. Alternatively, a bit more firmness which is offered by Lull may be exactly what you're looking for. There are pros and cons to both.
Lull
Tempurpedic

Lull is a far more affordable option.
Medium firmness.
Gel-filled inch elastic memory foam topping increases airflow.
Built to last.
Door-to-door transport.
Certi-PUR foam
Does not offer Split California King sizing but all other mainstream sizes are catered for.

Features the Tempur-es comfort layer.
Also medium firmness.
This is quite an expensive model of mattress. Tempurpedic knit feels cool to the touch.
Made in the USA.
11 inches.
Adaptable support layer.
Offers all of the mainstream sizes, including Split California King.

VIEW ON AMAZON
VIEW ON AMAZON
Mattress specifications
Lull
Tempurpedic
Type
Foam
Foam
Firmness
Medium firm (6.5)
Medium (5.5)
Thickness
10″
11″
Weight
69 lbs
79 lbs
Sleep trial
100 nights
90 Nights
Warranty
10 years
10 years
Price
$800 (Queen)
$2,199 (Queen)
Certification
CertiPUR-US
Sustainable Furnishing Council® Member
Mattress Recycling Council® Member
CertiPUR-US
Construction
Lull
Tempurpedic
Support core
7″ HD Polyfoam
Polyfoam
Comfort layers
1.5″ Gel Memory Foam
1.5″ Transitional Polyfoam
Memory foam
Cover
Polyester and rayon
'SmartClimate' Dual-Layer Removable Cover
Comfort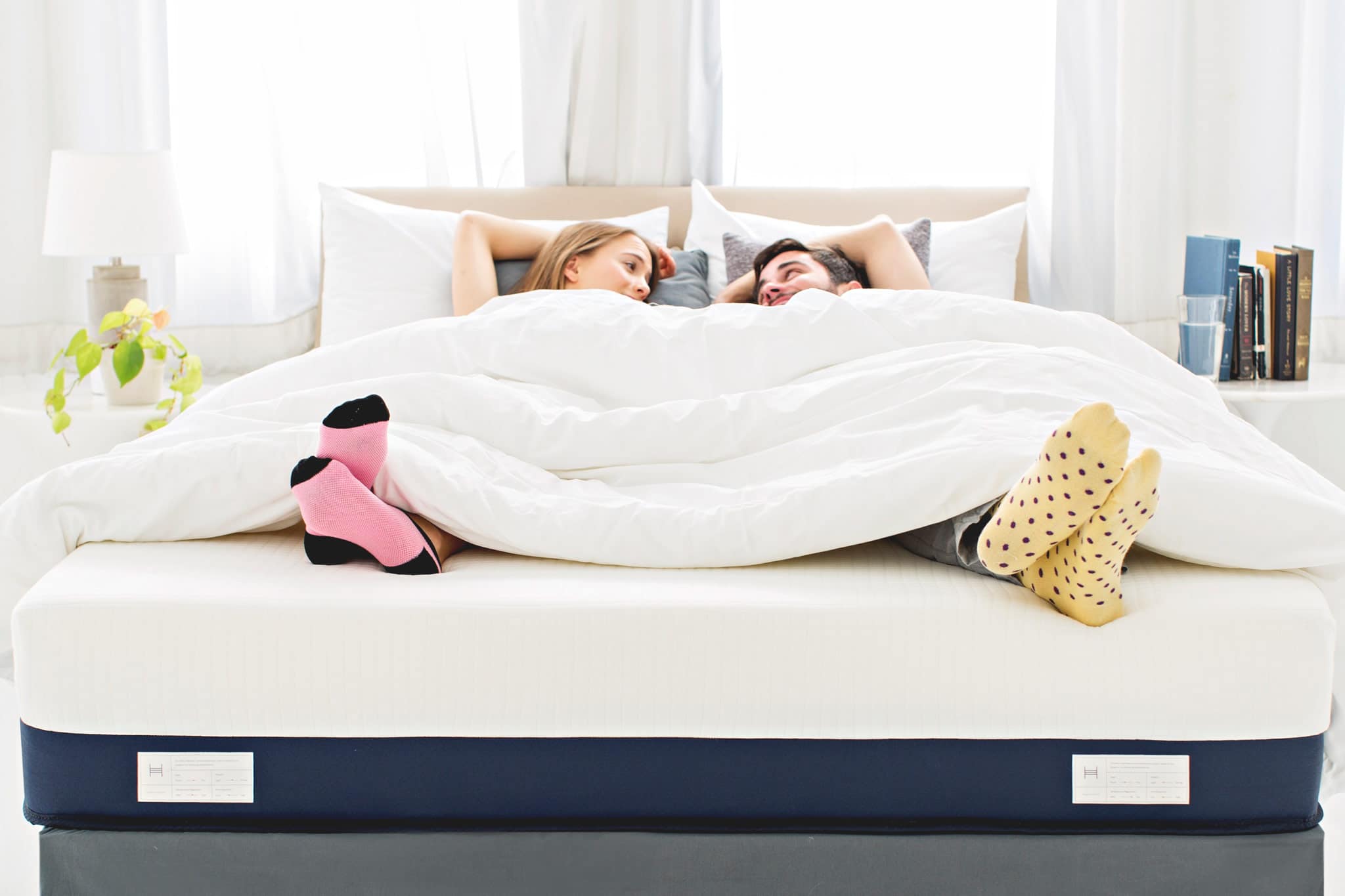 One of the most important criteria for a mattress is the comfort. As well as being affordable and good for your body, it is pretty much useless if you don't feel comfortable and the product isn't able to aid a good night's sleep. These two products are quite similar in their makeup and as you can see from the table above, they have polyfoam support cores which are then covered in memory foam for a higher level of comfort.
If you're looking for a detailed Tempurpedic vs Lull comparison, the chances are the main thing you'll be wanting to learn about is the comfort that they can offer you. There aren't too many differences between to two products in terms of how they are made, but there are some subtle things that you will notice if you've felt both mattresses. This can make all the difference when making your choice.
Firmness and support
Both of these are pretty supportive options. They are medium firmness, which is ideal for couples and for accommodating a variety of different sleeping styles. The Lull mattress is definitely a little more firm and supportive, whereas the Tempurpedic gives more of a 'sinking in' feeling when you get on it. Some people absolutely love to feel the hugging effect of a mattress, so this could be ideal for you.
Temperature control
Both have their own options of temperature control and unique to the brand knits. Honestly, both of these options deal well with high temperatures. The Lull uses a gel-infused layer which actually draws heat out of your body before dispersing it into the mattress itself. The Tempurpedic uses a knit which is unique to them and has a cool feeling on the top. It really works and doesn't rely on a gel. The Tempurpedic also offers its 'SmartClimate' Dual-Layer Removable Cover to allow you to adapt it to the climate of your home and the season!
Motion transfer
This is particularly important if you are going to be sharing a bed with someone. Both are pretty good at motion transfer, meaning if someone gets in on the other side you won't noticeably feel your side of the mattress change. However, the extra-thick padding on the polyfoam center of the Tempurpedic makes it slightly better for this.
Responsiveness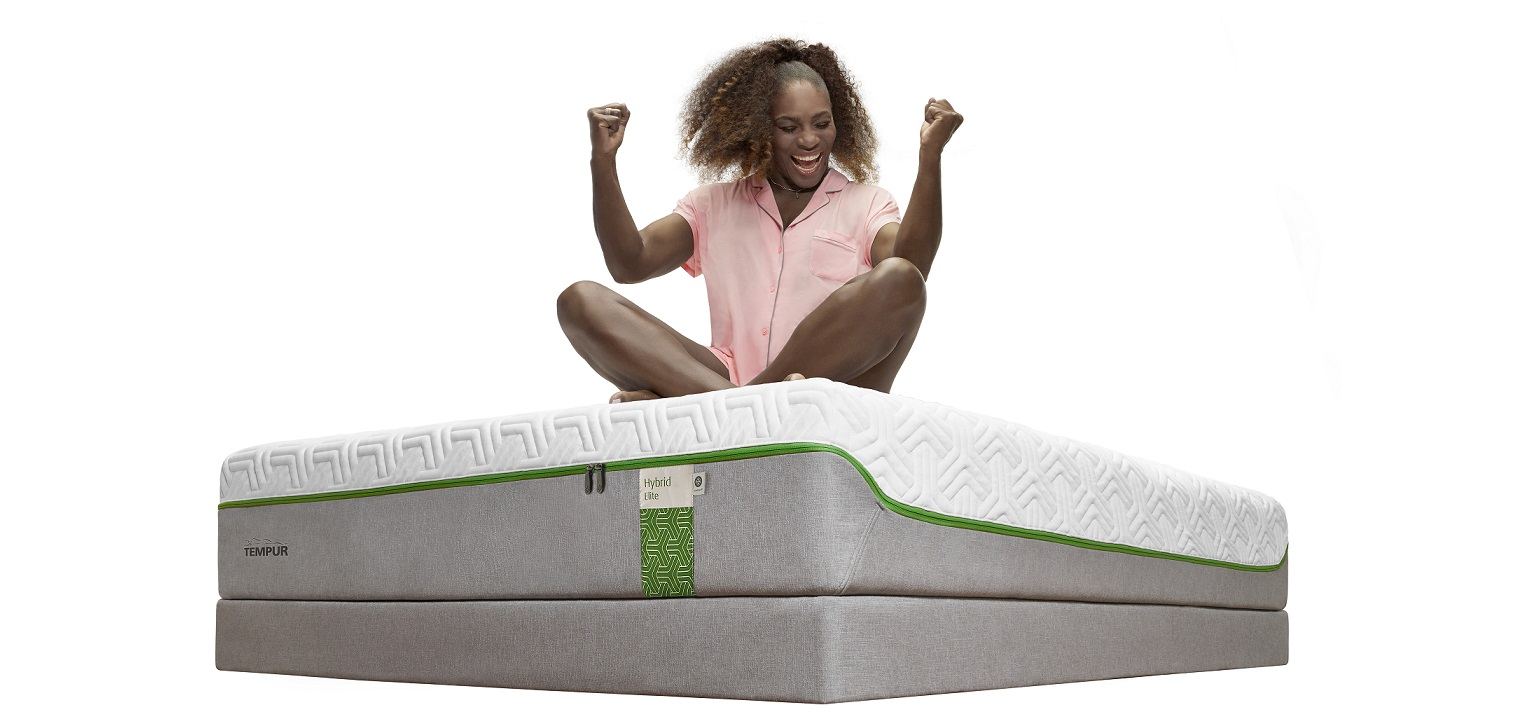 The Tempurpedic is marginally more responsive. While both of these models are good for responsiveness due to their outer padding and also the foam design, the Tempurpedic has just a little more than the Lull. It very quickly adapts to your shape, partially due to the softness of the mattress. This creates the 'hug' sensation many people talk about when it comes to mattresses. You certainly get more of a feeling that the Tempurpedic is adapting to you.
Resilience and bounce
It is natural that the slightly firmer and springier Lull option has a bit more bounce to it. Video tests comparing the two will show that it bounces back into position a little quicker. That doesn't mean that the Tempurpedic isn't as well made, it is simply designed to be a bit softer.
Both of these mattresses have high-quality HD Polyfoam in the center layers, as much as seven inches thick. This means that they are both resilient mattresses by design.
Edge support
The edge support on both of these mattresses is very good, and further helps with the level of support all over the mattress. Honestly, there is no real difference between the two when it comes to edge support.
Inflation time, off-gassing and smell
The good news is that both of these products use CertiPUR-US certified foam. This means the foam has been tested to rigorous standards and doesn't emit any unwanted gasses or chemicals. The smell on both of the products is far better than many industry alternatives, but marginally better on the Lull option. When you first open your mattress and get it set up there is bound to be a little smell, but it certainly isn't especially noticeable with either the Lull or Tempurpedic options.
Sleep position ratings
SLEEP POSITION
Light sleepers

(less than 130 lbs)

Average sleepers

(130 lbs to 230 lbs)

Heavy sleepers

(greater than 230 lbs)

Lull
Side
8
10
9
Back
9
9
9
Stomach
7
8
8
Tempurpedic
Side
10
10
9
Back
10
9
9
Stomach
9
8
8
*Out of 10
Both the Lull and Tempurpedic are comfortable options that can suit a wide variety of sleepers. The Tempurpedic does work slightly better for a wider range of sleepers, and it would make a more comfy choice for light stomach and back sleepers. For side sleepers, there is only a very small difference between the two mattresses, as both provide just the right balance of support and comfort. Both mattresses would make a great choice for combination sleepers, or those that share a bed with a partner that has a different sleep position preference, with the Tempurpedic being just slightly more accommodating for most.
Sizes and pricing
| | | |
| --- | --- | --- |
| SIZE | Lull | Tempurpedic |
| Twin | $500 | $1,599 |
| Twin XL | $550 | $1,599 |
| Full | $700 | $1,914 |
| Queen | $800 | $2,199 |
| King | $800 | $2,792 |
| California King | $900 | $2,799 |
| Split California King | N/A | $1,699 |
Customer service
Sleep trial
Warranty and refund
Delivery
Trade-in
Lull
100 days
10-year warranty

full refund (minus shipping)

Within the U.S.
N/A
Tempurpedic
90 days
10-year warranty

full refund (minus shipping)

Within the U.S.
N/A
Sleep trial
Most of the mattresses which you can buy today offer some sort of sleep trial. It is a big selling point for these products and people want to know that what they are buying is not going to be uncomfortable and they are stuck with it for years. Both Lull and Tempurpedic offer sleep trials. Lull has a 100-day sleep trial whereas Tempurpedic offers 90 days.
Warranty and refund
Warranties are yet another way that these mattress companies can make themselves more appealing. Both of these two manufacturers offer identical warranties of 10 years, with full refunds on offer if something goes wrong in this time. Only the shipping cost will be taken off of the refund price.
Delivery
Delivery is offered all over the USA for both of these products. You don't have to worry about getting someone's truck to go and collect the mattress for you, it will simply arrive at your door. Both of these companies are pretty quick, too: you can expect your mattress in 7-14 days.
Trade-in
Neither Lull or Tempurpedic currently offer any sort of trade-in of your existing mattress, so this is something to keep in mind when purchasing. You will need to dispose of your old mattress yourself
So which should you buy?
Lull
VIEW ON AMAZON
Pros
Far more affordable than the Tempurpedic.
Firm and bouncy with a strong core.
100 night trial period in case this isn't the one for you.
Excellent motion transfer if sharing a bed.
10-year warranty.
Cons
Not quite as strong a 'hug' sensation as the Tempurpedic.
Not as responsive.
Not available in as many size options as the Tempurpedic.
Not as great for lighter stomach sleepers who may not be comfortable on the Lull.
Tempurpedic
VIEW ON AMAZON
Pros
Very responsive and shapes to the contours of your body.
A great 'hug' feeling when getting into the bed.
Adjustable covers depending on the season and environment.
10-year warranty.
Great motion transfer.
Cons
Far more expensive than the Lull option.
Not as bouncy or springy in nature, and a little less firm.
In conclusion
If you take price totally out of the equation, then what you have is two pretty well-matched mattresses when it comes to comfort and adaptability. The Tempurpedic does offer slightly more in terms of responsiveness and also in terms of the adaptable top layers, but ultimately, these products are relatively similar. So, when you see that the Lull is a much more affordable price, you may well opt for this. We would say that Lull is a better balance between the quality and comfort as well as the price.
Of course, when you come to make your decision on what to purchase, it isn't just Tempurpedic vs. Lull and there are many other brands competing for your custom. Lull is far more affordable than Tempurpedic, but they still aren't the cheapest. However, for value-for-money, the brand is hard to argue with.
Tempurpedic offers not just this mattress, but some other options in their range with some even better features. Again, these come at a cost premium, so don't expect to get it on the cheap!
Overall, both of these mattresses are very good quality, and the risk is kept to a minimum as for 90-100 days you can return your mattress with no issues if you don't like the feel. If you have it for longer and something goes wrong, you are also protected in both cases by a 10-year warranty. For budget-friendly shoppers, the Lull edges our comparison, but it is not likely that either will let you down.
.