TalkAboutSleep is reader-supported. We may earn a commission through products purchased using links on this page. Learn more about our process
here
The mattress marketplace is full of some great mattresses, from many different manufacturers, and it's sometimes very hard to know where to start looking. Busy lifestyles mean that some people haven't got weeks to look around and narrow down huge numbers of mattresses to a shortlist. So, we wanted to look at two of the best mattresses which two very decent manufacturers have on the market, and this is the great Nectar vs Purple debate!
We chose the two mattresses featured here based on their excellent features and their versatility. Their universal appeal will fit the needs of a very broad range of sleepers. We've also targeted mattresses which tend to get a very high amount of great reviews from customers who've bought and used them. Hopefully this Purple vs Nectar guide is going to help those of you who either don't have the time to trawl through hundreds of mattresses trying to find one that fits the bill, and those of you who need a mattress fast. Reading on will also be of great assistance to those of you who have already narrowed down your search, and want to find out what each of these great mattresses brings to the bedroom.
Quick Comparison
Purple mattresses made their debut in 2016 and have really taken the industry by storm. Known for their hilarious viral advertisements, the company is all about providing comfort at a good price with the best tech available. The mattress has a unique grid pattern built into it that is scientifically-designed to provide support where it's most needed while allowing plenty of airflow to keep you cool and comfortable through the night. Purple is also unique in that it is designed to prevent motion transfer. So if you are sleeping with your spouse, you theoretically won't feel them rolling over during the night, helping you sleep more soundly and without disturbance. Keeping pace with other leading brands, Purple offers a 100-night trial & a 10-year warranty on their product.
With their tagline – "The bed of your dreams" – Nectar is trying to make a name for themselves in the new online mattress industry and they're doing a pretty good job at it too. Incredibly, the company offers an entire year (365 day) trial of your mattress. And as if that wasn't amazing enough, they also have a "Forever" guarantee where they will offer a warranty for as long as you own the mattress. That's pretty amazing and a fantastic way to create fans for life. For breathability, the Nectar mattress has a Tencel cover that, according to them, is better than cotton. The mattress also has 2 layers of Gel Memory Foam designed to provide a cool, comfortable night sleep with just the right contour and support.
These mattresses are the best mattress that each of the two brands have in their range, based on buyer reviews and popularity. Comparison is based purely on the features of each of the mattresses, and the feedback provided from buyers of each product. Let's take a quick look at exactly what each mattress offers.
Nectar
Purple

Some natural materials in cover
Gel memory foam
11 inches thick
Lifetime warranty
One-year sleep trial
Medium-firm rating (6.5)
Queen size: $699
CertiPUR-certified

Poly foam and elastic polymer
5 inches thick
10-year warranty
100-day sleep trial
Medium-firm rating (6.5)
Queen size: $999
CertiPUR-certified

VIEW ON AMAZON
VIEW ON AMAZON
Mattress specifications
| | | |
| --- | --- | --- |
| | Nectar | Purple |
| Type | Foam | Foam and Hyper-Elastic Polymer™ |
| Firmness | Medium firm (6.5) | Medium firm (6.5) |
| Thickness | 11″ | 9.5″ |
| Weight | 74 lbs | 110 lbs |
| Sleep trial | 365 nights | 100 nights |
| Warranty | Lifetime | 10 years |
| Price | $699 (Queen) | $999 (Queen) |
| Certification | CertiPUR-US | CertiPUR-US |
Construction
Nectar
Purple
Support core
6″ HD Polyfoam
4″ 2.0 lbs density polyurethane foam
Comfort layers
1″ Quilted Gel Memory Foam
1″ 4 PCF Gel Memory Foam
3″ 3.5 PCF Memory Foam
3.5″ 1.8 lbs density polyurethane foam
2″ Hyper-Elastic Polymer™ material in Smart Comfort Grid™
Cover
Cotton and Tencel® Lyocell
67% Polyester
29% Viscose
4% Lycra
It's notable that the Nectar mattress is much thicker than the Purple product, at eleven inches, but that it weighs only 74 pounds. While the Purple mattress is only 9.5-inches thick, it weighs a whole 36 pounds more, at 110 pounds.
The inclusion of natural cotton in the cover of the Nectar is a nice touch. Both are CertiPUR certified, but the Purple product is considerably less to buy. Both mattresses come in at medium-firm, so they're hard to separate there.
Comfort
Buying a mattress is largely just about finding a comfortable one, and this will affect your sleeping experience massively. So, it should all be simple, right? Well, not exactly. We all prefer differing types of comfort and we all find different things to be pleasing, especially when it comes to bedding down. Below, we're going to consider some of the most important factors of choosing a mattress for comfort. We're also going to define some of the terms you may encounter on your search for a new mattress, and hopefully give you a better idea of what you're reading and looking at. Searching for comfort is too often a hit-and-miss experience, too full of guesswork for, er, well… comfort. We're going to try to remove some of the guesswork from choosing a mattress, and a great place to start doing that is by looking at some of the most important factors you'll need to consider before buying one.
Firmness and support
Different people like different things when it comes to sleeping well. Some people also have concerns which are borne out of medical conditions and ageing factors, and others are more influenced purely by the feel of a mattress.
Firmness, and the level of support a mattress provides are generally what you'll first notice about a product when you lie on it and try it out. We tend to interpret this as being 'hard' or 'soft', or as Goldilocks found, some people like something elusive and hard to describe, which sits somewhere in between the firm and soft ends of the mattress scale.
When it comes to comparing Purple vs Nectar, the two mattresses offer a similar comfort level with their medium-firm ratings of 6.5. Both offer plenty of support to a wide variety of sleepers, however Purple's unusual grid structure does give it a slight edge, and more users find this mattress to be supportive. The Nectar isn't too far behind, but as it's a thicker mattress and made entirely out of foam, it doesn't support the body as much as the Purple.
Temperature control
Temperature control is more of a concern with modern mattresses than it used to be with more traditionally-built versions. This is because newer designs tend to employ foams in their construction, and not all foams lend well to heat dissipation and air circulation.
Older mattresses used more open fibers and consequently provided more channels for the mattress to breathe. Newer versions which feature large amounts of memory foam and other types of foam may incorporate cooling gels into the fabric of the mattress in order to alleviate some of the heat buildup and stop the mattress from 'sleeping hot'.
The Nectar is an example of this kind of mattress, incorporating 2 layers of gel memory foam which work to create a more cooling sleeping experience. The cotton and Tencel cover lock in this cooling effect, preventing you from overheating.
Though the Purple features two layers of foam, the top hyper-elastic polymer layer is highly heat-resistant and also facilitates a cooler, more comfortable sleeping experience than most mattresses out there. It doesn't specifically work to keep you cool throughout the night, as it doesn't feature any kind of gel like the Nectar does – it's just that this particular material prevents any kind of heat buildup in the first place.
Motion transfer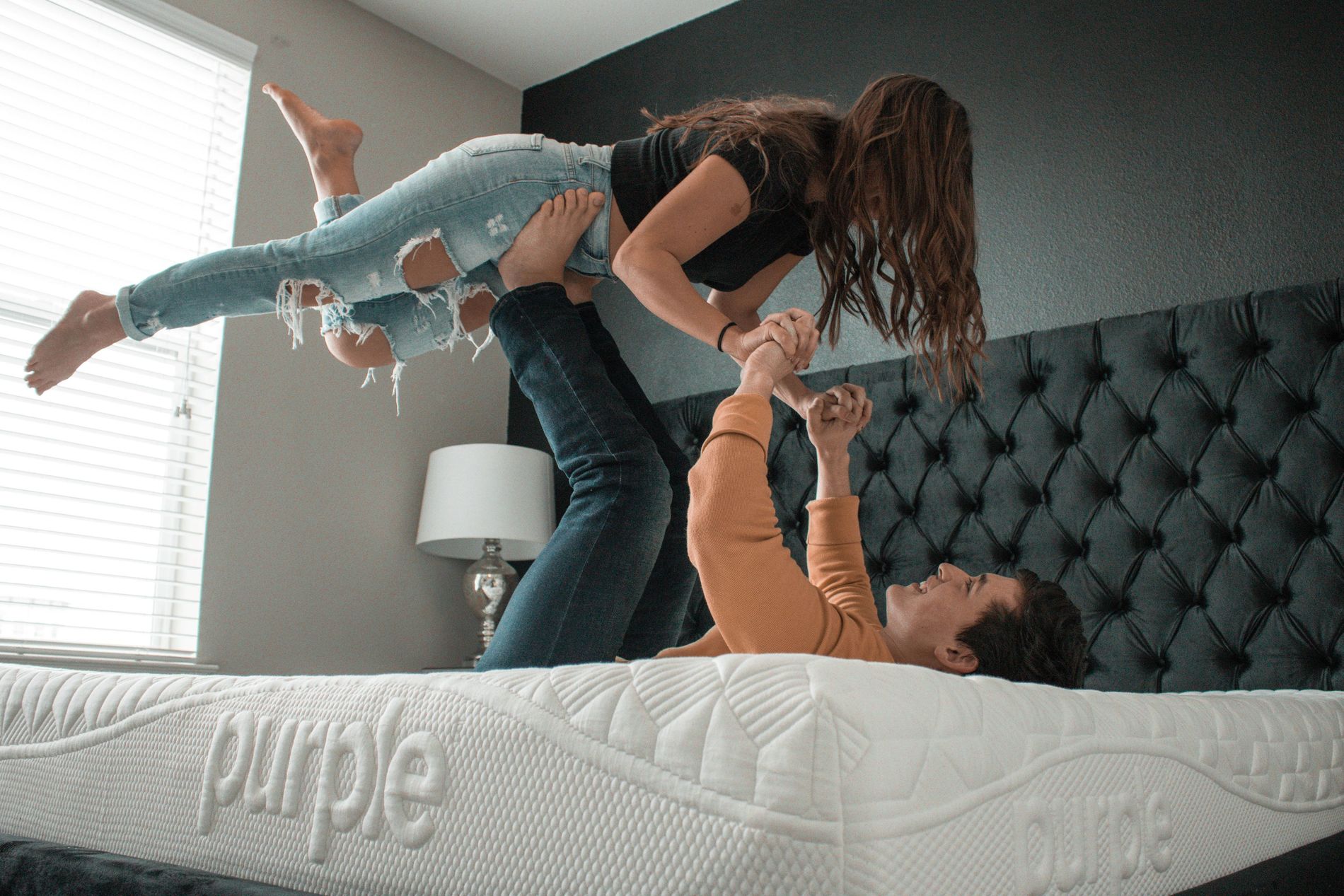 Motion transfer will affect your sleeping experience a great deal if you sleep with a partner. The term refers to how well two people can sleep on a bed, and how much one person can move about, or toss and turn without affecting the person asleep on the other side of the mattress.
Despite being a foam mattress, the Nectar offers exceptional motion isolation – you definitely won't be waking your partner if you tend to fidget a lot. Similarly, the grid layer of the Purple mattress effectively limits motion transfer, isolating any movements in the small pockets surrounding the individual that's moving around.
Overall, in this aspect, it's a tie between Nectar and Purple – the two mattresses offer excellent motion isolation, using very different mechanisms to achieve the same result. But if we had to choose a winner, the Nectar does perform slightly better in this aspect, as the grid of the Purple is just slightly more "springy" than the Nectar's motion-absorbing foam.
Responsiveness
This defines how long it takes a mattress to return to its original shape if it's depressed. A more responsive mattress will return quicker, and vice versa. This factor may be important to you if you're a heavier person.
The one area the Nectar mattress struggles is responsiveness – it's definitely not the most responsive mattress out there, and does tend to sink and conform to the sleeper. The Purple mattress, in comparison, is a highly responsive model, and definitely wins in this category.
Resilience and bounce
When it comes to resilience and bounce, the Nectar doesn't perform as well as the Purple, as it tends to absorb all movements. The Purple, on the other hand, is a bouncier and more resilient model, so couples may prefer this mattress.
Edge support
Edge support is an important element of mattress construction and performance. This basically refers to reinforcing measures built in to the outer edges of a mattress. Mattresses which employ foam layers can sometimes suffer from a lack of edge support which makes a user prone to roll at the edges of the mattress.
This is not the case for the Nectar, however, as compared to the majority of foam and even non-foam mattresses, the Nectar offers great edge support. If your partner tends to spread out across the bed during their sleep – you won't find yourself rolling off the mattress if you sleep on the edge! And if you're not familiar with this kind of scenario, you'll be happy to know that you can sit or rest on the edge of the bed without too much sinkage.
Due to the two bottom layers of foam in the Purple mattress, it doesn't offer quite the same levels of edge support as the Nectar. That being said, the edge support is still pretty decent, especially when we compare this to other mattresses on the market.
Inflation time, off-gassing and smell
When you get a boxed mattress home, there are two factors which can delay your user experience. It's completely normal for there to be an odor from a new mattress when it's brand new. Another thing to consider with new boxed mattresses is that they will take some time to fully inflate to their normal size, and this is because they get compressed so that they can be contained in a relatively small and easy-to-ship package.
The Nectar, once unpacked, will fully inflate in approximately 5-6 hours, however some customers have noted that it took their mattress far longer to reach its full size.
The Purple mattress inflates very quickly, and on average doesn't take as long as the Nectar, as it isn't made entirely out of foam.
In general, you should give both mattresses around 24 hours to fully inflate.
In terms of off-gassing, the Nectar mattress seems to emit more odor than its Purple competitor, but this smell isn't too bothersome and will disappear over a number of days. The Purple mattress has a faint smell that diminishes fairly quickly after unpacking.
Sleep position ratings
SLEEP POSITION
Light sleepers (less than 130 lbs)
Average sleepers (130 lbs to 230 lbs)
Heavy sleepers (greater than 230 lbs)
Nectar
Side
8
8
9
Back
9
9
10
Stomach
7
9
9
Purple
Side
9
8
9
Back
8
10
10
Stomach
7
9
8
*Out of 10
Both of our mattresses come out of the sleep position rating test with very good results. The Purple edges the mid weight range, and both mattresses seem tied on the lighter weight range. There's also nothing between them when it comes to the heavyweight section. No matter what size and weight of sleeper you are, it's hard to find a winner here, so let's move on and check out trials, warranties and prices.
Sizes and pricing
| | | |
| --- | --- | --- |
| SIZE | Nectar | Purple |
| Twin | $500 | $649 |
| Twin XL | $550 | $699 |
| Full | $700 | $899 |
| Queen | $800 | $999 |
| King | $800 | $1299 |
| California King | $900 | $1299 |
Customer service
Sleep trial
Warranty and refund
Delivery
Nectar
365 days
Lifetime warranty
full refund
Within the U.S.
Purple
100 days
10-year warranty
full refund
Within the U.S. and Canada
Sleep trial
Some mattress manufacturers go as far as offering a trial period with their products, which is designed to ensure that the mattress is a good fit for you. Different mattresses and manufacturers offer different terms and conditions with regard to this feature. The Purple here offers the industry-standard 100-day trial, but the Nectar definitely beats pretty much all of its competitors in this regard, offering a whopping 365-day sleep trial.
Warranty and refund
Warranties and refunds vary from mattress to mattress, and this is often a good indicator of how much confidence a maker has in their product. It can also be a gauge of how well-established a manufacturer is.
The Nectar once again impresses with its lifetime warranty, providing a sense of security for customers. The Purple offers a standard 10-year warranty, which is also pretty decent.
Delivery
Different mattress companies and retailers will offer differing delivery terms of different mattresses. Mattresses are big and bulky to ship, even when they're boxed, so it's important to know exactly where you stand, and how you'll be situated if it's a thing you need to return the mattress.
Both the Nectar and Purple ship compressed in a box. Nectar will only deliver their mattress if you live within the US, whereas Purple also ship to Canada.
So which should you buy?
Nectar
VIEW ON AMAZON [wpsm_pros]
Lower cost across the range
Longer trial period
Longer warranty
US made
Certi-PUR
Gel Memory foam
Cotton cover
[/wpsm_pros][wpsm_cons]
Thickness may cause issues with some bedding
Some inflation issues
Off-gassing smells
[/wpsm_cons]
Purple
VIEW ON AMAZON [wpsm_pros]
US made
Certi-PUR
Foam & Elastic polymer construction
Free delivery in US mainland
Free returns in US mainland
Zero motion transfer technology
[/wpsm_pros][wpsm_cons]
More expensive across the range
Shorter trial period
Shorter warranty
[/wpsm_cons]
In conclusion
The one aspect of choosing a mattress for yourself which we can't help you with, is this part. Your ultimate decision must be based on an understanding of all of the terms and factors involved, and a sensible and considered decision based on that. If you stick to this formula, you are giving yourself the best chance possible to end up with a mattress that you find comfortable, a mattress which suits your way of life and way of sleeping, and a mattress which contains the features that apply best to you.
When we considered the Nectar and the Purple mattresses, each one had its benefits and its disadvantages. The Nectar is the most affordable mattress of the two, and it also offers the best trial period. It also offers pretty similar features to the Purple, and is definitely one of the best mattresses out there, at a very reasonable cost. The warranty is also for a whole lifetime – which is impressive. The Purple couldn't match that, but still offers a ten-year warranty, which isn't bad at all.
The battle doesn't end with cost, warranty and trial, however. The Purple mattress offers some great features and will make a great mattress choice for many potential buyers out there. We're sure that whichever suits your sleeping style and habits will be the best option for you.