Tempur-Pedic vs AmeriSleep. The original luxury foam mattress vs one of the newer, most innovative mattress brands out there. There's a lot to love about both of these brands so we put together this side by side comparison to help you see how they stack up against one another and why each is so universally appealing.
When it comes to AmeriSleep vs Tempur-Pedic, there are some differences when it comes to shipping, convenience, comfort, and price. So, which is better for you? The tried-and-true original luxury foam mattress? Or the innovative new kid on the block. Let's take a closer look to compare.
Quick Comparison
Tempur-Pedic
Amerisleep

Medium with soft sleeping surface
SmartClimate dual-layer removable cover wicks away moisture and helps regulate heat
Effective against motion transfer
Exceptional edge support
Not compressed
Little off-gassing and odor
Luxury priced

Medium firmness with soft sleeping surface
Bio-Pur foam layer that's 5 times more breathable than traditional memory foam
Good edge support
Ships compressed
No off-gassing or odor
Affordably priced
Mattress specifications
| | | |
| --- | --- | --- |
| | Tempur-Pedic | Amerisleep |
| Type | Foam | Foam |
| Firmness | Medium (5) | Medium (5.5) |
| Thickness | 11″ | 12″ |
| Weight | 79 lbs | 96 lbs |
| Sleep trial | 90 nights | 100 nights |
| Warranty | 10 years | 20 years |
| Price | $2,099 | $1399 |
| Certification | CertiPUR-US | CertiPUR-USMeets Clean Air Act standards |
Construction
Tempur-Pedic
                           Amerisleep
Support core
Polyfoam (Solid)
2″ 1.65 PCF polyfoam7″ 1.8 PCF polyfoam
Comfort layers
Memory foam
3″ 4 PCF memory foam
Cover
SmartClimate dual-layer removable cover
77% Polyester21% Celliant

2% Spandex
There are some things to consider when it comes to the materials used in each of these mattresses. Tempur-Pedic uses their own brand of TEMPUR material that's made up of millions of cells designed to contour to your body and support you throughout the night. It's not the same as generic memory foam and springs back to its original shape quickly and reliably.
AmeriSleep uses one of the most environmentally friendly foams in the business. They use some plant-based materials instead of foam that's completely petroleum based. That means little to no scent or off-gassing. If you're environmentally conscious, this can make all the difference.
Comfort
When it comes to choosing the right mattress, there are a lot of things to consider: firmness, support, heat retention, and motion transfer, just to name a few. But it's also important to keep in mind your own sleep preferences so you can find something that perfectly suits you.
To help you decide which is better suited for you, here's everything you need to know about Tempur-Pedic and AmeriSleep.
Firmness and support
The AS3 is the most versatile of all the AmeriSleep mattresses. The medium firmness suits most people but is particularly good for side and combination sleepers because it conforms to support the hips and shoulders while still providing enough support for the spine.
The Tempur-Pedic is just a bit softer than the AmeriSleep but is still considered medium firmness. It's an inch thinner but the brand's unique TEMPUR material does a great job of supporting and conforming to the body, even without the extra height. If you like something with a little more hug, the Tempur-Pedic has a slight edge.
Tempurature control
One downside to most memory foam mattresses is they sleep hot. The nature of the material is to soak up body heat but each brand has a different way of dealing with this, using different materials to help disperse heat.
The AmeriSleep mattress has a Bio-Pur foam top layer that is five times more breathable than traditional memory foam. The open-cell structure allows heat to move through the mattress more effectively. That said, this mattress still tends to be a little hot. This might not bother some people but for those who sleep hot, it could make all the difference.
Tempur-Pedic mattresses are covered with a SmartClimate dual-layer cover made of moisture-wicking material that keeps you cool and dry through the night. It's moderately effective but, as we said, it's not always easy to prevent foam mattresses from getting hot. The Tempur-Pedic has just a slight edge.
Motion transfer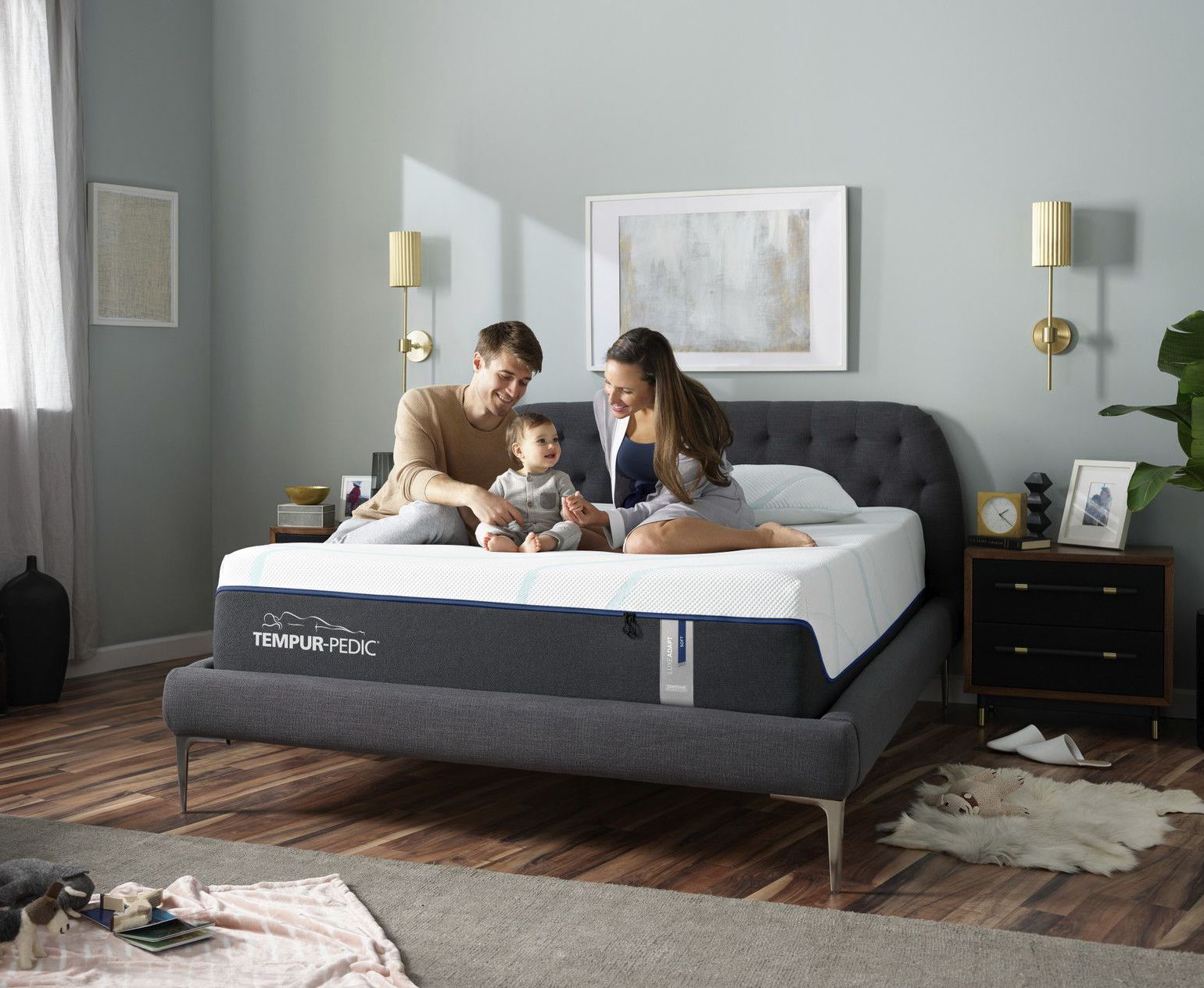 One area in which memory foam mattresses really beat out other materials is with motion transfer. In fact, when they first hit the market, it was one of the major selling points.
Both of these mattresses perform well in this area. The AmeriSleep mattress is excellent. You won't have to worry about being woken up by a partner tossing and turning throughout the night.
Tempur-Pedic has always performed well in this area. One of their first advertising campaigns involved someone jumping on the mattress next to a glass of red wine to demonstrate that its motion transfer is essentially zero.
Responsiveness
This is one area in which the AmeriSleep mattress is the clear winner. Most memory foam mattresses have a slow response time because it takes a few seconds to contour to your body which is why it feels like you almost sink into it when you lay down. AmeriSleep uses foam that responds in only four seconds which drastically cuts down on sink time and prevents that "stuck" feeling.
Like most memory foam mattresses, the Tempur-Pedic has a slow response time. It can take about a minute for the foam to completely hug your body once you get in bed. This mattress has a softer feel than a lot of memory foam mattresses and performs better than most when it comes to responsiveness but not as well as the AmeriSleep.
Resilience and bounce
Both of these mattresses are pretty resilient and regain their shape easily. The Tempur-Pedic takes a bit longer than the AmeriSleep but they both reliable regain their shape in a reasonable amount of time.
Edge support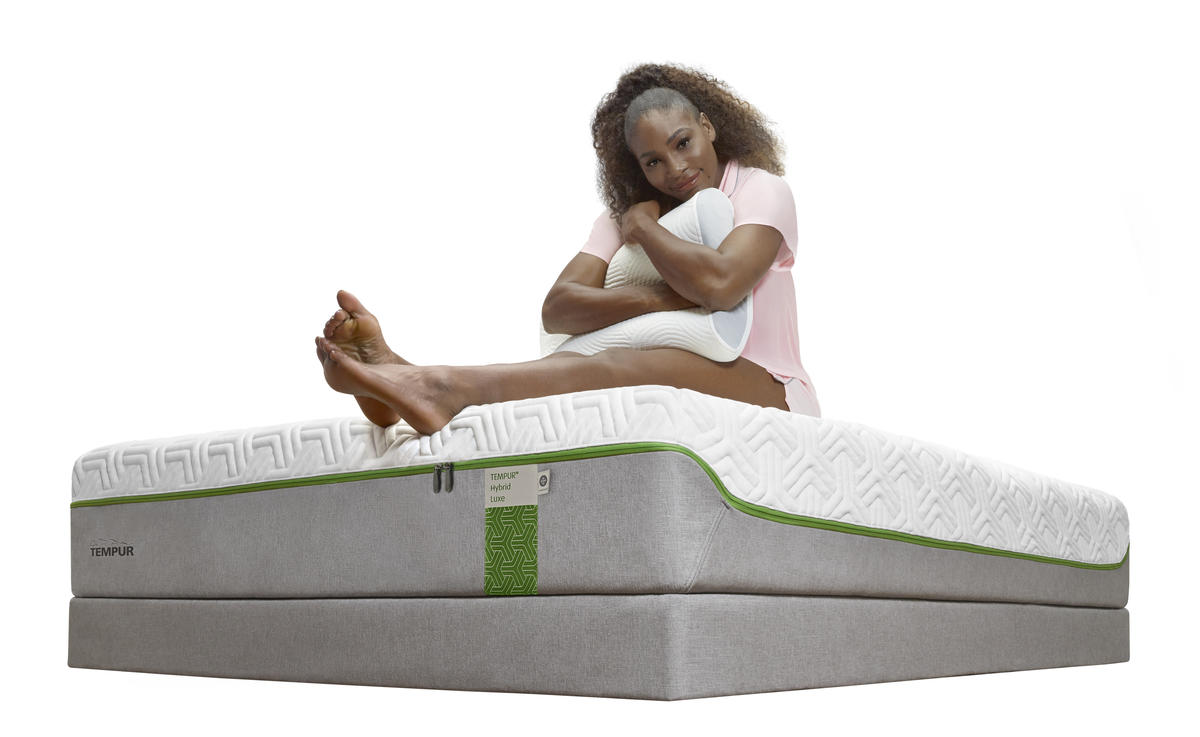 Most memory foam mattresses lack edge support but the AmeriSleep does better than most. There's a little bit of sinking but they edge still provide enough support that you don't need to worry about falling out of bed.
That said, Tempur-Pedic really wins out here. It has amazing edge support so you can use the entire bed, from edge to edge, without feeling like the edge is going to collapse under you.
Inflation time, off-gassing and smell
One of the best things about AmeriSleep is that they use plant-based materials in place of some of the petroleum in the foam. The result is a more environmentally-friendly mattress that has little to no off-gassing or odor. It expands much faster, too. You can sleep on it in as little as six hours, though it may take a full 24 hours to regain its original shape.
Tempur-Pedic mattresses do have a slight off-gassing smell but not nearly as much as most memory foam mattress. This is likely due to the fact that Tempur-Pedic mattresses do not ship compressed. There's no inflation time, either, though they're not as convenient when it comes to carrying them from the front door to your bedroom.
Sleep position ratings
SLEEP POSITION
Light sleepers(less than 130 lbs)
Average sleepers(130 lbs to 230 lbs)
Heavy sleepers(greater than 230 lbs)
Tempur-Pedic
Side
8
9
8
Back
10
8
8
Stomach
7
8
7
Amerisleep
Side
9
10
9
Back
9
10
10
Stomach
9
9
8*
*Out of 10
As you can see, the AmeriSleep mattress has a slight edge for support in all of these categories, particularly for heavy sleepers weighing more than 230 pounds. It's also worth pointing out that this holds true for all sleeping positions. That said, the Tempur-Pedic is still a great performer and has better ratings than most memory foam mattresses, particularly for back sleepers.
Sizes and pricing
| | | |
| --- | --- | --- |
| SIZE | Tempur-Pedic | Amerisleep |
| Twin | $1,599 | $1099 |
| Twin XL | $1,599 | $1149 |
| Full | $1,914 | $1249 |
| Queen | $2,099 | $1399 |
| King | $2,792 | $1699 |
| California King | $2,799 | $1699 |
| Split King | $1,699 | – |
Customer service
| | | | |
| --- | --- | --- | --- |
| | Sleep trial | Warranty and refund | Delivery |
| Tempur-Pedic | 90 nights | 10 yearsFull refund minus shipping charges | Within the U.S. |
| Amerisleep | 100 days | 20-year warrantyfull refund | All 48 contiguous states |
These mattresses are somewhat evenly matched so when making your decision, it really could boil down to the fine print.
Warranty and delivery details
While AmeriSleep offers a 20-year warranty, it's actually split into two 10-year increments. For the first ten years, a full replacement warranty applies. After that, coverage is prorated from the purchase date. During the initial ten-year period, AmeriSleep will evaluate the claim to verify that there were problems with workmanship or materials. Normal softening or a decrease in recovery time are not covered. In the second ten year period, they will replace your mattress for 50 percent of the original purchase price. You are responsible for all shipping costs.
What's covered? Any indentations greater than ¾-inch cause by the degradation of the material as long as the mattress was used on a proper foundation. They suggest a solid wood, non-spring flat foundation. If you use a box spring, a ¾-inch sheet of moisture-resistant plywood must be used between it and the mattress. Slatted bases must have slats that are no greater than three inches apart. Using an insufficient base voids the warranty and you have to show proof of the foundation when filing a claim.
AmeriSleep mattresses include a 100-day in-home sleep trial. To qualify, you have to sleep on the mattress for at least 30 nights to adjust because it can take a few weeks to get used to a new mattress, especially if you've never slept on memory foam before. If you're not satisfied between nights 31 and 100, contact AmeriSleep for a full refund. They even arrange to have your mattress picked up, free of charge, and will make sure it's either donated of recycled so there's no waste.
Tempur-Pedic mattresses come with a 10-year replacement warranty if there's anything faulty with the materials or workmanship as long as the mattress is purchased from an authorized retailer. It's worth noting that the warranty is voided if you fail to use a proper base or foundation. They're very particular about this so make sure you read the fine print to find out what's an acceptable base. This warranty covers splits, cracks, and any indentations greater than ¾-inch.
One thing to pay attention to if you choose a Tempur-Pedic is that, unlike most modern memory foam mattresses, they do not ship compresses. They do offer white-glove delivery service in the U.S. where the set up your new bed, dispose of all packing materials, and remove your old bed and box spring if needed. Plus, they come with a 90-day sleep trial. They require you to try the mattress for at least 30 nights. If you're not satisfied and you purchased from an authorized retailer, you can contact them directly to resolve your concerns.
PROS:
Medium support
Softer sleeping surface
Made of higher quality materials
Better edge support
Minimal off-gassing and odor
White glove delivery service
CONS:
More expensive
Does not ship compressed
PROS:
Medium support
Quick recovery time
Environmentally-friendly materials
More affordable
Good for all sleeping positions
More supportive for sleepers of above average weight
No off-gassing
Ships compressed
CONS:
Edge support not as reliable
In conclusion
These mattresses are somewhat evenly matched, though the Tempur-Pedic does have a slight edge in most areas. One of the reasons that it doesn't ship compressed is that it's made of higher quality materials. Plus, it's the standard by which all other memory foam mattresses are measured. It's also significantly more expensive.
The AmeriSleep mattress is more versatile when it comes to sleeping positions and the environmentally-friendly materials are definitely enticing. At first glance, the AmeriSleep mattress seems to have a better warranty with 20-year coverage, but a closer look at the fine print reveals that coverage drops significantly in the second half of the warranty period.
If you're a side-sleeper and your partner is a stomach sleeper, the versatility of the AmeriSleep makes it a better choice. On the other hand, if you want something that will keep you a little cooler and has amazing edge support, the Tempur-Pedic is the way to go.