TalkAboutSleep is reader-supported. We may earn a commission through products purchased using links on this page. Learn more about our process
here
Synonymous with good sleep are two brands in the market that offer versatility and comfort for a wide range of sleeping positions. Both the Tempur-Pedic and Helix mattresses are popular with many consumers in the world receiving glowing reviews and ratings. Today we compare Tempur-Pedic vs Helix mattresses sharing their pros and cons so that you have an inkling of which direction to go in.
There are many brands of mattresses in the market but we chose these two mattresses simply because they have great characteristics and can house sleepers of different weight capacities. Backed by customer reviews and ratings, these two mattresses are the ones to look out for.
Quick Comparison
The Tempur-Pedic mattresses are made in the US and they feature three layers to give the ultimate experience in terms of comfort and support. You can get these mattresses in different sizes depending on your needs but today we are looking at the 11-inch model. Equipped with 1000+ spring coils, the 11-inch Tempur-Pedic mattress provides support for various sleeping positions. It is accompanied by a 90-night trial period and a 10-year warranty for you to gauge the quality of the mattresses.
Considerably less expensive than the Tempur-Pedic is the US-made Helix 10-inch mattress which is equipped with different foam densities to create the perfect sleeping environment. Featuring wrapped coils, this mattress has gained a reputation of providing excellent edge support. Whether laying on your back or side, this mattress creates the perfect contour of your body to relieve pressure from your muscles. It also comes with a 10-year warranty and a 100-night trial period.
Tempur-Pedic
Helix

11-inch foam mattress with a medium feel to it.
Features hybrid technology that utilizes 1000+ spring coils to give balance.
Comes with a 10-year warranty.
Cool to touch cover intended to provide a cool soft feel.
TEMPUR-ES® comfort layer to supply comfort and structural support.
TEMPUR-ES® support layer designed to provide balance, comfort and structural support,
90-night trial period.

10- inch foam mattress with a cover designed to increase airflow and provide a soft feel.
Use different foam densities to create the proper contour for the body therefore, releasing pressure.
Wrapped spring coils create excellent edge support.
DuraDense Foam at the base provides support for the whole mattress.
Polyfoam transitional layer is for cushioning and giving ergonomic support.
Memory Plus Foam comfort layer of 2.5 PCF density.
100-night trial period
10-year warranty.

VIEW ON AMAZON
VIEW ON HELIX SLEEP
Mattress specifications
| | | |
| --- | --- | --- |
| | Tempur-Pedic | Helix |
| Type | Hybrid | Hybrid |
| Firmness | Medium (6) | Medium (5.5) |
| Thickness | 11″ | 10″ |
| Weight | 79 lbs | 84 lbs |
| Sleep trial | 90 nights | 100 nights |
| Warranty | 10 years | 10 years |
| Price (Queen) | $2,199 | $895 |
| Certification | CertiPUR-US | CertiPUR-US |
Construction
Tempur-Pedic
Helix
Support core
Tempur® Polyfoam (Solid)
1000+ Spring coils
pocketed coils
HD polyfoam
Comfort layers
Tempur-ES® Memory foam
2.5 PCF memory foam
transitional polyfoam
Cover
Cool-touch knit cover
dual-layer stretch polyester
Both the Tempur-Pedic and Helix mattresses come with three layers each created to carry out a specific function. The main difference is in the quality of materials being used. The Tempur-Pedic model uses the patented TEMPUR® material while the Helix mattress utilizes generic foam which wears out after some time. TEMPUR® material comprises of moveable cells that cushion your body as you sleep. This material will pick up your body temperature and distribute your body weight to create a perfect sleeping experience. Additionally, the TEMPUR® material bounces back to its original shape every time therefore, providing years of service.
Comfort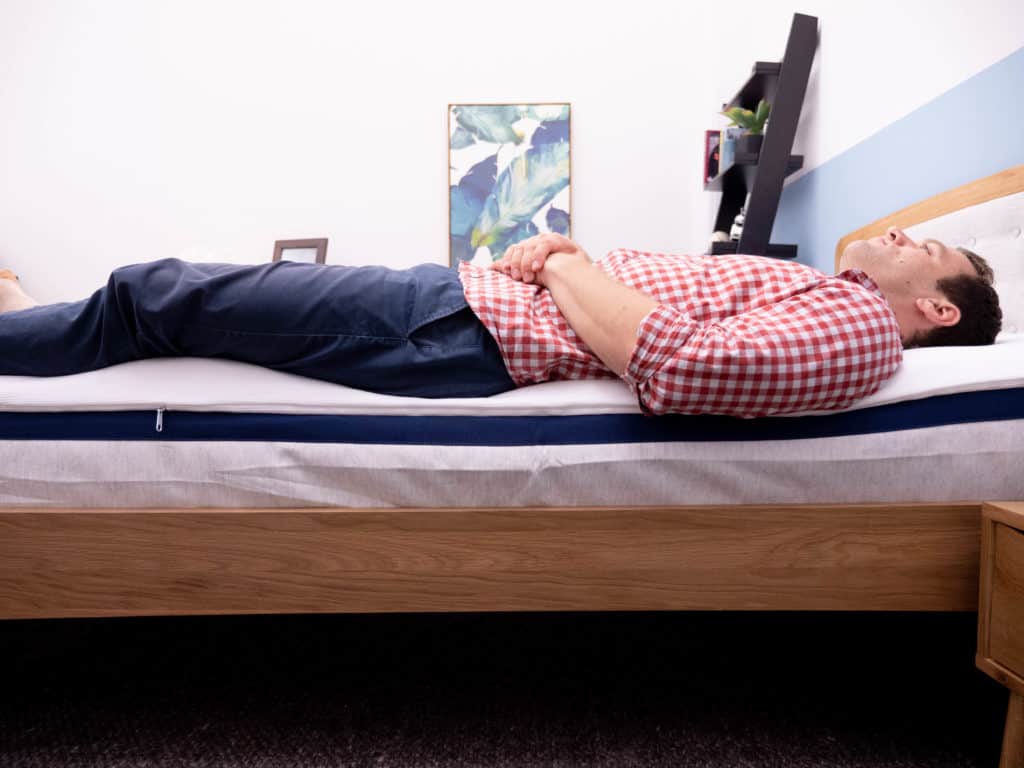 Selecting an improper mattress will only lead to more sleepless nights, therefore, it is important to understand the mattress features presented. Factors such as firmness, motion transfer and temperature control will affect the quality of your sleep and therefore, should not be negated. Let us compare how both these mattresses performed after considering all the factors stated below.
Firmness and support
Tempur-Pedic
To provide the sleeper with support and comfort the Tempur-Pedic mattress has three layers. The base layer that consists of a solid Tempur® Polyfoam that has 1000+ springs incorporated to provide structural support as you sleep no matter your weight. Next is the TEMPUR-ES® comfort layer that cushions you adding more comfort while the high weight yarn cover dissipates heat leaving you with a cool feeling. Overall, the medium feel mattress offers excellent support and comfort for sleepers of all positions.
Helix
Helix also has different layers of foam to create the perfect box bed. The base is made of pocketed coils and HD polyfoam. The second layer is the comfort layer that is made 2.5 density memory foam that provides cushioning and relaxation. The third and final layer is the top cover made from polyester which provides temperature control.
All in all, the Helix mattress is much softer compared to the Tempur-Pedic. However, in terms of comfort, the Tempur-Pedic wins.
Temperature control
You want a mattress that is able to correspond with your body temperature. Waking up all sweaty is not an experience appreciated by many and that is why manufacturers have to be careful choosing the right cover material.
The Tempur-Pedic uses ultra-high weight molecular yarn on the cover so as to dissipate heat as you sleep. No more sweaty nights thanks to the cool-to-touch cover. On the other hand, the Helix mattress uses a stretch polyester to increase airflow and disperse the heat that your body produces as you sleep.
Motion transfer
The last thing you want is to have a mattress that wobbles around when you sit or stand. The Tempur-Pedic mattress has an edge here due to the 1000+ spring coils located at the base of the structure. The coils allow you to move without displacing the other section of the bed. On the other hand, the Helix mattress features individually wrapped coils that create excellent edge support and less motion as you toss and turn at night. The other layers work together to muffle the movement and therefore, making the mattress appropriate for couples and side sleepers.
Responsiveness
In terms of responsiveness, the Tempur-Pedic takes the cake thanks to its structure. The 1000+ springs provide unparalleled balance. On top of that, the 11- inch mattress is thick enough to provide enough cushioning therefore, relieving pressure and relaxing your body.
On the other hand, the helix mattress is responsive too but it still does not match the Tempur-Pedic. Thanks to the individually wrapped coils and different foam densities, this 10-inch mattress cushions and contours your body without giving you the feeling of sinking deep into the mattress.
Resilience and bounce
The Tempur-Pedic offers more in terms of bounce and resilience thanks to its structure. The Tempur® Polyfoam solid base offers more resistance going in and therefore, the bounce back is automatic and strong. We find this mattress more resilient thanks to the Tempur® fabric that regains its shape after every use.
The Helix mattress also has adequate resilience and bounce thanks to the different densities of memory foam built. Since the base is not as strong/solid as the Tempur-Pedic, the bouncing effect has lower energy but nonetheless adequate.
Edge support
The Helix mattress claims to be the best in the class when it comes to edge support. This is attributed to the wrapped spring oils in the structure. The wrapped spring coils allow the side sleeper to lay on the bed comfortably without tipping over.
The Tempur-Pedic has a thicker base and has proved that a user can sleep in all the positions they want comfortably. You will not experience any rollover. However, where edge support is concerned, the Helix mattress gets it.
Inflation time, off-gassing and smell
Both these mattresses come flat packed and they need time to decompress. Depending on the brand that you choose, the decompression time may vary from the next. Manufacturers are sure to leave instructions as to the amount of time required to decompress the mattress.
Mattresses always come with some chemical odor that usually dissipates after a while. Some take a few hours and some take a few days. Both these mattress models should be able to air out in a short amount of time.
Sleep position ratings
SLEEP POSITION
Light sleepers
(less than 130 lbs)
Average sleepers
(130 lbs to 230 lbs)
Heavy sleepers
(greater than 230 lbs)
Tempur-Pedic
Side
8
9
8
Back
10
8
8
Stomach
7
8
7
Helix
Side
9
10
10
Back
10
9
8
Stomach
9
8
7*
*Out of 10
The same way they say that the wearer knows where the shoe pinches, is the same way we say the sleeper knows where the sweet spot is. The mattresses presented were tested by a wide range of sleepers to determine which mattress was comfortable in different directions. The results indicate that the Helix mattress was a mass favorite for side, stomach and back sleeping positions. The Tempur-Pedic proved to be a favorite for light-average sleepers who prefer to lay on their side and backs. Depending on your weight and sleeping position, select appropriately.
Sizes and pricing
| | | |
| --- | --- | --- |
| SIZE | Tempur-Pedic | Helix |
| Twin | $1,699 | $500 |
| Twin XL | $1,699 | $600 |
| Full | $2,049 | $750 |
| Queen | $2,199 | $895 |
| King | $3,398 | $1,145 |
| California King | $2,899 | $1,145 |
| Split King | $1,699 | – |
Customer service
Sleep trial
Warranty and refund
Delivery
Tempur-Pedic
90 nights
10 years
Full refund minus shipping charges
Within the U.S.
Helix
100 days
10-year warranty
full refund
Within the U.S. and most of Canada
Warranty
The Tempur-Pedic mattress comes with a 90-night trial which is adequate time to determine if you like the product. You also get 10- year warranty that guarantees you a full refund minus shipping charges just in case the mattress is faulty. The mattress can only be shipped within the U.S therefore outside customers will have to incur large shipping fees.
The Helix mattress offers a 100-night trial period which is 10-more days than the Tempur-Pedic mattress. Additionally, it comes with a 10- year warranty in which you can get a full refund if there are problems with the product. This mattress can be shipped within the U.S and Canada making it attainable to more people.
So which should you buy?
Tempur-Pedic
VIEW ON AMAZON
Pros
Superior structural design featuring 1000+ springs and layers of foam for comfort.
Provides an excellent bounce and resilience to pressure.
Medium firmness makes it adequate for different sleeping positions.
Keeps night sweats at bay thanks to the ultra-high weight molecular yarn that dissipates heat.
Features motion isolation to keep the sleepers comfortable even when tossing and turning.
A great choice for people who love sleeping on their back.
Cons
Quite an expensive mattress.
Not too friendly to stomach sleepers.
Helix
VIEW ON HELIX SLEEP
Pros
Medium firmness, yet comfortable thanks to the structure of the foam layers.
The mattress provides stability therefore, you won't wake the other person.
Uses wrapped coils to provide side sleepers with exceptional edge support.
Relieves pressure off your muscles and spine.
Features a polyester cover that increases airflow thus promoting breathability.
Sold at an affordable price.
Cons
May be too soft for some sleepers.
In conclusion
It would be a lie to say one mattress is better than the other as they are both good quality mattresses that meet industry standards. It all boils down to the user's personal preference.
For those who have a bit of money to spend, the Tempur-Pedic is a good option. The 11-inch mattress features patented TEMPUR® material which is known for its durability and ability to cushion the body as you sleep. Additionally, the mattress features 1000+ spring coils for balance and firmness required for great sleep. If you love sleeping on your back, you cannot go wrong with this mattress.
If you are a side sleeper looking for a bed with excellent edge support then look no further than the Helix mattress. Created out of several layers of foam, this mattress is a bit softer compared to the Tempur-Pedic model. If you need a bit more cushioning but cannot handle too much motion when you sleep, purchase this affordable model.
In this matter of Helix vs Tempur-Pedic mattresses, who do you think won?