TalkAboutSleep is reader-supported. We may earn a commission through products purchased using links on this page. Learn more about our process
here
If you're used to an innerspring mattress and aren't quite ready to make the jump to memory foam, there is another option. Hybrid mattresses are the best of both worlds. They give you the support of an innerspring with the comfort and contouring of memory foam to help you get a good night's sleep. If you're trying to decide what hybrid mattress is best, take a look at our Tempur-Pedic vs Leesa comparison.
The Tempur-Pedic and Leesa hybrid mattresses each provide versatile support that fits most sleepers, regardless of body type or sleeping position. These mattresses are both highly recommended by users and experts like. So, which one is right for you? This Leesa vs Temper-Pedic comparison pits one of the newest, most raved about brands against the original luxury memory foam mattress. Let's take a look at what sets each one apart and how they stack up next to each other.
Quick Comparison
Tempur-Pedic
LEESA

Medium soft with a soft sleeping surface
Sleeps a bit hot
Excellent motion transfer
Good responsiveness
Great edge support
Does not ship compressed and doesn't need to expand
Slight off-gassing and smell that dissipates quickly
More expensive

Medium firm with a slightly firm sleeping surface
Neutral sleep temperature
Good motion transfer
Excellent responsiveness
Good edge support
Fast inflation time
Minimal off-gassing and smell
More affordable

VIEW ON AMAZON
VIEW ON AMAZON
Mattress specifications
| | | |
| --- | --- | --- |
| | Tempur-Pedic | Leesa |
| Type | Hybrid | Hybrid |
| Firmness | Medium (6) | Medium (7) |
| Thickness | 11″ | 11'' |
| Weight | 79 lbs | 115 lb |
| Sleep trial | 90 nights | 100 nights |
| Warranty | 10 years | 10 years |
| Price | $2,199 | $1,370 |
| Certification | CertiPUR-US | CertiPUR-US®-Certified |
Construction
Tempur-Pedic
Leesa
Support core
Tempur® Polyfoam (Solid)
1000+ Spring coils
6'' individually wrapped pocket springs with 14.5 gauge
1'' foam
1'' core support base
1.5'' memory foam
Comfort layers
Tempur-ES® Memory foam
1.5'' premium foam
Cover
Cool-touch knit cover
Dual-layer stretch polyester
The Tempur-Pedic hybrid uses the same TEMPUR material for the top comfort layers that they do in all of their mattresses. This material is unique to Tempur-Pedic and is not quite the same as typical memory foam. It's made of millions of moveable cells that contour to your body and provide customized support. It springs back to its usual shape quickly and reliably and doesn't get indents as frequently as other brands of foam. The support layer consisted of more than 1,000 individually wrapped innerspring coils. This layer is encased in foam for additional support.
Leesa uses several layers of foam to create a responsive, contouring sleep surface that provides both hug and pressure relief. They include a top layer of cooling foam, a layer of contouring memory foam, and core support memory foam. A supportive base is made of six-inch pocket spring system with a perimeter for addition edge support.
The big difference here is in the number of layers. The Leesa has four foam layers in addition to the innersprings. The Tempur-Pedic only has two. How does this affect comfort? Let's find out.
Comfort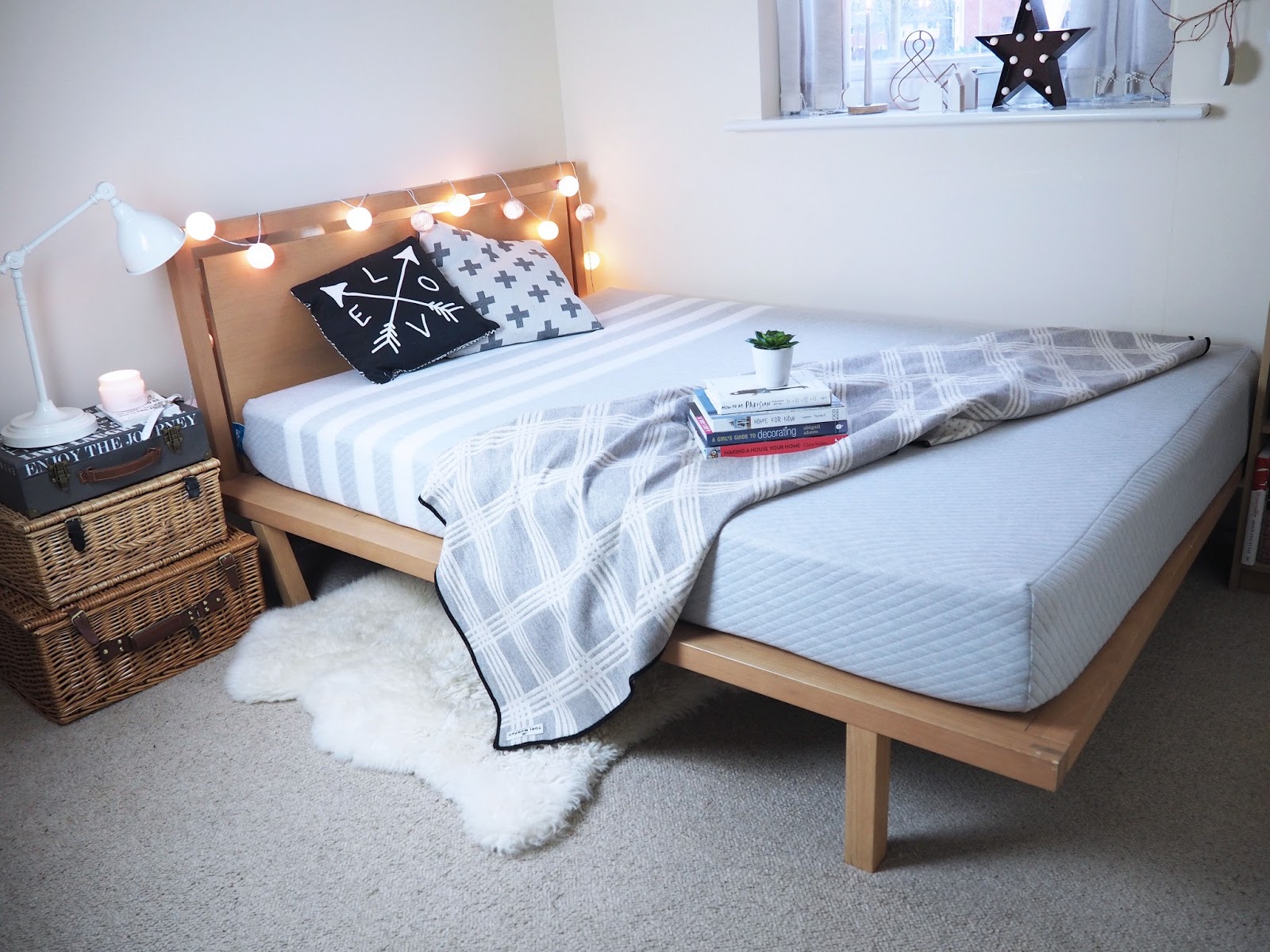 There are a lot of things that contribute to the comfort of a mattress. How firm is it? Do you sink slowly into it or does is quickly respond to pressure? Does it sleep hot or cold? What about edge support and motion transfer?
Before deciding which of these mattresses is best for you, take some time to consider what kind of sleeper you are. Do you get hot overnight or does temperature not bother you? Are you a light sleeper that wakes up when your partner moves around at night? What position do you sleep in?
The Tempur-Pedic and Lessa hybrid mattresses are pretty closely matched but there are a few areas where one definitely has an edge over the other. That's why it helps to know exactly what you're looking for when deciding between these two mattresses.
Firmness and support
The Leesa Hybrid mattress is rated medium but it's on the higher end of the range. Some people might even consider it medium-firm. This is in part because the bottom layer of innerspring coils is pretty firm while the upper foam layers are a soft, comfortable, accommodating sleep surface with a little bit of hug. The extra firmness of the support layers makes it a good choice for back sleepers but it's well suited for just about anyone.
The Tempur-Pedic Adapt hybrid mattress has a medium rating but it's actually on the low end of the scale which makes it slightly softer than the Leesa hybrid. The top layer of comfort foam which is comfortable and has a nice amount of hug that makes it a great choice for any sleeping position.
This is one of the key differences between these two mattresses. If you prefer something softer, the Leesa might be a better fit while the Tempur-Pedic is just a bit softer. That said, they're both considered medium so don't expect either a firm or pillow top feel.
Temperature control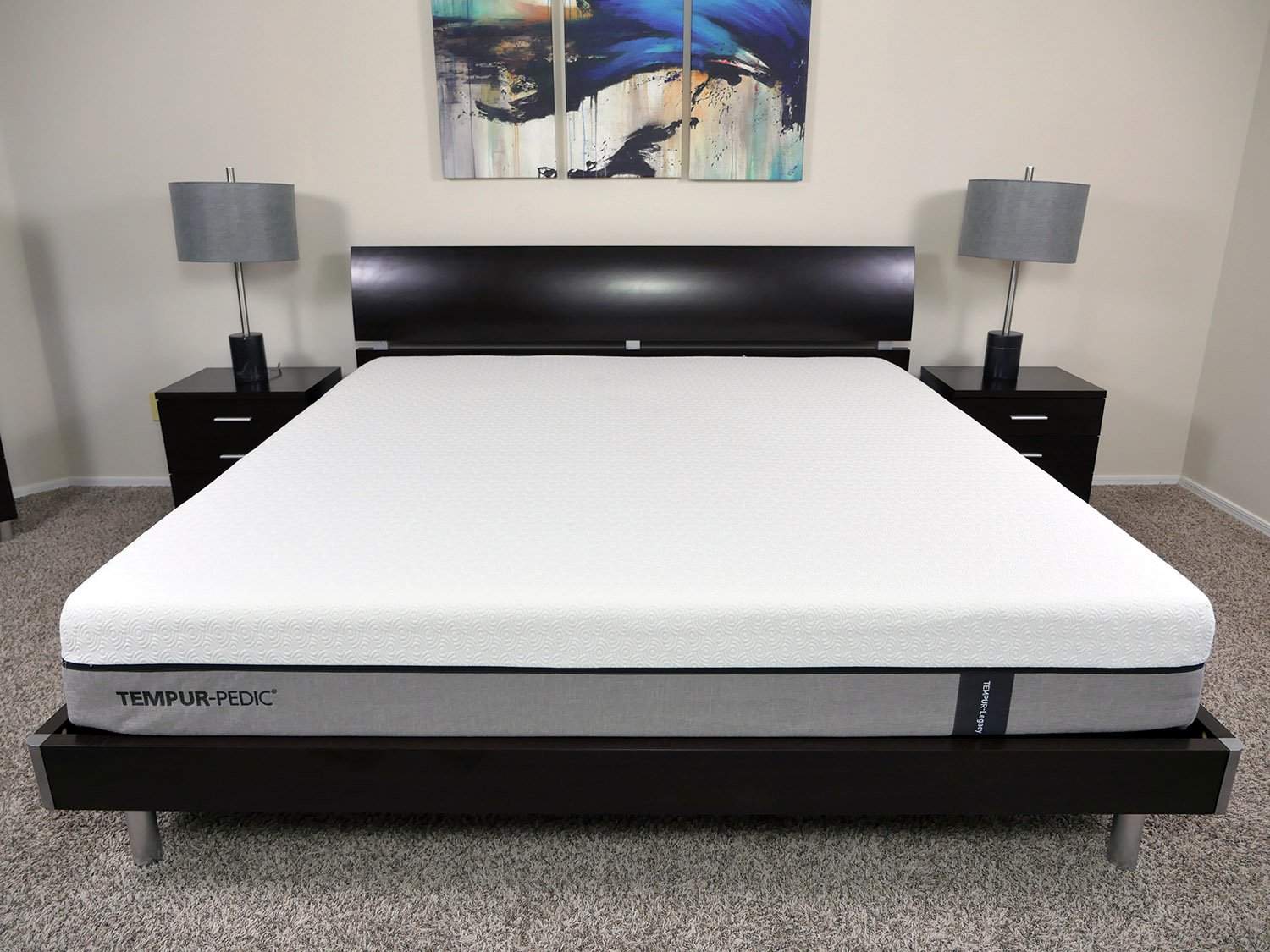 The Leesa has a bit of an edge when it comes to cooling. Because of their construction, Leesa Hybrids sleep pretty neutrally. Generally, hybrid mattresses sleep cooler than pure memory foam mattresses because the bottom coils are open and allow air to flow through more easily. The multiple layers of foam also allow more air movement than the foam used by Tempur-Pedic. Plus, because the Leesa mattress is firmer, you don't sink into it as much so there's less contact between your body and the mattress and less opportunity for heat to transfer.
The Tempur-Pedic hybrid has a cool-touch cover that's designed to wick away moisture and heat to help you feel cooler throughout the night. While it does perform a little better than a standard memory foam mattress, the Tempur-Pedic hybrid does sleep a little hot. If temperature is an issue for you, the cool-touch cover may not be enough to keep you cool.
Motion transfer
While the Leesa hybrid mattress is better than a traditional innerspring at motion transfer, it still has a fair amount of movement. While this might not be a problem if you're a heavy sleeper, for someone who wakes up easily and shares a bed with a partner, it could be quite disruptive.
Tempur-Pedic is known for its lack of motion transfer. It featured prominently in one of their earliest ad campaigns when they placed a glass of red wine on a mattress and had someone jump up and down on the other side of the bed without spilling it. The Tempur-Pedic hybrid mattress performs exceptionally well when it comes to motion transfer. It's a great choice for light sleepers who are woken up by a partner tossing and turning next to them. This is one area where the Tempur-Pedic definitely comes out ahead.
Responsiveness
One of the most impressive things about the Leesa hybrid mattress is its responsiveness. The base layer of pocketed coils reacts quickly which helps the mattress to regain its shape in only a few seconds. This makes it easier and more comfortable to change position overnight without having to wait to sink back into the mattress.
Because the Tempur-Pedic is a little softer, it's response time is a little slower than the Leesa though it's still pretty impressive. It regains its shape in only about four or five seconds, depending on how much it's compressed. This is especially important if you're a side sleeper who changes position frequently throughout the night. It may take you a few extra seconds to get comfortable again.
Resilience and bounce
If you're looking for a mattress with bounce, the Leesa hybrid is a great choice. Again, it's the unique combination of individually wrapped coils combined with layers of responsive memory foam that help it quickly bounce back into shape.
The Tempur-Pedic hybrid has a pretty good bounce, too. Though it's not quite as resilient as the Leesa, it reliably regains its shape and the foam-encased innerspring coils are very responsive. The two mattresses are pretty evenly matched in this category.
Edge support
One of the best things about the Leesa hybrid is it has excellent edge support. This is particularly good for couples because it means that you can utilize the entire surface, right up to the edge, which makes sharing a bed a little more comfortable.
The Tempur-Pedic has great edge support, too, in part because the coils are foam encased which adds an extra bit of support in the base. It's a great choice for couples in this regard because they can use every last inch without having to worry about rolling off if they get too close to the edge.
Inflation time, off-gassing and smell
The Leesa hybrid mattress ships compressed and takes about an hour to expand. It takes a day or so to firm up and regain its original shape. There is a noticeable smell when the mattress first expands but it dissipates quickly. All memory foam mattresses have a bit of an odor when first taken out of the box but since this mattress is a hybrid, it isn't made entirely of foam so the smell doesn't linger as long.
Tempur-Pedic does not ship their mattresses compressed in part because they tend to be made of higher quality materials. So, they're ready to sleep on right out of the box. While you may notice a slight smell at first, it's usually nothing compared to other mattresses. Since the mattress is not compressed, it has a better chance to air out and the materials just don't produce as much odor.
It's worth noting that both Leesa and Tempur-Pedic use CertiPUR-US certified foam. This is an independent certification that verifies that the foam used in the mattress meets certain standards for content, emissions, and durability. The certification process was developed by the foam and mattress industries as well as an advisory panel of scientists, environmentalists, and academics. To maintain this certification, foams are tested yearly and random on-site visits are made.
CertiPUR-US certified foam doesn't use ozone depleters, flame retardants, formaldehyde, or phthalates and has low VOC emissions to improve indoor air quality. So, while the Leesa and Tempur-Pedic foams may be different, they both adhere to these guidelines.
Sleep position ratings
SLEEP POSITION
Light sleepers
(less than 130 lbs)
Average sleepers
(130 lbs to 230 lbs)
Heavy sleepers
(greater than 230 lbs)
Tempur-Pedic
Side
8
9
8
Back
10
8
8
Stomach
7
8
7
Leesa
Side
7
9
9
Back
9
10
10
Stomach
8
9
9*
*Out of 10
As you can see, the Leesa mattress has a bit of an edge over the Tempur-Pedic hybrid for almost all types of sleepers across all body types. The Tempur-Pedic is just slightly better for light sleepers under 130 pounds but the Leesa is better for average and above average weight sleepers.
This is an important thing to keep in mind if you sleep with a partner that has a different build or sleeps in a different position than you do. While the difference in performance isn't terribly significant, it is there and is something to consider.
Sizes and pricing
| | | |
| --- | --- | --- |
| SIZE | Tempur-Pedic | Leesa |
| Twin | $1,699 | $1,040 |
| Twin XL | $1,699 | $1,147 |
| Full | $2,049 | $1,395 |
| Queen | $2,199 | $1,370 |
| King | $3,398 | $1,570 |
| California King | $2,899 | $1,895 |
| Split King | $1,699 | – |
Customer service
Sleep trial
Warranty and refund
Delivery
Tempur-Pedic
90 nights
10 years
Full refund minus shipping charges
Within the U.S.
Leesa
100 days
10-year warranty
full refund
Within the U.S. and most of Canada
Warranty and delivery
Leesa provides a 10-year replacement limited warranty that covers indentations greater than one inch and physical flaws due to materials or craftsmanship. In order to maintain warranty coverage, the mattress has to be supported by a proper frame or foundation. Some softening over time is normal and is not covered as long as it doesn't interfere with the pressure-relieving qualities of the mattress. If Leesa determines defects are present, they give you a replacement mattress for free but you have to cover the cost of transportation and shipping.
You also get a 100-day trial so you can try the Leesa mattress out at home to make sure it's a good fit. They ask that you try it for at least 30 nights to give yourself time to adjust. After that, if you're not satisfied in the trial period, they'll pick up the mattress at your home and refund the total purchase price.
Tempur-Pedic mattresses are covered by a 10-year replacement warranty for defects in workmanship or materials as long as you purchase from an authorized retailer. To maintain the warranty, you have to use a proper base or foundation. They're pretty particular about what they consider appropriate. For example, queen-sized mattresses and larger have to have a frame with five to six legs or a three-beam support system. Read the fine print carefully. Splits, cracks, and indentations that are greater than ¾-inch are covered.
Something else to keep in mind is that Tempur-Pedic does not ship their mattresses compressed. This can make it tricky to get the mattress from the front door to the bedroom but, luckily, they also offer white glove delivery service in the U.S. Not only do they set up your new bed, they also discard all of the packing materials and remove your old mattress and box spring if necessary.
Tempur-Pedic mattresses also come with a 90-day sleep trial so you can try it in your own home to make sure its a good fit. They ask that you keep it for at least 30 nights to give yourself time to adjust. If you're not happy between 31 and 90 days, contact them directly to resolve any concerns.
So which should you buy?
Tempur-Pedic
VIEW ON AMAZON
Pros
More than 1,000 individually wrapped coils
Uses TEMPUR material
Medium-soft support
Excellent motion transfer control
Good bounce
Excellent edge support
No off-gassing
Minimal smell
90-night sleep trial
10-year warranty
Cons
Sleeps a little hot
Slower response time
Does not ship compressed
Warranty doesn't cover shipping costs for replacement
Expensive
LEESA
VIEW ON AMAZON
Pros
Support core with 6-inch pocketed coils and 3 layers of foam
Medium-firm support
Good motion transfer
Slight edge for all sleeping positions across all body types
Good bounce
Quick response time
Sleeps neutral, not hot
Ships compressed
100-day sleep trial
10-year warranty
Warranty covers free replacement including shipping
Cons
Small off gassing
Some odor
In conclusion
These mattresses are very closely matched so you really have to look at the fine details when making a decision. The warranties and sleep trials are pretty equal and they're about the same when it comes to bounce and support.
The Tempur-Pedic hybrid has a slight advantage when it comes to motion transfer and edge support. If you're a light sleeper and your partner tosses and turns throughout the night, motion transfer is definitely something to consider. It's also a little bit softer than the Leesa and uses the TEMPUR material that the brand is known for.
Delivery is another thing to consider. The Tempur-Pedic mattress doesn't ship compressed and comes with white glove delivery service. It has minimal off-gassing and smell and is ready to sleep on sooner than the Leesa.
There are some areas where the Leesa mattress definitely has an edge over the Tempur-Pedic, though. One of the most notable is temperature regulation. While the Temper-Pedic sleeps a little warm, the Leesa is essentially neutral, making it a great choice for people who sleep hot.
The response time of the Leesa is impressive. It's significantly faster which means it adapts quickly to your body when you get in bed or change position overnight. This is a great feature, especially for combination sleepers, because the mattress responds quickly to pressure.
Perhaps the biggest area in which the Leesa outperforms the competition is that it's a more universal choice. When it comes to body type and sleep position, the Leesa is a much better all-around performer. If your partner is petite and you're above average or if you have two completely different sleeping styles, a Leesa mattress will likely satisfy you both.
Again, both of these mattresses are great and there really are few differences between them. That's why it's important to decide what features matter the most to you before you decide.