TalkAboutSleep is reader-supported. We may earn a commission through products purchased using links on this page. Learn more about our process
here
When undertaking a review of Tuft and Needle vs Helix mattresses, we're ultimately comparing two companies who are experts in their field with many years of marketplace knowledge. Most importantly here is that both companies offer some excellent characteristics alongside a full versatility in each of their mattress types, and all to suit a vast range of sleeping types and preferences. However, subtle differences do exist between the two, and this is what sets them apart. Considering Tuft & Needle vs Helix, namely that of their original T&N mattress and Helix Midnight mattress, we focus our efforts on comfort, specifications, cost, overall customer service, and more as we aim to draw a conclusion as to which mattress comes out top here.
Quick Comparison
Tuft & Needle began life in 2012 when a software engineer realized that buying a mattress sucked! Fed up with such an archaic industry, he joined forces with a long time friend to pursue the idea of selling mattresses online. The premise was an instant hit, and in 2018, they joined forces with leading mattress manufacturer Serta Simmons Bedding, to further expand their revolutionary mattress selling platform, selling high-quality comfort at low affordable prices.
Helix Sleep is a more recent addition to the mattress marketplace, beginning their journey in just 2014. A unique privately held company based in the US they focus on the e-commerce way of purchasing mattresses, selling individual and personalized custom made mattress from the comfort of online. By having a significant presence in the online marketplace, they can offer excellent choice at value-driven prices.
Tuft and Needle
Helix

Make the mattress buying process simple
Foam model
Foam adaptive and poured to body shape
Encourages a cooler sleep
Localized bounce means no disturbance
Pressure relief and support offered
Mixture of materials throughout support core and layers
Full refund guarantee
Bed in a box delivery
Good customer reviews
Medium firm mattress
Good low price
Lightweight mattress
Mattress cover included

Work to offer a more extensive choice of mattresses online
Hybrid model
A most common choice of model
Excellent support aimed at side sleepers
Works to reduce movement from those tossing and turning throughout sleep
Cushion pressure points
Regulates temperature
Mixture of materials throughout support core and layers
Medium mattress
Financing available
Good edge support offered
Value-driven price
More weighted mattress
Mattress cover included
Fantastic customer reviews

VIEW ON AMAZON
VIEW ON HELIX SLEEP
Mattress specifications
Tuft & Needle
Helix
Type
Foam
Hybrid
Firmness
Medium firm (6.5)
Medium (5.5)
Thickness
10″
10″
Weight
71 lbs
84 lbs
Sleep trial
100 nights
100 nights
Warranty
10 years
10 years
Price
$595 (Queen)
$895 (Queen)
Certification
Greenguard Gold
Standard 100 by OEKO-TEX
Certi-PUR-US
CertiPUR-US
Construction
Tuft & Needle
Helix
Support core
7″ 1.8 PCF HD polyfoam
Pocketed coils

HD polyfoam

Comfort Layers
3″ 2.8 PCF polyfoam
2.5 PCF memory foam

Transitional Polyfoam

Cover
Micro polyamide and polyester
Dual-layer stretch polyester
When we briefly compare these two mattress types here, we can clearly see that a few specifications are similar, but that the construction of each varies greatly. They do indeed offer the same thickness level at 10″, which is ideally sized. Both have a tremendous 10-year warranty and a 100-night sleep trial attached. They are also both CertiPUR-US certified.
However, upon further inspection, there is weight difference here with the Tuft & Needle the more lightweight of models and the price is also lower on this choice, up to a whole $300 less in fact. Then there's the significant difference in construction and therefore type.
The Tuft & Needle is a full foam mattress type, made up of different layers of polyfoam throughout. The Helix though is comprised of pocket coils, HD foam, memory foam, and transitional polyfoam!
Comfort
One of the biggest concerns when purchasing any mattress has to be the comfort level it offers as standard. Regardless of the many features and indeed price, if the mattress you choose to sleep on isn't comfortable throughout you will suffer greatly.
We spend a vast amount of our lives sleeping, so it pays greatly to ensure the mattress we sleep upon encourages us to fall asleep quickly, sleep well throughout without disturbances, and help us to wake to feel refreshed and, most importantly pain-free.
Therefore, when you do look at the comfort aspect of your selected mattress, whether that be the Tuft & Needle or Helix mattress, we recommend focusing your attention to several factors.
This includes its firmness and support, how well it controls the temperature, any presence of motion transfer, how responsive and resilient it is, whether it has edge support and also any such aspects as inflation time, off-gassing and possible odors.
Firmness and support
A mattress firmness level is an excellent indicator of how well it will work to support you as you sleep. This is perhaps most crucial information for those sleepers who take up a specific sleeping position throughout the night and need their mattress to cater to their individual needs. The most ideal of mattress types is that of a medium firm type as it ensures a level of support combined with the optimum of comfort throughout.
The Tuft & Needle mattress is a perfect choice here when it comes to optimal firmness and support. Offering the best selection of Medium Firm at 6.5, it ensures a perfect balance making it ideal for a wide range of sleeping types and positions. It also claims to be the right mix of not too soft and not too hard.
Likewise, the Helix, though offering a medium firmness of 5.5, still professes to provide that excellent combination of not too firm and not too soft and is said to be their most common choice of mattress.
Temperature control
As we sleep throughout the night, our body temperature naturally varies, and in some people, this can mean substantially! Whether you find yourself sleeping hotter or colder at this time, no one wants to be waking throughout the night because of temperature changes.
Therefore, to ensure an undisturbed sleeping pattern, the mattress you choose should be able to provide temperature control properties, thereby working hard to keep you at a set level, even when the temperature dips and fluctuates outside. Here you need to look at whether your mattress can readily disperse any rising heat and divert it away from your body as you sleep.
The Tuft & Needle encourages the body to sleep cool, rather than being sucked into the foam and therefore sleeping hot. It does this via its high-grade foam which promotes a cooler sleeping surface overall.
The Helix mattress also works very well here and targets temperature regulation throughout. This is enhanced by its breathable two cover, which works hard to increase the mattresses airflow while ensuring the surface of the mattress remains consistently fresh overnight.
Motion transfer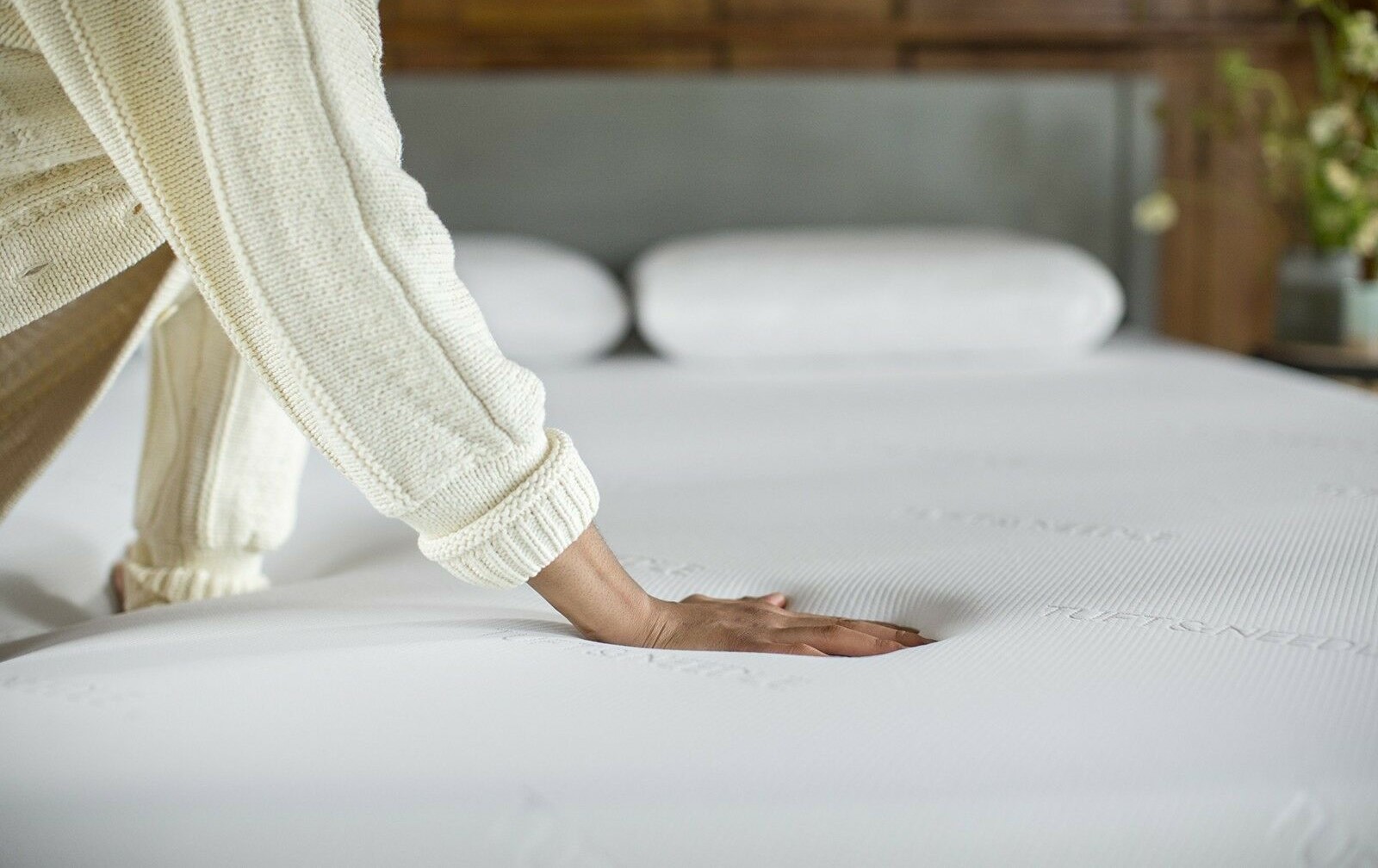 Motion transfer merely refers to the movement that we create when we turn on our mattress during the night. For some people, it's barely noticeable, and they often find themselves waking to have no idea whether they even turn over at all during the night! For many others, motion transfer is problematic throughout their sleep every time. This is because they find themselves actually being woke up every time they toss and turn. What's more, if they also happen to sleep with a partner, neither one tends to get a good night's sleep as a result of such movement.
The Tuft & Needle mattress offers what they refer to as a localized bounce. This ensures that no one is disturbed whenever you toss and turn throughout your sleep, ensuring your partner can get a good night's sleep in the process as well!
The Helix also works hard to reduce motion transfer. It does this by utilizing the many hundreds of individual coils, which in turn cradle your body more effectively, therefore limiting any motion throughout the night and every time you toss and turn.
Responsiveness
The responsiveness of a mattress indicates how well it responds each time you place pressure upon it. This means that whenever you lie down, the mattress should be able to respond as best as possible to your body's shape and indent and work to accommodate both you and the sleeping position you take up, working to hold this support throughout. This means no sinking but instead supporting your weight and distributing it evenly, encouraging your body to wake up pain-free and feeling refreshed for the day ahead.
The Tuft & Needle responds exceptionally well to all sleeping positions through its use of freshly poured T&N adaptive foam, thereby ensuring that though it gives that supportive feel, it does so with a bouncy feel to it as well.
The Helix mattress also has an element of high-grade polyfoam in its make-up, which encourages more ergonomic support as well as additional cushioning. This ensures that its transition layer has a median IFD that will match each body type.
Resilience and bounce
The more resilient your mattress is, the longer lasting it will be through both use and time. It will thus be able to stand up to a great deal of wear and tear while continuing to offer you the exact same levels of support and comfort that it did form the very first day of purchase.
Both of these mattresses here excel when it comes to durability, hence their offer of a ten-year warranty, such is their confidence in the sustainability of each model.
In addition to this resilience, the bounce is perhaps not so prominent in the Tuft & Needle model, considering its full foam makeup. Full foam mattresses usually have no bounce or very little if any. The Helix will offer a little give in bounce though as it is a hybrid mix, therefore, has the use of pocket coils in its design. The matter of bounce may be more of concern if you share your bed with a partner.
Edge support
Though most edge support is entirely invisible to the eye, a mattress offering this will have a more reinforced edging which will work to prevent anyone from edging over the bed as they sleep, as well as promoting a stronger mattress edge when they sit at the sides of the bed.
The Tuft & Needle mattress does not offer any edge support in its design. The Helix mattress, however, highlights how its wrapped coils that are present throughout the mattress work hard to not just cradle the body, but equally, offer a reinforced perimeter as well. This means the mattress has a reinforced border which provides excellent quality edge support on the mattress outside.
Inflation time, off-gassing and smell
When you first receive your mattress and look to place it upon your bed base, you may have to consider allowing for inflation time, before you are ready to start sleeping on it. This is more aimed toward those mattresses that are delivered rolled up or folded up in a box.
Additionally, as such mattresses will have been packed up tightly, perhaps in plastic protective covers, they may also need a little airing to disperse any new product odors before using.
Delivered in a small box, the Tuft & Needle mattress suggests allowing up to 72 hours from the time you place the mattress on the bed to the time you use it properly. This means you allow it time to fully expand as well as ensure that any potential odors can dissipate.
Likewise, the Helix mattress will be compressed gently and rolled to be placed into a box for ease of shipping. Therefore, when it gets to your door, you need to set the mattress out, take off the plastic encasing and allow up to two hours for its to regain its correct shape.
Sleep position ratings
SLEEP POSITION
Light sleepers(less than 130 lbs)
Average sleepers(130 lbs to 230 lbs)
Heavy sleepers(greater than 230 lbs)
Tuft & Needle
Side
6
8
7
Back
9
8
8
Stomach
6
7
7
Helix
Side
8
9
8
Back
9
9
8
Stomach
8
8
7
* Out of 10
Both mattresses here work well to cover those lighter sleepers, average sleepers, and heavy of sleepers. They also try to ensure that they provide a good to a very good level of support when it comes to various sleeping positions.
However, the Tuft & Needle falls a little short in catering to those lighter side sleepers and lighter of stomach sleepers, unfortunately. Regarding the best sleep positions overall rating, it's the Helix mattresses which just edges it here.
Sizes and pricing
| | | |
| --- | --- | --- |
| SIZE | Tuft & Needle | Helix |
| Twin | $350 | $500 |
| Twin XL | $395 | $600 |
| Full | $495 | $750 |
| Queen | $595 | $895 |
| King | $750 | $1,145 |
| California King | $750 | $1,145 |
Customer service
| | | | | |
| --- | --- | --- | --- | --- |
| | Sleep trial | Warranty and refund | Refund | Delivery |
| Tuft & Needle | 100 nights | 10 years | Full | Within the U.S. |
| Helix | 100 nights | 10 years | Full | Within the U.S. and most of Canada |
Both of these mattresses offer a fantastic level of customer support. The websites of each company highlight the extent of the help available to all customers selecting these mattresses, and here you can access more details on how well they cater to their customers.
Both mattresses have a great 100 night's sleep trial alongside a 10-year warranty, and there's even the possibility of a full refund on both if you aren't happy with your buy. Both mattresses can also be delivered within the US, with the Helix also covering most of Canada as well.
So which should you buy?
Tuft and Needle
VIEW ON AMAZON
Pros
Uses adaptive foam throughout
Bouncy yet supportive feel
Good for many sleeping positions
High-quality material in make up
Sleeps cool
The right balance of not too hard and not too soft
100-night sleep trail
10-year warranty
Over 95% of customers keep their mattress while referring it to others
Durability tested
Pressure relieving
Adapts to the body
Amazon's top choice
Cons
Claimed to be firmer than expected
Some suggestions of sleeping hotter
No edge support
Helix
VIEW ON HELIX SLEEP
Pros
Excellent combination of foam and pocketed coils used throughout
Medium feel is a common choice and not too firm or not too soft
Pressuring relieving properties throughout
Especially good for side sleepers
Regulates temperature
Offers good edge support
Good at eliminating problematic pain
An ultra-cool cover option
Limited motion transfer
Has a range of low financing options
100-night sleep trial
10-year warranty
Cons
Slightly more expensive model
Claimed to be a heavier model to move
In conclusion
In concluding, it's a tough call to make as to which mattress here tops the list and can be declared the best choice!
We're thoroughly impressed with both the Tuft & Needle and The Helix equally. Therefore, unless we really had to choose, we would suggest both as a great buy.
But, as most of us will only ever need to purchase one mattress at a time, we have to offer a final verdict and a winner – and that belongs to the Tuft & Needle.
Though there's not much in the way of comfort differences, we do feel that the adaptive foam properties and high-grade use of advanced foam type allow for a slightly better and indeed more cooling sleeping surface.
It's ability to get the comfort level right in that of its Medium Firm-level 6.5 also gives us confidence that this provides one of the most ideal sleeping surfaces possible.
Coupled with this comfort is a great price. Despite the Helix claiming to offer some of the most effective of prices on the current market, we felt that the Tuft & Needle worked slighter harder to tick all the boxes of that most perfect mattress purchase.
Ultimately, both of these mattresses are well deserving of their many high five star ratings online, and the many satisfied customer responses and feedback that they both receive daily is a sheer testament of such ratings. However, we feel that the best buy here is, in fact, the Tuft & Needle and is backed by a fantastic partnership with Serta Simmons Bedding as proof of this decision.