TalkAboutSleep is reader-supported. We may earn a commission through products purchased using links on this page. Learn more about our process
here
Both these mattresses seem to be well-liked among the masses. A lot of people who sleep in different positions have nothing but good things to say about the beds. This warrants that we review Tuft&Needle vs. LUCID in a bid to help you break a tie if you can't seem to decide which one to take. The fact that different manufacturers make them shows in the various features and also in the design of the beds. Consequently sleeping on either one would be a unique experience.
A notable difference is in the foam used. Tuft&Needle's construction utilizes a blend of polyfoam unique to them in making both the support core and the comfort layers. Conversely LUCID features high-density support foam and a gel memory foam layer on top. The two mentioned products are similar in that they both use breathable materials for their covers. However, these fabrics are not the same, and hence, the breathability is different. Also, each of the two beds employs various measures to regulate body temperatures at night. Consequently, where LUCID vs. Tuft&Needle is concerned, you need to be aware of the characteristics that make the difference before you can choose which option works best for you.
Quick Comparison
Despite being relatively new at making mattresses, the Tuft&Needle Company is already making waves in the sleeping business. Their products include an array of mattresses as well as other bed accessories such as pillows, pillowcases, and more. LUCID, on the other hand, has more mattress options as it has been in the bed making business for a more extended period and pride themselves on the variety they provide. Even then, the mattresses on review are solid choices and have features and benefits that may lead you to choose one of them over other available options.
With regards to size, both the LUCID and Tuft&Needle options feature the same ten-inch thickness. However, as we mentioned previously, these ten inches on both sides are made of different types of foam. Also, the LUCID mattress is priced at less than half of what you need to pay to get the Tuft&Needle. With this increment in cost, you might find there a few extra benefits here and there that warrant the extra money. The firmness of the mattress also contributes to how much you can enjoy sleeping on it. Both of these beds get 6.5 firmness points, and as such, the general population would enjoy their sleep even more than they would with harder or softer mattresses.
Tuft&Needle
LUCID

T&N adaptive foam
Graphite components in the foam to assist with temperature regulation
Breathable mattress cover
100-night sleep trial
10-year warranty

Gel memory foam
10-year warranty
55 lbs weight
10-inch thickness
100-night sleep trial

VIEW ON AMAZON
VIEW ON AMAZON
Mattress specifications
Tuft&Needle
LUCID
Type
Foam
Foam
Firmness
Medium-firm (6.5)
Medium-Firm (6.5)
Thickness
10″
10″
Weight
71 lbs
55 lbs
Sleep trial
100 nights
–
Warranty
10 years
10 years
Price
$595 (Queen)
$240 (Queen)
Certification
Greenguard Gold,
Standard 100 by OEKO-TEX,
Certi-PUR-US
Certi-PUR-US
Construction
| | | |
| --- | --- | --- |
| | Tuft&Needle | LUCID |
| Support core | 7″ 1.8 PCF HD polyfoam | 7.5″ High-Density Support Foam |
| Comfort layers | 3″ 2.8 PCF polyfoam | 2.5″ Gel Memory Foam |
| Cover | Micro polyamide and polyester | Tencel Blend |
The polyfoam used in making the Tuft&Needle bed has some dominant characteristics. For one, the support core is made of high density 1.8 polyfoam. This translates to higher resilience and durability than you would find in other types of foam. The comfort layer is made of the same material but with a higher density. Also ingrained in this layer are graphite particles. Their job is to wick the heat from your body, helping you sleep cooler. The fabric covering the bed can also be considered breathable to allow for fresh air circulation.
Memory foam in the LUCID mattress is especially famous for conforming to body shape in response to weight and body heat. One of its drawbacks is that it is generally heat retentive and as such sleeping on such a mattress may be uncomfortable. However, this particular bed also makes sure to incorporate gel into the foam, which has the effect of creating spaces for air circulation.
Comfort
A few of the properties of the beds on review affect comfort either positively or negatively. Being aware of these properties and how they would impact the quality of your sleep may help you come to a decision about which bed to pick. Some of these characteristics are listed below, explained in detail, and you also get a ballpark view of how the two mattresses being considered perform in each area.
Firmness and support
If you go solely by the firmness that these two beds provide, then you are buying the same bed in a different package. 6.5 is a standard firmness rating and one which is common to a lot of foam mattresses. Even where there are differences, you would be hard-pressed to find a bed with a firmness rating of less than 5.5 or one with more than 7.5 points. This is because experts have already established that optimum comfort is located within this range.
Temperature control
As a buyer, you also want to know that you won't be sleeping hot whenever you get into bed. After covering yourself with a blanket, the heat trapped between your bed and sheets can be downright unbearable. This is especially true for areas where temperatures tend to rise at night. Another scenario that could make this even more uncomfortable is the fact that due to heat, your body perspires a lot. As such, you may find your beddings soaked in sweat when you wake up at night.
These situations could all be prevented with the right temperature control mechanisms. Consequently, both bed makers try to be creative in how they solve this problem. Tuft&Needle takes the cake for innovation. In addition to a breathable mattress cover, the foam below is a mix of polyfoam and graphite particles. Due to their high conductivity, the graphite components can transfer heat from your body through the mattress to the surrounding areas keeping bed temperatures cool.
Though not the most ingenious solution, LUCID also have their ways of dealing with the temperatures menace. Due to the addition of gel to the memory foam, an open-cell layout is the result. The pockets of space that result ensure air can circulate freely in and around the bed. This makes it almost impossible for the mattress to retain heat.
Motion transfer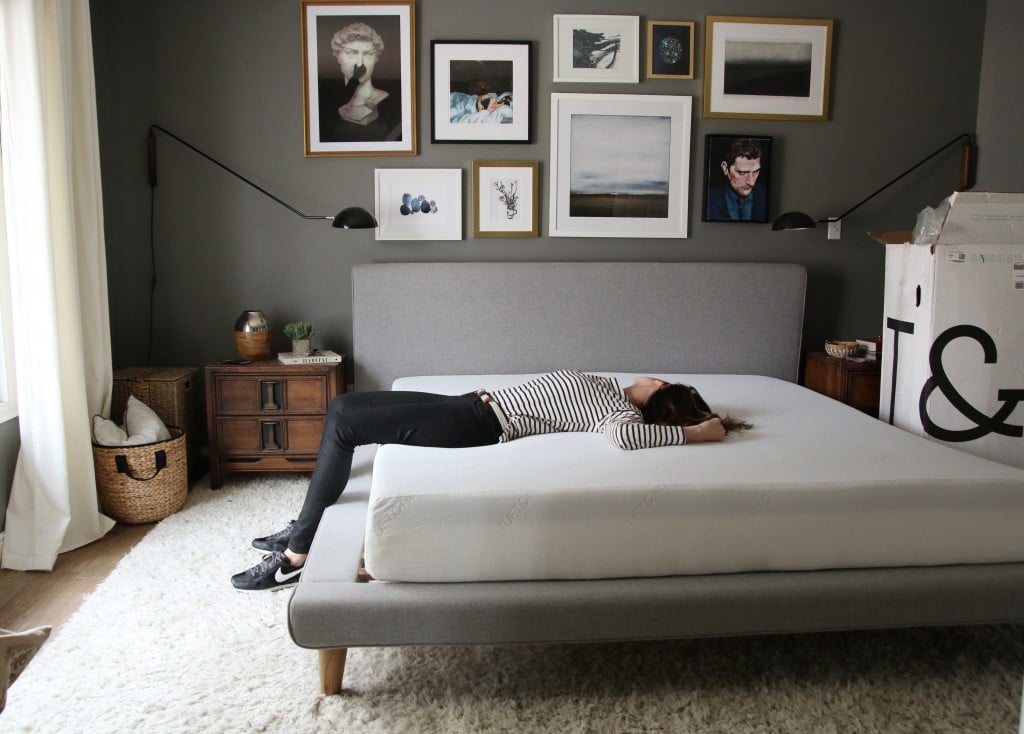 With beds in general, motion transfer is not considered a good thing. However, spring bed users have to deal with this consistently when they lay on their mattresses at the end of a long day. Their construction makes it so that what one person does on one end of the bed may have a ripple effect on the opposite side. Most foam mattresses are different. Activity on one end is isolated and localized to a single area. The Casper, as well as Tuft&Needle options, are similar in this regard and are thus better for couples sharing a bed.
Responsiveness
In this area, foam mattresses tend not to do well. This is especially true for memory foam that makes up part of the LUCID bed. On the other hand, Polyfoam is not a much better alternative, and therefore, it would be hard to pick a winner if responsiveness was the deciding factor. Also, the responsiveness of the mattress is bound to affect other aspects of a bed such as bounce.
Resilience and bounce
The two mattresses under our scrutiny seem to have similar levels of resilience. They are bound to last quite a while, even when used daily. This is true, no matter the weight you put on the bed. One factor that shortens the lifespan of each of these foam beds is that you can't turn the mattress over. The comfort layers are situated on the top, and if you were to turn the bed, you would be left sleeping on the hard support core. Also, the bounce is limited due to minimal responsiveness.
Edge support
If you are looking for edge support in a foam mattress, then you are possibly looking in the wrong place. Most of these beds don't offer edge reinforcement resulting in the support being uniform throughout the whole bed. The same is true for the beds we are comparing. It is therefore not advisable that you make it a habit to sit on the edges as that will diminish the minimal edge support present in both mattresses.
Off-Gassing
It is almost impossible to find a foam mattress that doesn't emit an odor during the first few days after arrival. If your package comes with instructions, you will be advised to let the bed breathe for a few days. By the time you get around to sleeping on the mattress, the smell should be gone. This information applies whether you buy the Tuft&Needle or its counterpart the LUCID.
Sleep position ratings
SLEEP POSITION
Light sleepers
(less than 130 lbs)
Average sleepers
(130 lbs to 230 lbs)
Heavy sleepers
(greater than 230 lbs)
Tuft&Needle
Side
7
9
8
Back
9
8
9
Stomach
7
8
8
LUCID
Side
7
9
9
Back
9
10
10
Stomach
8
9
9*
*Out of 10
There is not much of a difference rating-wise, especially for people testing out both mattresses. However, the LUCID bed is a better overall performer, even getting 10 out of 10 for some sleeping positions. Nonetheless, you can't expect the LUCID to hold its lead with all demographics. An example is that heavy sleepers who prefer side sleeping would be better served by the Tuft&Needle bed. As such picking, a bed is a personal choice, and being informed about your weight class as well as sleeping mannerisms would make this a whole lot easier.
Sizes and pricing
| | | |
| --- | --- | --- |
| SIZE | Tuft&Needle | LUCID |
| Twin | $350 | $221 |
| Twin XL | $395 | $170 |
| Full | $495 | $199 |
| Queen | $595 | $240 |
| King | $750 | $304 |
| California King | $750 | $350 |
Customer service
| | | | | |
| --- | --- | --- | --- | --- |
| | Sleep trial | Warranty and refund | Delivery | Trade-in |
| Tuft&Needle | 100 nights | 10 years | Full | Within the U.S. |
| LUCID | 100 nights | 10 years | Full | Within the U.S. and most of Canada |
Sleep trial
Once you get either bed into your home, you will need a few days to allow for the elimination of the smell emitted. After that, two weeks should be more than enough to enable you to get a feel for the bed. Even before then, you should know if the purchase was worth it or not. Both the LUCID and Tuft&Needle mattresses go above and beyond to let you fully experience their offerings. Before the end of the 100-night sleep trial period offered by each, you will know whether the product fits your needs or not.
Warranty and refund
Here we also get what seemingly looks like a tie between the two products. Once you are past the sleep trial stage, you now have a 10-year warranty coverage for whichever mattress you choose. Familiarize yourself with the warranty terms provided, so you know what you are covered for.
Delivery
You can get either of these beds brought to you wherever you want in the United States if you order from online Vendors. In the case of Tuft&Needle, these are the only types of vendors you find selling the beds. LUCID goes as step farther and even offers to bring the mattress to you in Canada. As such, you may find the LUCID mattress with more buyers as it serves a broader clientele. Both manufacturers are based in the U.S., and as to whether they plan to expand to is still anyone's guess. However, doing that would make both mattresses much more reachable to the general populace.
So which should you buy?
Tuft&Needle
VIEW ON AMAZON
Pros
Heat wicking graphite foam
Comprehensive warranty
100-night sleep trial
Cons
Heavier than the LUCID even though they are the same size
More expensive
LUCID
VIEW ON AMAZON
Pros
Is the cheaper alternative
100-night sleep trial
Comprehensive warranty
Delivery to Canada
Cons
The product doesn't perform as well in temperature regulation
In conclusion
After reading the above, you should have a clear winner in mind. However, it is not for us to tell you which mattress would be ideal for your situation. All we can do is provide you the best information to help you make an informed decision. Also, circumstances seem to be different for everybody looking to buy a bed. These circumstances are bound to have their fair share of influence on the final product you choose. Make sure you can live with your purchase and that you wouldn't mind using that bed for the next several years. After all, a bed should be a long term investment.