When deciding on Tuft & Needle vs Purple mattresses, both offer a fantastic choice from popular companies who have several years of experience in this industry. However, though both provide customers with a great night's sleep, there are varied differences between the mattress types they sell. While their firmness ratings are equal, their composition, prices, and indeed specific comfort levels vary significantly for all individual customers. This article compares Tuft & Needle vs. Purple and their most popular model from each brand. Considering specifications, construction, prices, comfort levels, sizes, sleep positions, and overall customer service ratings, it aims to help you with that final perfect purchase of the best mattress type for your personal requirements.
Quick Comparison
Tuft & Needle was established in 2012 by two colleagues who felt that the process of buying a mattress was archaic and totally sucked. Keen to introduce more people to the joys of online shopping, they created a marketplace whereby everyone had access to high-quality mattresses – but at lower costs than those somewhat limited physical stores. They also made it easier to select that best mattress type for more individual needs. In 2018, they merged this successful venture with one of the world's leading mattress manufacturers Serta Simmons Bedding.
Purple is an innovative company which works to scientifically engineer mattresses. Their eureka moment came about because of wheelchair cushioning! In 1989, two brothers had the idea to make a difference to people's lives. By 1993, that idea resulted in a wheelchair cushioning using the world's first lightweight cushioning fluid. It took until 2013 for the brothers to combine their knowledge and extensive experience to impellent their findings into mattresses. Creating a patent-pending machine to help them to achieve this, they continue to change people's lives selling their unique mattress type online.
Tuft & Needle
Purple

Tuft & Needle are an ongoing reputable supplier of all-poly foam mattresses
Motion isolation is good throughout
An ideal choice for couples
Have cooling components in their layers and covers
Good body conforming models
Provides a firm mattress type alongside moderate conforming
Offers relief for all sleeping kinds, including back, side, stomach, and combination
Fantastic lower priced models

Purple consistently rate as some of the best hybrid mattresses on the market
Excellent pressure relieving properties promote a cooler sleeping surface
Multiple Gel layers combined within create an incredibly breathable mattress
Conforms exceptionally to body's sensitive points
A good pain reliever for many problematic sleepers
Good motion isolation
Provides a firm mattress type alongside moderate conforming
Offers relief for all sleeping types, including back, side, stomach, and combination
Construction
Tuft & Needle
Purple
Support core
7″ 1.8 PCF HD polyfoam
4″ 2.0 lbs density polyurethane foam
Comfort layers
3″ 2.8 PCF polyfoam
3.5″ 1.8 lbs. density polyurethane foam
2″ Hyper-Elastic Polymer™ material in Smart Comfort Grid™
Cover
Micro polyamide and polyester
67% Polyester
29% Viscose
4% Lycra
When briefly comparing both of these mattresses, both present some similarities in their final design. Their medium firmness is equally rated at 6.5, with the Tuft & Needle offering just half an inch more of overall thickness. However, their unique construction sets them apart. While the Tuft & Needle is an overall lightweight model, the Purple mattress weighs 39 pounds more.
Furthermore, the material used in the Tuft & Needle is pure foam, while the Purple mattress relies on both foam and hyper-elastic Polymer. With both products allowing a 100-night sleep trial and added ten-year warranty, the final significant difference lies in their pricing structure. Whereas the Tuft & Needle sits at $595, the Purple mattress has a higher price tag of $999.
Comfort
Perhaps one of the major factors when purchasing any type of mattress is its comfort factor. Considering that we spend around a third of our lives asleep, it is crucial we get this part right! The average mattress should ideally serve us for around seven years, but to be that long-lasting, it needs to have an added element of durability. Therefore, this is the time when you are most likely going to have to spend as much as you possibly can to get that most perfect of sleeping solutions.
When selecting and choosing the best Tuft & Needle or Purple mattress, you should ideally be looking at important factors such as level of support, control of temperature, motion transfer elements, responsiveness, bounce, and edge support, along with any other individual issues.
Firmness and support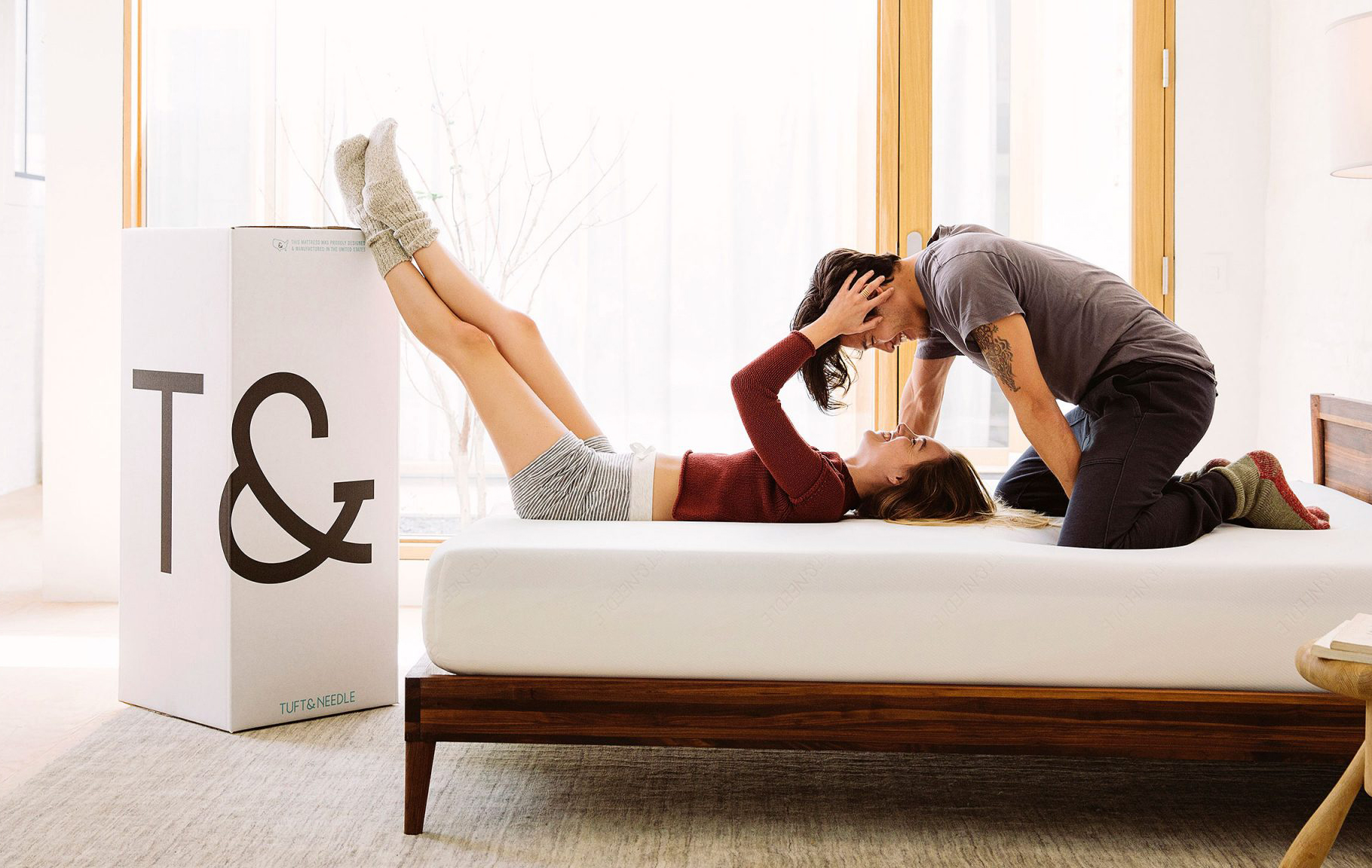 The level of firmness in a mattress determines how supported your body will be throughout your sleep. This is primarily an essential factor for those people who have a combination of sleeping positions throughout the night and need a mattress that can cope with each one equally. A medium firm is the perfect balance of ultimate comfort mixed with adequate ongoing support.
In terms of their firmness levels, both the Tuft & Needle and the Purple mattress are on an equal parring here! Both mattresses have a 6.5 rating of medium to firm. This means that they sit comfortably as being not too hard in overall support but not too soft either. In short, their medium firm offering is perfectly balanced. This ensures they are suitable for those looking for adequate support as they sleep, alongside exceptional pressure relieving qualities for when they wake.
Regarding their mattress thickness levels, the Tuft & Needle mattress possesses just an inch more in its 10-inch overall makeup when compared to the Purple's 9.5-inch composition. But when you consider the medium firm support level, this is possibly more of a personal choice here rather than an indication of further supportiveness.
Temperature control
As we sleep, our body temperature can fluctuate greatly, especially when the temperature of the bedroom varies, alongside that of the outside. Therefore, it is crucial to maintain consistent body temperature throughout to ensure sleep isn't continually disturbed, and we feel entirely comfortable and refreshed throughout. One of the easiest of ways to ensure heat doesn't become an issue when we sleep is to select a mattress that has an excellent working element of temperature control.
The Tuft & Needle mattress has an element of cooling layers within its construction and in its comfort layer. For this reason, it is claimed to offer reasonable cooling attributes throughout your sleep. However, with its healthy makeup entirely from polyfoam, it is somewhat limited. Polyfoam mattresses have always had a reputation for their lack of adequate temperature control, so when compared to the Purple mattress, this may not be as satisfactory.
The Purple mattress, on the other hand, does excel when it comes to temperature control. Known for being a more temperature neutral mattress, this promotes an exceptional relaxed sleep throughout. This is due to its combination of material used both within the mattress itself and in its covering. The Purple mattress mixes foam alongside hyper-elastic polymer, ensuring that if you tend to find yourself sleeping warm, this is a mattress what works to disperse your heat for increased comfort ongoing.
Motion transfer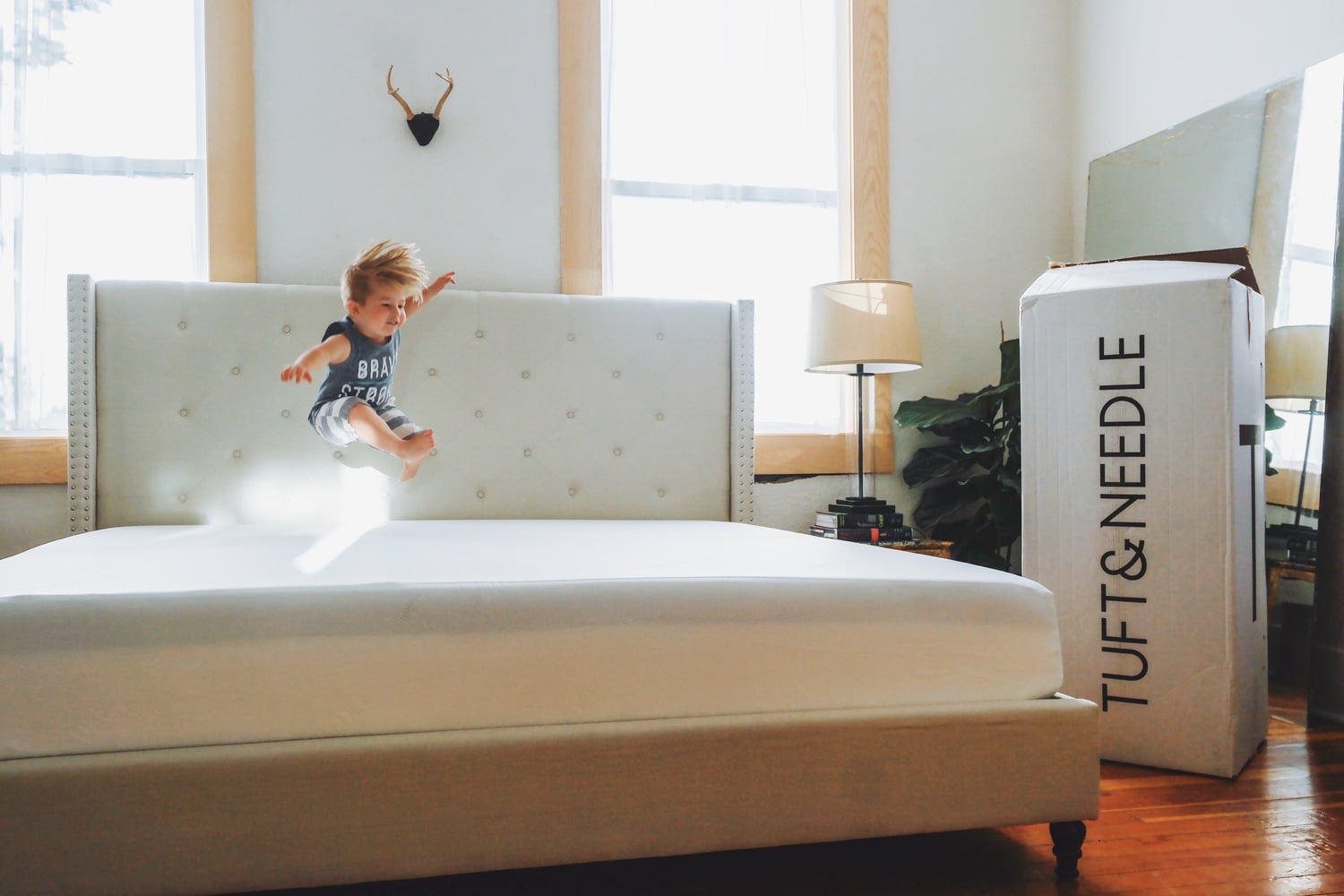 Motion transfer refers to the amount of movement from the mattress as you turn over or move around during your sleep. Though it may not initially seem a problematic concept, if you do find yourself tossing and turning throughout the night, the amount of motion transfer present in your mattress will certainly have an effect on the quality of your overall sleep. Added to that if you share your bed with a partner, they too will be affected by the person who tends to move around many times during their sleep. It's, therefore, crucial to ensure your mattress mentions their motion transfer elements so you can be assured the model you're choosing is limited in this aspect.
Motion isolation on both the Tuft & Needle and Purple mattress is excellent. The Purple mattress works to isolate motion to a reasonable extent, which in turn cuts down on any sleep disruption throughout. Some customers suggest it goes as far as removing any movement, in particular ensuring that when a partner moves throughout the night, it does not disturb the other.
The Tuft & Needle mattress claims to provide the right level of motion isolation coupled with no noise. This is considered an average level of motion transfer and works best as to not waking your partner as easily, due to a reduction in both movements and in noise. While it does indeed offer a good level of motion transfer, it would appear that the Purple mattress slightly edges it when comparing the two here.
Responsiveness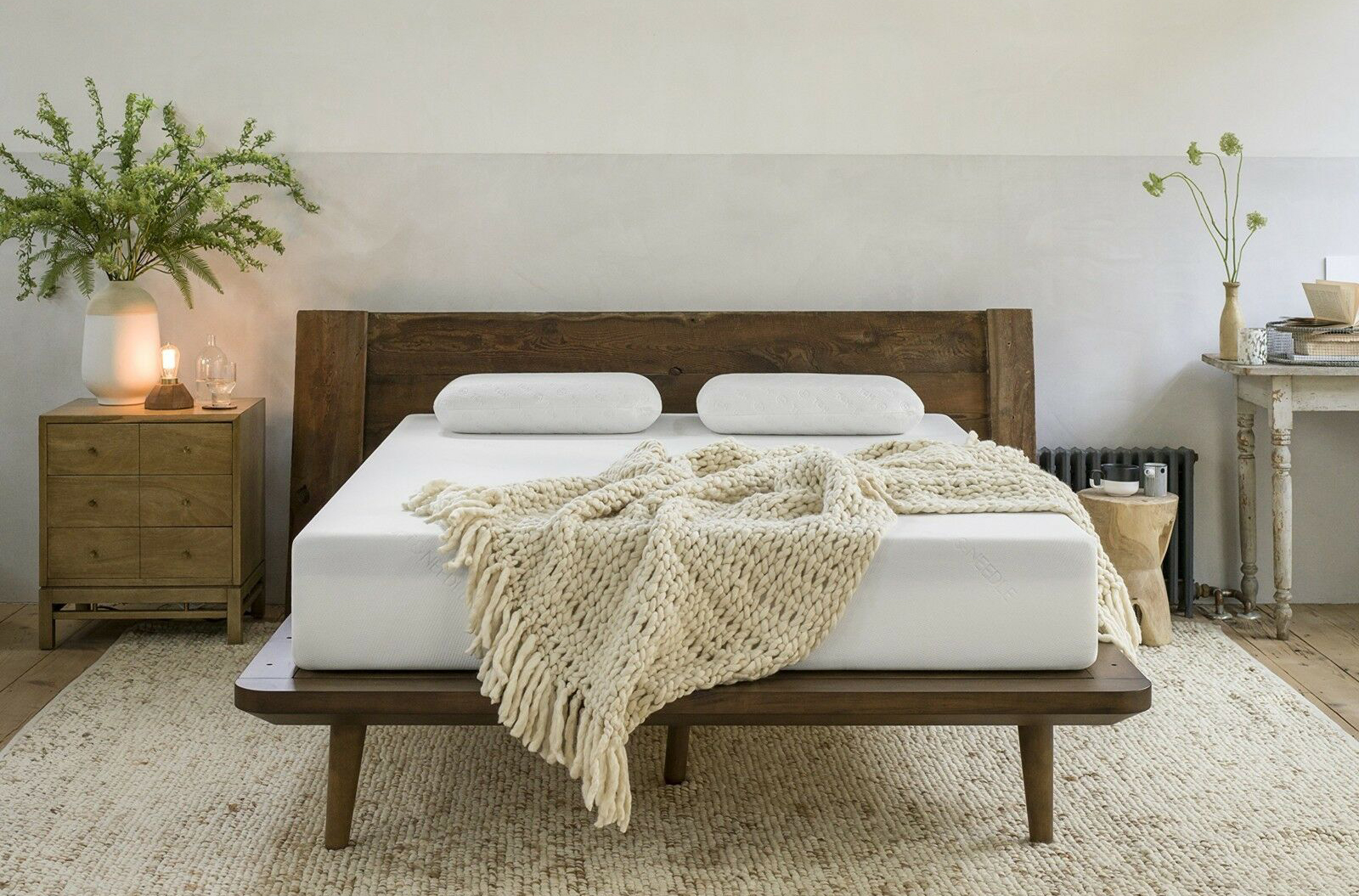 The responsive element in a mattress refers to its conforming features. This means how well the mattress works to adjust to the changes in pressure each time you lay upon it. Responsiveness is crucial when you consider the sleep position you regularly take up. For many people, this is a combination throughout the night. Others tend to sleep predominantly on their back, front, or side. Therefore, each mattress type should work to promote proper responsiveness to your individual sleep type but do so with a quick response time overall.
The Tuft & Needle mattress works exceptionally well here due to its construction of adaptive foam type. This ensures a most supportive feel for all sleeping positions. It also claims to offer just the right mix of responsiveness in its not too hot and not too soft mixture, which further improves its pressure relieving qualities throughout and over time.
The Purple mattress also works well regarding responsiveness, highlighting the fact that it promotes and distributes an equalized pressure throughout its surface, therefore encouraging a proper spine alignment as a result. Better still, it does this without leaving a visible body indent, which certainly means it slightly edges here in the comparison stakes against the Tuft & Needle mattress.
Resilience and bounce
Though closely related to responsiveness, reliance and bounce take into account how well the mattress will respond to pressure, which transferring that energy back into the direction it was applied. These concepts are closely related because the higher response of your mattress, the higher it usually indicates a greater level of bounce. However, those foam and memory of mattress types will tend to have a lower bounce element as they absorb energy, with coil mattresses having a higher level.
The Tuft & Needle mattress offers what the company refer to as a more localized bounce. This means that the mattress is prone to reducing bounce through its construction. Therefore, it works harder to ensure that you don't disturb the person lying next to you or yourself as you move but ultimately is resilient enough to respond individually to your body's pressure.
Additionally, the Purple mattress ensures a limited bounce in its design but offers a more advanced technology throughout which means the mattress is guaranteed to return immediately to its original form, thus regaining its unique shape a lot quicker here.
Edge support
Edge support refers to precisely that; the support of the bed's edge. This means that though there isn't likely any visible support present in your mattress as such, it still exists and works hard. The inclusion of edge support properties when you're searching for your mattress can determine the amount of resistance your mattress will continue to provide around its edges. It is therefore relevant because it refers to the ability to reduce sagging and a leaning or falling towards the mattress edge.
Similarly, this can also suggest how stable the support is for when you sit on the side of the mattress. This is particularly important to note if you have issues with getting up in a lower position each time you rise. However, this element of a mattress is not always considered the worthier of one when searching for a mattress, so it can also be more of a personal choice as to how much support the edge of your mattress offers when choosing.
The Tuft & Needle mattress, unfortunately, offers no edge support. This means that such support here is in question with many customers who may find at times that the perimeter of this mattress may experience sinkage. It may also even suggest that sinkage may develop over time in those places where you're prone to sitting as you wake.
The Purple mattress, unfortunately, also falls foul to this, offering minimal edge support and once again suggests a possible sinkage whereby people sit the most on this mattress. It also poses a softness on the edges, which means sleeping towards the side of this mattress is not suggested.
However, it's worth noting that a lack of edge support for both mattresses merely states the concept of such mattress types is to distribute your weight evenly over the surface of the mattress listed and therefore do not work towards sleeping on the edge of any mattress to achieve alleviation of all pressure points throughout.
Inflation time, off-gassing and smell
Through these more than likely won't be long term issues, some customers like to consider factors such as off-gassing and odor, as well as the inflation time of their purchase beforehand.
Initially, when buying a mattress for the first time, it will need a couple of hours minimum to settle down and time to air to rid it of any accompanying smell after being packaged or boxed up. This applies to its inflation time. All mattresses should be placed on the bed and given adequate time to rise to their appropriate level. This way, you start off using them and making full use of their many advantageous properties immediately.
The Tuft & Needle mattress suggests allowing a good 72 hours for it to fully expand. Alongside this, it gives the mattress time for any potential odors present to dissipate. However, after this time, the smell should disappear completely. This model is compressed and delivered in a small box
The Purple mattress once again has an initial odor at first but is said to go quite quickly after placing it on the bed. Purple, however, do not have any recommend official time for inflating, stating that the mattress is ready for use very quickly. But it is claimed that the mattress is best when it is left to relax for several hours after unpacking.
Sleep position ratings
SLEEP POSITION
Light sleepers

(less than 130 lbs)

Average sleepers

(130 lbs to 230 lbs)

Heavy sleepers

(greater than 230 lbs)

Tuft & Needle
Side
6
8
7
Back
9
7
9
Stomach
6
7
7
Purple
Side
10
8
7
Back
8
9
9
Stomach
7
8
8*
*Out of 10
Sleeping positions are an extremely important factor to consider, before selecting your best choice of mattress. As you can see here, both the Tuft & Needle and the Purple mattress cover a wide range of sleeping types in their models.
Therefore, they rate highly for light sleepers, average sleepers, and heavy sleepers, whether they sleep on their front, back, or side. Yet, both mattress types reviewed here tend to work better for those 130 pounds plus. This is due to their medium to firm construction. This means that the makeup of both the Tuft & Needle and the Purple mattress actively promote a more supportive sleeping surface for both the average sleeper and the heavier sleeper overall.
Sizes and pricing
| | | |
| --- | --- | --- |
| SIZE | Tuft & Needle | Purple |
| Twin | $350 | $649 |
| Twin XL | $395 | $699 |
| Full | $495 | $899 |
| Queen | $595 | $999 |
| King | $750 | $1,299 |
| California King | $750 | $1,299 |
Customer service
Sleep trial
Warranty and refund
Delivery
Trade-in
Tuft & Needle
100 days
10-year warranty

full refund

Within the U.S.
N/A
Purple
100 days
10-year warranty

full refund

Within the U.S. and Canada
N/A
When it comes to customer service, both the Tuft & Needle and the Purple mattress are fantastic and both on an equal par. This is mainly due to both mattresses offering a staggering 100-night sleep trial with their purchase. Therefore, when selecting any one of these mattresses, you can be assured that if you don't like your mattress and don't feel it offers any of the benefits, features, and qualities originally stated, you can return it hassle-free within this period. Both companies claim that over 95% of customers decide to keep their mattress after this period but will undoubtedly honor those looking to return within this period and even give you back a full refund.
Equally ideal is their honest and no hassle ten-year limited warranty. Not only does this mean should a problem occur in this time, you can look towards solving it immediately, but it also states a level of confidence that both companies have in their product.
Delivery wise, both mattresses can be sent to all 50 states in the US, with the Purple mattress covering some Canada deliveries also.
PROS:
Adaptive all-poly foam mattress
High-quality materials selected
A two-layer solution used
An excellent choice for all sleeping positions
Medium to firm
Works to produce just the right coolness – not too hot, not too cold
Localized bounce
An ideal couple choice
Pressure relief offered
Supportive
Soft to the touch
Durable
Breathable Cover made up of polyester and micro polyamide
Certified as Greenguard Gold, Certi-PUR-US and Standard 100 by OEKO-TEX
Good lower price range
CONS:
No edge support
Reliability of temperature control questioned over time
The softness of mattress is called into question over months of use
PROS:
Multiple foam types used throughout
Gel layers included
Works to distribute equalized pressure
Supports spine alignment
Supreme motion isolation implemented
Innovative technology used in the design
Airflow technology
Neutral body temperature encouraged throughout
Foam is certified by CertiPUR-US
No visible body indent left behind
Pain relieving properties
The cover combines polyester, viscose, and lycra materials
An excellent choice for all sleeping positions
Medium to firm
CONS:
More expensive mattress type
Minimal edge support
Some suggestions of it being firmer than expected
In conclusion
When it comes to making a final decision as to whether the Tuft & Needle or Purple mattress is best, it is quite a close one to call!
The final decision may very well come down to a matter of personal preferences, with each mattress offering a slight variation on several features.
But, having reviewed them extensively side by side, we feel that the Purple Mattress just edges it over the Tuft & Needle mattress. Though it may be the costlier of the two here, this increase in cost seems to allow you access to a couple of more advantages and benefits over that of the Tuft & Needle.
Indeed, both offer similar benefits throughout. But where the Purple mattress excels here is on its innovative technology incorporated throughout its construction. This appears to make it that better of models when it comes to moderating the temperature throughout the mattress.
Aimed at offering a more comfortable surface area, the Purple mattress utilizes free airflow technology. This, in turn, ensures the mattress doesn't trap heat and neutralizes the body temperature to keep you comfortable throughout your sleep. Trapped heat within a mattress is problematic in many latex and memory foam mattresses, so this is what makes the Purple mattress stand out here.
Additionally, the ability to support the correct spinal alignment while doing so and without leaving any visible body indent behind is a significant benefit. This includes retaining its ability to do the job well over many more years to come.
Ultimately, both the Tuft & Needle and Purple Mattress have some fantastic features and work hard to provide a thoroughly better night's sleep than standard mattress types on the marketplace. Therefore, both products are well worth considering for your next mattress purchase.