Casper and Zinus are excellent brands that a lot of mattress enthusiasts stand behind. Their keen attention to details, high production standards, and exceptional support, set them apart from others out there. While both brands are great, they aren't the same.  Zinus is a budget-friendly mattress that has a couple of benefits attached to it. Casper, on the other hand, is a high-end memory foam mattress that offers remarkable support. Since both mattresses are great and of exceptional quality, it may be difficult for you to choose between them. This Casper vs. Zinus comparison review will dissect both mattresses and give you a clear picture of the benefits they offer.
Quick Comparison
Zinus
This is a reputable brand that has been in business since 1989. Even though it is known by many for its premium quality mattresses, it also boasts of a couple of indoor comfort products.
In 2003, they started to focus on making premium quality but affordable mattresses. Unlike other regular memory foam on the market, Zinus mattress is infused with special green tea and castor oil extract which keeps it bacterial and odor free. As you would expect from any top-notch mattress brand, the construction of Zinus mattress is next to none. Granted, Zinus mattresses are awesome and they offer exceptional support and a few other amazing features, but one of the main reasons why most people opt for them is that they are affordable. So if you are on a budget, this mattress may be perfect for you.
Casper
Casper is a recent US mattress brand that was established in 2014 and focused solely on manufacturing mattresses. Since its inception, it has been dedicated to making high-end luxury mattresses that many people clamor for. Talking about support and comfort, Casper mattresses offer a zoned support system that will take your sleeping experience to the next level. One notable thing about Casper mattresses is their exceptional construction and finish. Since they are well made, you can be confident that they will last for a long time.
Zinus
Casper

10 inch
5 years warranty and 100-Night Trial
Excellent edge support
Infused with green tea and Castor oil extract

10 inch
10 years warranty and 100-night sleep trial
Exceptional edge support
Zoned support system
Good motion isolation
Mattress specifications
| | | |
| --- | --- | --- |
| | Zinus | Casper |
| Type | Foam | Foam |
| Firmness | Medium firm (6) | Medium firm (6.5) |
| Thickness | 12″ | 12″ |
| Weight | 75.1 lbs | 85 lbs |
| Sleep trial | 100 nights | 100 nights |
| Warranty | 5 years | 10 years |
| Price (Queen) | $440 | $924(Queen) |
| Certification | CertiPUR-US | CertiPUR-USOeko-Tex Standard 100 |
Construction
Zinus
Casper
Support core
3.5″high-density foam
3.5'' base high-density foam
7″ 1.8 PCF HD Polyfoam
Comfort layers
3″ comfort foam
2″ gel-infused memory foam
1.5″ Polyfoam
1.5″ 4 PCF memory foam
1.5″ latex-like foam
Cover
knitted Jacuard
Polyester
While Casper is made of 4 layers, Zinus has a 3-layer construction. Both of them have a soft, comfortable, and durable cover.
Zinus mattresses
All layers of Zinus mattresses are infused with green tea extract to protect against harmful bacterial, from moisture and sweat accumulation on the surface of the mattress. It comes in a range of thickness options (6 to 12 inches). All models have a special jacquard cover.
The 6-inch model has a 1-inch layer of high-quality memory foam, followed by a thick, 4-inch dense foam base.
The 8-inch model has 3 layers in total. The top layers have 2-inch memory foam, followed by a 2-inch pressure relieving foam, and a 4-inch foam base.
The 10-inch model has a 2.5-inch top layer, followed 2 inches of comfortable pressure-relieving foam and 5.5-inch base foam.
The 12 inches' version has 3-inch dense memory foam on top, followed by a 2 inches' pressure-relieving foam and a 3.5-inch foam and lastly a 3.5-inch foam base.
Casper mattress
Casper mattresses usually have four layers. The cover is made with a polyester blend fabric with a soft and comfortable feel. It can be zipped off and washed separately.
Under the cover is a 1.5-inch poly foam with a breathable design. This layer gives the bed a bouncy surface, so you are never going to feel stuck. Next is a 1.5 Inch 4 PCF memory foam. The third layer is also 1.5 inch thick.
Comfort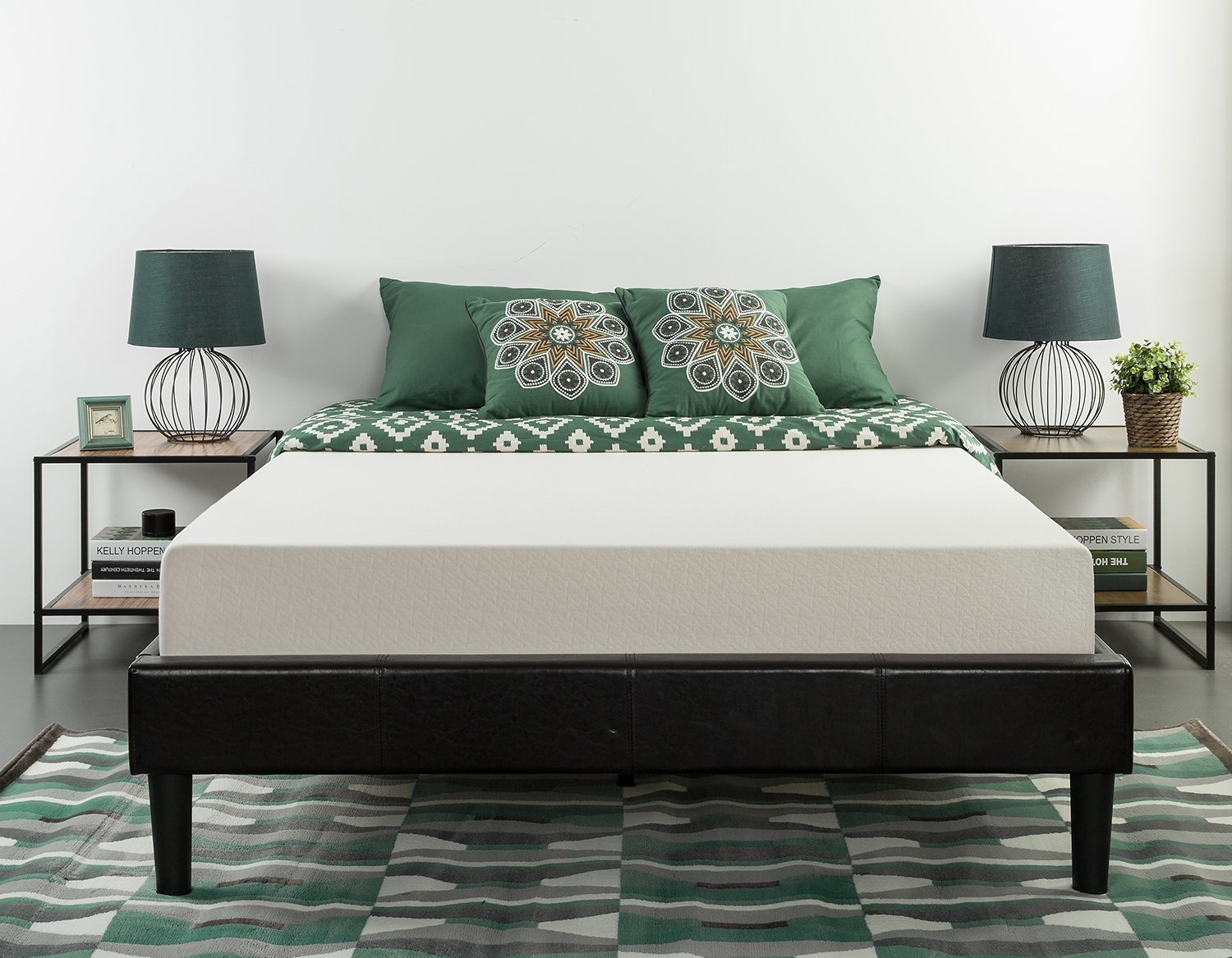 Casper and Zinus mattresses are great and offer a superior level of comfort. But since they are not 100% the same, it may be difficult for you to narrow down the one that will suit you best. To help you make an informed decision, we considered some features that determine how comfortable and sturdy a mattress will be.
Support and firmness level
Support is what keeps a mattress from collapsing when weight lies or sit on it, so it makes sense to pay close attention to the level of support a mattress offers before making a purchase. Zinus and Casper mattresses are well crafted and have multiple support layers that are durable and sturdy.
Before choosing a mattress, it is important that you check how firm it is; especially if you are a heavy person or you sleep on your stomach.
Firmness is usually represented in three terms- soft, medium, and firm.
A firm mattress is perfect for heavy people (200lbs and above).
A Medium-firm mattress is a good fit for a person who weighs between 150 to 200lbs.
Go for the plush or soft mattress if you are a side sleeper and you weigh 150lbs and below.
The different Zinus mattress models offer a different level of firmness. But we believe that the 10-inch model will be suitable for most people, as its top and second layer is designed to support the whole body and promote spinal alignment. Casper mattresses, on the other hand, is a good pick for all sleeping positions. Its special zoned support layers help to distribute your body weight evenly on the bed, thus promoting a neutral spine. The bottom line is that both Casper and Zinus offer just about the same level of firmness.
Temperature control
Zinus mattresses have a special foam base that helps prevent heat buildup and promote airflow. Also, their cover is breathable, allowing enough air to reach you while your sleep. On the other hand, Casper mattresses have a handful of cooling features, including a unique open-cell structure on the top of the foam that allows air to move freely. Since they don't create much sinkage, you won't have to worry about them retaining heat.
Motion transfer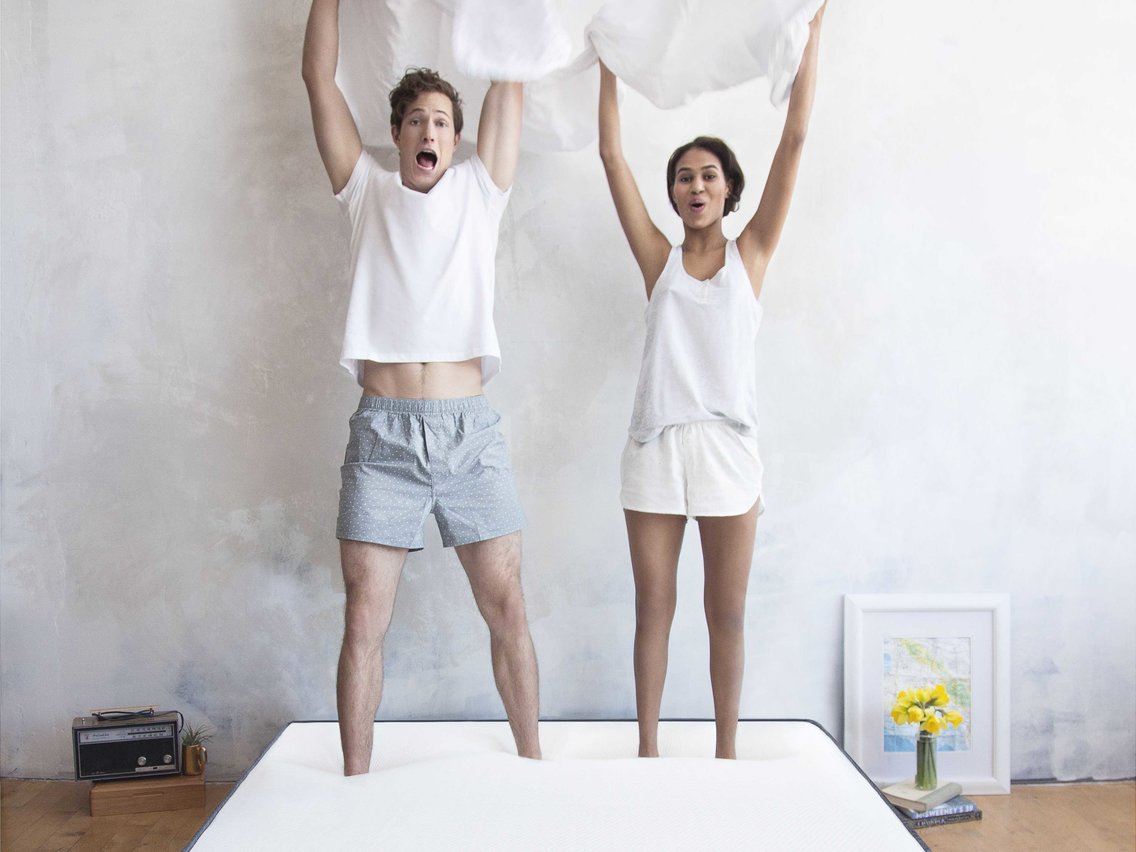 Motion Transfer refers to how well a mattress absorbs vibration and stops it from traveling across the bed. This is a crucial feature especially for couples, since a bed with poor motion isolation will easily disturb their sleep or even worse, cause a partner to wake up when the other moves when sleeping.
Zinus mattress has a comfortable memory foam feel and is great for motion isolation as the viscoelastic nature of the mattress enables it to absorb vibrations easily. Also, it creates a comfortable cradling hug when you lie down on it. This means that you will slowly sink into the bed when you lie on it. This will go a long way in providing relief for your back pain.
Casper mattress is a great option for couples, as it has a thick and dense foam foundation that help absorb motion and isolate vibrations in the mattress.
Responsiveness
The responsiveness of a mattress is another important feature you must give attention, regardless of the model you are opting for. A good mattress should be responsive and have minimal motion transfer, as this will go a long way in ensuring that the mattress contours well with your body and gives you the comfort and bounce you need.
Comparing Casper and Zinus, you will observe that both of them are soft, comfortable, and responsive. But Zinus is slightly more responsive than Casper. These two are so closely matched on this that you may not notice the difference between them.
Resilience and bounce
Since you are going to be spending a sizable chunk of your time in bed sleeping or resting, it is wise that you check how a resilient a mattress is before making a purchase.
Zinus and Casper mattresses are firm, sturdy, and comfortable. Since they both have multiple layers of premium quality, dense, and comfortable foam, you can be sure that it won't become saggy or sink after a while. However, if you are a heavy person, it is wise you opt for models of any of the two brands that are very firm.
Edge support
As you likely know, the edge support of a mattress is determined by the size of its base layer. And both Casper and Zinus mattresses offer just about the same level of edge support. While Zinus comes with a 5.5-inch dense base layer, Casper has a 5 inches' thick base layer. The bottom line is that both of them are sturdy and offers almost the same level of edge support.
Inflation time, off-gassing and smell
A new memory foam mattress usually emanates a certain chemical smell. The obvious reason for this is that memory foams are fully compressed before shipping. So, when you open them for the first time, the chemical odor will spread out quickly. The best way to address this is to open your windows and leave the mattress for 2 to 3 days. This will make the mattress expand to its full size and the chemical smell will disappear.
Sleep position ratings
SLEEP POSITION
Light sleepers(less than 130 lbs)
Average sleepers(130 lbs to 230 lbs)
Heavy sleepers(greater than 230 lbs)
Zinus
Side
7
9
6
Back
8
7
7
Stomach
10
8
6
Casper
Side
8
8
9
Back
6
7
6
Stomach
9
10
7*
*Out of 10
The Zinus 10-inch mattress is perfect for all sleeping position. The mattress is firm enough to keep the hips and stomach aligned and balanced. The 12 Inch model is great for lightweight or average side sleepers.
Casper mattresses are perfect for back, side, and stomach sleepers as they are firmer than regular memory foam. The meticulously made second layer of Casper mattresses offer superior comfort and will cushion your entire body when you lie on it. Overall, Casper mattresses are versatile and will suit a wide range of sleeping position and body types.
Sizes and pricing
| | | |
| --- | --- | --- |
| SIZE | Zinus | Casper |
| Twin | $163 | $595 |
| Twin XL | – | $695 |
| Full | $385 | $1,340 |
| Queen | $440 | $924 |
| King | $392 | $1,175 |
| California King | – | $895 |
Customer service
| | | | |
| --- | --- | --- | --- |
| | Sleep trial | Warranty and refund | Delivery |
| Zinus | 100 days | 5-year warrantyfull refund | Within the U.S. |
| Casper | 100 days | 10-year warrantyfull refund (minus shipping) | Within the U.S. and Canada |
Zinus mattresses come with a 5-year warranty that protects against defect and a 100-night sleep trial. Casper mattresses, on the other hand, come with a 10-year warranty and a 100-night sleep trail.
Casper mattress usually comes in a box where compressed and vacuum sealed. Zinus also ships their mattresses vacuumed and compressed.
PROS:
5-Inch-High density base foam
It is budget friendly
Green tea and castor seed oil extract
5 years' warranty
100-night sleep trail
Comfortable memory foam
Minimal motion transfer
Breathable knitted cover
Suitable for different sleeping position
CONS:
It might be too firm for some users
It takes a while to decompress
Off-gassing, this may take a few days to completely disappear
PROS:
It is comfortable
Excellent motion isolation
100-night sleep trial
10-year warranty
Knitted fabric cover
Zoned support layer
CONS:
It is expensive
No natural component
It is not the best option for heavy people
Zinus is a great brand that offers high quality and comfortable mattresses at a budget-friendly price. It is a good option for people who want a firm but comfortable mattress. It is also a great option for couples, as it has little motion transfer.
Casper is a new but reputable brand that offers high-end mattresses that are durable and comfortable. It is perfect for people who don't want to feel stuck in bed and those who move around in their sleep.
The bottom line is that both mattresses are comfortable and durable and offers exceptional support.  To narrow down that one that will suit your needs best, you have to consider your unique needs and take a second look at this Casper vs. Zinus comparison review to get a clear picture of what set them apart.