TalkAboutSleep is reader-supported. We may earn a commission through products purchased using links on this page. Learn more about our process
here
If you're in need of a new mattress, it may be hard to find the perfect one with all the choices available. A better option may be to choose a couple of top rated, quality mattresses, like Zinus vs Purple, and start your comparisons there.
These two mattresses are similar in a number of ways but also have enough differences in their materials and construction. Both are designed to keep you cool and comfortable, plus come in a variety of mattress sizes. They use different materials for this purpose, though, so you may find one better than the other, depending on your needs and personal preference. To help you decide which one is right for you, check out our Purple vs Zinus comparison below.
Quick Comparison
Zinus has been in business for almost two decades and have spent that time creating quality products for their customers. They also do their best to improve the furniture they create, maintaining the comfort without sacrificing their principles in the process. The Zinus mattress is made using quality materials, with numerous sizes and thicknesses to choose from, all of which have a budget-friendly price.
Purple has been around for a bit longer, starting out in 1989 with high-tech carbon fiber used for wheelchairs and sporting goods. It wasn't until 1996 that they invented the Hyper-Elastic Polymer used in their mattresses. This material went far beyond what other mattresses had to offer, due to the durability, softness, and the fact that your body won't leave an impression, even after multiple nights of sleep. The Purple mattress also comes at a high cost, though the features may be well worth the price.
Zinus
Purple

Absorbs moisture and eliminates odors
High level of responsiveness
4 thickness options
Especially good for side sleepers
5-year warranty

Cooling comfort grid
Great resilience
No motion transfer
Especially good for back sleepers
10-year warranty

VIEW ON AMAZON
VIEW ON AMAZON
Mattress specifications
Zinus
Purple
Type
Foam
Foam
Firmness
Medium firm (6)
Medium firm (6.5)
Thickness
10″
9.5″
Weight (Queen)
51.5 lbs
110 lbs
Sleep trial
100 nights
100 nights
Warranty
5 years
10 years
Price (Queen)
$238
$999
Certification
CertiPUR-US
CertiPUR-US
FDA
Construction
Zinus
Purple
Support core
5.5″ high-density foam
4″ PU foam
Comfort layers
2.5″ comfort foam
2″ gel-infused memory foam
2″ Hyper-Elastic Polymer™ material in Smart Comfort Grid™ polyethylene copolymer powder coating
3.5″ 1.8 lbs density PU foam
Cover
knitted Jacuard
29% Viscose, 67% Polyester, 4% Lycra (all +/- 5%)
These mattresses are quite different when it comes to their construction. The Zinus uses cooling gel-infused memory foam for the top layer, a middle layer of supportive comfort foam, and high-density foam for the base. The cover is knitted Jacquard, which is soft and breathable.
The Purple mattress has a two-inch layer of Hyper-Elastic Polymer, with a grid pattern for comfort and breathability. There is also a layer of PU foam for support in the middle and a thicker layer for the base. The cover is breathable and flexible, moving with you as you sleep.
Comfort
A mattress can look good, come at a great price, and have a fantastic warranty, which are all awesome features. Of course, these don't mean anything if the mattress itself isn't comfortable. There are a lot of details that go into the comfort of a mattress, such as thickness, temperature control, responsiveness, and so much more.
Firmness and support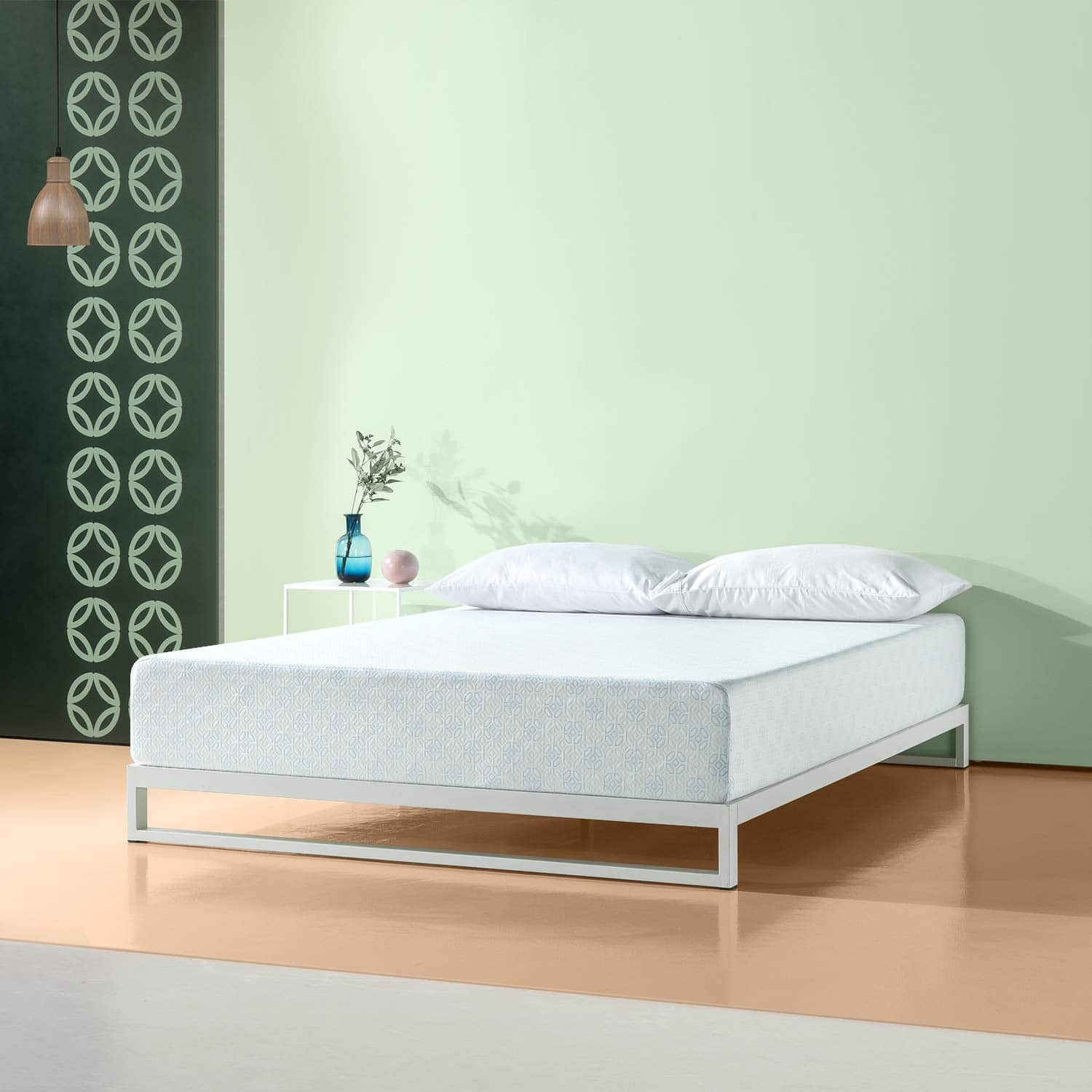 When it comes to firmness, both mattresses are medium-firm, though they use different materials to get this rating. The Zinus mattress uses memory foam for its top layer, which adds comfort while it cradles your body at the same time. Beneath this layer there are two layers of high-density foam to give you the support you need for good night's rest.
The Purple mattress uses their own Hyper-Elastic Polymer material for their top layer, which includes their Smart Comfort Grid pattern to reduce pressure points for less aches when you get up in the morning. There are also two layers of polyurethane foam, the middle one at 1.8 lbs density and the base is 2 lbs density. This keeps you from sinking in too far, so you are fully supported all night long.
Temperature control
Temperature control is also handled differently with these two mattress brands. The top memory layer of the Zinus mattress is gel-infused, which helps cool you down while you sleep instead of hanging onto your body heat. This layer also contains natural green tea extract and active charcoal, which work together to absorb any moisture if you happen to sweat a bit while you sleep. This not only keeps you dry, it keeps odors from setting in for a fresher mattress every night.
That Smart Comfort Grid is for comfort in two ways. As well as supporting you, the grid pattern also keeps you nice and cool. The open areas promote airflow, releasing your body heat rather than trapping it. The materials in this mattress are also temperature neutral, so they don't hold onto your heat, even when you're lying in the same positon for long periods of time. The materials used for this mattress are naturally antimicrobial, protecting you from allergens and dust mites while you sleep.
Motion transfer
The beauty of mattresses like the Zinus that use memory foam and other types of super soft comfort foam is that they don't transfer motion like the old spring mattresses would. This means that you won't wake up the person sleeping next to you if you get into bed, roll over, or get up in the night.
Though the Purple mattress uses different materials in the form of the Hyper-Elastic Polymer and the polyurethane foam, motion transfer still isn't a problem. It cradles your body while you sleep and uses sleep science combined with recent technology to keep your movements from shaking the whole bed. This gives everyone in the bed a better night's sleep.
Responsiveness
When it comes to responsiveness, the Zinus mattress is hard to beat. The memory foam cradles your body when you lay down but doesn't hinder you when you try to roll over or shift. The mattress than responds accordingly, sinking in enough to keep you comfortable without sacrificing the support you need for proper alignment.
When you lay down on the Purple mattress, you may sink into the top layer, but the middle one responds perfectly to your body, giving you the support you need as soon as you lay down, no matter what position you're in.
Resilience and bounce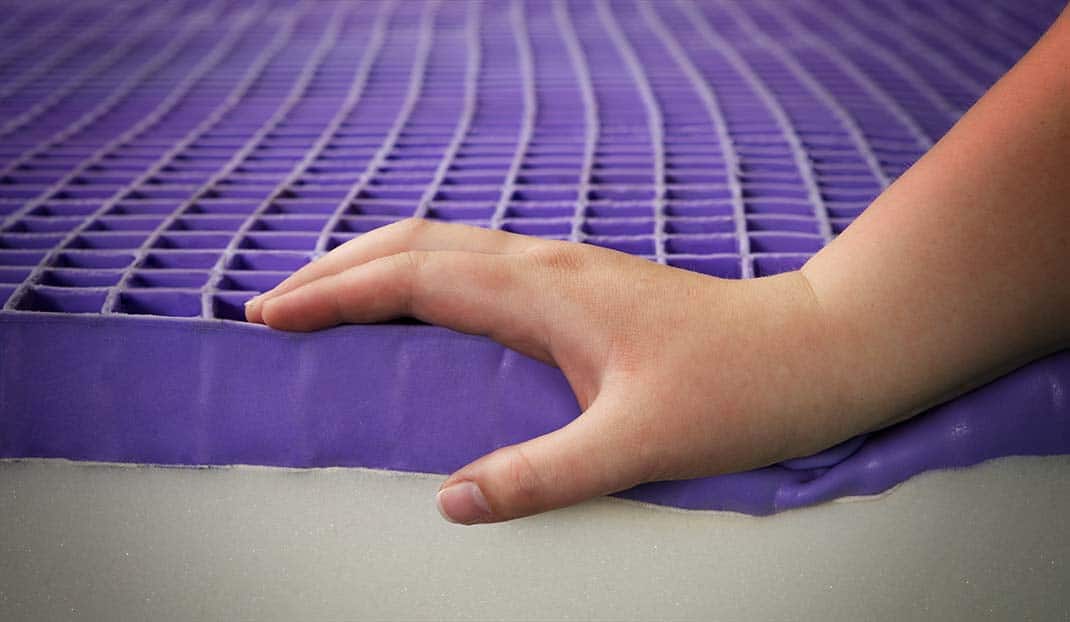 Though some foam mattresses take the shape of the people who sleep on them, the Zinus mattress has been known to maintain its high level of comfort and support long after you start using it.
The Purple mattress is extremely resilient, lasting for years with no dents or sagging. Even if you sleep in the same spot every night, the materials this mattress is made with will still bounce back to their proper shape after you wake up.
Edge support
Good edge support is a tricky thing to find with any mattress. These two are no exception. Though you likely won't slide off onto the floor when you sit down on the edge of the Zinus, it will sink down enough that you may need to brace yourself a bit to keep steady. This may also affect your sleep if you roll too close to it.
The Purple mattress also has some issues with edge support. Though you likely won't roll off the bed if you move too close to the sides while you sleep, it may sag a bit the closer you get.
Inflation time, off-gassing and smell
When you get a new mattress, you may want to try it out right away. Of course, mattresses that come compressed and rolled up usually need some time to expand to their full size before you lay down. The Zinus mattress comes with a recommendation to give it a full 48 hours to reach its proper thickness. There may be a slight initial odor when you open the package but it will dissipate very quickly.
The Purple mattress excels when it comes to setup. After rolling out the mattress, it inflates almost instantly, so you can try it out that very night. It also doesn't have any strong odors, likely due to the fact that it is made with entirely non-toxic materials. You may notice some smell from the packaging material but this will air out quickly for a fresh-smelling bed.
Sleep position ratings
SLEEP POSITION
Light sleepers
(less than 130 lbs)
Average sleepers
(130 lbs to 230 lbs)
Heavy sleepers
(greater than 230 lbs)
Zinus
Side
8
8
9
Back
9
9
7
Stomach
8
7
6
Purple
Side
8
9
7
Back
9
9
8
Stomach
6
7
6
*out of 10
Though both are medium firm, these mattresses differ a bit in sleeping position comfort. They match up quite evenly for each person size, though the Zinus is better for lighter stomach sleepers. Average side sleepers may prefer the Purple, while larger side sleepers may be more comfortable on the Zinus.
Sizes and pricing
| | | |
| --- | --- | --- |
| SIZE | Zinus | Purple |
| Twin XL | – | $699 |
| Full | $210 | $899 |
| Queen | $238 | $999 |
| King | $596 | $1,299 |
| California King | – | $1,299 |
Customer service
Sleep trial
Warranty and refund
Delivery
Trade-in
Zinus
100 days
5-year warranty
full refund
Within the U.S.
N/A
Purple
100 days
10-year warranty
full refund
Within the U.S. and Canada
N/A
Both the Zinus and the Purple mattresses have a 100-day sleep trial. The Zinus has a five-year warranty, while the Purple has double that at ten years. They also differ in delivery terms since the Zinus offers delivery only in the U.S. while Purple delivers in Canada as well.
So which should you buy?
Zinus
VIEW ON AMAZON
Pros
Great price
Comfortable
Well made
No motion transfer
Cons
Long inflation time
Firm to start, though it softens over time
Purple
VIEW ON AMAZON
Pros
10-year warranty
Fast inflation
Quality materials
No motion transfer
Supportive
Cons
In conclusion
Buying a new mattress can be hit or miss, especially if you're trying out a new brand. That's why comparing a few popular mattresses, like in this Zinus vs Purple review, can help you make a more informed decision.
Both mattresses have their benefits. The Zinus mattress uses gel-infused memory foam to keep you cool and comfortable, plus the comfort foam layers for support. There is also that green tea extract and active charcoal for moisture and odor control. It is lightweight and even has a low price tag that fits in any budget.
The Purple mattress also uses foam layers for the middle support layer and the base, but adds their own breathable Hyper-Elastic Polymer. Not only are these high-quality materials, they are also comfortable and maintain their shape, even after years of use.