When selecting a bunk bed mattress, there are some key things to keep in mind that you might not have to consider when purchasing a regular mattress, mainly because of the size restraint that bunk bed frames have. You need to make sure that you are buying the appropriately sized mattress for your bunk bed frame. Failure to do this will lead to either discomfort while on the mattress or sending it back altogether. So before anything else, make sure that you have the correct size mattress and then double check before you purchase your mattress.
In our analysis of the best bunk bed mattresses on the market, we took many factors into account, such as different price ranges and needs. Whether you are looking for something affordable and temporary or high-quality and long-lasting, our guide will have some great options for you. This involved hours of research and countless articles, reviews, and testimonials that we analyzed to identify quality products. Some of the main factors that we looked at to determine our rankings were size, thickness, type, warranty, durability, and reputation. These are all important features that you should know about prior to purchasing a mattress, and we've constructed our guide to reflect that.
Top 7 Bunk Bed Mattresses Review 2020
As a trusted third party, we have strived to provide an in-depth, comprehensive analysis of the most popular bunk bed mattresses on the market. We've researched reviews of real users of the mattresses, product specifications, and expert opinions to deliver this analysis in a helpful and easy-to-understand format. Our table gives an overall rating as well as the primary features of each mattress. Scroll down for in-detail review of each mattress with their pros and cons and a buying guide that summarizes everything you need to know to get your hands on a high-quality mattress.
Features
Thickness: 6 in
Size: Twin
Materials: steel Bonnell coils, high-density foam, comfort foam
Firmness: extra firm
Cover: knitted jacquard
Warranty: 10-year limited
More features: CertiPUR-US certified, comes in a set of two
VIEW ON AMAZON
Sleep Master's 6-inch Bonnell spring twin mattress is a great option for growing children, teenagers, or young adults. This quilted, tight-top mattress is a good fit for bunk beds, day beds, and even trundle beds. The Bonnell spring system is made from heavy-duty steel coils that provide firm support for your back and core. Traditional-style coils are woven together and connected in this unique design. Exclusive Zinus pocketed iCoil technology individually wraps each spring so they are durable and continue to provide strength and support on their own, giving you a firmer feel that lasts longer. The top is quilted fabric with layers of fiber padding and foam for maximum comfort. With this added comfort, you won't be able to feel the springs at all and getting a good night's sleep won't be a problem. You should allow 48 hours for it to return to its original, plush shape. This package comes with two mattresses that can be used on standard bunk beds or twin beds. Getting two mattresses for this price is a superb value, and you'll be hard pressed to find two quality mattresses for close to this price.
Pros
Affordable and high value
High quality plush top
Unique coil spring technology
Cons
Some customers report a strong odor coming from a freshly opened mattress
Features
Thickness: 6 in
Size: Twin, Twin XL, Full, Queen, King
Materials: memory foam, high-density foam
Firmness: firm
Cover: not specified
Warranty: 10-year limited
More features: CertiPUR-US certified
VIEW ON AMAZON
Enjoy a memorable night's sleep courtesy of the Signature Sleep Memoir line of memory foam mattresses with CertiPUR-US certified memory foam, created to provide balanced firm support no matter how much you toss and turn in the night. The unique, innovative, 1.5-inch top layer of memory foam construction is designed to distribute your body weight as evenly as possible, relieving pressure on your shoulders, hips, and feet while perfectly contouring and adapting to your body. Underneath the comfort layer made of memory foam is a 4.5-inch thick layer of high-density foam that forms a superb base for the mattress. The mattress includes a soft cover made of breathable knit fabric for maximum comfort. The Signature Sleep mattress meets federal flammability standard 16 CFR 1633 and is shipped compressed, rolled and vacuum sealed for your convenience. This high-quality mattress is a premium option for those looking to spend a little more to get a higher-quality bed. It is an excellent choice for sleepovers, campers, bunk beds, guest beds, or anything else you need a bed for. Yes, this bed is a little higher priced, but still a good value for what it delivers.
Pros
Innovative memory foam design
Premium, thick comfort layer
Soft cover with breathable knit fabric
Cons
Higher price
May take longer to expand fully
Features
Thickness: 5 in
Size: Twin, Twin XL, Full, Queen, King, Cal King
Materials: gel memory foam and high-density base foam
Firmness: firm
Cover: TENCEL lyocell blend
Warranty: 10-year
More features: CertiPUR-US certified
VIEW ON AMAZON
The Lucid 5-inch Gel Memory Foam Mattress features 100% CertiPUR-US certified memory foam and a 10-year U.S. warranty backing its quality materials. The mattress has a 1-inch comfort layer that contains gel infused cooling memory foam and below it has 4 inches of supportive base foam. The cooling gel helps those who get warm when they sleep to fall asleep faster and stay asleep longer. The cooling gel is becoming more popular in mattresses and pillows and typically can be very pricey. At this price, the gel is affordable and it is present in the entire mattress. It's more on the firmer side, but quickly and comfortably conforms to the body to help support your spine and relieve any pressure. This mattress features open cell construction, which creates a more durable and long-lasting surface to sleep on. This cuts down on the frequency at which you'll need to change out mattresses and therefore saves you money. This quality, firm mattress is an excellent choice for frequent back and stomach sleepers. A soft, breathable cover creates an air layer at the surface of the mattress. With a low-profile, this is a suitable choice for a kid's bed, camper, or space-saving mattress. It's an effective mattress that delivers comfort at a compact size and affordable price. The low-profile will give more headspace to those in tight situations. Furthermore, it comes with a 10-year US warranty, so you can buy in confidence knowing that if anything is dysfunctional, the company will make it right.
Pros
CertiPUR-US Certified
10-year US warranty
Comfort layer with cooling gel
Affordable price
Cons
Has slight odor when unpacked, but it goes away quickly
Features
Thickness: 6 in
Size: Twin, Twin XL, Full, Queen
Materials: gel-infused memory foam and high-density base foam
Firmness: medium firm
Cover: not specified
Warranty: 5-year
More features: self-ventilating, removable and washable cover, CertiPUR-US certified
VIEW ON AMAZON
The Classic Brands Cool Gel 6-inch Gel Memory Foam Mattress combines two of the best leading sleep technologies at an undeniably large value. The gel-infused memory foam will keep you cool during sleep while the body-conforming memory foam reduces your pressure points and helps to properly align the spine. The gel will help draw heat away from the body and creates a cooler sleeping surface. This will help in preventing excessive tossing and turning which will lead to a more restful night's sleep. A gel memory foam mattress is known to support each part of the body evenly and individually. Through use, a gel memory foam mattress will slowly and automatically adjust to your body weight, temperature, and curves. In addition to the slow, conforming response, gel memory foam mattresses offer a complete, luxurious and stress-free support system while you sleep. Additionally, when you do move around in bed, memory foam gently transforms and reshapes itself to adapt to your new sleeping posture, cradling every contour of your body. The feel of this gel memory foam mattress is "medium firm".
Pros
Memory foam base and comfort layer
Cooling gel for a more comfortable sleep
CertiPUR-US certified
5-year warranty
Cons
Some consumers report this mattress not fully expanding to 6 inches upon opening
Features
Thickness: 5 in
Size: Narrow Twin, Twin
Materials: high-density base support foam, pressure-relieving foam, memory foam
Firmness: firm
Cover: terry cover with moisture barrier
Warranty: 10-year limited
More features: proprietary BioFoam, CertiPUR-US certified
VIEW ON AMAZON
This 5-inch Memory Foam Mattress will fit with most daybeds, trundle beds, and bunk beds. It provides body-conforming comfort with a memory foam layer that comfortably molds to the natural shape of your body for maximum support. Memory foam is a luxury feature of a mattress that is becoming more and more popular as people become more aware of how the way we sleep affects the rest of our lives. Memory foam gives support and comfort to your night. The full support, high-density foam base layer provides long-lasting material durability and support stability. The base layer of a mattress is just as important as any other part. It provides a solid foundation to build the rest of the mattress upon and if you have a poor foundation, you're at risk of getting poor support during your sleep. The mattress is a total of 5 inches thick and breaks down to 1 inch of pressure-relieving comfort foam, 3 inches of high-density base support foam, and 1 inch of memory foam. The pink and blue terry cover versions include a complimentary moisture barrier, too! When it comes time to purchase this mattress, the patented, Smartly-Shipped technology allows the mattresses to be efficiently compressed, rolled and shipped in a box conveniently to your door. It is recommended that you open your mattress package within 72 hours of receipt and wait 48 hours for the new mattress to return to its original, plush shape. This mattress also comes with a worry-free 10-year limited warranty.
Pros
Very affordable
No springs
Memory foam layer for support
Cons
A thin mattress so might feel firmer than expected
Features
Thickness: 5 in
Size: Twin, Twin XL, Full, Queen, King, Cal King
Materials: gel-infused memory foam, high-density base foam
Firmness:
Cover: 60% polyester, 40% viscose
Warranty: 10-year limited
More features: CertiPUR-US certified
VIEW ON AMAZON
This 5-inch thick memory foam mattress from Linesnspa is known for its firm support and unique layered design. 1 inch of this mattress can be attributed to the comfort layer, which is made of gel-infused memory foam to provide pressure point relief. An entire layer dedicated to comfort is a rare, but luxurious feature for these types of mattresses. Below this comfort layer is a 4-inch foam layer that serves as a base for the mattress. Having a mattress with a solid base is crucial for your back health and quality of rest. That makes the quality base a huge benefit of this mattress. In combination with the 1-inch gel memory foam layer, the 4-inch base provides a comfortable, quality sleep that is great for kids. Buying a mattress can be a hassle, but not with mattresses from Linenspa shipping and setup are made as easy as possible. Linenspa ships all of their mattresses in an air-vacuumed compressed rolled up package. All you have to do is remove the mattress from the packaging and you are ready to go. The lightweight mattress can be carried and set up easily, and even some children will be able to do it themselves. The 5-inch low profile is perfect for bunk beds or dormitories and the quality is a huge value for an affordable price.
Pros
Quality foam base for support
Gel-infused memory foam layer for comfort and cooler sleep
Low price, high value
Perfect for bunk beds or dorms
Cons
Gets warm during the night
Features
Thickness: 6 in
Size: Twin, Twin XL, Full, Queen, King, Cal King
Materials: tempered steel coils, comfort foam
Firmness: firm
Cover: polyester
Warranty: 10-year limited
More features: foam is quilted into the cover, CertiPUR-US certified
VIEW ON AMAZON
Get a restful night's sleep on this traditional, affordable spring mattress from Linenspa. This mattress consists of a quilted fabric cover and inner foam layer provide comfort and resilience and a heavy-gauge steel coil layer. The quilted fabric layer ensures a restful, comfortable sleep that is soft to the touch and relaxing. The heavy-duty steel coils provide a firm, strong support that gives you the structure that any good night's sleep really needs. Even though this mattress delivers all the features and construction of a standard mattress, the price is extremely affordable which makes it the best candidate for our Budget Pick! Not only is this mattress a good value at a good price, but it also has safety features, namely a fire-resistant barrier that's tested to ensure it meets rigorous fire safety standards. For easy shipping and simple set up, this mattress comes compressed and rolled as do most smaller mattresses. This easy-ship method eliminates the hassle for you and makes it as easy as possible to assemble and then use. The twin mattress version of this product comes with a 10-year United States warranty, which should give you ease of mind when adding this mattress to your home. As with all things, you get what you pay for. Though this mattress does feature a padded top layer, adults may experience discomfort with the lack of sufficient padding above the spring layer. This mattress would best be used as a guest bed that doesn't get used frequently. That aside, this is a functional, affordable mattress that makes a fantastic budget pick.
Pros
Ships easy with easy setup
Very affordable
Sturdy coil layer for good support
Cons
Top padding is thin
May not be suitable for frequent use
Buying Guide
Buying a mattress is infamously difficult due to the number of factors that you need to take into account as well as the high impact it has on your life. You need to consider many things when shopping for the best bunk bed mattresses because whether it's you or your guests sleeping in it, you want it to be a comfortable mattress that you're able to get a good night's sleep on. Neglecting your sleep in favor of a lower-quality mattress can not only be detrimental to your health, but also your mood and in turn, your relationships. We encourage you to use our buying guide that is based on countless hours of research to assist you in making your bunk bed mattress purchase.
Why do you need a special mattress for a bunk bed?
Not many people consider this when buying a bunk bed, but buying a mattress for a bunk bed is an entirely different process than buying a traditional mattress. You need to take several things into account that you wouldn't otherwise, and also disregard some factors that you might give more weight to if you were shopping for a traditional mattress. Most notably, you'll want to make sure that you get the correct size for your bunk bed mattress. Bunk beds are thinner both in height and width to fit into a standard bunk bed. The reason that you need a thinner mattress for a bunk bed is that there are often height restrictions when using a bunk bed. You want to leave as much space as possible between you and the next bunk up or the ceiling. Having a mattress that is too tall can limit that space and make getting in and out of the bed cumbersome or even dangerous late at night when there's a hazard of hitting your head. You'll also need to make sure that you get the correct size bed. Most bunk beds or camper beds have twin-sized mattresses, but you still need to check the specifications to see if you need something that is a custom size. Having a mattress that is the incorrect size for the frame can be uncomfortable and defeat the purpose altogether. In summary, bunk beds are much different than traditional mattresses and these are the things that you should consider when choosing the best bunk bed mattress.
Features to consider when choosing a mattress for a bunk bed
Type of mattress
The type of mattress is perhaps the most vital consideration when shopping for any mattress, not just mattresses for bunk beds. It is also the broadest category. It's important that you select the right type of mattress for your needs because that decision will affect the rest of your decisions throughout the process. There are two basic types of mattresses that you should be deciding between spring mattresses and memory foam mattresses. Spring mattresses have springs below the top padded layer. Springs are the more common option, but only because they are more traditional. It is widely known that if a mattress becomes worn down, you are at risk of feeling the springs poking through the padding which can be uncomfortable and even painful at times. The other option is more expensive typically: memory foam. Memory foam can be more durable, comfortable, and offer better support.
Sizes available

You should always check and then double check what size mattress you need and repeat the process when you are ordering a mattress. Returning a mattress can be difficult and expensive so it's important to get it right on the first try. When measuring, you should find an easy conversion chart to determine what mattress size you need for the frame. Typically, bunk beds and other small beds will require a twin-sized bed. When purchasing your bunk bed mattress online, you should double check that you are selecting the right size. If you measure well and are careful while ordering, you shouldn't have any problems getting the right size for your bed.
Thickness
Thickness is an important thing to remember. As discussed earlier, what makes this metric so important is the amount of space between bunks or the ceiling. If you get a mattress that is too thick, you may find yourself short on the room above your head. This can lead to inconvenience, injury, or discomfort. The typical bunk bed mattress will be 5-6 inches thick and you should leave enough clearance to comfortably get in and out of the bed.
Materials used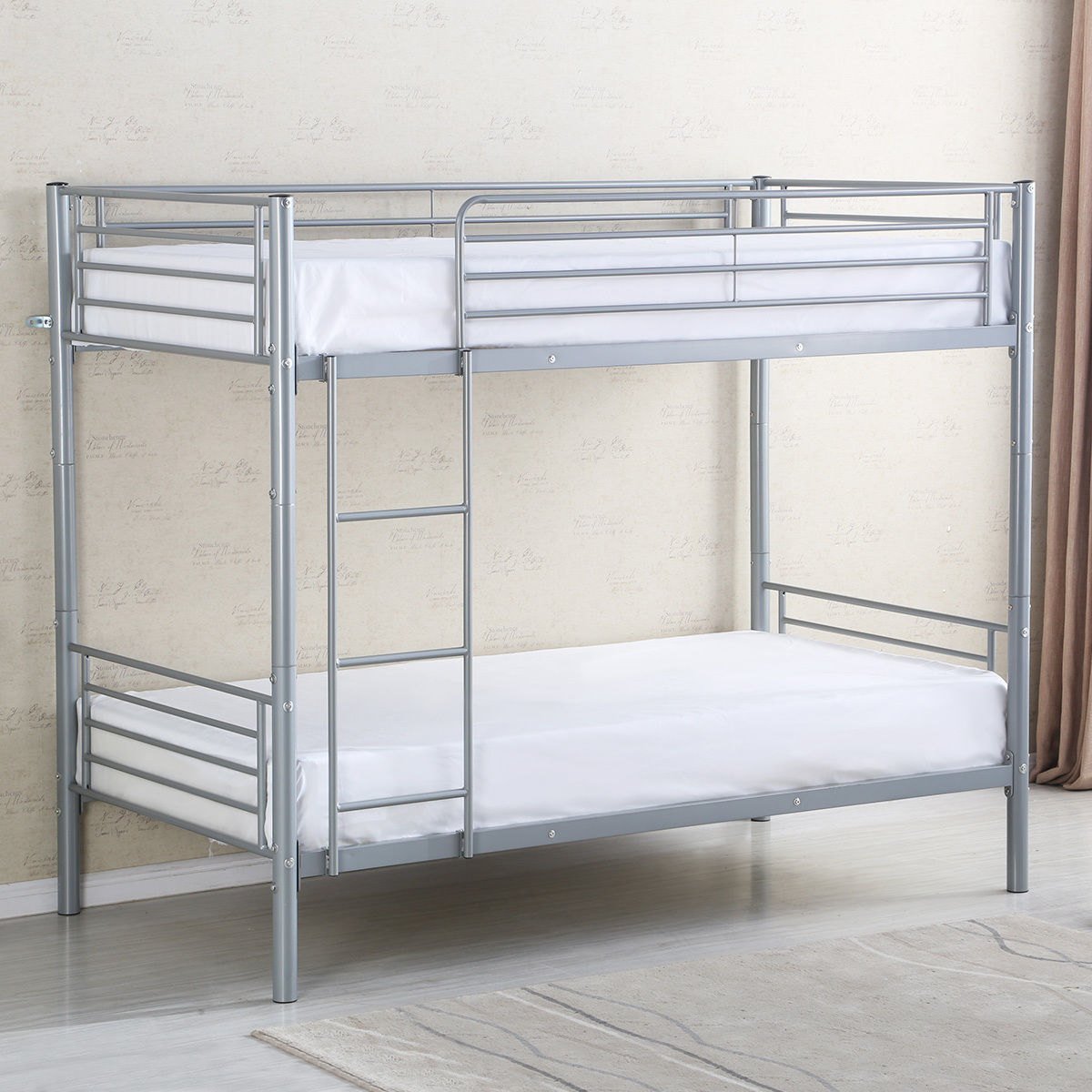 No matter what, your primary concern should always be safety. You should make sure that the bunk bed mattress that you choose is made out of safe, toxin-free, durable materials that won't make you sick or nauseous and also last a long time. The best way to determine what the materials are is to read the specifications of the mattress and read customer reviews. Often, those two sources of information will provide you with adequate info on the materials being used in your mattress.
Temperature regulation
If you're like me, you have trouble sleeping when you're too warm. For this reason, it's important to understand the temperature regulation features of your mattress. Some mattresses don't have anything built in, while others have complete solutions integrated into the mattress in the form of a cooling gel layer that keeps you cool and comfortable throughout the night.
Warranty
Understanding the warranty of your mattress is vital. You should always do some research on what the warranty is on the product you are buying. Most of the mattresses that we've included in our guide have warranties ranging from 5 years to 10 years. This inspires confidence in your purchase because you know that if anything is defective with the mattress, the company will replace it or make it right otherwise.
FAQ
Please briefly answer the following questions:
A typical bunk bed mattress ranges from 5–6 inches in thickness. This gives sufficient support while providing adequate room between the bed and the next bunk or the ceiling.
What type of mattress you should prefer will depend a lot on your age and personal preference. Foam mattresses are typically plusher while hybrid mattresses offer more support, which is usually very vital for young children. So, which mattress is best for you will hinge on how much support you need.
Foam mattresses consist of several layers because each layer performs a specific function. Base layers provide for support. Comfort layers make your sleep comfortable. Cover or gel layers are luxury layers that make the mattress soft to the touch or make you nice and cool while you sleep.
Our Verdict
Our review has included several of the best bunk bed mattresses on the market, but the best еркуу by overall rating were the Signature Sleep 6-Inch Memory Foam Mattress, Zinus 6-Inch Spring Twin Mattress, and the LUCID 5-Inch Gel Memory Foam Mattress. Each of these has their benefits.
The Zinus 6-inch Spring mattress comes in a variety of sizes to accommodate whichever type of small bed that you need it for. It is a traditional spring mattress with a very comfortable top layer. Excellent support is provided by the unique spring technology that this mattress uses. It also has a 10-year warranty.
The mattress by Signature Sleep is specially designed with multiple layers of supportive and plush memory foam and comes with a 10-year warranty. It was our highest rated mattress in the buying guide.
The Lucid 5-Inch Gel Memory Foam mattress has a unique memory foam layering system that is designed to keep you cool at night. The top layer is a nice cooling gel while the lower layers are designed for support and comfort. It has a 10-year warranty and is perfect for warm sleepers.
These mattresses showed solid support, great value, and maximum comfortability. We looked for material quality, company reputation, and practicality as some of the main factors among others for these ratings. These premium mattresses were found to meet or exceed each category and we believe them to be the best options available. By using our buying guide, you should be able to identify the best bunk bed mattresses for your specific needs.